No Bake Mint Chocolate Chip Pie
This make ahead No Bake Mint Chocolate Chip Pie tastes like mint chocolate ice cream in pie form without the melted mess.
Now that the holidays are in full swing, more and more people are looking for easy holiday dessert recipes. I was talking with a friend recently about how she doesn't bake much during the year due to time constraints but loves to bake around the holidays and entertain friends. Even though I bake all year round, I especially love holiday baking because a lot of memories are connected to the holidays. How can you not think of spending Christmas with your family and friends when you eat gingerbread cookies or drink eggnog? As I was planning out my holiday desserts this year, my mind immediately went to mint chocolate, mainly because I've been craving mint chocolate chip ice cream lately but also because mint chocolate usually makes a special appearance for the holidays. Then I started thinking about make ahead desserts because let's face it – after a long day of work, who wants to stay up another two hours making cookies (especially when you're not paying attention and realize you have to chill the dough for an hour)?
My go-to make ahead dessert is no bake pies. No bake pies are often associated with summer, but I enjoy making them for the holidays because one – you can make them ahead of time. In fact, they are designed to have at least 4 hours of chill time (although I have frozen them in less time when in a hurry). Since they last up to a week flavor-wise, you can make no bake pies a few days before serving so you aren't stuck the night before making dessert if you're on a tight schedule. Two – no bake means it doesn't take up oven space. This is very critical when making a big holiday meal such as Thanksgiving where the oven is in overdrive. Three – there's often cream cheese and whipped cream involved with no bake pies, and I see nothing wrong with that. This No Bake Mint Chocolate Chip Pie is like eating mint chocolate chip ice cream in pie form without the melted mess, complete with a chocolate sandwich cookie crust and lots of mini chocolate chips.
I love baking, but as you can imagine all of those ingredients do add up. How do you bake for the holidays without breaking your budget? You start by shopping at a store that keeps their prices low while still offering high quality ingredients. Earlier this month,
ALDI
invited me to their test kitchen to learn more about how they function behind the scenes. I've been shopping at ALDI for at least the past 10 years if not longer and worked with them over the summer with my
Pittsburger
and
Klondike ice cream cupcake
recipes.
If you've never been inside an ALDI before, it's set up like a small market with only 4-6 aisles of food rather than a large grocery chain. Have you ever stopped at a grocery store on the way home from work to buy milk, only to walk the entire length of the store to get to the dairy section? I certainly have when I worked at an office. My favorite is when I walked all the way down for a loaf of bread, only to find out they moved it back into the middle of the store. With ALDI, if I do miss an item on my list or if they do switch up the store layout a bit, I don't have to run a marathon to go back and grab it (such as when they moved the cream cheese next to the other cheeses instead of next to the butter). Even though their stores may be smaller, ALDI does sell almost everything a regular grocery store does; I can go in and buy snacks, baking supplies, and fresh produce in one trip. For those of you who are conscious about what you eat, ALDI has a line of organic products called Simply Nature. If you're a baker like me, ALDI sells most basic baking products all year round with a larger baking selection during the holidays with seasonal items such as peppermint extract and Andes creme de menthe baking chips.
For my No Bake Mint Chocolate Chip Pie, I used Andes creme de menthe baking chips and peppermint extract for the mint flavor and mini chocolate chips to keep with the chocolate chip theme (how can you have mint chocolate chip without chocolate chip?!). Mint chocolate chip is one of my favorite flavors, so I had to get this pie out of my kitchen before I helped myself to another slice. I'm pretty sure you won't have any leftovers with this recipe.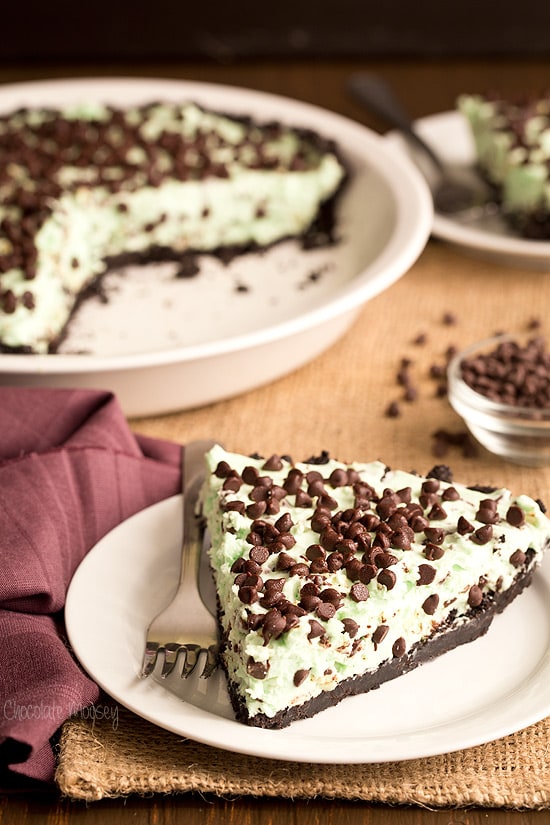 For more information about ALDI, please visit their
website
and say hello on
Facebook
,
Twitter
, and
Pinterest
.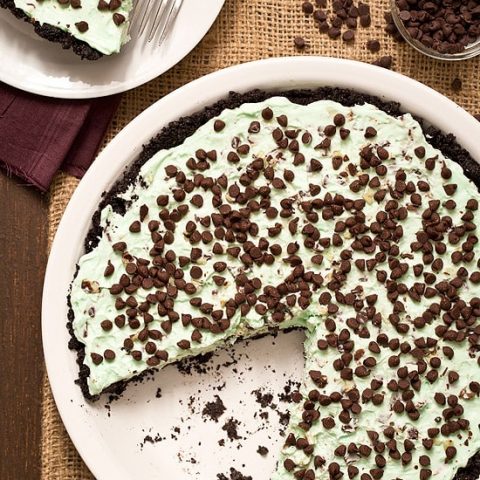 No Bake Mint Chocolate Chip Pie
This make ahead No Bake Mint Chocolate Chip Pie tastes like mint chocolate ice cream in pie form without the melted mess.
Ingredients
2 cups Benton's Chocolate Sandwich Cookie crumbs
1/4 cup Countryside Creamery unsalted butter, melted
3/4 cup Friendly Farms heavy whipping cream, cold
8 ounces Happy Farms cream cheese, softened
1 cup Baker's Corner powdered sugar
1/2 teaspoon Stonemill Essentials peppermint extract*
4 drops green food coloring (optional)
1 cup Andes creme de menthe baking chips*
1 cup Baker's Corner mini semisweet chocolate morsels
Instructions
In a large bowl, mix together the cookie crumbs and butter. Pat into a 9-inch pie plate. Chill at least 30 minutes before filling.
In a large mixing bowl (with whisk attachment if using stand mixer), beat the heavy cream until it thickens and stiff peaks form, roughly 3-4 minutes (when you pull the beaters up, peaks will form and not fall over). Transfer to another bowl and keep cold in the refrigerator.
In the same mixing bowl (no need to clean bowl - switch to paddle if using stand mixer), beat together the cream cheese and sugar until smooth and creamy, about 2-3 minutes. Beat in the peppermint extract and green food coloring, if using. Scrape down the bowl.
Fold in the whipped cream until fully incorporated then fold in the creme de menthe chips and 1/2 cup mini chocolate chips. Spread into the pie crust. Top with the remaining 1/2 cup mini chocolate chips. Refrigerate at least 4 hours or overnight before serving (you can speed up this process in the freezer).
Notes
*These are seasonal items that are only in stores for a limited time and may no longer be available.
More No Bake Pie Recipes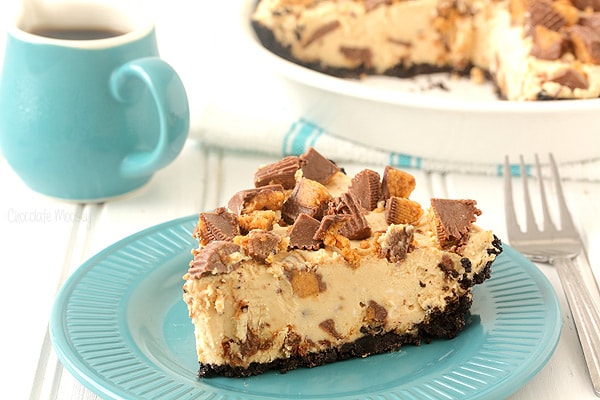 No Bake Peanut Butter Pie

No Bake Chocolate Pie

No Bake Chocolate Covered Strawberry Pie

No Bake Chocolate Banana Caramel Tart
Disclosure: This post is sponsored by ALDI. Thank you for supporting me and the companies I work with as sponsored posts help pay for the costs of running Chocolate Moosey, including website hosting and groceries for recipe development.
This post may contain affiliate links. As an Amazon Associate and member of other affiliate programs, I earn from qualifying purchase.