Turn your overripe bananas into this moist Chocolate Banana Bread with a double dose of chocolate thanks to cocoa powder and chocolate chips.
I hate adulting.
Remember when we were kids and couldn't wait to grow up? Or when we were in college, we couldn't wait to graduate? I take it back.
I'd rather have my biggest problem being passing my final exam than having to buy a new (to me) car.
Adulting is especially hard this time of year because it's a new business year not to mention filing taxes from last year.
I do not look forward to getting my accountant's email about how much I owe since I'm self-employed.
Then I had to figure out how to set up my SEP (self-employed retirement account), which meant I had to send in physical paperwork that took two weeks to be cleared, only to get a very vague rejection letter in the mail, only to find out something unrelated to my SEP was rejected after calling and finding out what happened.
Then there's the bank who gave me the runaround after talking with two different representatives giving me two conflicting answers when I had an issue with a check.
Then there's health insurance who said I "earned too much money" last year to qualify for government help, although they calculated that amount BEFORE taxes were taken out (if you're self employed, you know exactly how much of a difference that makes).
Next on the list is to file some legal paperwork in conjunction for being a freelancer.
When I'm having a rough time adulting, I like to do things that remind me why being an adult is awesome. For example, eating what I want.
I didn't eat Chinese takeout much growing up, so now I order it when I want it and eat the leftovers for breakfast.
When I visited my friend in Brooklyn, we ate dim sum for breakfast.
And when I was craving chocolate banana bread? I made Double Chocolate Banana Bread.
It's a variation of my banana chocolate chip bread I posted a few years back with added cocoa powder and a little bit of milk to balance out the batter.
I personally think this version is better thanks to the double dose of chocolate, but of course if you're not a fan of chocolate, you may think otherwise.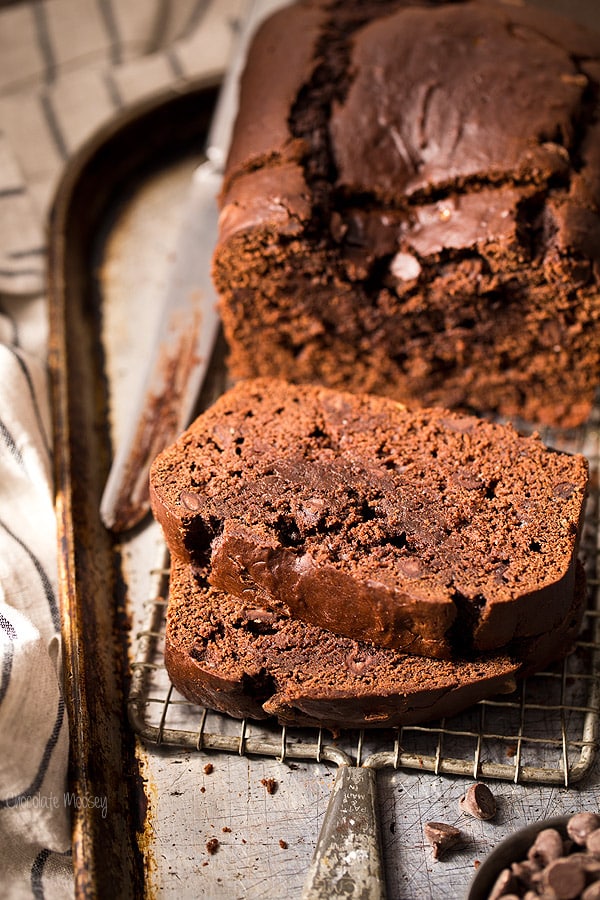 I don't know about you, but my favorite part is the slightly underbaked middle where it's very moist and not dry as a rock.
If you don't like that part as much as I do, then you can bake it a few minutes longer.
If your bananas aren't quite ripe enough, you can bake the bananas in their peels in the oven at 350F for 30 minutes.
The peels will turn completely black but the inside becomes soft and slightly roasted.
Cool them a few minutes before peeling and mashing so you don't burn your fingers.
The bananas do leak juice a little, so line a cookie sheet with foil for easy clean up.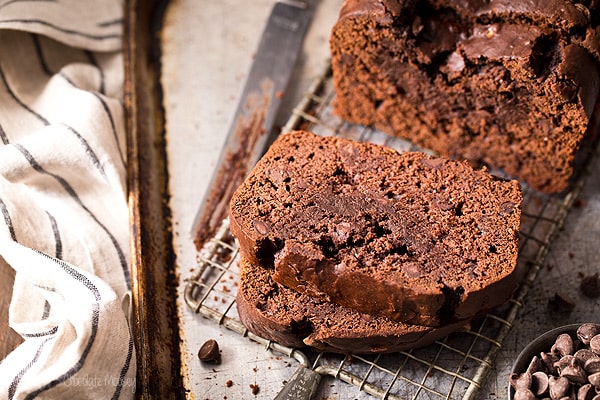 Another perk to being an adult – eating a slice of double chocolate banana bread for breakfast with nobody to stop me. That might even be better than leftover Chinese food.
More Banana Bread Recipes
Double Chocolate Banana Bread
Total Time:
1 hour
20 minutes
Turn your overripe bananas into this moist Chocolate Banana Bread with a double dose of chocolate thanks to cocoa powder and chocolate chips.
Ingredients
1 cups all purpose flour
1/2 cup unsweetened cocoa powder
1 teaspoon baking soda
1/2 teaspoon salt
1/2 cup (4 ounces or 8 tablespoons) unsalted butter, softened
1 cup granulated sugar
2 eggs, room temperature
1 cup mashed banana (roughly 2 medium bananas)
1 teaspoon vanilla extract
1/2 cup whole milk, room temperature
1 cup semisweet chocolate chips
Instructions
Preheat oven to 350F. Lightly grease a 9x5 loaf pan.
In a large bowl, sift together the flour and cocoa powder then stir in baking soda and salt.
In a another large mixing bowl on medium speed, beat together the butter and sugar until smooth and creamy, about 1-2 minutes.
Beat in the eggs, one at a time, until incorporated.
Beat in the mashed bananas and vanilla.
Add the flour mixture alternately with the milk, adding the flour in 3 additions and the milk in 2 additions (begin and end with dry ingredients). Stir in the chocolate chips.
Transfer the batter to the pan. Bake for 55-60 minutes or until a toothpick inserted in the middle comes out clean (there may be some chocolate from the chocolate chips). Cool for 15 minutes then invert on a cooling rack to cool completely.
Recommended Products
As an Amazon Associate and member of other affiliate programs, I earn from qualifying purchases.