Asian Shrimp Tacos with Mango Salsa
Make it an easy and healthy taco night with Asian Shrimp Tacos with Mango Salsa. Dinner is ready in under 60 minutes.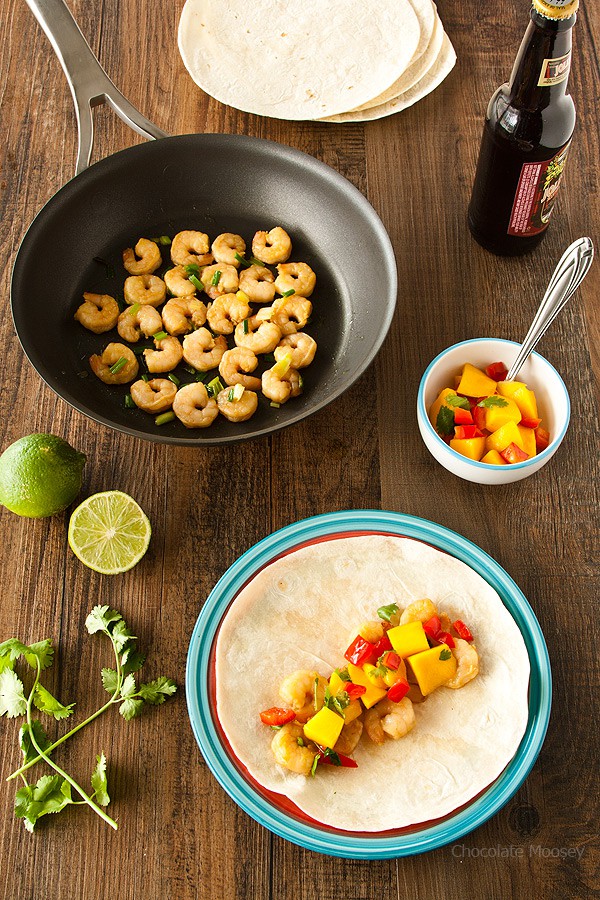 When it comes to quick weeknight dinners,
pasta
is my downfall. I can easily eat it 5 times a week if I don't carefully menu plan. "I don't know what to make for dinner. I know – pasta!" To avoid this trap, I often keep flour tortillas in my freezer because they are versatile for a quick dinner – quesadillas, fajitas, and (my favorite) tacos. Seriously anything can be turned into a taco. All you need is a protein and a topping.
One of my favorite ways to eat tacos is shrimp with fruit salsa on top. The cold refreshing salsa balances out the heat from the shrimp. I did it with fajita-spiced shrimp tacos topped with dragon fruit salsa and spicy shrimp tacos topped with watermelon salsa. Now it's time for Asian Shrimp Tacos with Mango Salsa. Mango is one of my favorite fruits to eat, so when it's on sale, I'll buy one then immediately make shrimp tacos. The shrimp is marinated in soy sauce, lime, and brown sugar for about 30 minutes for flavor then takes about 5 minutes to cook. Once you get everything prepped, dinner can be on the table in no time.
I work full time during the week, so I don't start prepping for dinner until 4-5 PM, depending on when I quit for the day. I don't like to spend a lot of time on dinner, so I give myself about an hour or so for prepping and cooking. Shrimp is a fast cooking protein, so it's always a good choice when you need dinner on the table quickly. Bonus points if you buy them already peeled and cleaned. If you're peeling them yourself, it'll take longer, but you can always prep the shrimp on a day you're not busy.
The mango salsa can be made ahead of time since it needs time to chill. The salsa uses sweet bell pepper instead of a spicy pepper, but feel free to add in a jalapeno for a little kick. You shouldn't have leftovers, but if you do, you can always eat the extra salsa with chips.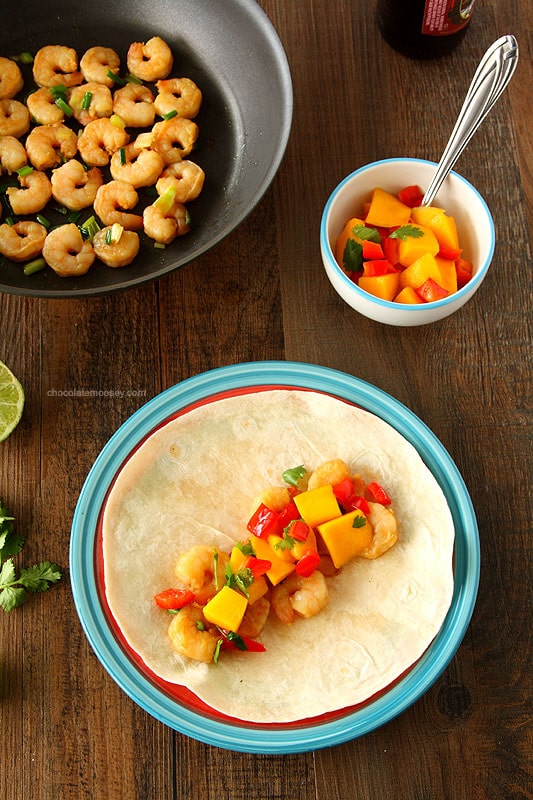 Asian Shrimp Tacos with Mango Salsa
Yield: 4 servings
Prep Time: 15 minutes
Cook Time: 5 minutes
Marinate Time: 30 minutes
Total Time: 50 minutes
Make it an easy and healthy taco night with Asian Shrimp Tacos with Mango Salsa. Dinner is ready in under 60 minutes.
Ingredients
12 ounces raw shrimp, peeled, deveined, and patted dry
1 1/2 tablespoons lime juice
1 1/2 tablespoons soy sauce
1 1/2 tablespoons oil
1 tablespoon brown sugar
1/4 teaspoon garlic powder
1/4 teaspoon ground ginger
1/4 teaspoon curry powder
1 green onion, chopped
4 small flour tortillas, warmed as desired
Mango Salsa
1 cup diced mango (roughly 1 mango)
1/2 cup chopped red bell pepper
1 tablespoon fresh chopped cilantro
1 tablespoon lime juice
Instructions
In a large bowl, mix together the shrimp, lime juice, soy sauce, oil, brown sugar, garlic powder, ginger, and curry powder. Marinade for at least 30 minutes.
Meanwhile make the mango salsa: In another large bowl, mix together the mango, bell pepper, cilantro, and lime juice. Refrigerate for at least 30 minutes before serving.
Once you're ready to cook, remove the shrimp from the marinade with a slotted spoon. Discard leftover marinade.
Heat a large skillet over medium heat. Once hot, add the shrimp and cook for 3 minutes. Flip then cook for another 2-3 minutes or until cooked through and no longer translucent. Remove from the heat and stir in green onion.
Add some of the shrimp on top of one tortilla then top with some of the mango salsa. Repeat with remaining ingredients. Serve immediately.
This post may contain affiliate links. As an Amazon Associate and member of other affiliate programs, I earn from qualifying purchase.