Simple Dried Cherry and Orange Scones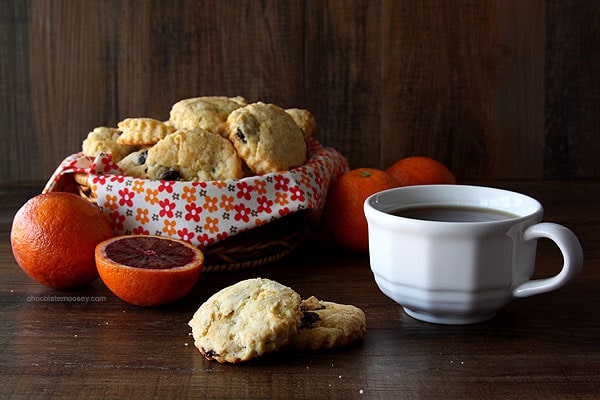 What's the first thing you think of you when you hear scones? I bet it was Ireland, wasn't it? Me too. During spring 2007, I studied abroad in Limerick, Ireland. My housemates and I definitely ate our fair share of scones, including the ones we made ourselves from a box (none of us had extra money to buy baking supplies, and at the time I wasn't an avid baker like I am now.
We knew scones as round, whether they were drop scones or rolled out and cut. Now when I see scone recipes, I see wedges. Wedged scones? When did that happen? Today I have a simple (round) scone recipe with dried cherries and orange zest, although if you insist, you can pat it into one big circle and cut into wedges.
I needed something to go with my Blood Orange Curd for breakfast. Toast? Nah, not a toast fan. Plus I very rarely buy bread because most of the time, it goes moldy. Muffins? Finally, I settled on scones. The dough is quick and easy to make. There is no yeast involved, so there is no waiting to rest and rise.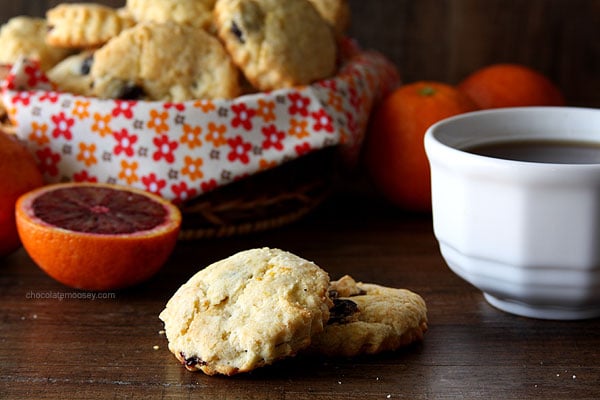 I added dried cherries because I had some to use up, but feel free to use another type of dried fruit or leave it out altogether. For the orange zest, I used blood oranges, but the taste isn't distinguishable enough to say "yes this is blood orange zest." You are welcome to use lemon, lime, or even grapefruit.
Simple Dried Cherry and Orange Scones are best eaten the same day (or the next morning if making the night before). I had some leftover during the week, and you can tell they were getting stale after a day or two (which at that point you dunk into coffee or tea).
Simple Dried Cherry and Orange Scones
Scones with cherry and orange
Ingredients
2 cups flour
2 Tablespoons sugar
1 Tablespoon baking powder
1/4 teaspoon salt
2 teaspoons orange zest
5 Tablespoons cold butter, cut into tablespoons
1 cup dried cherries
1 egg
2/3 cup heavy whipping cream
Instructions
Preheat oven to 400F. Line two baking sheets with parchment paper. Set aside.
In a small bowl, add the cherries. Pour in some hot water and let seep until plump, about 10 minutes or so. Drain and pat dry.
In a large bowl, whisk together the flour, sugar, baking powder, salt, and orange zest. Drop in the butter pieces and toss with flour. Using either your fingertips or a pastry cutter, cut the butter into the flour mixture until the mixture is pebbly. Add the cherries.
Beat the egg into the cream then pour the cream into the dry ingredients and stir until everything comes together. The dough will be wet and sticky. Gently knead the dough a few times inside the bowl.
Lightly dust a work surface with some flour and turn out the dough. Roll out the dough until it is about 1/4 inch high. Cut out circles with a 2.5-inch cutter and place them onto the cookie sheets. Gather up the scraps and reroll again until all of the dough is gone.
Bake for 10-12 minutes or until golden brown. If serving warm, cool for 10 minutes. If not, cool until room temperature.
If you liked these Simple Dried Cherry and Orange Scones, you may also like these recipes:
From me: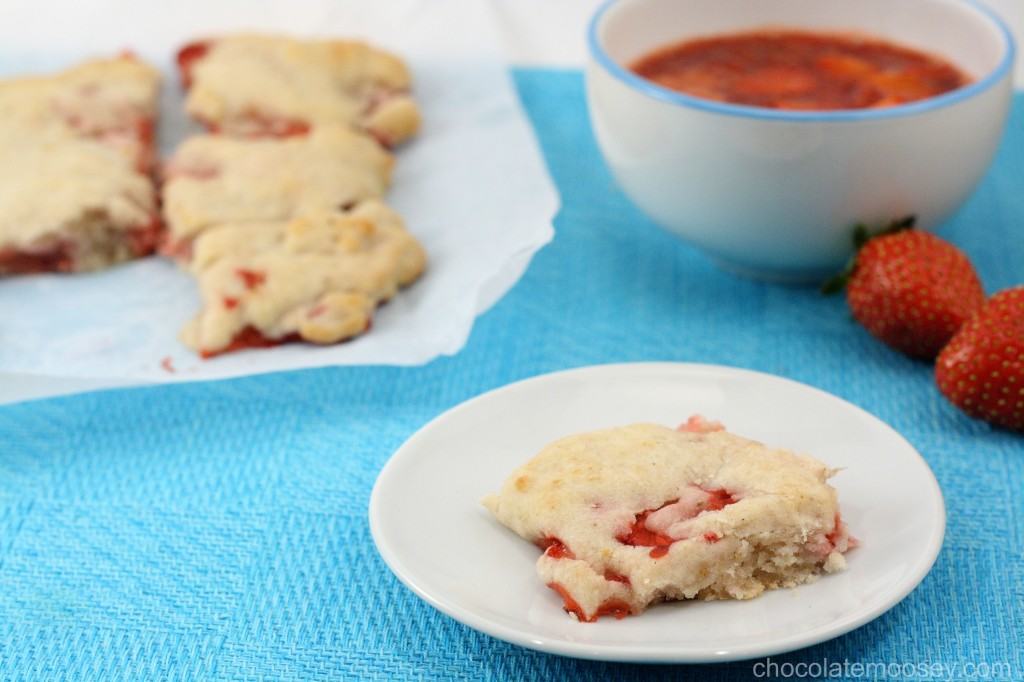 This post may contain affiliate links. As an Amazon Associate and member of other affiliate programs, I earn from qualifying purchase.