Instant Pot Beef Stew (Dinner For Two)
Make comfort food for dinner faster by learning how to make Instant Pot Beef Stew For Two! The meat melts in your mouth along with carrots, peas, and potatoes.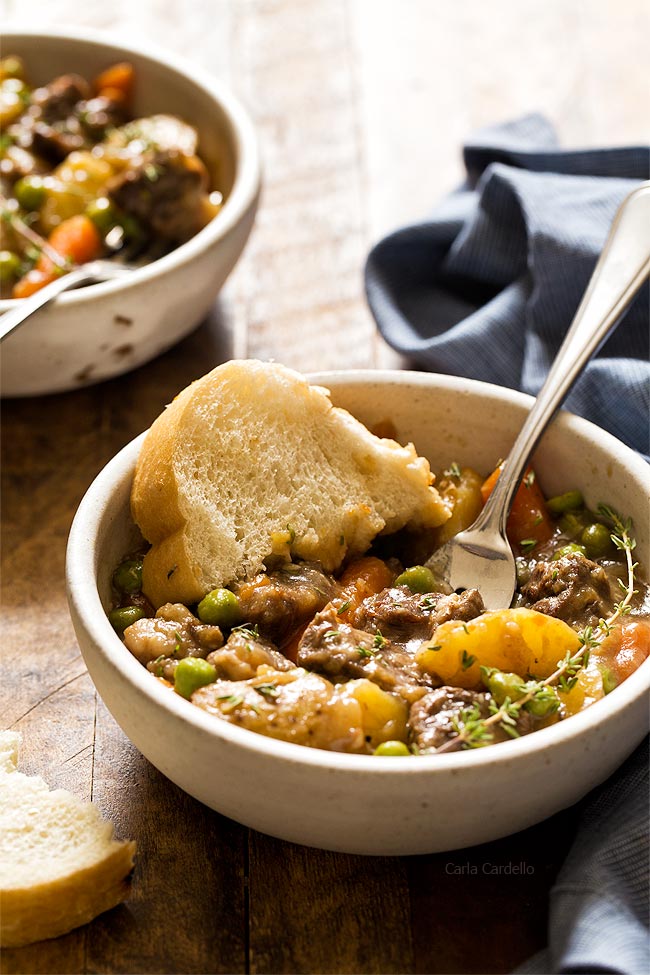 With the temperatures finally dropping to sweater weather along with annoying dreary rain, it's time to cozy up to your favorite comfort foods!
The problem is a lot of comfort foods, especially ones involving tough cuts of meat, take several hours to cook. Luckily there's a way to cook them in almost half the time.
You may have heard of an Instant Pot, but do you know what it is? It's a pressure cooker designed to cook food faster using steam pressure.
Pressure cooking isn't new to the culinary world, but most home cooks have never used one, myself included.
In fact, I was a little scared at first because I didn't want to burn myself or have the machine explode.
However, you'll learn quickly once you understand how the safety valve works, it's quite easy.
At first I was reluctant about owning an Instant Pot, thinking it was a trend that'll die soon.
However, a client requested a recipe, so now I own this giant machine. Seriously, it's huge and my cat J tried sitting in it.
(Side note – Thanks to the steam being released, J is absolutely terrified of it now. Even plugging it in makes him run because he knows what's coming).
After making a few more recipes, I think I'm in love. I asked you on Instagram whether you'd be interested in small batch Instant Pot recipes.
Most of you said yes, so I'm going to start out with an easy and often loved recipe – Instant Pot Beef Stew For Two.
I'm also going to answer questions, like what is an Instant Pot and why you should (or shouldn't) buy one.
If you don't have an Instant Pot, don't worry! I also published my Stovetop Beef Stew For Two recipe in a separate post. I understand owning a giant appliance may not feasible for everyone, whether you have a tiny kitchen or can't splurge on one.
Make sure you tell me in the comments whether you want more recipes. If I get a great response, I'll keep making more. If not, I won't make it a priority.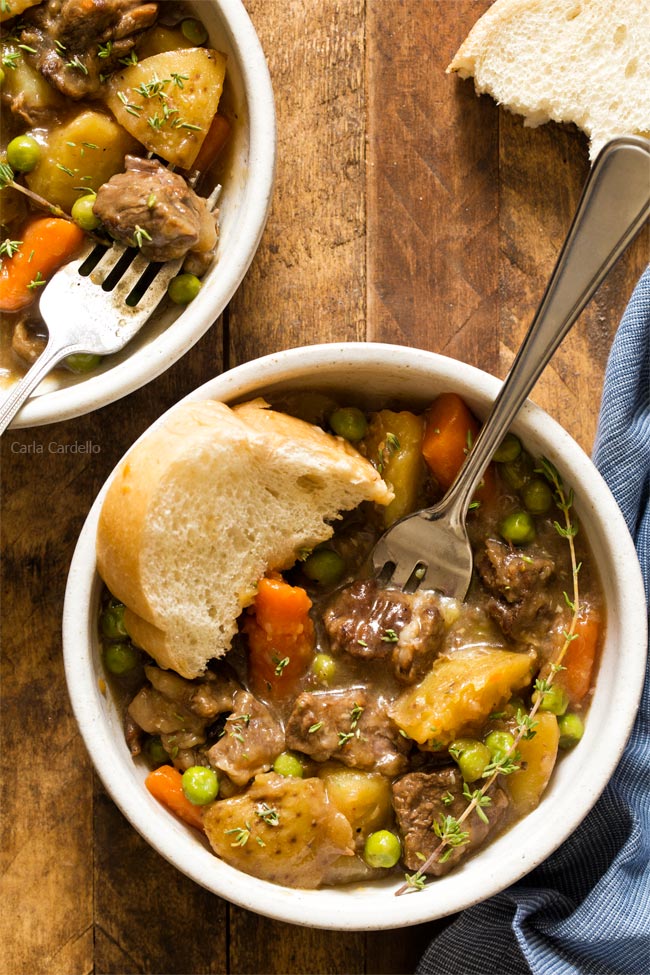 Why buy an Instant Pot?
One major benefit to a pressure cooker is steam pressure cooks meat faster than the oven.
For example, if you cooked this Beef Stew For Two recipe on the stove, it would take you almost 2 hours until the meat is tender. In the Instant Pot, it takes about 30 minutes for the meat to melt in your mouth.
The fact I can make beef stew faster without sacrificing flavor is quite amazing.
Unlike a slow cooker, you can sear the meat directly in the pot. This means the meat will have more flavor from the browning.
With a slow cooker, most inserts aren't stovetop proof, so you have to sear the meat in a separate pan then transfer it to the cooker.
Not only is there an extra dish to wash, sometimes you don't have time if you're prepping the slow cooker before leaving for work.
Ready to buy one? I have the LUX60V3 6-in-1 use, which you can buy directly from Amazon (affiliate link).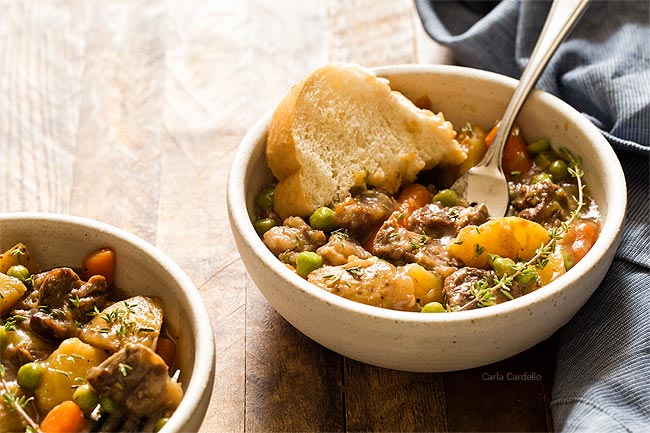 But I have a slow cooker. Why do I need an Instant Pot?
It's different than a slow cooker because a slow cooker takes about 4-8 hours to cook. If you don't get your food into the slow cooker on time, you may be eating dinner at midnight.
An Instant Pot cooks a lot faster. In fact, you can come home from work, use your Instant Pot, and have dinner ready in about an hour (prep time pending).
It's also not a one trick pony appliance. Depending on the model, you have about 6-8 cooking options, including slow cooker.
That means you can still make your slow cooker recipes without using a separate appliance.
What do you hate about the Instant Pot?
Not every appliance is perfect! One downfall is the pot is a little small, so it's hard to cook giant batches of meat.
Luckily this is a small batch recipe blog, so it's not an issue for us. It's also a bit deep, so you have to use tongs instead of a spatula to flip anything.
It's also hard to check on the meat until the pressure cycle is over, so if your meat isn't fully cooked in the middle, you have to repeat the cycle.
That means you have to spend extra time waiting for the pressure to build back up before the timer begins. Luckily since the appliance is already hot, it won't take as long the second time around.
It also takes longer to cook than advertised. Sure, the beef itself may cook in 30 minutes, but then you have to wait for the pot to come to pressure THEN the 30 minute timer starts. After it's done, then you have to wait for the steam to be released before opening.
I find the Instant Pot useful for tough cuts of meat that typically take a few hours normally, but for easier things like pasta and rice, I wouldn't drag out the machine for them.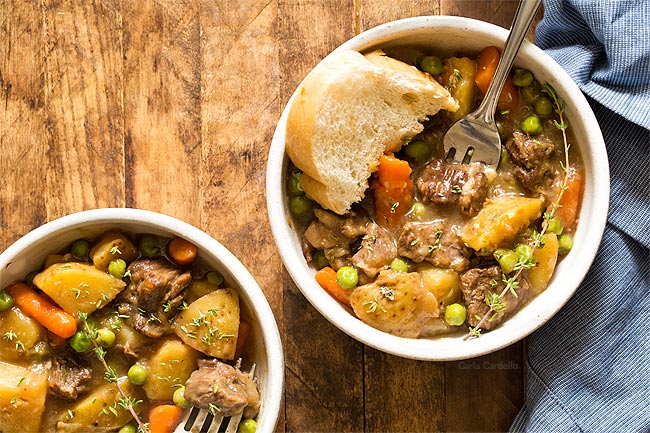 How To Make Beef Stew
Every beef stew has the following ingredients – carrots, potatoes, peas, onion, garlic, and of course beef.
For the beef, you want to buy chuck roast and cut it yourself. If you buy the pre-cut stew meat, they usually don't have enough fat on them for stew. You definitely want some beautiful marbling for flavor.
I used Yukon gold potatoes because that's what I had on my counter. However, you can use any type including Russet. I usually don't peel gold potatoes, but I do for Russet.
Don't forget the Worcestershire sauce! It may seem easy to skip, but it adds an extra depth of flavor to the beef.
Items You May Need (affiliate links):
More Instant Pot Recipes For Two
Instant Pot Beef Stew For Two
Yield: 4 servings
Prep Time: 30 minutes
Cook Time: 1 hour
Total Time: 1 hour 30 minutes
Make comfort food for dinner faster by learning how to make Instant Pot Beef Stew For Two! The meat melts in your mouth along with carrots, peas, and potatoes.
Ingredients
1/2 pound beef chuck roast, cut into 1-inch pieces
Salt and pepper, to taste
1 tablespoon vegetable oil
3/4 cup beef broth or stock, room temperature
1 tablespoon Worcestershire sauce
1 teaspoon brown sugar
1/2 teaspoon salt
4 garlic cloves, peeled
2 large carrots, cut into 1-inch pieces
1 small onion, quartered
1 large Russet potato, cut into 1-inch pieces
1 sprig thyme + 1 teaspoon fresh thyme leaves
1/2 cup fresh or frozen peas
1 tablespoon cornstarch
1 tablespoon water
1 teaspoon lemon juice
Instructions
Season the beef on both sides with salt and pepper.
Add oil to the Instant Pot and select the Sauté button. When display says "Hot", add beef in a single layer. Sear for 4 minutes or until brown then flip and sear another 3 minutes or until brown.
Select Cancel. Add a small amount of the broth and scrape the brown bits off of the bottom with a wooden spoon (this will help prevent a Burn error). Finish adding the broth. Stir in the Worcestershire sauce, brown sugar, and salt.
Add the garlic, carrots, onion, potato, and thyme sprig.
Cover the pot with the lid and lock. Set the steam release valve to Sealing.
Select the Meat/Stew button and set the cook time to 30 minutes. The screen will display "On" until the preheating cycle is complete, about 10 minutes (if ingredients are cold such as the broth, it will take longer to preheat). It'll then change from "On" to "30". Steam coming from the valve during preheating is normal.
Once the cooking cycle has finished and beeped, allow the pot to sit untouched for 10 minutes for a natural release then move the valve to Venting for a quick release. Once the float valve is down and all pressure is released, unlock and open the lid. Remove the thyme sprig.
Mix together cornstarch and water until smooth. Stir into the liquid then select the Sauté button. Once the mixture starts boiling, add the peas and cook until thickened, about 3 minutes. Stir in the thyme leaves and lemon juice. Select Cancel to turn off the heat. Let cool for 10 minutes before serving.
Recommended Products
As an Amazon Associate and member of other affiliate programs, I earn from qualifying purchases.
This post may contain affiliate links. As an Amazon Associate and member of other affiliate programs, I earn from qualifying purchase.