Ham and Herb Quiche
This cheesy Ham and Herb Quiche with fresh rosemary, thyme, and parsley will steal the spotlight for your Easter brunch.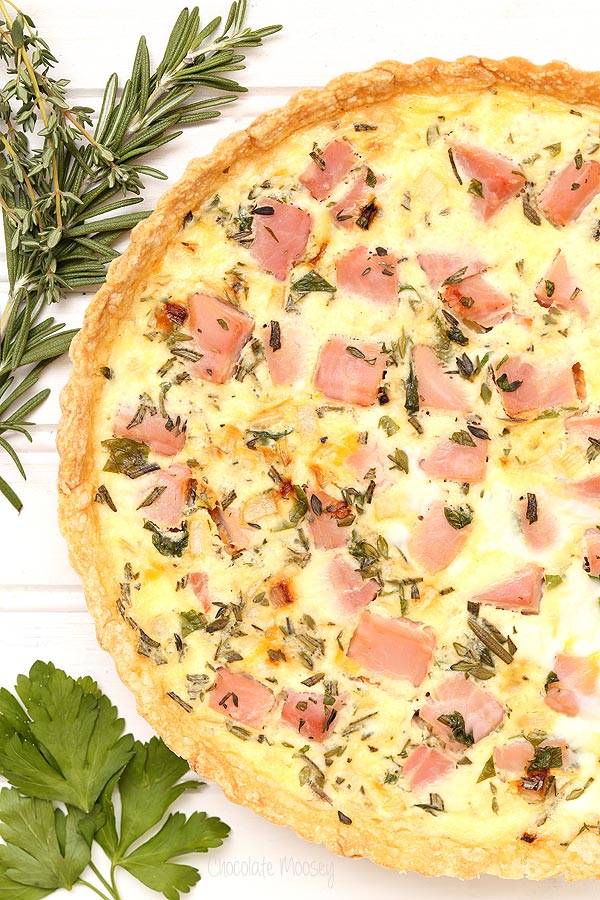 When I think of Easter, I automatically think of brunch.
As far as holidays go, Thanksgiving and Christmas are all about dinner, but Easter seems like it's all about the brunch.
Or maybe because when I think of Easter, I think of spring, which makes me think about spring vegetables and fresh herbs, which makes me think about brunch.
For Easter, I usually make both ham and lamb to satisfy everyone. I've always chosen the lamb, but this time I wanted to tackle the ham, a meat I don't always reach for. After all, cooking is about expanding your horizons.
Going back to brunch, I started thinking about eggs, which got me thinking about quiche. And that's how this Ham and Herb Quiche was born (see how my mind works? It's all about connecting the dots).
If you thought regular quiche was boring, the addition of fresh herbs paired with the saltiness of the ham really kicks the flavor up a notch as they add a whole new dimension to brunch.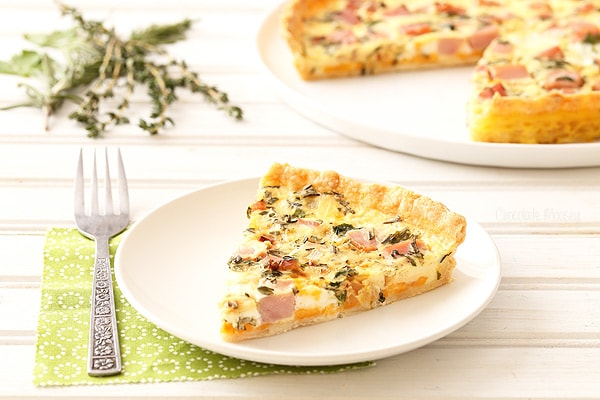 Adding fresh herbs to your recipes really livens them up. I didn't grow up eating them in my food as my parents either used dried herbs or no herbs at all.
Now that I've tasted fresh herbs as an adult, I love using them to brighten up my meals.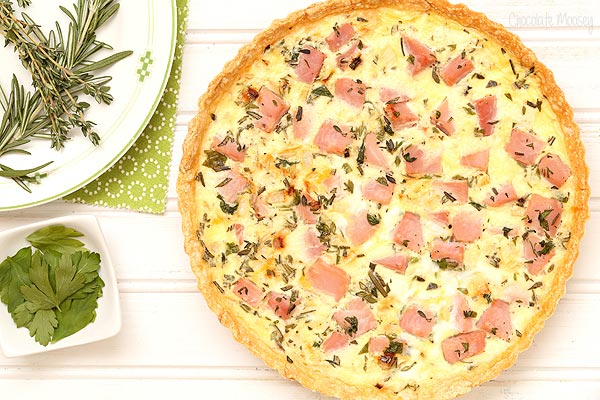 I have a bit of a confession – quiche was never my favorite food to eat growing up.
Why did I make a ham and herb quiche then? Because I've learned over the past year or so that the dishes I thought I hated as a kid are dishes that I love as an adult – chicken pot pie, Brussels sprouts, pork.
I'm so glad I gave quiche another chance because I'm in love with it.
The combination of fresh rosemary, thyme, and parsley really made my taste buds sing (ok that's probably very cliché to say, but I couldn't stop eating it).
Next on my list to remake are meatloaf and scrambled eggs (yes, scrambled eggs. Don't ask). I bet I can make myself love those dishes by using fresh herbs.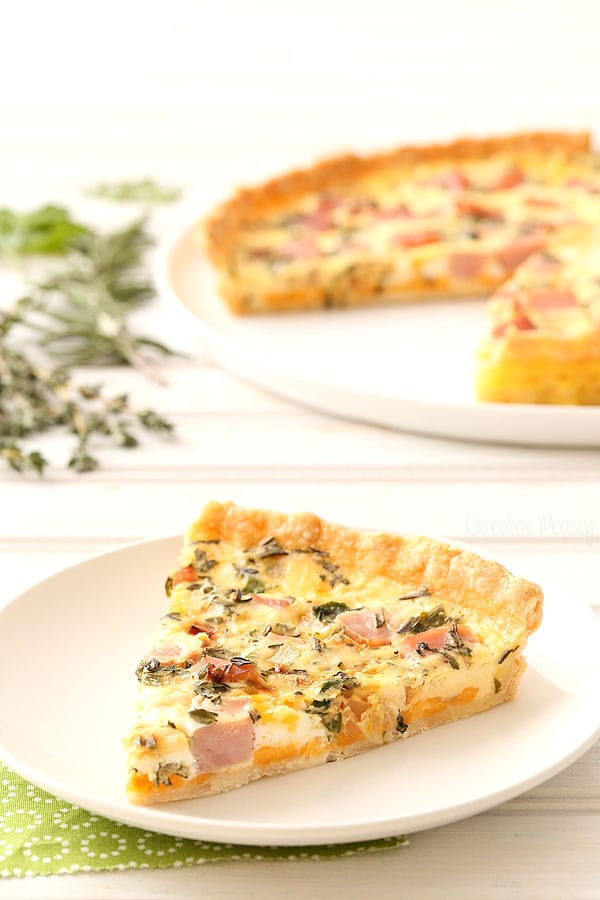 For this recipe, I used a
9-inch tart pan
with a removable bottom to give it some wow factor for presentation. All you have to do is press the pie dough into the pan ridges.
However, you are welcome to use a regular 9-inch pie plate and ruffle the edges a bit for presentation.
I can guarantee one thing – no matter what it looks like, this quiche will not last long.
More Quiche Recipes

Enjoyed this quiche? Here are more quiche recipes:
Still have leftover ham? Check out my Ham and Cheese Soup, Baked Eggs with Ham and Cheese, and Ham and Cheese Waffles.
Ham and Herb Quiche
Yield: 8 servings
Prep Time: 30 minutes
Cook Time: 55 minutes
Total Time: 1 hour 25 minutes
This cheesy Ham and Herb Quiche with fresh rosemary, thyme, and parsley will steal the spotlight for your Easter brunch.
Ingredients
One 9-inch pie crust, unbaked (homemade or store-bought)
1 cup diced cooked ham
1/4 cup chopped onion
1 tablespoon chopped fresh rosemary
1 tablespoon chopped fresh thyme
1 tablespoon chopped fresh parsley
2 eggs
1/2 cup whole milk
1/2 cup heavy whipping cream
1/4 teaspoon salt
1/8 teaspoon ground black pepper
1 cup shredded cheddar cheese
Instructions
Preheat oven to 375F. Line a 9-inch tart pan or pie plate with the pie crust and place on a baking sheet. Line with foil on top then fill with pie weights or dried beans. Bake for 10 minutes.
Remove the foil and weights then bake another 5 minutes or until the bottom is golden brown and no longer looks uncooked.
While the crust is baking, prepare the filling. In a large bowl, mix together the ham, onion, rosemary, thyme, and parsley. In another large bowl or measuring cup, whisk together the eggs, milk, cream, salt, and pepper.
Once the crust has finished baking, sprinkle the cheese evenly over the crust. Top with the ham mixture then pour the egg mixture over top. Bake for 35-40 minutes or until top is golden brown, doesn't jiggle when moved, and a toothpick inserted in the center comes out clean. Cool 15 minutes before serving.
This post may contain affiliate links. As an Amazon Associate and member of other affiliate programs, I earn from qualifying purchase.