Award-Winning Chocolate Coconut Cupcakes with Coconut Almond Filling and Coconut Milk Frosting will be the best cupcakes you'll ever make (assuming you love coconut of course).
I'm proud to say I accomplished a milestone last week – I baked award-winning cupcakes! First place out of 32 entries :D The local newspaper hosted a cupcake contest on Monday. I entered these Chocolate Coconut Cupcakes, complete with a Coconut-Almond filling and topped with a Coconut Milk Frosting. This was my first competition ever, so you can imagine how excited and nervous I was.
Here is the newspaper article.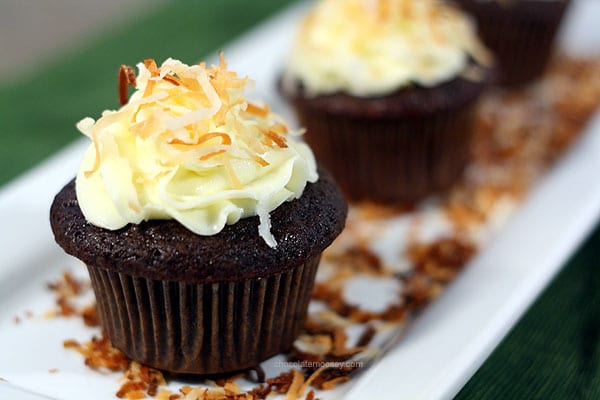 When my dad showed me the article, I quickly dismissed it. To enter, you dropped off six cupcakes during a certain time. However, I had to work, so it wasn't happening. The next morning, I woke up with an urge in my gut.
Do it, do it
, it screamed. I couldn't stop thinking about it. After talking it out with some friends, it is clear I had already made up my mind (considering I already knew what I'd make). If I arrived right when the entries started, I only needed to take an hour of vacation time from work. The guys take off for hunting; why don't I take off for baking?
Last year's winner made me nervous, considering the person used a cake mix. The winner was picked based on taste, appearance, and originality. I'm a huge believer in from-scratch baking, so this put extra pressure on me. What would it say about my skills if I lost to a box mix? I kept thinking about Juanita's Cocina's coconut milk frosting she did for her Easter carrot cake. When your gut screams, you listen. Next question was do I go tropical? Or opt for something else? I decided to pair up chocolate and coconut with devil's food cake for the base.

Picture of filling on Instagram
And since this was a contest, I just had to go overboard with a filling. Normally I'd do a mousse filling, but the cupcakes would be sitting out all day with no refrigeration. What else would work? I imagined something similar to a German chocolate cake frosting with the milk, coconut, and nuts. After looking online, I found a recipe similar to what I had imagined. Instead of regular milk, I used coconut milk and added almonds for a crunch.
And the frosting? Oh heaven, please pass me a spoon. Seriously, it has the texture of whipped cream, BUT you don't need to refrigerate it. Heaven, I say! This may just be my go-to frosting from now on. The coconut milk is very subtle, so you can barely tell it's even there when you add cake to it. Since I wanted the coconut flavor to come through, I added some coconut extract.
The test batch looked great, but the cake was a tad bit dry. I think I overbaked them by a few minutes. Everyone who tasted them said they were great, but I wasn't quite satisfied. They also said the frosting didn't taste like coconut. When I was doing the entry batch, I switched to a cake recipe that included coffee and my secret weapon:
These cupcakes tasted exactly like the devil's food box mix my mom always made growing up. It was moist and absolutely divine. The best part is it's all made with love, not chemicals. I think I overfilled the liners a bit though because they were more flat-topped than round.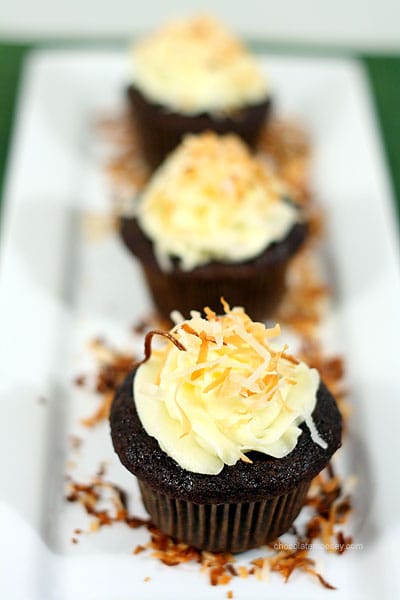 Regardless of the outcome, I'm really satisfied with my entry. I wouldn't change anything, even with its simple appearance. A huge thank you to everyone for the support and encouragement as I worked on my entry. To hear your positive words really means a lot.
Chocolate Coconut Cupcakes
Total Time:
1 hour
20 minutes
Award-Winning Chocolate Coconut Cupcakes with Coconut Almond Filling and Coconut Milk Frosting will be the best cupcakes you'll ever make (assuming you love coconut of course).
Ingredients
1 ounce bittersweet chocolate, chopped
1/2 cup unsweetened cocoa powder
2/3 cup hot coffee
1/3 cup whole milk
1 1/3 cups flour
1 teaspoon baking soda
1/2 teaspoon salt
10 tablespoons butter, softened and cut into 10 pieces
1 cup brown sugar
1/2 cup granulated sugar
3 eggs
1 teaspoon vanilla
Filling
3/4 cup coconut milk
1/2 cup granulated sugar
2 tablespoons flour
2 1/2 cups shredded coconut, toasted
1/2 cup chopped almonds
1 teaspoon vanilla
Frosting
3/4 cup coconut milk
1 tablespoon flour
3/4 cup (1 + 1/2 sticks) butter, softened
3/4 cup granulated sugar
1/4 teaspoon coconut extract
Instructions
Preheat oven to 325F. Line two cupcake pans with 24 paper liners.
In a medium heatproof bowl, add the chocolate and cocoa powder. Pour in hot coffee and whisk until smooth. Whisk in milk. Set aside.
In a small bowl, whisk together the flour, baking soda, and salt. Set aside.
In a large mixing bowl, beat together the butter, brown sugar, and sugar until fluffy, about 3 minutes.
Add the eggs, one at a time, then beat in the vanilla.
Add the flour mixture in three parts, alternating with the chocolate mixture.
Divide the batter into the paper liners and bake 18-20 minutes or until a toothpick comes out clean. Let cool for a few minutes then transfer the cupcakes to a wire rack to finish cooling.
Meanwhile, make the filling: In a medium saucepan, whisk together the milk, sugar and flour until blended. Bring to a boil over medium heat and cook for about 5 minutes or until thickened and bubbly.
Remove from the heat. Stir in 2 cups coconut, almonds, and vanilla. Cool until room temperature.
For the frosting: In a small saucepan, whisk together the milk and flour. Bring to a boil over medium heat and cook for about 5 minutes or until thickened and bubbly. Remove from heat and allow it to cool until room temperature.
In a large bowl on high speed, beat together the butter and sugar until light and fluffy, about 5 minutes. Add the milk mixture and coconut extract, beating on high speed until it is the texture of whipped cream.
To assemble: Cut a hole out of each cupcake middle, being careful not to cut all the way through. Fill it with the coconut-almond mixture and top with some of the cake you just cut out. Frost to cover the hole and garnish with remaining 1/2 cup shredded coconut.
Sources: Cake adapted from
Baked Explorations
, Filling adapted from
Baking 101
, and Frosting adapted from
Juanita's Cocina
—-
If you liked these Award-Winning Chocolate Coconut Cupcakes, you may also like these recipes from me: