These homemade Strawberry Popsicles (Small Batch) are made with fresh strawberries and are the perfect cool-down treat for summer. They're vegan, dairy free, eggless, and gluten free.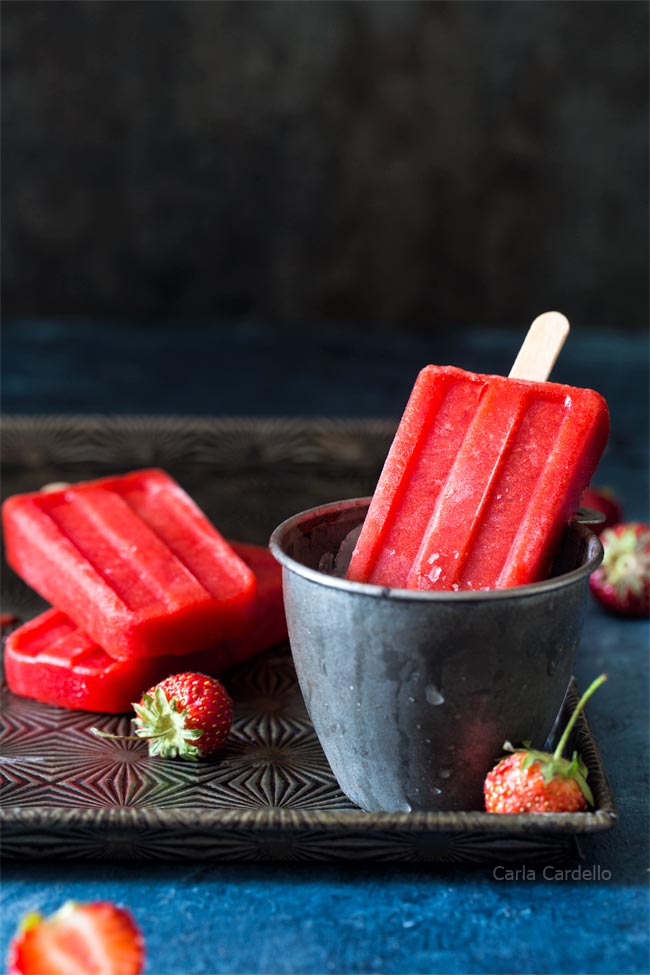 Happy Summer 2020!
The first official day of summer was on Saturday, so what better way to kick that off than with homemade Strawberry Popsicles (Small Batch)?!
Although honestly, I'm afraid to see what 2020 brings us this summer.
Every year I go strawberry picking with my dad. Fortunately, this year we were still able to go despite the changes.
You had to wear your mask when buying your basket and while riding the tractor to the field. You didn't need it on while picking berries as long as you weren't near other groups.
Sadly only 25 percent of the people wore one. Please wear a mask so others don't get sick. PA recently announced cases doubled over the weekend.
ANYWAY.
Since I have so many strawberry recipes on the blog already, I needed to make something new.
Every year I make fruit popsicles, but I've never published my strawberry popsicle recipe before. Until now.
I wanted to publish it last week, but I was having site issues. I'm back up and running, but if anything seems wonky please let me know.
These strawberry popsicles are pretty simple and straight forward: fresh strawberries, lemon juice (to make the berries taste even better), sugar, and water.
All you need is a blender and popsicle molds. Oh and a freezer.
No ice cream maker. No churning. Just blend and pour.
And since I'm asked a lot about food allergies, popsicles are the perfect dessert for that! Since strawberry popsicles only have 4 ingredients, they're also vegan, dairy free, eggless, and gluten free.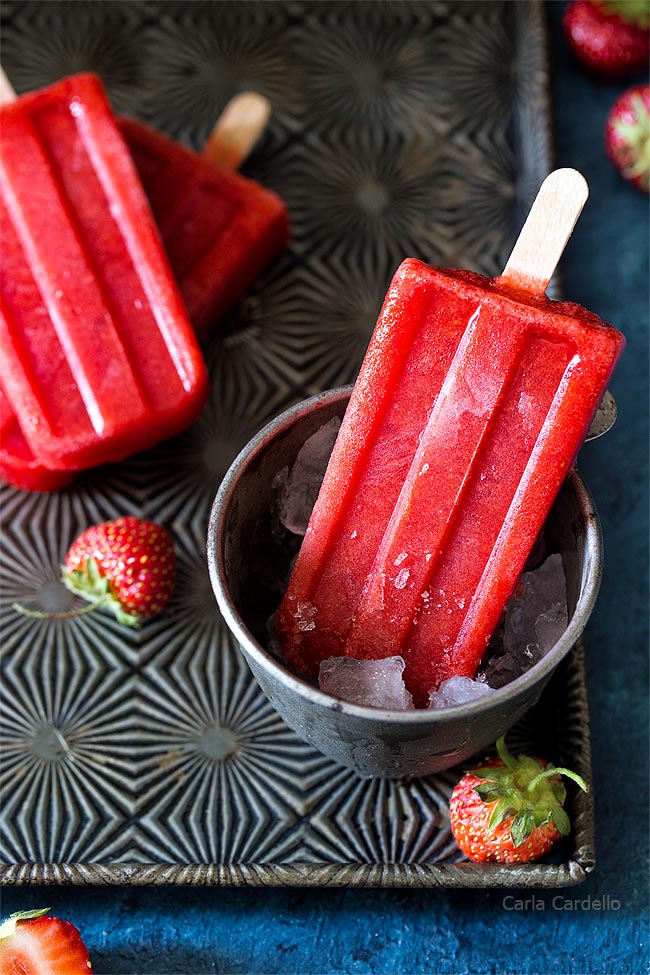 How To Make Strawberry Popsicles
Homemade strawberry popsicles are super easy to make! Add your strawberries, sugar, lemon juice, and water to a blender (affiliate link).
Once blended, transfer your mixture to your molds. Most blenders have a pour spout so you fill straight from the blender.
Prep them to hold the sticks and freeze.
That's it!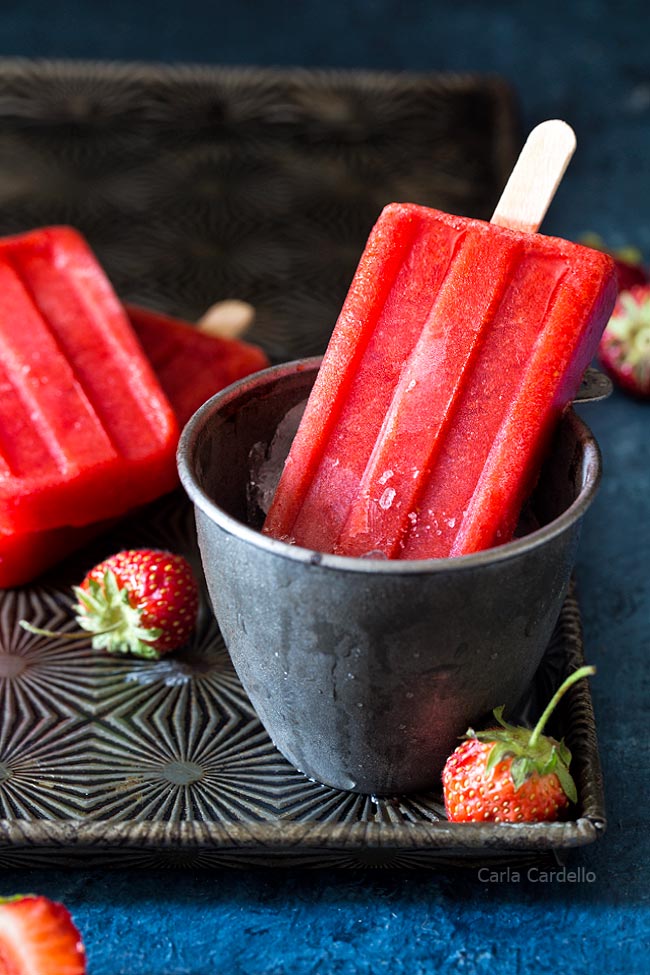 Can I reduce the sugar in strawberry popsicles?
One question I get a lot about popsicles is "can I reduce the sugar? That's too much!"
In addition to sweetening the pops, sugar lowers the freezing point and reduces ice crystals, ensuring you have a popsicle "soft" enough to bite into without breaking your teeth on an ice cube.
I know it's tempting especially if your strawberries are sweet on their own. However, I urge you not to change it.
If you insist, please be aware you may end up with hard icicles that'll stick to your molds.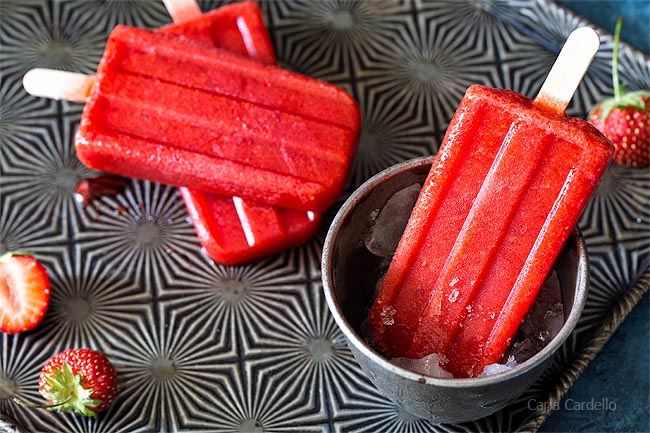 What can I substitute for the sugar?
This strawberry popsicle recipe has only been tested with granulated sugar. I do not know what will happen if use agave syrup, Splenda, honey, or another substitute of your choice.
If you do substitute out the sugar, please share your results in the comments! That way others will know what does (or doesn't) work.
Can I substitute another fruit for the strawberries?
Yes! I make this popsicle recipe a lot using other fresh fruit. Blueberries, raspberries, and even peaches are great substitutes for fresh strawberries.
Can I double this recipe?
Yes, absolutely! I focus on small batch recipes, but you're welcome to make as many as you'd like. Please keep the proportions the same when increasing. The sugar plays an important part when freezing.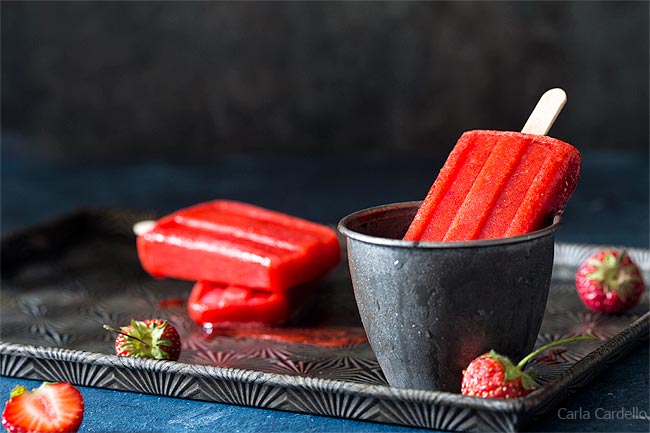 What can I use to make popsicles?
I love my popsicle mold because of their iconic shape. You can buy the Norpro Ice Pop Maker on Amazon (affiliate link).
However, if you don't have a mold, you can easily use paper Dixie cups, which are sold near paper plates in stores. Wrap the tops in foil and make a small hole to hold the sticks in place.
You can buy popsicle sticks either on Amazon (affiliate link) or at the store in the craft section.
Bonus tip: My popsicle mold is hard to clean by hand, so I use a bottle brush to reach inside.
How To Unmold Popsicles
Since you're making a small batch of strawberry popsicles, you can run each mold under lukewarm (not hot) water for a minute or so. Be careful you don't get water inside the mold!
After a minute under running water, carefully pull the popsicles out of their molds. If they won't release, run it under water again. Do not force them out or your pops may break.
Alternatively, you can fill a large deep container with water then let the entire mold (minus the tops!) sit in the water for 30-60 seconds then remove. This method is handy if you're unmolding a lot of pops at once.
If you're using paper cups, you can cut them to unmold.
How To Store Homemade Popsicles
Once unmolded, place the popsicles in a single layer on wax or parchment paper then place in a freezer-safe container for short-term storage. Eat these within a week.
If you want the popsicles to last longer, once they refreeze solid wrap each one in plastic wrap then place in a freezer bag or container. Eat these within a month.
Other Small Batch Popsicle Recipes

Looking for more small batch popsicles? Here are more recipes for homemade popsicles: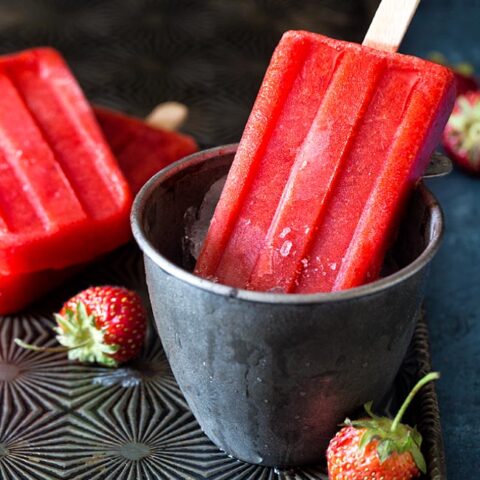 Strawberry Popsicles (Small Batch)
Total Time:
4 hours
15 minutes
Homemade Strawberry Popsicles (Small Batch) are the perfect cool-down treat for summer. They're vegan, dairy free, eggless, and gluten free.
Ingredients
2 cups sliced strawberries (roughly 8 ounces)
1/4 cup granulated sugar
1/4 cup water
2 tablespoons lemon juice
Instructions
Add strawberries, sugar, water, and lemon juice to a blender. Blend until smooth.
Transfer the mixture to popsicle molds or paper cups then insert wooden sticks. Freeze until firm, roughly 4 hours but preferably overnight.
Recommended Products
As an Amazon Associate and member of other affiliate programs, I earn from qualifying purchases.