Kick back and chill out by drinking these Strawberry Slushies with or without wine! Just throw 5 ingredients in a blender and serve.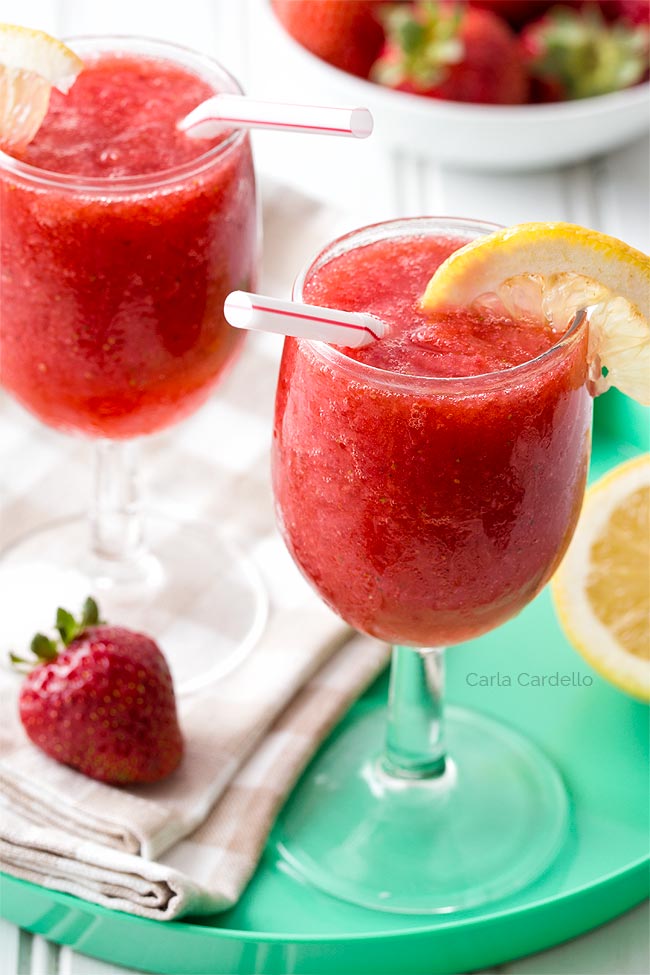 Halfway through summer and boy is it hot, dealing with what feels like record-breaking days in the 90s as well as high humidity.
Not only is it super important to stay hydrated, we need to find ways to cool down besides cranking our air conditioning on full blast.
Even the cat looks at me with his sad eyes and hot fur as he lays in front of the a/c vent.
For me that means cooling down with a chilled drink in hand. Usually it's cold brew coffee, blueberry lemonade, or frozen mango margaritas.
This time I had strawberries picked fresh from a local farm, so I used them up in a Strawberry Slushie.
It's similar to my Watermelon Slushies but made with sweet summer strawberries.
Of course you can buy fresh strawberries all year round and even frozen strawberries from the freezer section, but they're at peak during summer.
All you have to do is crush together 5 ingredients in a blender. So simple.
To make them a little more fun, I added wine to my strawberry slushy. Of course you can keep it non-alcoholic by using lemon-lime soda or even seltzer.
Strawberry slushies are a great way to kick back and relax as we fight off the summer heat.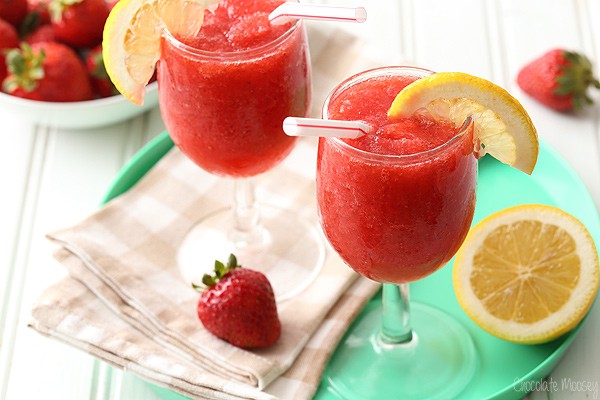 Ingredients For Strawberry Slushies
To make this Strawberry Slush recipe, you'll need the following ingredients:
Strawberries: Can use fresh or frozen
Ice cubes: Only needed if you're not using frozen strawberries
Wine or Lemon-Lime Soda: Not only does your liquid of choice add flavor, it helps smooth out your slushie so it's not too thick.
Lemon juice: Makes your slushie more refreshing.
Sugar: Even though strawberries are sweet, you still need a little more sugar for balance.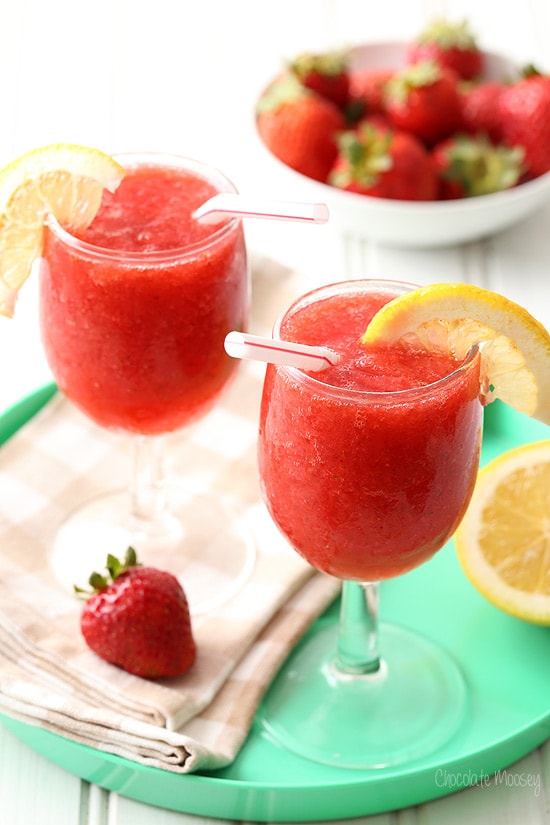 How To Make A Strawberry Slushie
Making a strawberry slush is super easy! So easy, you add your strawberries, ice, liquid, lemon juice, and sugar to a blender.
Once everything is blended together, pour into a wide and shallow pan then freeze until firm, about 30-60 minutes.
When you're ready to serve, break it up with a fork and pour into glasses.
How To Make A Wine Slushie
To make a strawberry wine slushie, I used a summer red spritzer, which is a blend of Pinot Noir Rosé and Moscato with a sweet taste.
Whatever wine you use, stick with a sweet red or pink wine to match the strawberries. You don't want to go with a dry wine.
More Strawberry Recipes

Got more strawberries? Here are some other recipes using strawberries: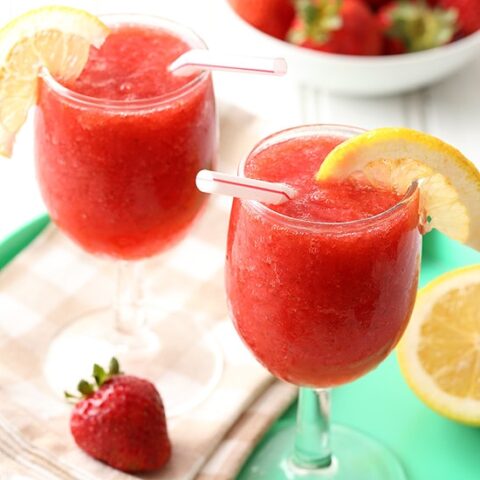 Strawberry Slushies
Total Time:
1 hour
10 minutes
Kick back and chill out by drinking these Strawberry Slushies with or without wine! Just throw 5 ingredients in a blender and serve.
Ingredients
2 cups fresh sliced strawberries
1 cup ice cubes
1 cup red wine spritzer, lemon-lime soda or seltzer water
1/4 cup fresh lemon juice
2 tablespoons granulated sugar
Instructions
In a blender, blend together the strawberries, liquid, lemon juice, and sugar.
Place the mixture in a freeze-proof container (preferably wide and shallow) and freeze until firm, roughly 30-60 minutes.
Break it up with a fork before serving.
Notes
You can use frozen strawberries and omit the ice cubes. You may need to add more liquid if the mixture is too thick when blended.
Enjoyed the recipe? Check out my Watermelon Slushies!
Recommended Products
As an Amazon Associate and member of other affiliate programs, I earn from qualifying purchases.
Originally published August 31, 2015