In the mood for Mexican food? Make these Slow Cooker Beef Enchiladas For Two stuffed with shredded beef, corn, black beans, jalapenos, and topped with cheese and a homemade enchilada sauce.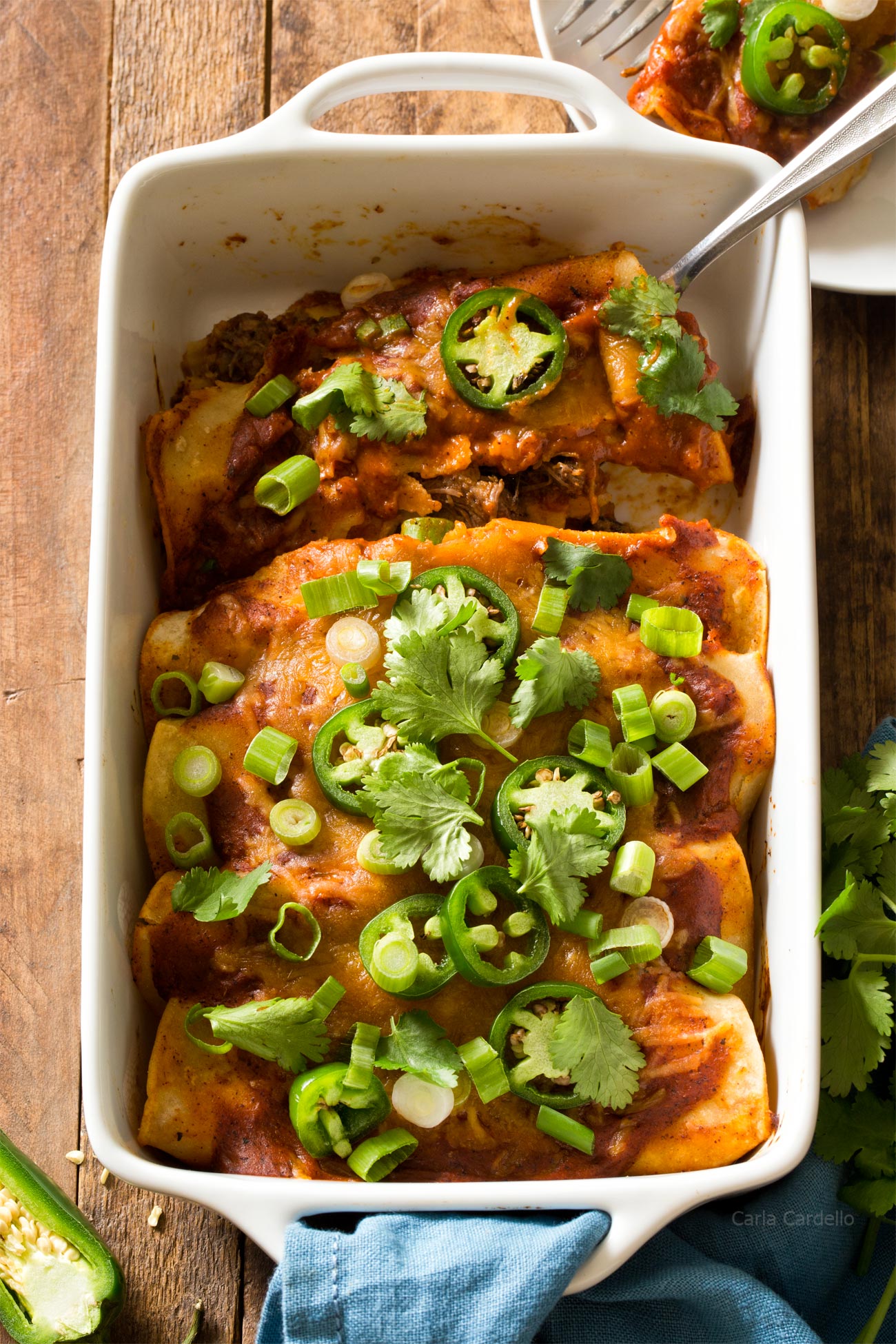 Yesterday I shared my
Homemade Enchilada Sauce
. Today I'm sharing what I made with that sauce – Slow Cooker Beef Enchiladas For Two.
I've been making some form of enchiladas for the past 10+ years. My mom loves them, so she usually requests them for dinner. Usually it's Salsa Chicken Enchiladas, but this time it's crockpot beef enchiladas.
So there isn't any confusion, the slow cooker part refers to cooking the beef chuck roast on low and slow. You still need to assemble and bake them in the oven, but at least cooking the meat is hands off.
Although I usually make a big 13×9 pan for family, 95 percent of the time I cook for myself, so I'm bringing you my scaled down dinner for two version.
I recently saw an enchilada for two recipe. Except it literally made two enchiladas. As much as I'm a huge fan about smaller portions, sometimes it's simply not realistic. I can eat 2-3 enchiladas myself, let alone sharing with another person. Even with homemade Spanish rice as a side, I'd still be hungry.
That's why mine makes 6 small enchiladas, which is ideally 3 per person. I like to call my recipes realistic dinners for two.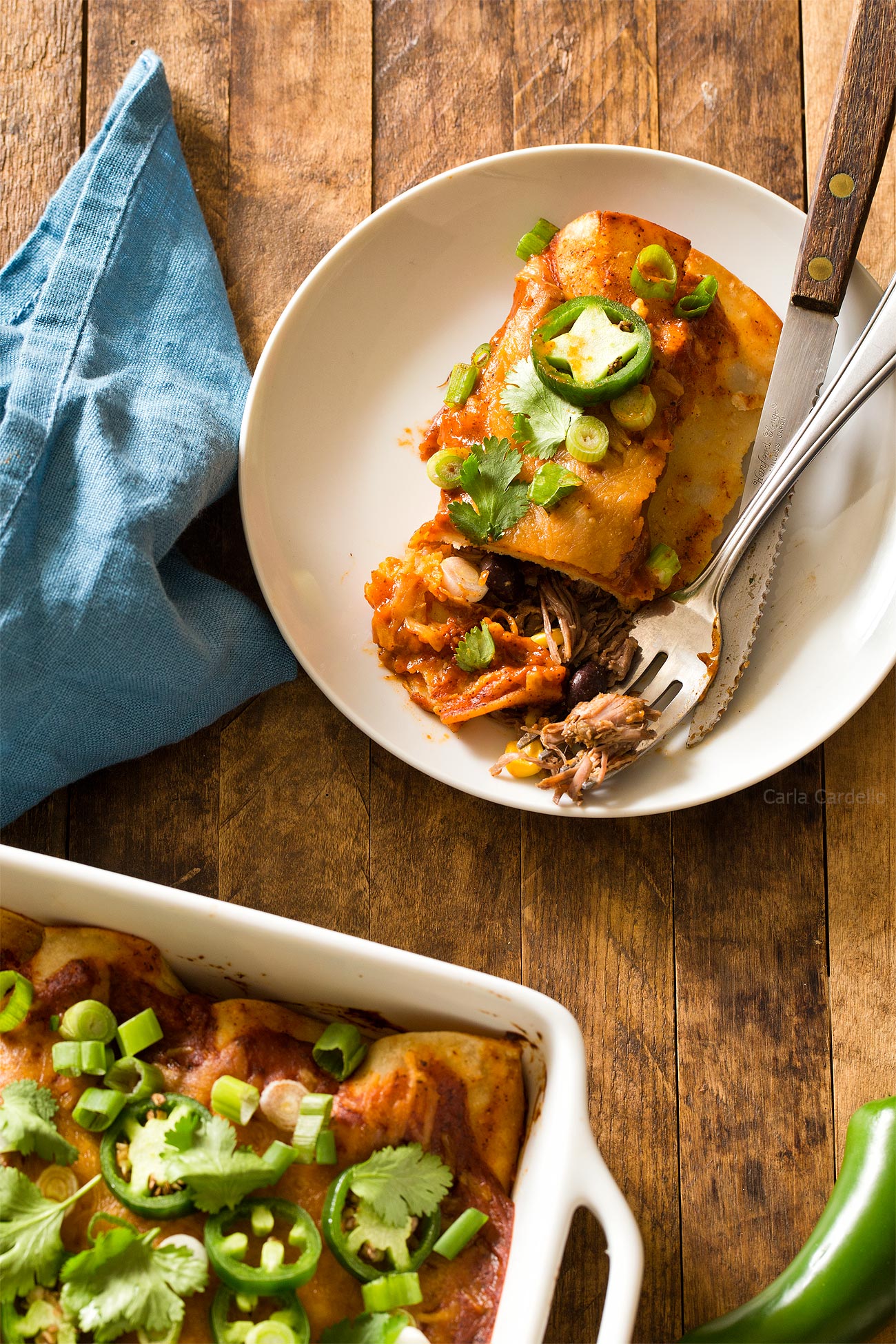 I learned from
Bon Appetit
the key to not having soggy tortillas is lightly frying them before filling. You want them lightly brown but still pliable. Otherwise, you'll have tortilla chips.
Then as counterintuitive as it sounds, you dip each tortilla in homemade enchilada sauce before filling and rolling. This is to help evenly distribute the sauce (and replaces spreading sauce into the bottom of the casserole dish).
It's a little extra work and your hands will get messy, but it really is the difference between fine and great enchiladas.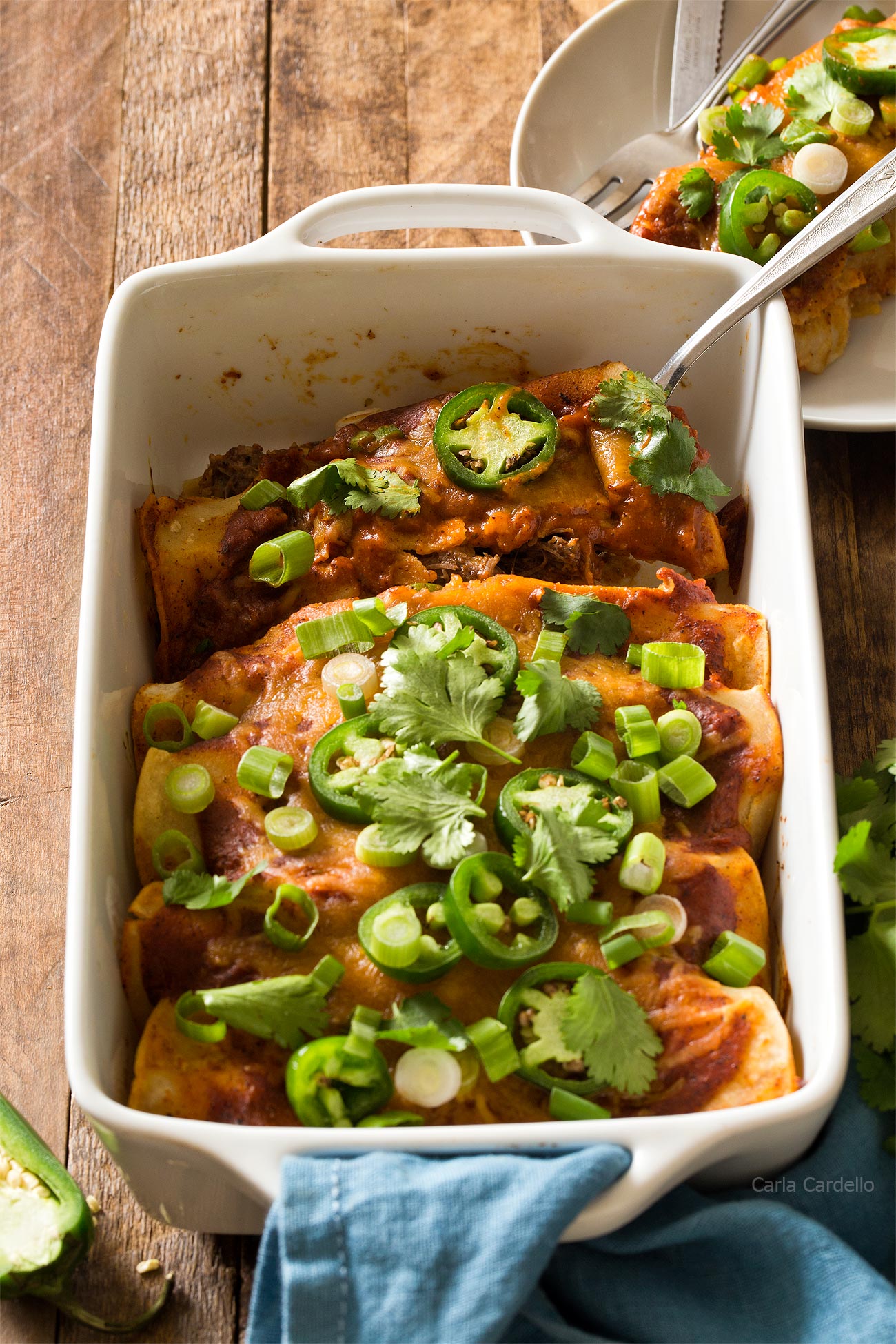 The slow cooker part is for the shredded beef. You take a beef chuck roast, throw it in the crockpot, then after 4-8 hours (depending on your settings), your beef is done. I use this
6 quart slow cooker
(affiliate link).
The hardest part about slow cooking for two is you only need about 1/2 pound of beef. However, you're usually forced into buying several pounds at once.
Ask the meat counter to cut you a smaller piece. If you can't, buy the smallest roast, divide them into 1/2 pound portions, and freeze what you don't use. Check out my other slow cooker recipes for two for more beef ideas.
I learned from watching Top Chef authentic enchiladas are made with corn tortillas, not flour. I'm personally not the biggest fan of corn tortillas, but I wanted to stay true to the recipe. If you prefer flour over corn, you can substitute small flour tortillas.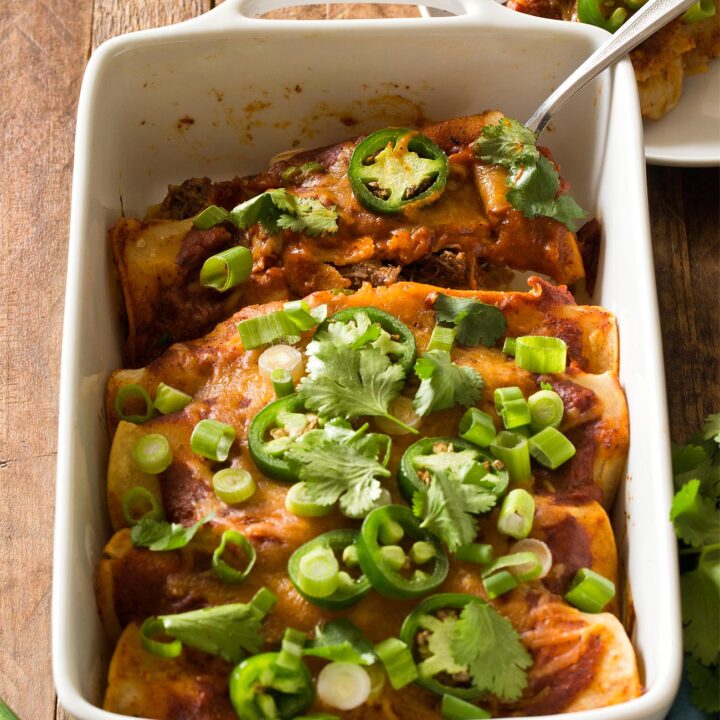 Slow Cooker Beef Enchiladas For Two
Cook Time:
8 hours
20 minutes
Total Time:
8 hours
20 minutes
Ingredients
Slow Cooker Beef
1/2 pound beef chuck roast
1 teaspoon fajita seasoning (get the recipe here)
1/4 cup chopped onion
1 garlic clove, thinly sliced
2 tablespoons beef broth or stock
1 jalapeno, chopped
1/4 cup canned black beans, drained and rinsed
1/4 cup frozen corn kernels, thawed
Enchiladas
2 tablespoons vegetable oil
6 corn torillas
1 recipe Homemade Enchilada Sauce (get recipe here)
1/2 cup shredded cheddar cheese
Cilantro, green onion, and jalapeno slices, for garnish
Instructions
For the slow cooker beef: Rub the beef with the fajita seasoning. Add to a 6-quart slow cooker. Top with onion, garlic, and broth.
Cover and cook on high for 4-6 hours or on low for 8-10 hours or until cooked and easily falls apart. Once cool enough to handle, shred with 2 forks.
Stir in the jalapeno, black beans, and corn. At this point, you can use the beef right away or refrigerate until ready to use.
For the enchiladas: Preheat oven to 350F. Have a small casserole dish ready (mine was 9x6, but you can use any size fitting 6 enchiladas).
In a large skillet, heat the oil until hot. Working with one tortilla at a time, lightly fry one side until it starts to brown, about 30 seconds. Flip and repeat, being careful not to overfry or it'll be too crisp to roll. Transfer to a plate lined with a paper towel. Repeat with remaining tortillas.
In a shallow bowl, add half of the enchilada sauce. Dip 1 fried tortilla into the sauce to coat both sides.
Add some of the beef mixture into the center. Fold one side over the filling then roll to fold over the other side. Place in the casserole dish seam side down. Repeat with the remaining tortillas and filling.
Spread the remaining sauce on top and cover with cheese. Bake 15-20 minutes until bubbling and cheese has melted. Garnish with cilantro, green onion, and jalapeno slices before serving.