Salsa Chicken Enchiladas
No need to run out to a Mexican restaurant when you can make these easy Salsa Chicken Enchiladas at home! Recipe for a homemade enchilada sauce with a special ingredient also included.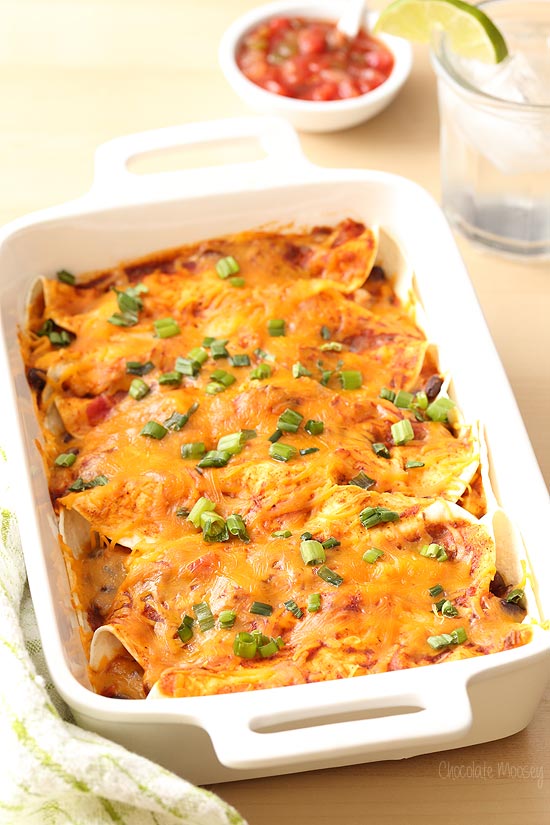 Lately I've been craving chicken enchiladas, which is a little unusual for me because Mexican cuisine is probably one of my least favorites.
That's not to say I hate it because I don't; I would rather eat Asian, Indian, and Middle Eastern food before I choose Mexican.
Probably because I rarely had those cuisines growing up where as I had Mexican a lot. My mom loved going out to Mexican restaurants for her birthday.
Then when I took Spanish class in high school, we would often have evening field trips to a local Mexican restaurant and even had a nice Spanish dinner on a boat cruising one of the three rivers in Pittsburgh.
Now I can't remember the last time I went out for a nice Mexican dinner (unless you count the local Pittsburgh taco truck). Sounds like I'm due for some excellent Mexican food!
Since I'm trying to cut back on my food spending budget, when I have the urge to go out for a specific meal, I make an effort to replicate it at home.
These Salsa Chicken Enchiladas have been on my mind for quite some time, and since Cinco de Mayo is coming up soon, I decided it was about time I made and shared them with you.
The best part is they cost less and take less time to make than going out to eat.
I took some tortillas and stuffed them with chicken, black beans, corn, lots of cheese, and a homemade enchilada sauce spiced with fajita seasoning.
Pop them in the oven for about 20 minutes, and now dinner is ready.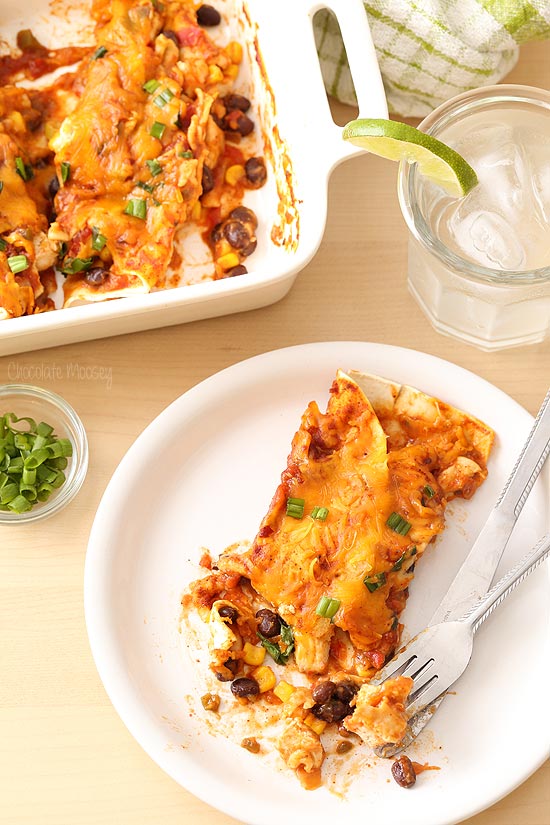 I knew I wanted chicken to be my starring protein for the enchiladas, but I also needed the filling to be more satisfying.
Not only are black beans and corn relatively inexpensive, they also help bulk up the enchiladas so you aren't still hungry after eating.
You can also serve your enchiladas with a side of Homemade Spanish Rice or nachos served with Nacho Cheese Dip for an appetizer.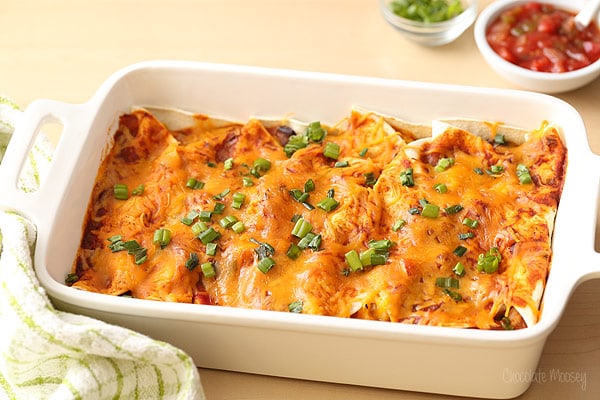 Traditionally,
homemade enchilada sauce
is made with tomato sauce.
However, I got the brilliant idea to substitute in some salsa to bring another level of flavor to the sauce.
I used a homestyle salsa, but you can pretty much use any flavor you want, including roasted garlic and pico de gallo.
You can even use my fresh garden salsa recipe.
Not in the mood for enchiladas? Check out my Chicken Fajita Pasta or Air Fryer Chicken Fajitas.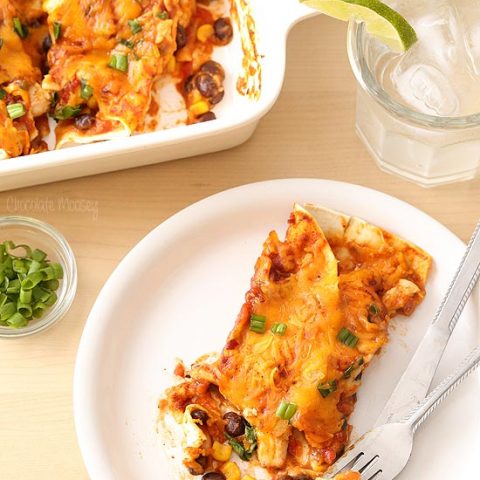 Salsa Chicken Enchiladas
Yield: 4-6 servings
Prep Time: 1 hour
Cook Time: 20 minutes
Total Time: 1 hour 20 minutes
No need to run out to a Mexican restaurant when you can make these easy Salsa Chicken Enchiladas at home!
Ingredients
Enchilada Sauce
2 tablespoons all-purpose flour
2 teaspoons chili powder
1/2 teaspoon ground cumin
1/2 teaspoon salt
1/4 teaspoon dried oregano
1/4 teaspoon garlic powder
1/4 teaspoon onion powder
1 tablespoon olive oil
3/4 cup chicken broth
3/4 cup favorite salsa
Enchiladas
1 tablespoon vegetable oil
1 large boneless skinless chicken breast, patted dry and cut into 1/2-inch pieces
One 15-ounce can black beans, rinsed and drained
1/2 cup corn kernels, thawed if frozen
6 fajita-sized flour tortillas (roughly 7 inches in diameter)
1 1/2 cups shredded cheddar cheese, divided
2 green onions, chopped (reserve some of the green part for garnish)
Instructions
For the enchilada sauce: In a medium bowl, whisk together the flour, chili powder, cumin, salt, oregano, garlic powder, and onion powder. In a large saucepan over medium heat, heat the oil. Once hot, whisk in the flour mixture. Slowly whisk in the broth. Whisk in the salsa then bring to a boil. Cook until thickened, about 3-5 minutes. Remove from the heat.
Preheat oven to 350F. Have a 13x9 pan or similar casserole dish ready.
In a large skillet over medium heat, heat the oil. Once hot, add the chicken. Cook for 3 minutes then flip and cook for another 3-5 minutes or until the chicken is cooked through and no longer pink in the middle.
Reserve 1/2 cup enchilada sauce and 1/2 cup cheese for the top. Stir the black beans and corn into the rest of the sauce.
Add roughly 2 tablespoons of the black bean mixture on top of 1 tortilla. Top with some of the cooked chicken, cheese, and green onion. Fold up the enchilada and place into the pan. Repeat with the remaining ingredients.
Top the enchiladas in the pan with the reserved sauce and cheese. Bake for 20 minutes or until the cheese has melted. Garnish with green onion. Serve immediately.
More Enchilada Recipes
This post may contain affiliate links. As an Amazon Associate and member of other affiliate programs, I earn from qualifying purchase.