Looking to recreate your favorite yellow cake mix from scratch? This Small 6 Inch Yellow Cake For Two with homemade chocolate buttercream frosting is the perfect size if you're looking for cake portion control.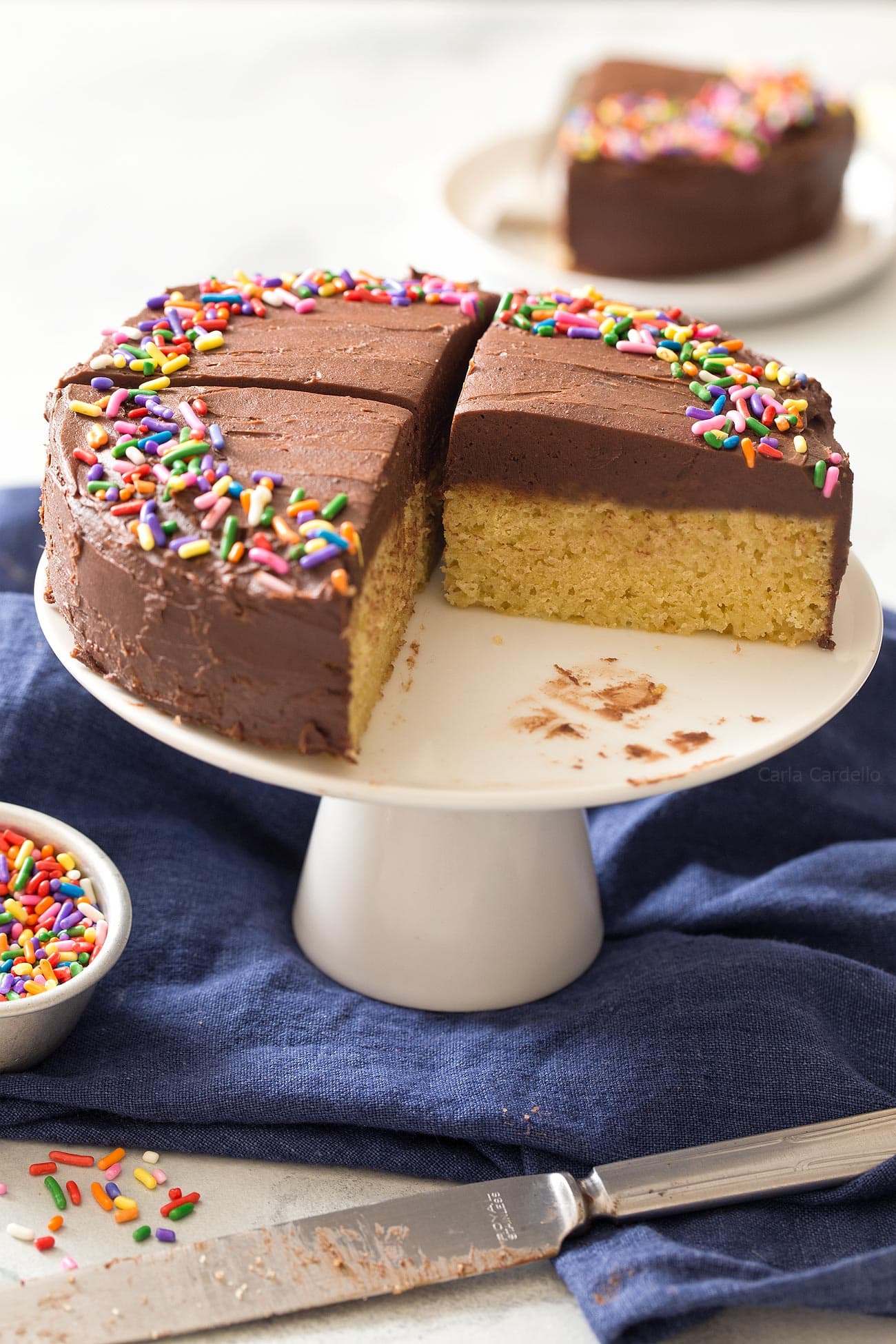 Did you grow up eating cake mix? I did.
There are 4 of us – me, my brother, and my parents. Mom would often make each family member a cake for his or her birthday, usually devil's food but sometimes yellow or even funfetti.
When I learned how to bake, I insisted on making homemade cakes. I even make my own birthday cake now (although I will not object to someone buying me an ice cream cake).
For awhile I made layer cakes on the blog, but I'm now I'm focusing on small batch sizes with 6 inch cakes. Whether you're looking for dessert for two or you're looking for portion control, I got you covered.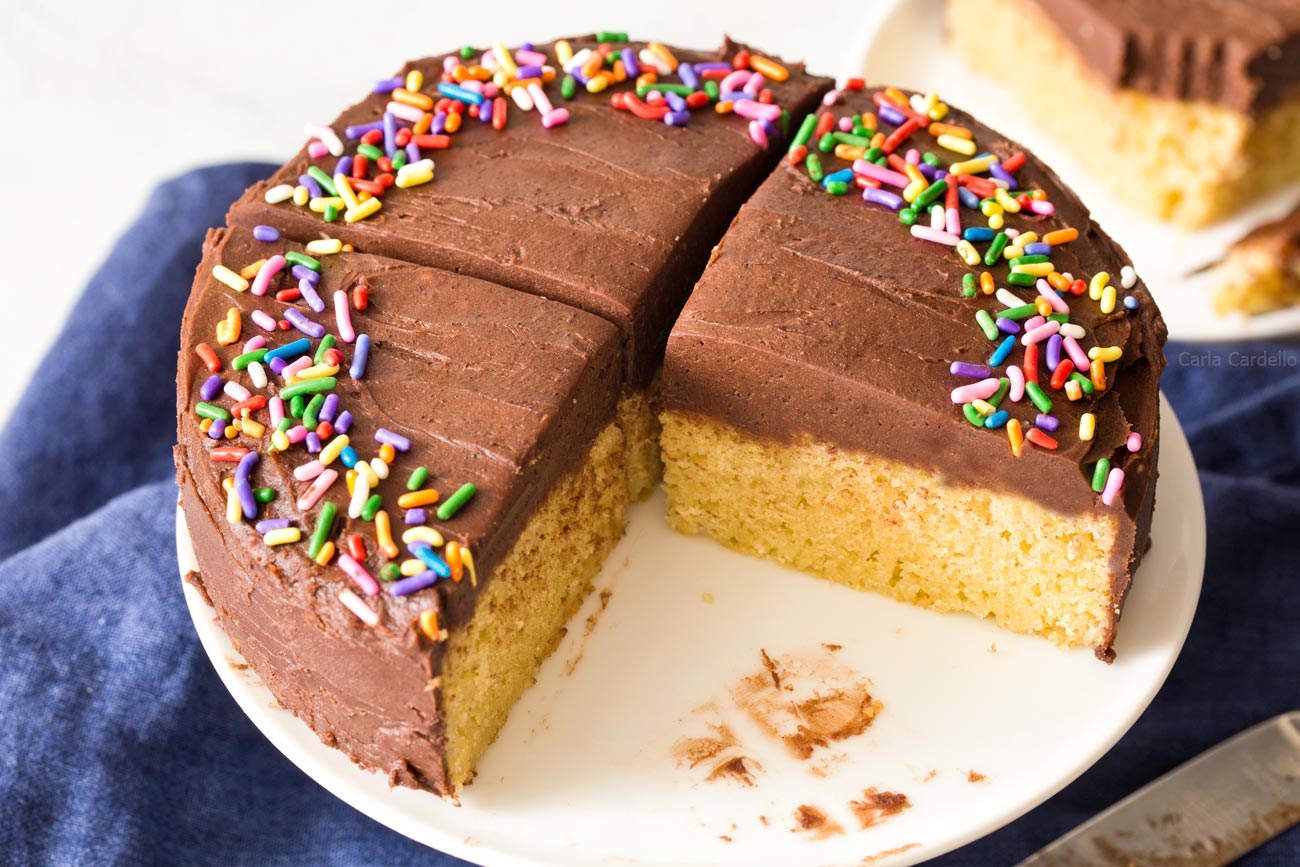 After making my
small 6 inch chocolate cake for two
, I started thinking about what flavors to make next. Soon I started thinking about yellow cake, the kind you see as a cake mix. Of course I'm all about baking cakes from scratch, so I set out to make this Small 6 Inch Yellow Cake For Two.
What's funny is yellow isn't a flavor. You have chocolate cake, vanilla cake, strawberry cake. Then you have yellow cake. What does yellow taste like exactly?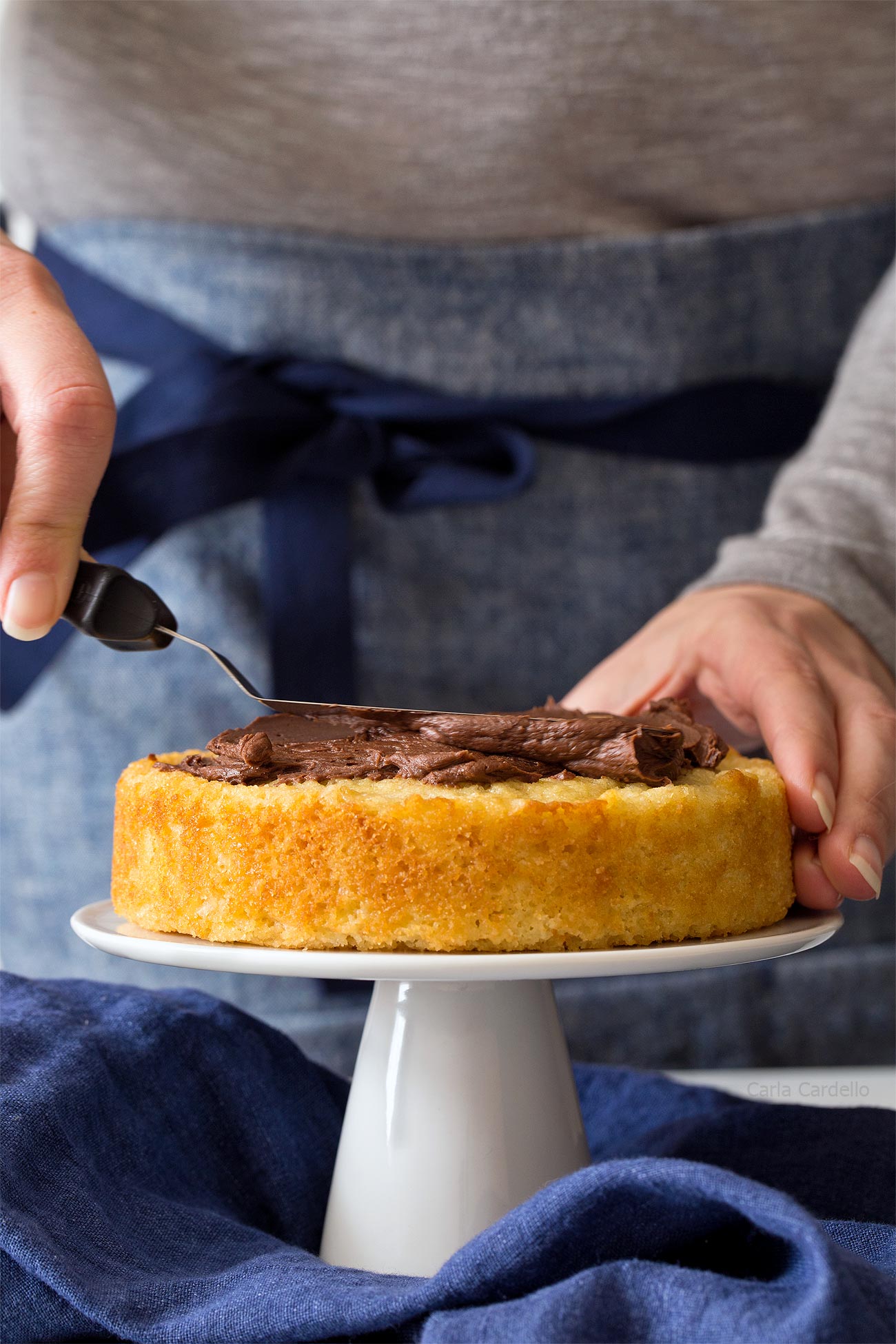 Yellow cake gets its name from using butter and whole eggs (compared to white cake where you use only egg whites). Quite frankly, it's a vanilla cake made with whole eggs. In other words, yellow cake and vanilla cake are the same. It depends on whether you want the richness from the yolks or stick with all whites.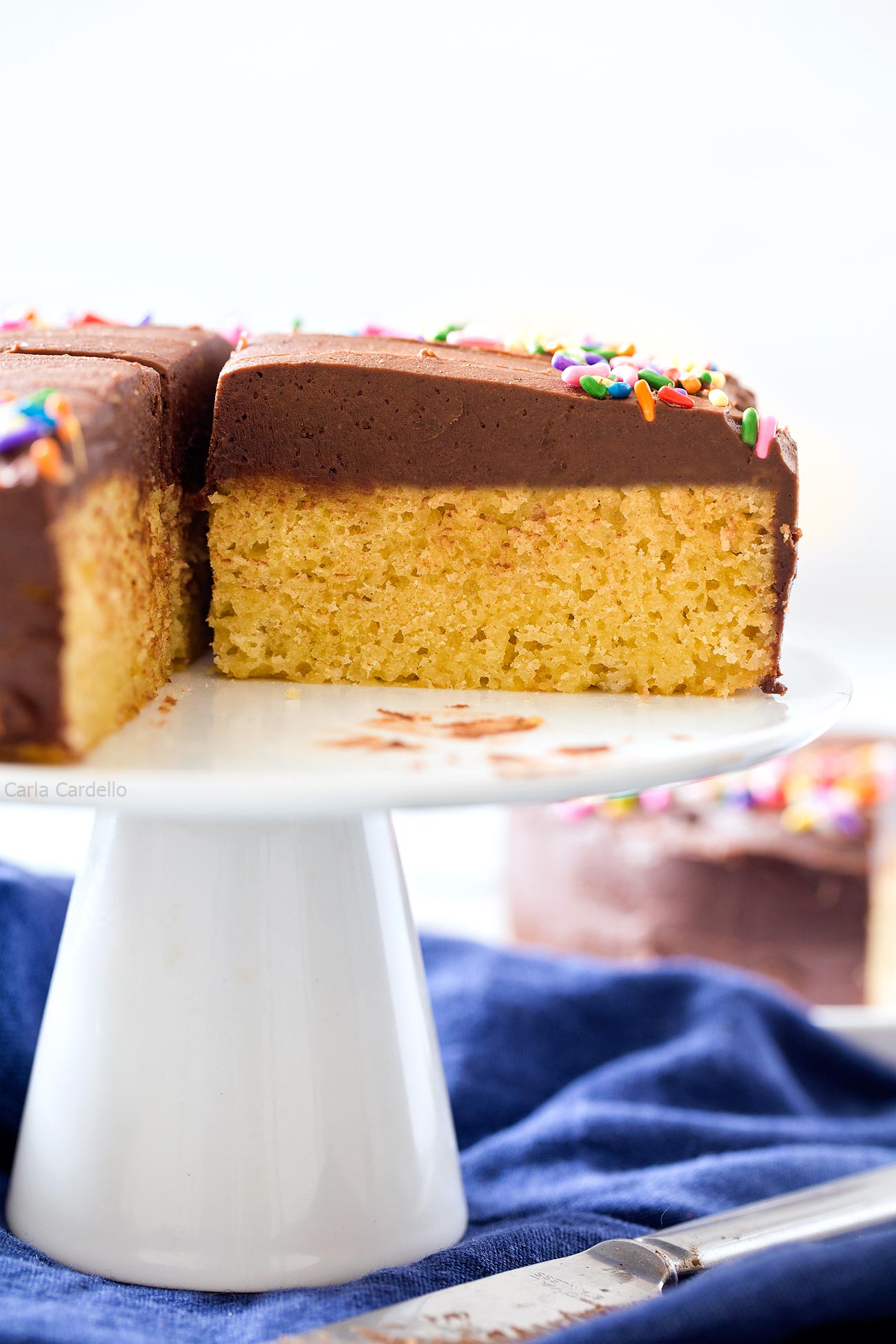 I tested this recipe probably 8 times. The cakes started out too thin. Then some kept doming in the middle while others did the opposite and sunk. I ended up adding baking soda to neutralize the acidity in the buttermilk while the baking powder helped the cake rise to the desired thickness.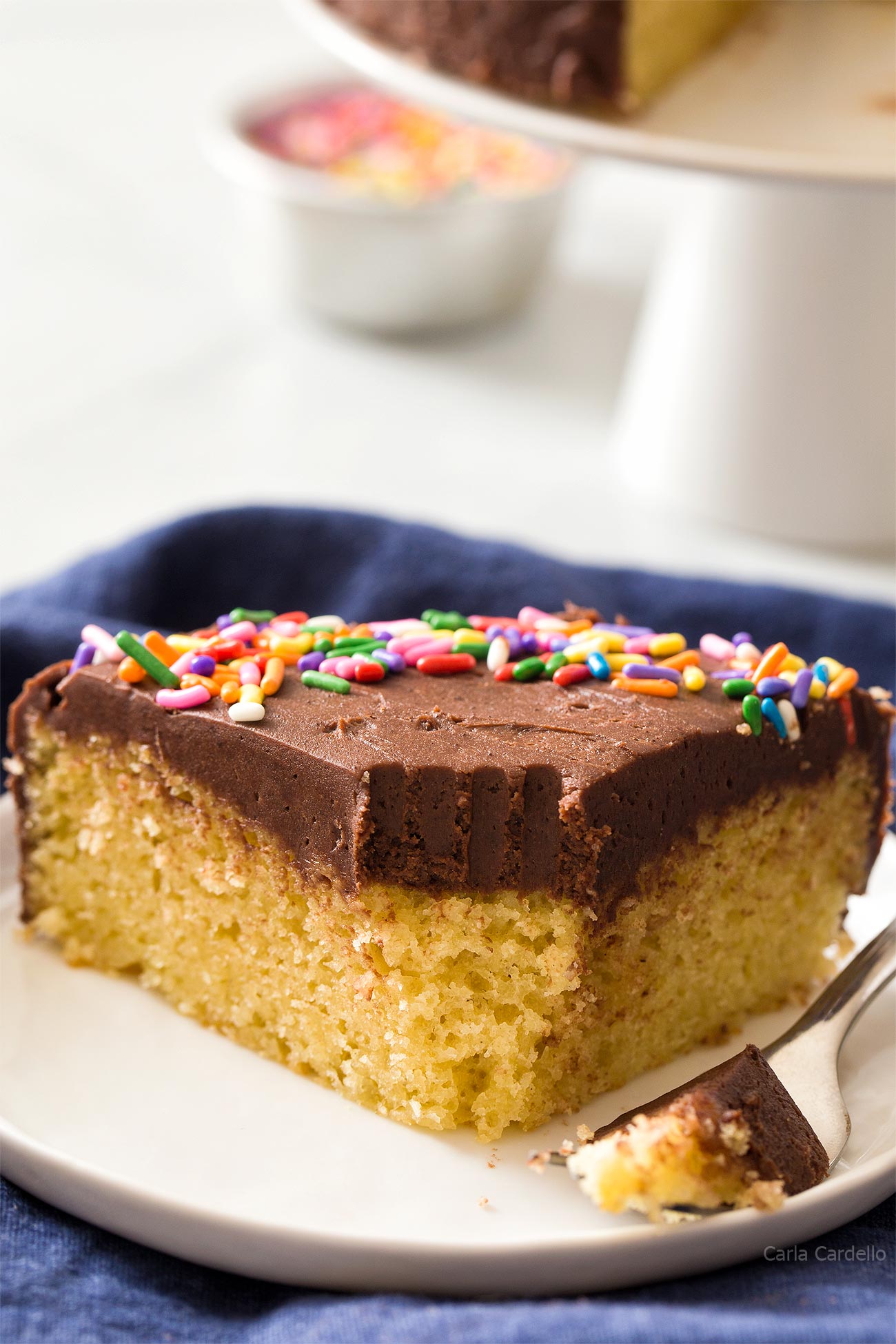 For baking equipment, you need a
6 inch round cake pan
(affiliate link). If you're having trouble finding one, check out the cake decorating section of your local craft store.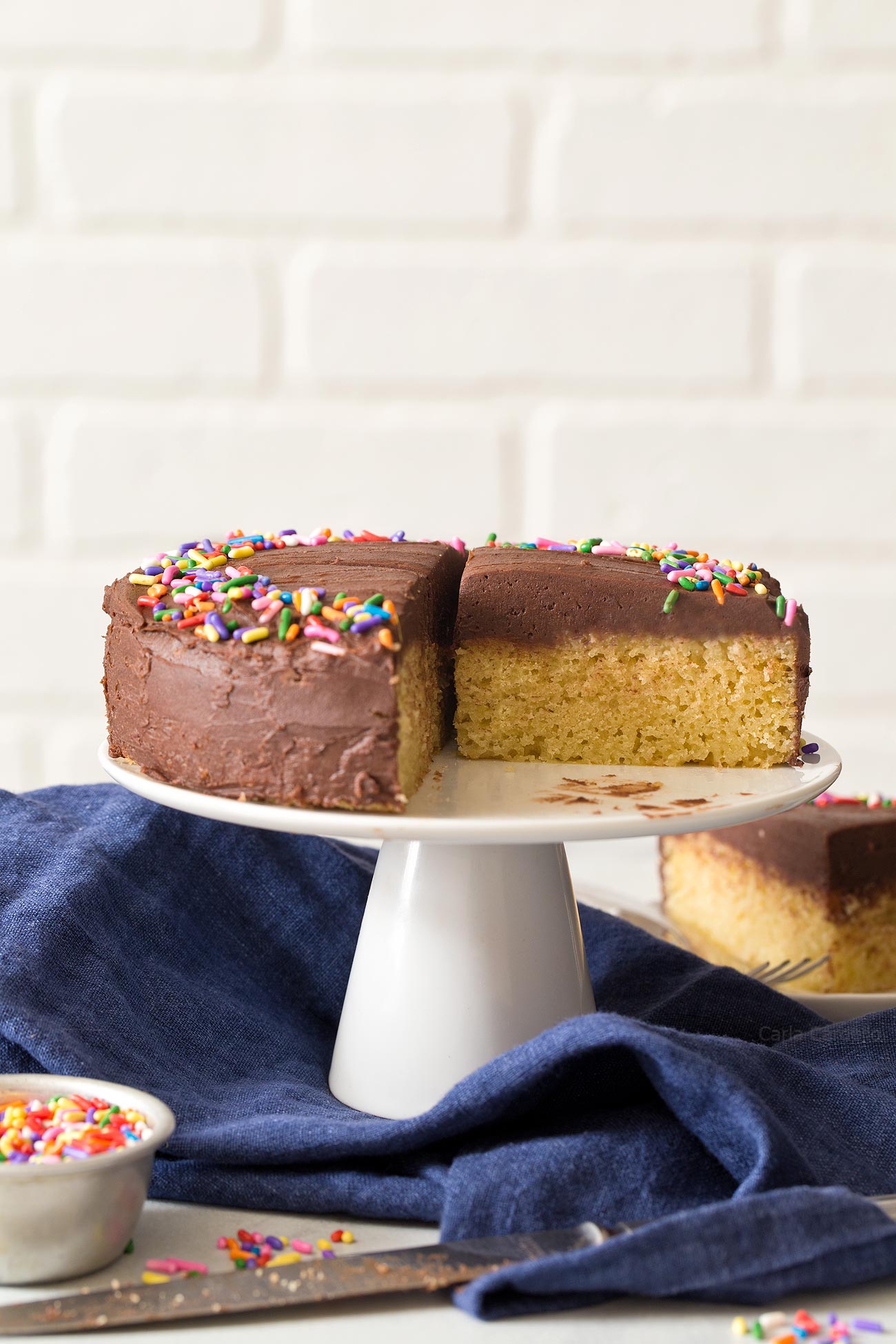 If you make
dessert for two
on a regular basis, you should invest in at least one pan, two if you want to make a small layer cake like my
Cherry Vanilla Layer Cake
.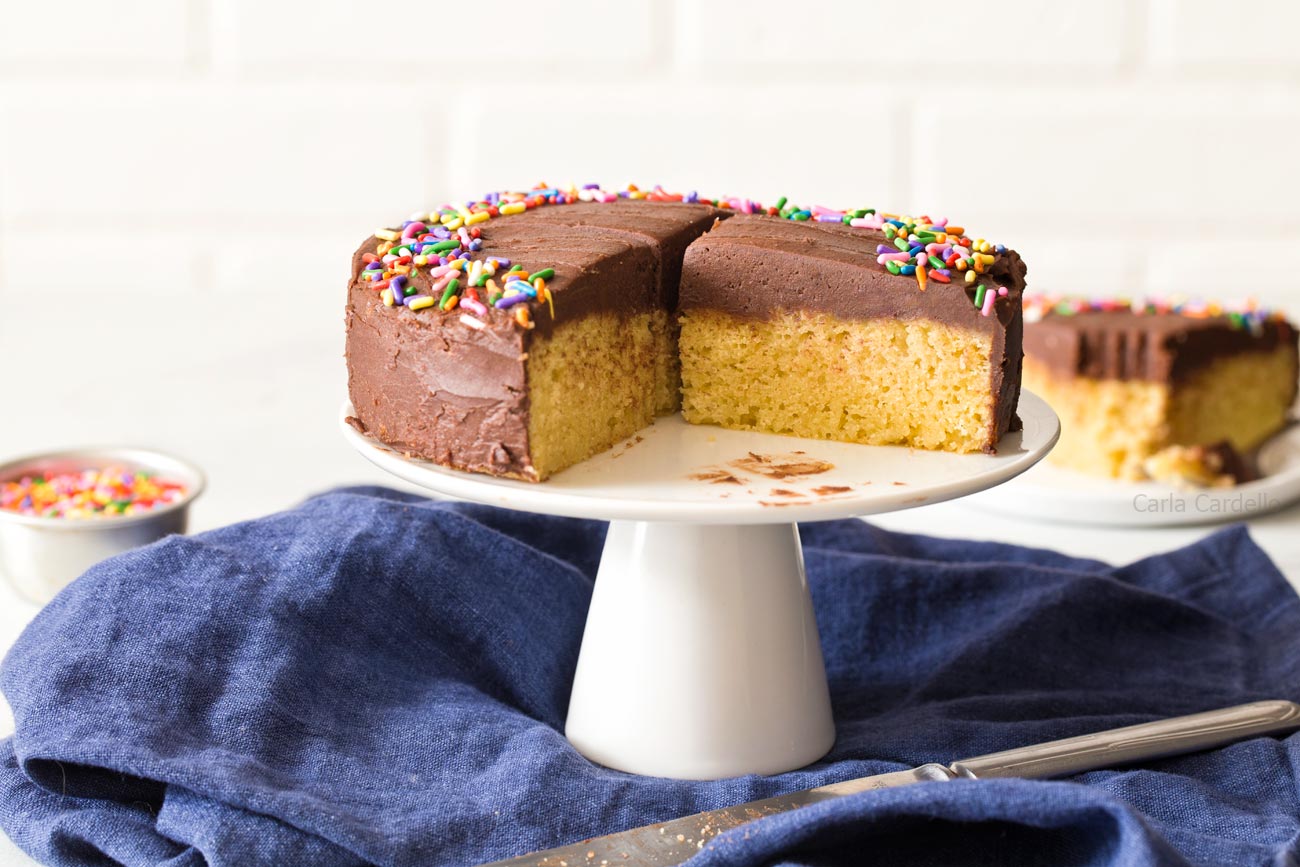 For the frosting, I used my
Small Batch Chocolate Frosting
, which makes enough to frost the top and outside. Don't forget the sprinkles!
Small 6 Inch Yellow Cake For Two
Ingredients
1/2 cup + 3 tablespoons all-purpose flour
1 tablespoon cornstarch
3/4 teaspoon baking powder
1/4 teaspoon salt
1/8 teaspoon baking soda
6 tablespoons unsalted butter, softened
1/2 cup granulated sugar
1 egg, room temperature
1 teaspoon vanilla extract
1/3 cup buttermilk, room temperature
Small Batch Chocolate Frosting - get the recipe here
Instructions
Preheat oven to 350F. Lightly grease one 6-inch round cake pan then line the bottom with parchment paper.
In a medium bowl, sift together the flour, cornstarch, baking powder, salt, and baking soda.
In a large mixing bowl, beat together the butter and sugar until light and creamy, about 2 minutes.
Beat in the egg and vanilla (it will look curdled).
Add the flour mixture alternately with the buttermilk, adding the flour in 3 additions and the milk in 2 additions (begin and end with dry ingredients).
Transfer the batter to the pan. Bake 20-25 minutes or until a toothpick inserted in the middle comes out with a few crumbs (no wet batter). Cool for about 15 minutes, run a knife along the edge of the pan to loosen, and invert onto a cooling rack. Cool right-side-up.
Frost with Small Batch Chocolate Frosting (get recipe here).