Hosting Thanksgiving For Two this year? You can still serve up your favorite traditional side dishes, like Sweet Potato Casserole For Two with mini marshmallows and chopped pecans on top. Plus learn the difference between sweet potatoes and yams.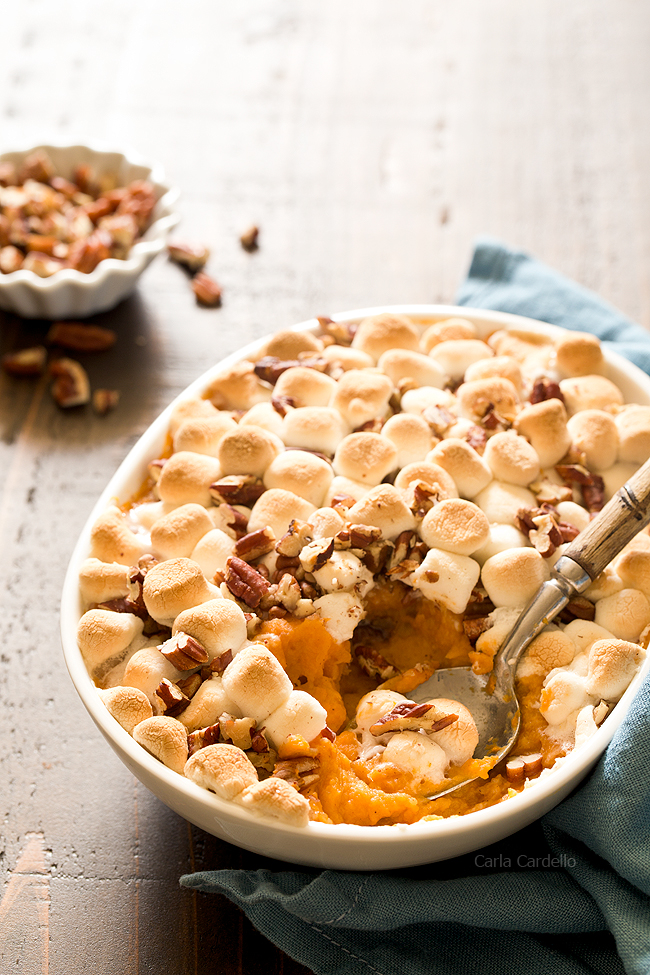 If you watch my
Instagram stories
, then you probably noticed I no longer live alone. A few weekends ago I adopted a 1.5 year old brown tabby named Mr. J, J for short. That's what the shelter named him and didn't see a reason to change it.
J has been a huge handful. He's the opposite of my last cat Murray. J is very needy and constantly wants me to hold him and sleep in my lap. In fact, he jumped from the chair into my arms when I wasn't holding him. Of course he fell to the floor so hopefully he learns not to do that again.
I can tell he's calming down and starting to sleep and play by himself. Some days I wonder what I got myself into. Other days I can't stop smiling when he's sleeping in my lap. He tends to roll on his back, which never works in his favor when I'm sitting in a chair. He literally grabs the kitchen table because he's falling.
It probably doesn't help I work from home, so I'm almost always around. He even follows me into the studio to work. Luckily he sleeps under the table in the sunlight, but I do have to make sure there is no cat hair in my shots.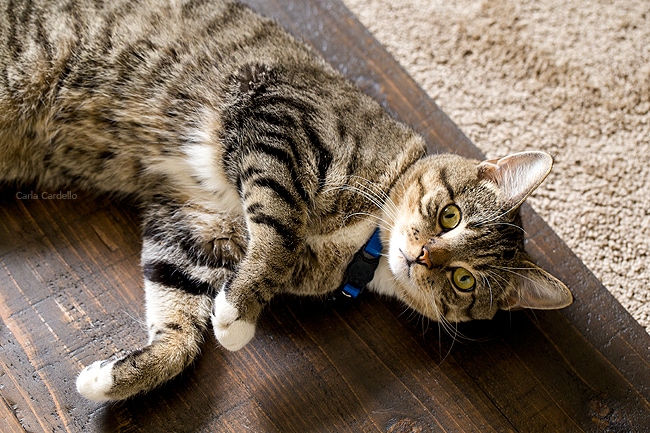 The first recipe he supervised was this Sweet Potato Casserole For Two with mini marshmallows and pecans on top. With Thanksgiving coming up in a few weeks (!!!), I wanted to make more
small batch recipes
for anyone cooking
Thanksgiving For Two
.
Sweet potato casserole is simply mashed sweet potato baked in a casserole dish topped with mini marshmallows and chopped pecans. I scaled it down to 4 servings so you can still enjoy this traditional Thanksgiving side dish if you're not hosting a large holiday dinner.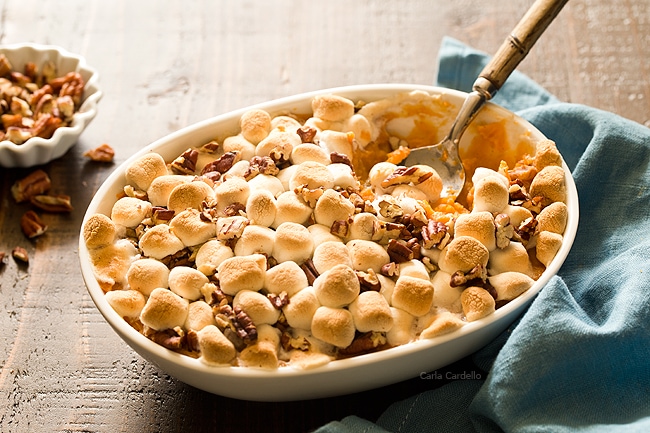 Let's talk about the difference between sweet potatoes and yams. Even I was confused about this, so I did some research.
Yams are not orange; their flesh is usually white or cream colored, sometimes even purple. Their skin is brown and bark-like.
A sweet potato can either be golden skin with pale flesh or red skin with orange flesh. When we think of sweet potato, we often think of the orange variety.
It's confusing because once upon a time, grocery stores wanted to differentiate between white and orange sweet potatoes, so they labeled orange sweet potatoes as yams, even though they aren't true yams. Confused yet?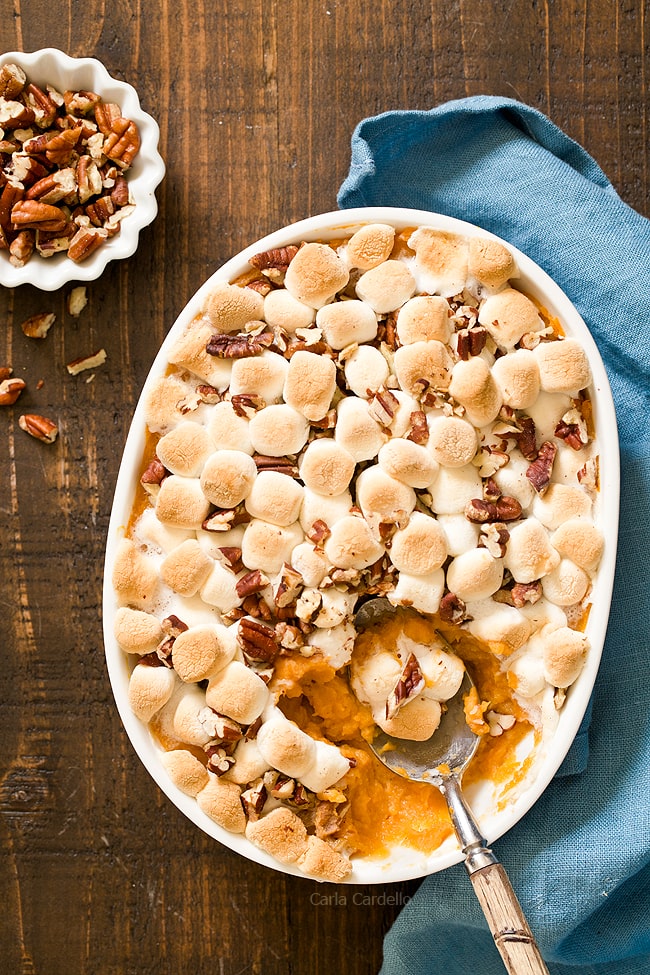 TLDR: The chances of you buying a true yam at the grocery store is low. What is often labeled as a yam is actually a mislabeled orange sweet potato.
I'm not sure who decided toasting mini marshmallows on top of mashed sweet potatoes was a great idea, but I didn't want to mess with tradition. If it's too sweet for you, you can top the casserole with all chopped pecans tossed in some butter and cinnamon.
Of course sweet potato casserole isn't limited to holiday dinners. You can serve it as a comforting everyday side dish.
Yields 4 servings
Sweet Potato Casserole For Two
15 minPrep Time
45 minCook Time
1 hrTotal Time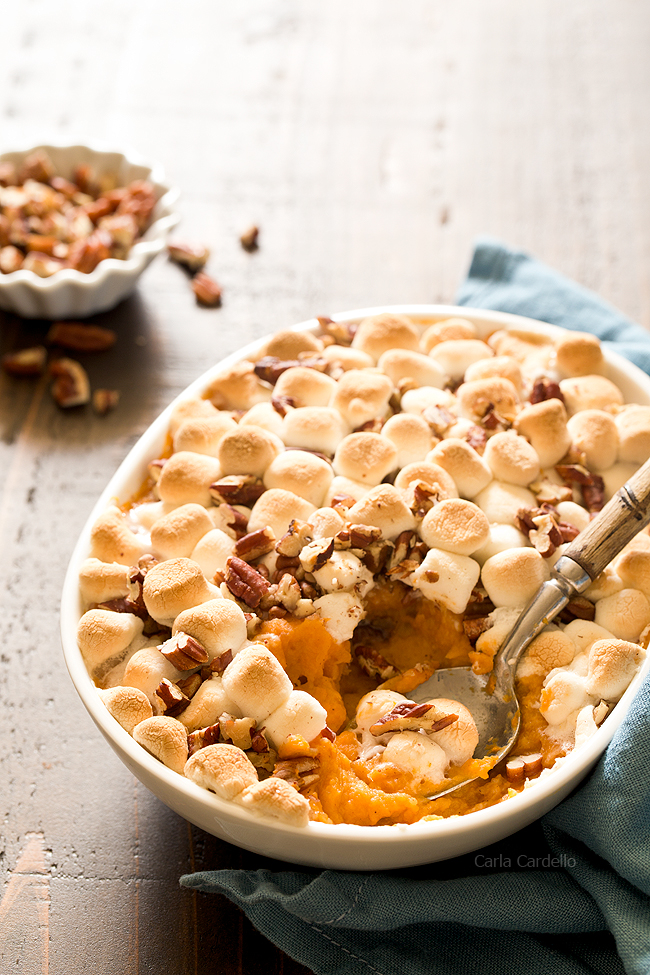 Ingredients
2 large sweet potatoes, peeled and cubed (roughly 1.5 pounds)
2 tablespoons unsalted butter
2 tablespoons brown sugar
1/4 cup whole milk, room temperature
1/2 teaspoon salt
1/4 teaspoon ground cinnamon
1/4 teaspoon vanilla
1 1/2 cups mini marshmallows
1/2 cup chopped pecans
Instructions
Preheat oven to 350F. Have a 1 quart casserole dish ready.
Place the cubed sweet potatoes in a large pot and cover with water. Add a big pinch of salt. Bring to a boil.
Once boiling, reduce to a simmer and cook for 10 minutes or until tender. Drain and cool slightly.
In a large mixing bowl (or by hand with a potato masher), beat the sweet potatoes until mashed and smooth (do not overbeat). Beat in the butter, brown sugar, milk, salt, cinnamon, and vanilla.
Transfer to the casserole dish. Top with mini marshmallows and pecans. Bake for 20 minutes or until the marshmallows are toasted.
7.8.1.1
3627
https://www.chocolatemoosey.com/2017/11/06/sweet-potato-casserole-for-two/