When you're only serving 2-4 people for Thanksgiving and roasting a whole turkey isn't ideal, you can still have the flavors of Thanksgiving with Caramelized Onion and Cranberry Stuffed Turkey Breasts complete with Turkey Pan Gravy without having an insane amount of leftovers.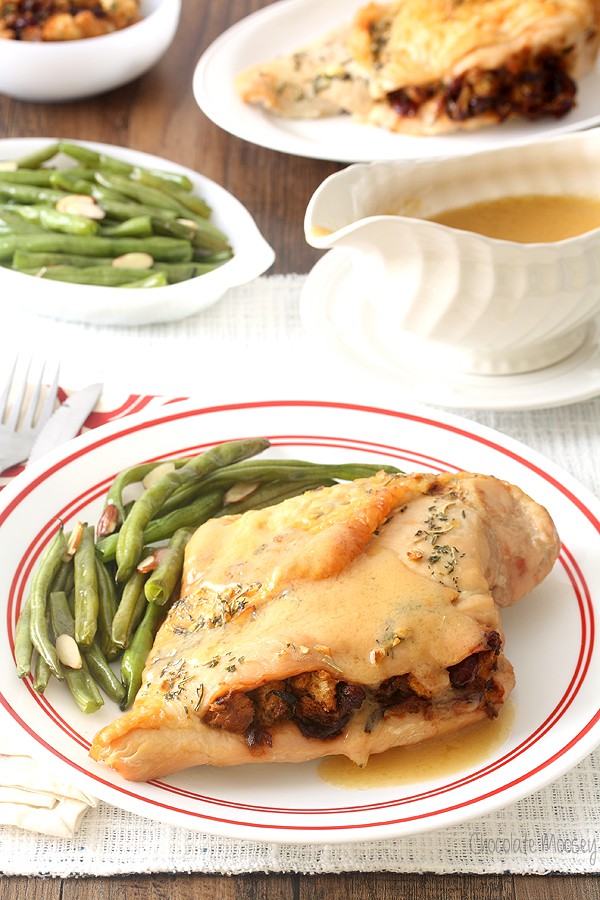 When it comes to Thanksgiving dinner, how traditional are you? Do you make the same recipes each year or do you branch out with new ideas? We are very traditionalists here when it comes to any holiday dinner (although we may try something new for Christmas and Easter). Thanksgiving I can almost guarantee what the menu will be year after year –
mashed
or
scalloped potatoes
,
green bean casserole
,
gravy
, Mom's stuffing, Dad's pumpkin pie. The only change up we have is the meat. Since there's only four of us (with one not liking turkey and another who doesn't eat much meat), we usually cook small Cornish hens. A few years we've even had turkey legs. Another option for a family of four is turkey breast. One turkey breast half is probably three times the size of a regular chicken breast. Totally enough food if you buy two breasts for four people. Even one turkey breast is perfect if you're having Thanksgiving for two. However, one of the best parts about roasting a whole turkey is stuffing it. At least with Cornish hens you can still stuff them. What about turkey breast? Luckily turkey breasts are thick enough to stuff, and keeping with traditional Thanksgiving flavors, I made Caramelized Onion and Cranberry Stuffed Turkey Breasts complete with turkey pan gravy as another meat option for your Thanksgiving dinner (and if you don't celebrate Thanksgiving, you can make these stuffed turkey breasts for a homey, comforting meal when you want something a little more special for dinner. You can most certainly enjoy these flavors all year round).
The hardest part about cooking turkey (or any meat, really) is knowing when the meat is properly cooked. You certainly do not want to serve undercooked turkey! I'm pretty terrible at this because I'm usually *that* cook who cuts into the meat to see if it's still pink. You can't exactly do that for Thanksgiving when presentation is everything. Luckily, I had a little help with a tiny yet very convenient kitchen tool – the Pop Up® Disposable Cooking Thermometer. It lets you know when the turkey is ready to eat. You don't even need to open the oven door (unless you have an old oven like mine where there is no window to peek in).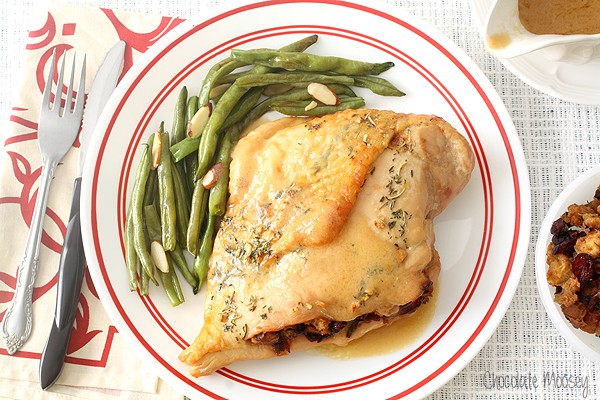 Ok I have a tiny confession to make – I've never actually bought bone-in skin-on turkey breast before. I've bought boneless skinless turkey breast, turkey legs, Cornish hen, boneless skinless chicken breast, all meats very similar to it but never bone-in skin-on turkey breast. I bring this up because I had quite the adventure buying it. First, there is no such thing as boneless skin-on turkey breast. It's either bone and skin or boneless and skinless. And since you neeeeed that crispy, golden turkey skin, you need to debone the turkey breast yourself. This was my second time ever deboning poultry and surprisingly incredibly easy. The bone is all on one side, so you just need to cut as close to the bone as you can with a super sharp knife (just look up various YouTube videos for demonstrations). Or depending on where you buy your meat, you can very nicely ask the butcher to debone it for you.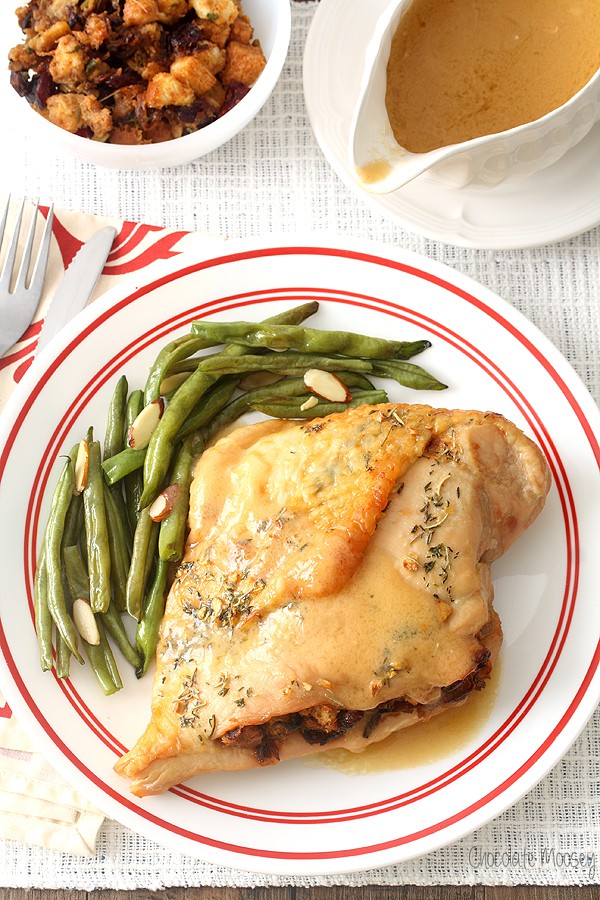 Second, there is no such thing as tiny turkey breasts. Go big or go home. It took me three stores to finally buy my meat. One butcher told me most breasts are bigger than 3 pounds because of the high demand. I somehow got incredibly lucky and found 2.5 pound and 2.97 pound turkey breasts at another store. Because of this factor, my recipe may vary for you. You may have leftover stuffing. You may use all of the stuffing. Your cooking time may take longer if the meat is bigger.
Speaking of cook time, have you heard about the
Pop Up® Disposable Cooking Thermometers
? They are brought to you by Volk Enterprises, the same company who makes the Cook'd Right Sensors I used on my
taco wings
. What you do is stick one of these disposable thermometers inside the thickest part of the breast, flush to the skin (being careful to actually stick it in the meat and not the stuffing). When the turkey reaches an internal temperature of 180°F, the red portion of the sensor will pop up. That means you can see when the turkey is done without opening your oven door and letting heat out (assuming your oven actually has a window, unlike mine). Remember how I said that the cooking time may vary due to the size of the meat you bought? Using the Pop Up® thermometer will let you know when the meat is done so you aren't guessing. Ask your grocery store or butcher for the thermometers as they are available nationwide. For more information on how they work,
you can watch this video on their YouTube channel
. You can also follow them on
Facebook
,
Twitter
, and
Pinterest
.
Just like a regular Thanksgiving dinner, these stuffed turkey breasts do take some time to prep. I actually prepped most of the stuffing and the herb butter the day before cooking. To help make the most of your time, I also included a Thanksgiving prep schedule below. I promise these turkey breasts are pretty easy to make. You just need a little extra time to caramelize the onions and chop up the bread and celery.
Caramelized Onion and Cranberry Stuffed Turkey Breasts
Yield: 4 servings

Prep Time: 1 hour

Cook Time: 2 hours

Total Time: 3 hours

When you're only serving 2-4 people for Thanksgiving and roasting a whole turkey isn't ideal, you can still have the flavors of Thanksgiving with Caramelized Onion and Cranberry Stuffed Turkey Breasts complete with Turkey Pan Gravy without having an insane amount of leftovers.
Ingredients
Caramelized Onion and Cranberry Stuffing
3 1/2 cups 1/2-inch bread cubes (roughly 4 slices bread)
2 tablespoons butter (add 1/8 teaspoon salt if unsalted)
1 medium onion, thinly sliced
1 rib celery, chopped
2 teaspoons dried parsley
1/3 cup chicken broth
1 egg, lightly beaten
1/2 cup dried cranberries
Turkey
1 stick (4 ounces) butter, softened (add 1/4 teaspoon salt if unsalted)
2 minced garlic cloves
1/2 teaspoon dried parsley
1/2 teaspoon dried thyme
1/4 teaspoon dried rosemary
Two 3-pound skin-on turkey breasts, thawed and deboned
Pan Gravy
1/2 - 3/4 cup chicken broth
1-2 tablespoons butter
2 tablespoons all-purpose flour
Salt, to taste
Instructions
For the stuffing: Preheat oven to 400F. Spread the bread cubes in a single layer on a baking sheet. Bake until golden brown, 5-10 minutes. Cool completely.
Meanwhile, in a large skillet, melt the butter (add salt if necessary). Add the sliced onions and stir to coat with butter. Cook for 20 minutes until golden brown, stirring every few minutes and scraping any bits that form on the bottom. Add celery and cook another 5-8 minutes until soft.
Place the toasted bread cubes in a large bowl. Add the caramelized onion mixture, parsley, chicken broth, egg, and cranberries. Stir until everything is moistened and sticking together.
For the turkey: Preheat oven to 325F. Line a baking pan with foil. Spray a roasting rack with cooking spray and place it inside the pan.
In a large mixing bowl, beat together the butter, salt (if using), garlic, parsley, thyme, and rosemary. Evenly rub the butter mixture underneath and on top of the skin.
Cut a pocket into one side of each turkey breast big enough to hold stuffing (without cutting all the way through). Fill with stuffing (place any leftover stuffing in a heatproof container to bake along side the turkey). Use a few toothpicks to close the pocket. Place a Pop Up® Disposable Cooking Thermometer into the thickest part of the breast.
Place both turkey breasts on the roasting rack. Bake for 1-2 hours or until the internal temperature reaches 180F and the red portion of the thermometer pops up. Let rest for at least 15 minutes before serving hot with gravy.
For the gravy: While the turkey is resting, make the gravy. Place any meat drippings into a measuring cup and refrigerate 15 minutes. If any fat forms, skim it off the top and save. Add enough chicken broth to equal 1 cup.
In a medium saucepan, melt the fat from the drippings (if any). If there isn't enough fat, add enough butter to equal 2 tablespoons of fat total. Stir in the flour and cook for 1 minute or until brown. Slowly whisk in the drippings mixture. Bring to a boil and cook until thickened, roughly 5 minutes. Taste and add salt if necessary.
Notes
Just like traditional Thanksgiving dinner, this recipe does take a bit of prep time. However, you can do some of the steps ahead of time. The day before, you can toast the bread cubes, caramelize the onions with the celery, and make the herb butter.



Thanksgiving Side Dishes For Your Turkey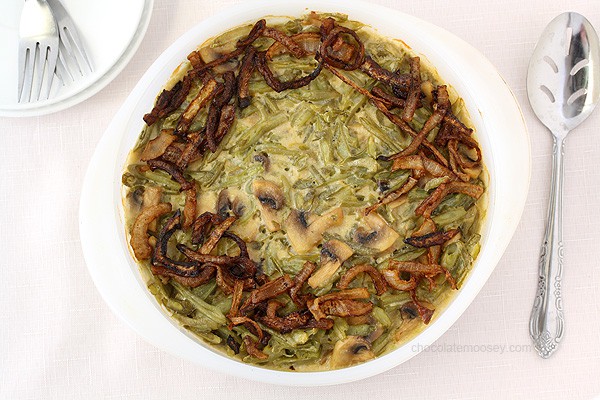 Green Bean Casserole (Without Canned Soup)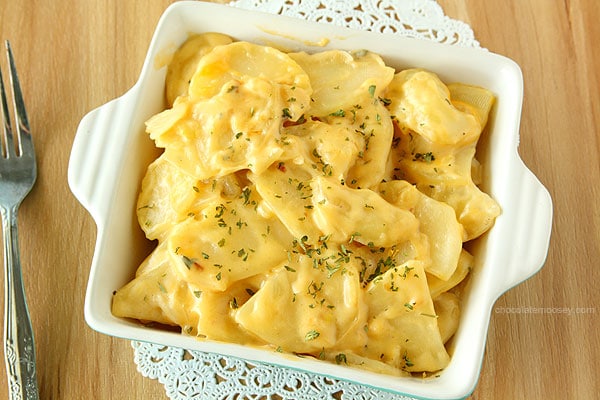 Easy Cheesy Stovetop Scalloped Potatoes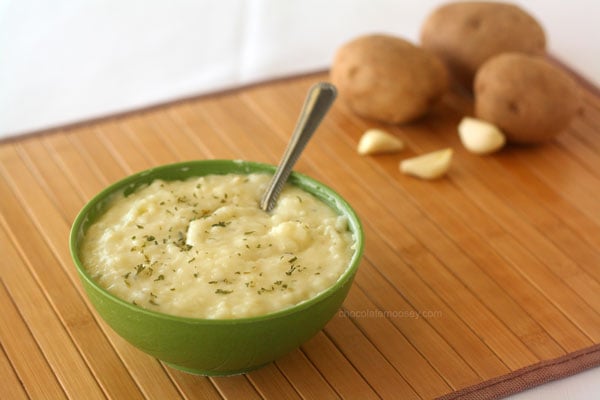 Creamy Garlic Mashed Potatoes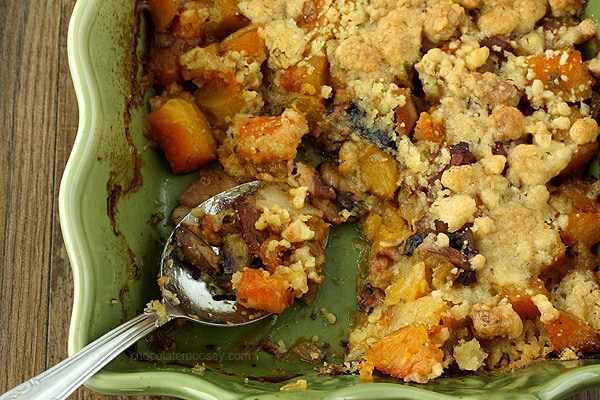 Butternut Squash Crumble

Honey Butter Dinner Rolls
Disclosure: I was compensated by Volk Enterprises for this recipe. As always, thank you for reading and supporting brands I work with, which allows me to bring you more recipes. All opinions, text, and photographs are my own.