Caesar Macaroni Salad with a homemade Caesar dressing combines traditional Caesar salad and summer macaroni salad into one picnic side dish.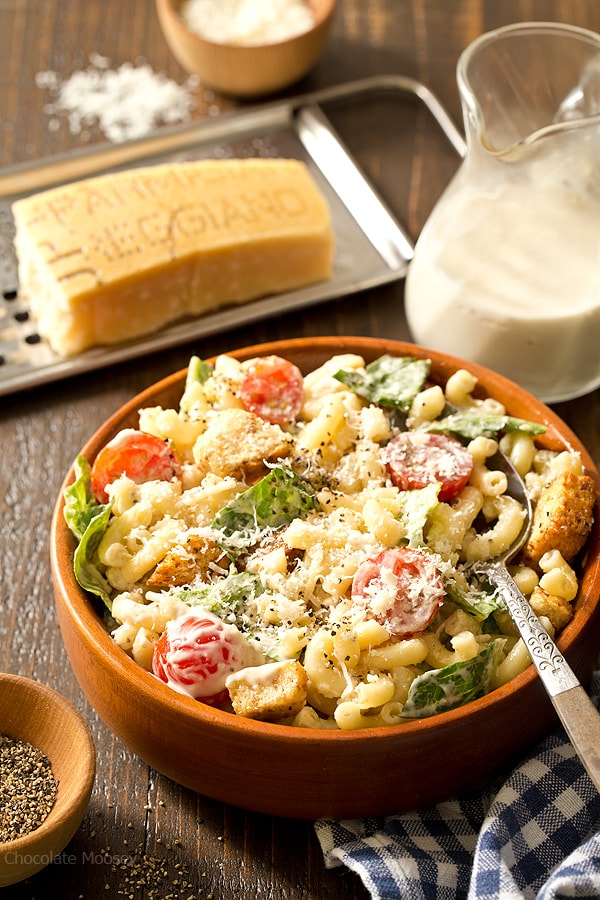 Last week I talked about my new tagline and how it more accurately described the recipes I make. Although I do my best to make food from scratch, sometimes I need a little help with the ingredients. This Caesar Macaroni Salad perfectly describes what I mean. The dressing is homemade, only taking a few minutes to whisk everything together in a bowl. However, I made this pasta salad the day after vacation, so I was beat and bought croutons from the store. Part of my real-life cooking brand – life happens and you adjust your grocery list. Maybe on a day when I have more energy I'll make homemade croutons, but you know how it goes when you take a week off of work then have to pretend you enjoy being back in the office when it's over.
I know what you're thinking. With summer coming up, you don't need another macaroni salad recipe. After all, you love my Amish macaroni salad. Well I'm here to tell you yes you do. Caesar macaroni salad takes the flavors of a traditional Caesar salad and combines it with summer macaroni salad: creamy homemade dressing, Parmigiano Reggiano, grape tomatoes, romaine lettuce, and croutons. Whether you made this for your next picnic or eat it for dinner (after all, it's pretty much just cold macaroni and cheese, right?), you won't have to worry about any leftovers.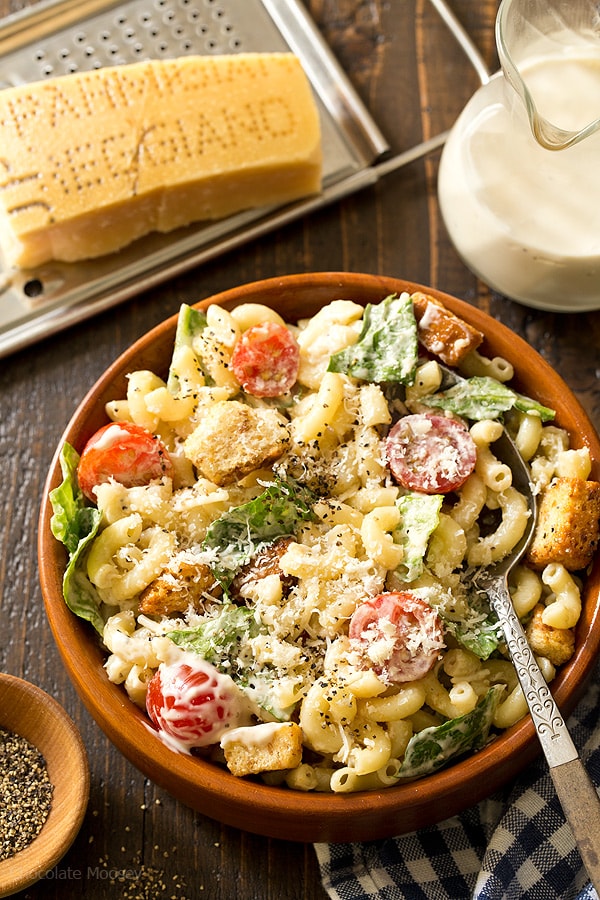 Traditionally Caesar dressing starts with egg yolks, but because the dressing isn't cooked, the yolks would remain raw. Since there could be health concerns with consuming raw egg, I used jarred mayonnaise as the base, resolving that concern. No need to warn people about raw egg when all you want to do is enjoy your picnic.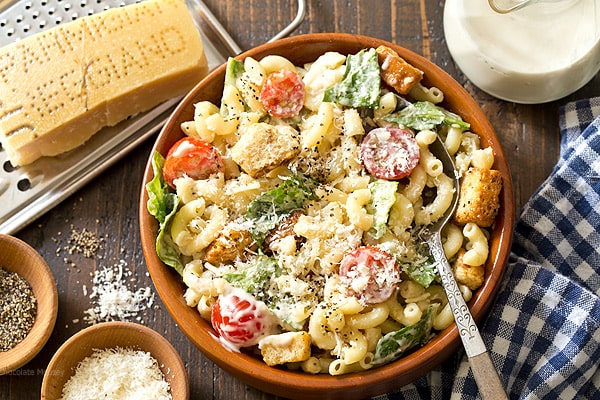 The best part about this pasta salad? The cheese! Now you don't want to use just any ol' Parmesan. You want to use authentic
Parmigiano Reggiano
that is exclusively from Italy and made with only three ingredients – milk, salt, and rennet. The label will say imported on it rather than domestic, which sometimes contains additives or even wood chips. You can easily recognize imported Parmesan from the pinholes in the rind that spell out Parmigiano Reggiano, but depending on how the cheese wheel is cut, the holes may not always be present. Ask your local cheese person if you're unsure about whether the cheese is imported.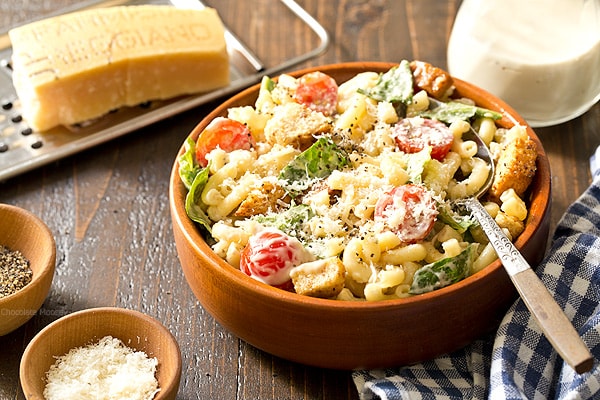 Another important ingredient for the dressing is anchovies, and before you fish-haters freak out about that, really it's just a flavorful layer of salt added; you'd never know there were anchovies because there is no fishy taste. To keep things really easy (and to avoid dragging out the food processor), I used anchovy paste rather than canned anchovies, which you can find in the Italian section of your grocery store.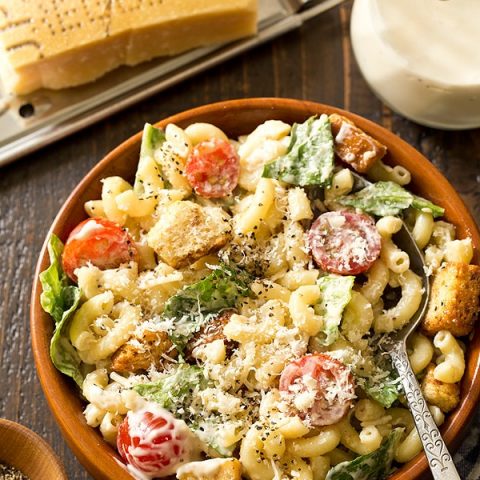 Caesar Macaroni Salad
Prep Time:
1 hour
20 minutes
Total Time:
1 hour
30 minutes
Ingredients
1/2 pound (8 ounces) uncooked elbow macaroni
1 cup mayonnaise
2 tablespoons lemon juice (roughly 1 lemon)
1 teaspoon Dijon mustard
1 teaspoon garlic paste
1 teaspoon anchovy paste
1 teaspoon Worcestershire sauce
1 cup grated Parmigiano Reggiano
1/2 teaspoon salt
1/4 teaspoon ground black pepper
1 cup halved grape tomatoes
1 cup chopped romaine lettuce
1 cup croutons
Instructions
Bring a large pot of salted water to a boil. Cook macaroni as directed on the package until al dente, roughly 10 minutes. Drain into a colander.
Meanwhile, whisk together mayonnaise, lemon juice, mustard, garlic paste, anchovy paste, Worcestershire sauce, 1/2 cup Parmigiano Reggiano, salt, and pepper. Reserve half of the dressing.
In a large bowl, mix together the cooked pasta, remaining half of the dressing, tomatoes, and remaining 1/2 cup Parmigiano Reggiano. Refrigerate at least 1 hour.
Right before serving, add the reserved dressing, lettuce, and croutons. Serve immediately.
Disclosure: This post is sponsored by Parmigiano-Reggiano. Thank you for supporting me and the companies I work with as sponsored posts help pay for the costs of running Chocolate Moosey, including website hosting and groceries for recipe development.