Make a great impression at brunch with this easy Spinach Parmesan Quiche baked in a homemade pie crust.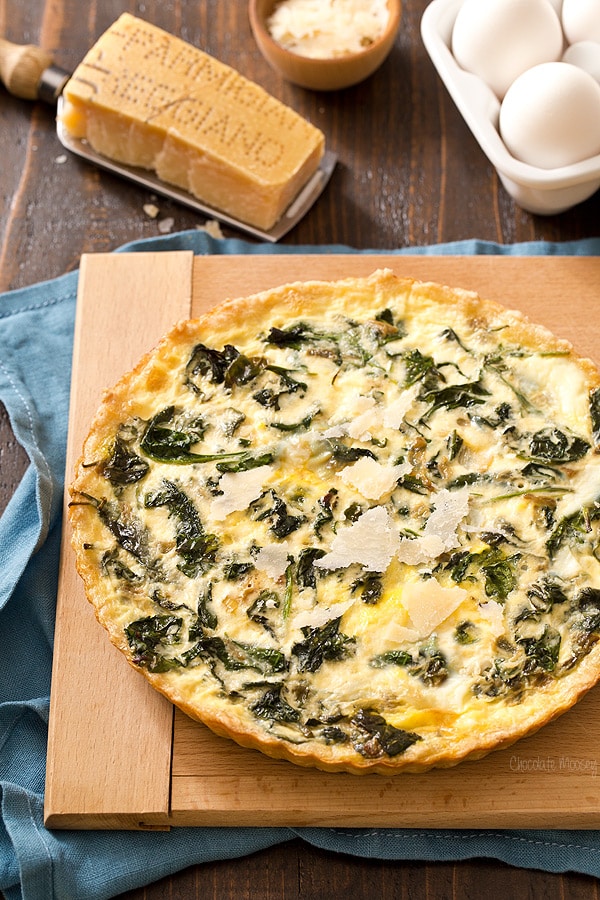 A few weeks ago, I started a new Instagram account called
@citylifeadventures
because I wanted to share my travel photography. And by travel, I mean mostly around Pittsburgh until I actually go somewhere. It's definitely been bringing joy back to my photography since I take a lot of photos that aren't food-related and can't share on my
@chocolatemoosey
account. My favorite so far is this
brick building
. Now that it's spring, I've been taking a lot more photos during my evening walks. Luckily it's during the golden hour, which is roughly one hour before sunset where the lighting is ideal for outdoor photography, such as with this
park photo
. I can't wait until summer where all of the flowers are in full bloom.
Speaking of spring, it's time to start thinking about spring recipes. With spring comes brunch, whether it's for a special occasion like Mother's Day or just an excuse to eat a late breakfast because you're not a morning person (ahem). Mother's Day is in two weeks, and what better way to honor Mom than with a Spinach Parmesan Quiche? Quiche is such a versatile recipe; once you understand the fundamentals of quiche, you can play with the flavors. I took the base of my Ham and Herb Quiche and French Onion Quiche then added onion, fresh spinach, and Parmesan cheese to the filling. Complete with a homemade pie crust, this quiche is sure to be a show stopper on your brunch menu.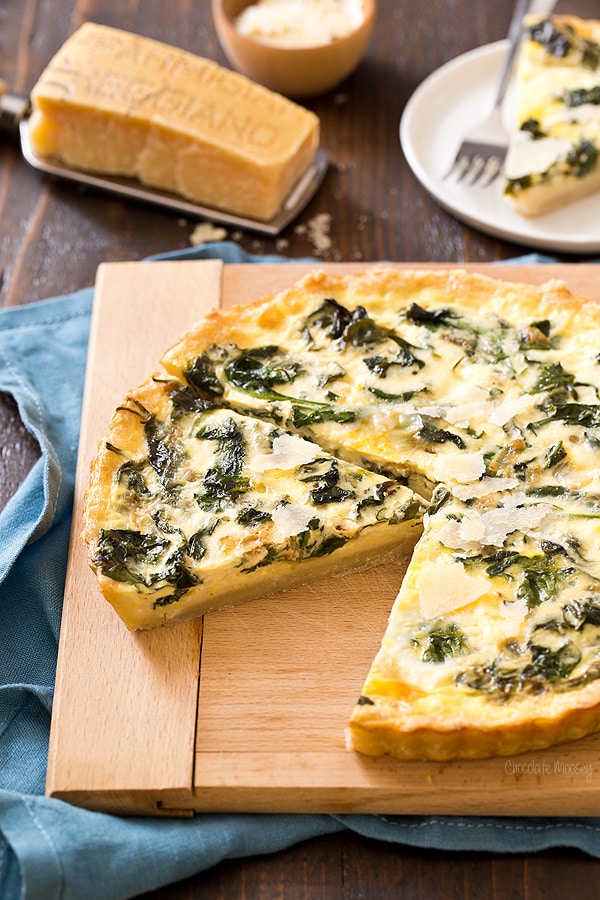 Let's talk about cheese. When you're shopping for Parmesan, you may notice two types – imported and domestic. Imported refers to
Parmigiano Reggiano
that is exclusively from Italy and made with only three ingredients – milk, salt, and rennet. Because Parmigiano Reggiano is long aged, it's never necessary to use additives. Domestic refers to Parmesan made in the U.S., which sometimes contains additives or even wood chips. When I'm talking Parmesan in this recipe, I'm referring to imported straight from Italy. You can easily recognize it from the pinholes in the rind that spell out Parmigiano Reggiano, but depending on how the cheese wheel is cut, the holes may not always be present. Ask your local cheese person if you're unsure about whether the cheese is imported. I used shredded Parmesan to line the bottom of the filling then shaved some on top with a vegetable peeler for garnish. You can never have too much cheese!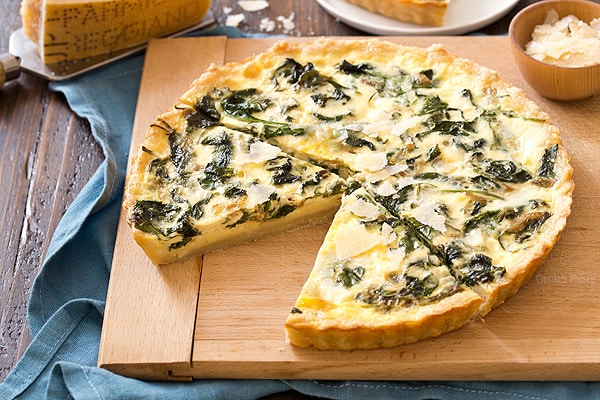 For the filling I used fresh spinach, but you can easily substitute frozen spinach. Instead of sauteing it, cook it according to package directions, thoroughly squeeze out all of the excess liquid, then add to the cooked onions. Personally I use a
potato ricer
to squeeze out as much liquid as possible.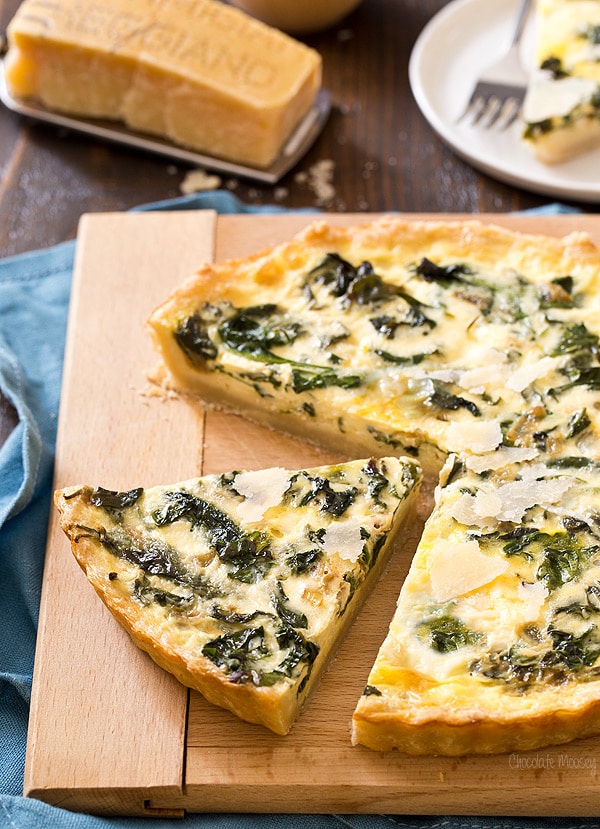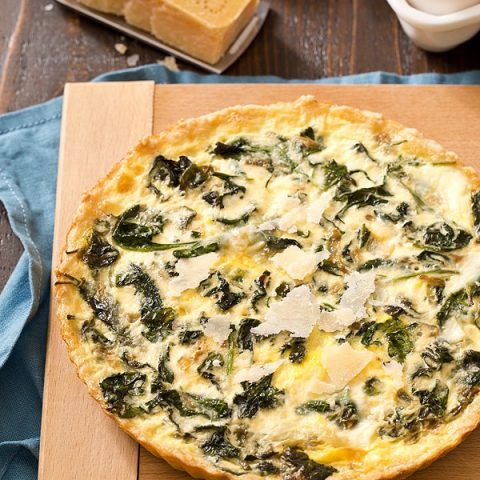 Spinach Parmesan Quiche
Yield: 8 servings

Prep Time: 30 minutes

Cook Time: 55 minutes

Total Time: 1 hour 25 minutes
Ingredients
Pie Crust
1 1/2 cups all-purpose flour
2 tablespoons granulated sugar
1/2 teaspoon salt
1/2 cup (4 ounces) unsalted butter, cold and cut into 8 tablespoons
3 tablespoons vegetable shortening, cold and cut into 3 tablespoons
1/4 cup cold water
Filling
1 tablespoon olive oil
1/2 cup chopped onion
1 clove garlic, minced
6 cups fresh spinach leaves
2 eggs
1/2 cup whole milk
1/2 cup heavy whipping cream
1/4 teaspoon salt
1 cup shredded Parmigiano Reggiano cheese
Instructions
Make the pie crust: In the bowl of a food processor, add the flour, sugar, and salt. Add the cold butter and shortening and pulse until butter and shortening are cut into the flour, looking like large pebbles. Add the water and pulse until a dough forms. Gather the dough and pat into an evenly round disk. Wrap in plastic wrap and refrigerate at least 1 hour or until cold.
Preheat oven to 375F. Place a 9-inch tart pan with a removable bottom onto a baking sheet.
On a lightly floured surface, roll out the pie dough into a circle slightly bigger than the pan. Line the bottom and sides with the crust, patching it together if necessary.
Line the pie crust with foil on top then fill with pie weights or dried beans. Bake for 10 minutes. Remove the foil and weights then bake another 5 minutes or until the bottom is golden brown and no longer looks uncooked.
Make the filling: While the crust is baking, prepare the filling. In a large skillet, heat the oil. Once hot, Add the onion and cook until softened, about 5 minutes. Add the garlic and cook 30 seconds. Add the spinach and stir until all of the leaves are coated in the onion mixture. Cook until wilted and bright green, roughly 5 minutes.
In a large bowl or measuring cup, whisk together the eggs, milk, cream, and salt.
Once the crust has finished baking, sprinkle the cheese evenly over the crust. Top with the spinach mixture then pour the egg mixture over top. Bake for 35-40 minutes or until top is golden brown, slightly puffed, doesn't jiggle when moved, and a toothpick inserted in the center comes out clean. Cool 15 minutes before serving.
Disclosure: This post is sponsored by Parmigiano-Reggiano. Thank you for supporting me and the companies I work with as sponsored posts help pay for the costs of running Chocolate Moosey, including website hosting and groceries for recipe development. This post also contains Amazon affiliate links.