French Onion Quiche
French Onion Quiche is a twist on French onion soup with caramelized onions and Gruyere cheese but without the soupy mess. Recipe for a 5 minute homemade pie crust made in the food processor provided.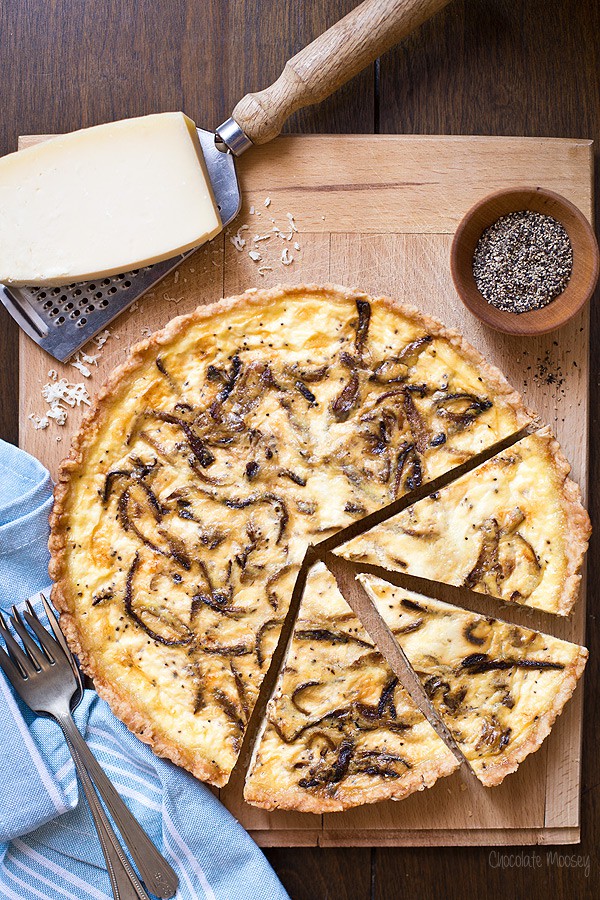 I'm not a morning person. No matter how hard I try, I can't get moving in the mornings.
First thing I do after getting dressed is make my first cup of coffee.
Then I struggle to eat breakfast, so I usually finish my coffee before I finally decide to make something.
I think it's partially because I can't motivate myself to make anything that early and partially because I want to get started with my day.
Ironically I do love breakfast foods – bacon, sausage, eggs, hash browns – but I tend to eat those more for brunch or dinner (brinner).
In fact, I'd much rather eat dinner for breakfast.
When I visited my friend in Brooklyn in December, we went out for dim sum for breakfast, and it was the best breakfast I had in a long time.
If I ordered Chinese food for dinner, I'll eat leftovers the next morning.
Once in awhile I'll even eat sushi for breakfast. What do you even call dinner for breakfast? Dinfast?
Any time a friend wants to meet up in the morning, I usually suggest going for brunch instead of breakfast. I'd much rather eat brunch because it usually means dinner.
I mean how can you argue with chicken and waffles for brunch?
Another brunch item that is also totally acceptable for dinner is quiche.
For the longest time I didn't like quiche, but during adulthood that changed, and now I crave it from time to time.
One evening I got the brilliant idea to make a French Onion Quiche, which is a twist on French onion soup with caramelized onions and Gruyere cheese but without the soupy mess.
The best part about making quiche? You can bake it fully ahead of time and not worry about getting up in the morning to make it.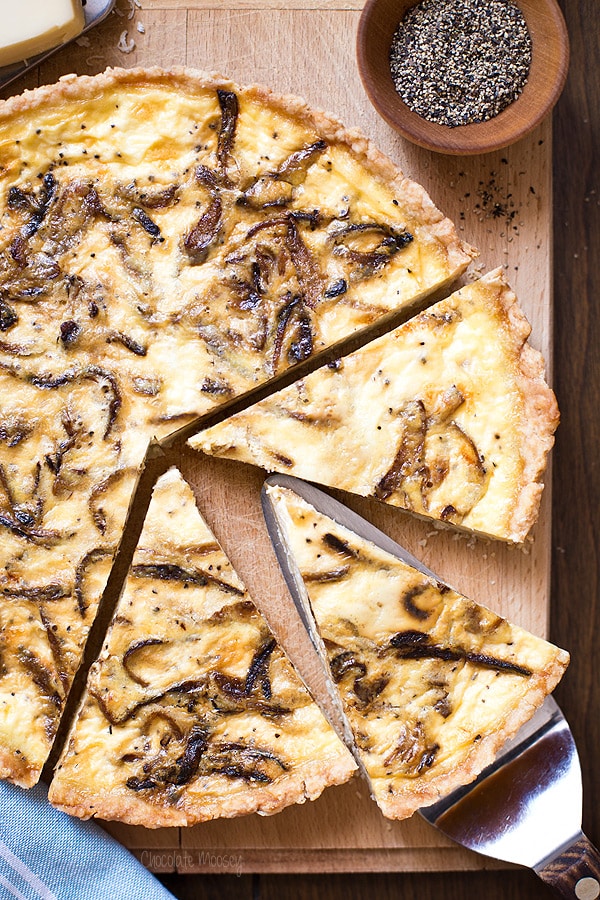 Quiche is a savory French pastry with an egg custard filling and savory ingredients such as cheese, herbs, vegetables, and meat.
I highly recommend making your own flaky pie crust as I listed in the recipe below, which easily comes together in 5 minutes if you have a food processor.
If you don't own a food processor, making pie crust in 5 minutes is the best reason to buy one. I used a 9-inch tart pan for both presentation and making it easier to serve, but you can also use a 9-inch pie plate.
If you're not a morning person like me, great news! You can fully bake the quiche the day before then pop it in the oven to reheat the next day.
Or you can split the quiche into steps, making the pie crust and onions the day before, then make the filling fresh the day you're going to bake it.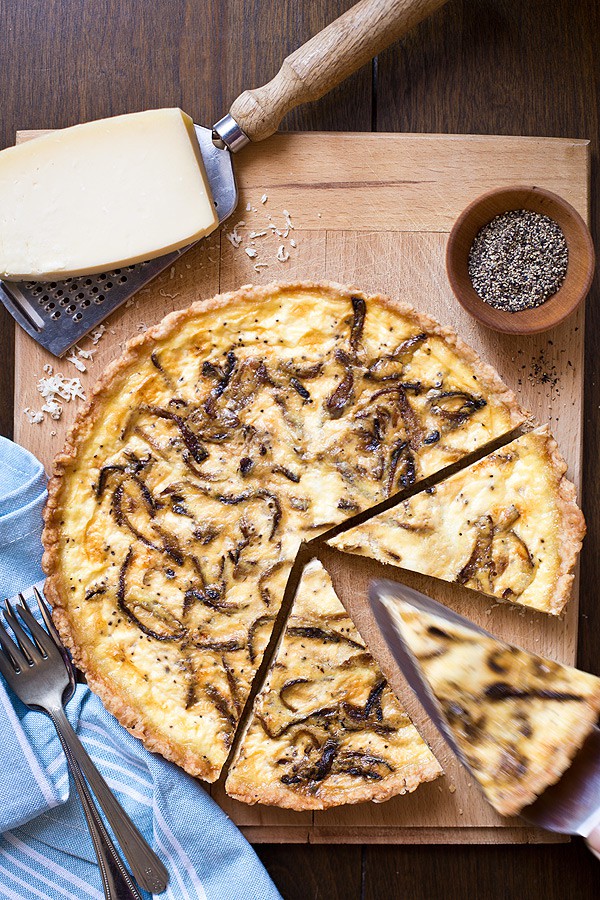 More Quiche Recipes

Enjoyed this quiche? Here are more quiche recipes:
French Onion Quiche
Yield: 8 servings
Prep Time: 45 minutes
Cook Time: 55 minutes
Total Time: 1 hour 40 minutes
French Onion Quiche is a twist on French onion soup with caramelized onions and Gruyere cheese but without the soupy mess. Recipe for a 5 minute homemade pie crust made in the food processor provided.
Ingredients
1 1/2 cups all-purpose flour
2 tablespoons granulated sugar
1/2 teaspoon salt
1/2 cup (4 ounces) unsalted butter, cold and cut into 8 tablespoons
3 tablespoons vegetable shortening, cold and cut into 3 tablespoons
1/4 cup cold water
Quiche
2 tablespoons butter (add 1/8 teaspoon salt if unsalted)
2 cups sliced onion (roughly 1 medium onion)
2 eggs
1/2 cup whole milk
1/2 cup heavy whipping cream
1/4 teaspoon salt
1/4 teaspoon ground black pepper
1 cup shredded Gruyere cheese
Instructions
In the bowl of a food processor, add the flour, sugar, and salt.
Add the cold butter and shortening and pulse until butter and shortening are cut into the flour, looking like large pebbles.
Add the water and pulse until a dough forms. Gather the dough and pat into an evenly round disk. Wrap in plastic wrap and refrigerate at least 1 hour or until cold.
Preheat oven to 375F. Place a 9-inch tart pan with a removable bottom onto a baking sheet.
On a lightly floured surface, roll out the pie dough into a circle slightly bigger than the pan. Line the bottom and sides with the crust, patching it together if necessary.
Line the pie crust with foil on top then fill with pie weights or dried beans. Bake for 10 minutes. Remove the foil and weights then bake another 5 minutes or until the bottom is golden brown and no longer looks uncooked.
Make the filling: While the crust is baking, prepare the filling. In a large skillet, melt the butter. Add the sliced onions and stir to coat. Cook for 20-25 minutes until golden brown, stirring every few minutes and scraping any bits that form on the bottom.
In a large bowl or measuring cup, whisk together the eggs, milk, cream, salt, and pepper.
Once the crust has finished baking, sprinkle the cheese evenly over the crust. Top with the caramelized onion then pour the egg mixture over top. Bake for 35-40 minutes or until top is golden brown, slightly puffed, doesn't jiggle when moved, and a toothpick inserted in the center comes out clean. Cool 15 minutes before serving.
Disclosure: This post contains Amazon affiliate links.
This post may contain affiliate links. As an Amazon Associate and member of other affiliate programs, I earn from qualifying purchase.