Who doesn't love a good grilled ham and cheese sandwich? Now you can turn it into a one pot meal for a quick and easy weeknight dinner thanks to this Ham And Cheese Soup recipe, ready in 30 minutes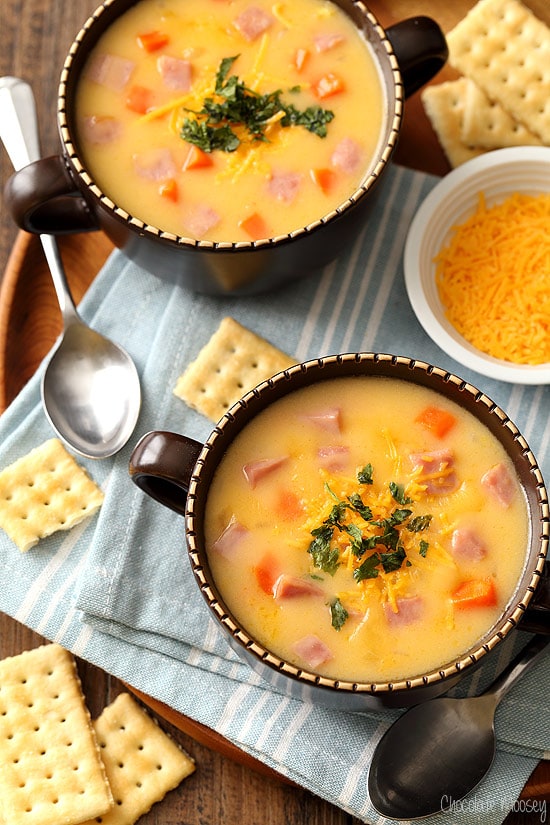 This post is sponsored by Smithfield.
Ever have one of those days where you fall behind and can't seem to catch up? That was me last week. It was a bad week as a whole, one of those I'm-going-back-to-bed weeks because I couldn't do anything right. It all started with two separate recipe fails in one day. I managed to squeeze in one more attempt of the first recipe, which finally turned out how I wanted. Unfortunately, that meant I was falling behind schedule and had yet to clean up before work was over for the day. By the time I cleaned up, it was already 6 PM and I still had to make dinner (for reference, I usually start prepping dinner around 4-4:30 PM). No frozen pizza in the freezer. Part of me wanted to order take out, but did I really want to spend $8-$10 on dinner that day? What can I make that'll not only result in minimal dishes but also be ready soon? Enter my trusty one pot soup formula. I have this big Dutch oven that I use a lot, especially when the weather gets cooler. I can make almost anything a soup as all you need to do is make a roux (flour paste), slowly whisk in broth, then add your main ingredients. Voila – soup in under an hour! Today's soup adventure is Ham and Cheese Soup. Everyone loves a good grilled ham and cheese sandwich; why not turn it into a soup? Perfect for when you need an easy weeknight dinner idea, whether you're still adjusting to your back to school routine or had a long day of work.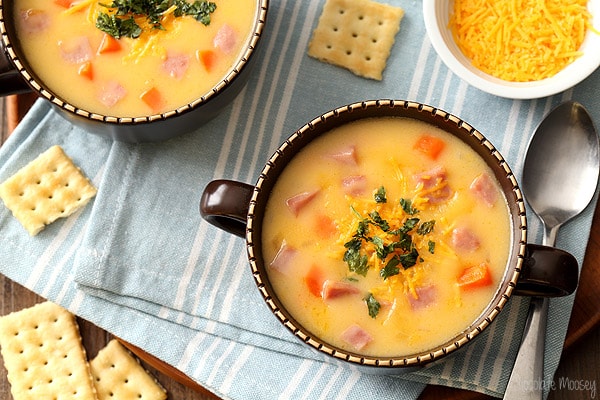 I'm excited because soup weather is almost here! It's been rainy lately, especially one day last week when the skies opened up and it poured so hard, you could barely see outside. There were flash flood warnings and roads closed. That's when I know to stay home and curl up with a bowl of soup on the couch.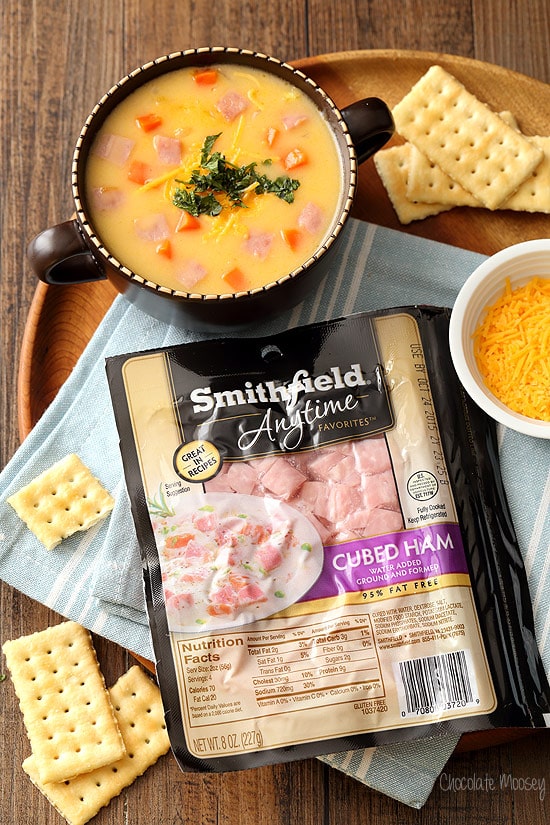 To make prepping this ham and cheese soup easier, I used
Smithfield Anytime Favorites Hickory Smoked Cubed Ham
. The ham is fully cooked, so all you need to do is open the package and add to the soup. Smithfield Anytime Favorites includes 20 different cuts of ham including sliced, diced, cubed, chops and steaks which help you prep for quick and easy meals when you need some help in the kitchen, such as when you're working late or running your kids to after-school activities.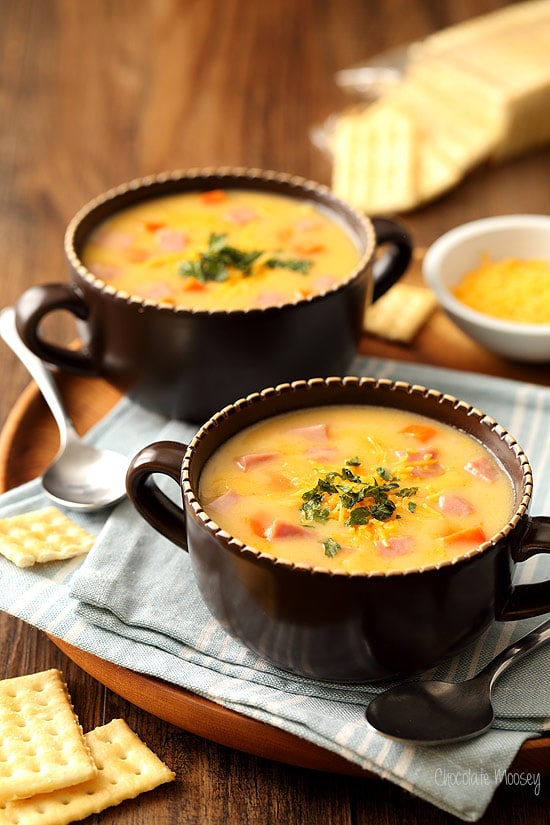 For more information, please visit Smithfield's
website
and say hello on
Facebook
and
Twitter
.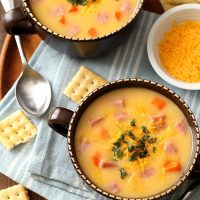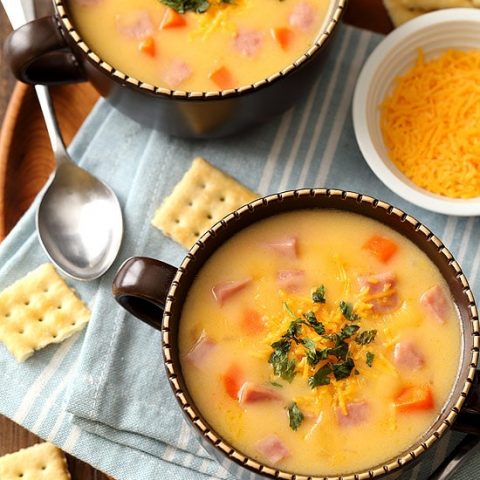 Ham and Cheese Soup
Yield: 4

Prep Time: 10 minutes

Cook Time: 20 minutes

Total Time: 30 minutes
Ingredients
2 tablespoons butter
1/2 cup chopped onion
1 large carrot*, peeled and chopped
1 garlic clove, minced
2 tablespoons all-purpose flour
3 cups low-sodium chicken broth
1 (8-ounce) package Smithfield Anytime Favorites Chopped Ham (roughly 1 3/4 cups)
1/4 cup milk
2 cups shredded cheddar cheese
Dried parsley, to garnish
Instructions
In a Dutch oven or large pot, melt the butter over medium heat. When hot, add the onion and carrot. Cook until soft, about 5 minutes. Add the garlic and cook 30 seconds.
Stir in the flour until everything is coated and a roux (paste) is formed. Slowly whisk in the broth then bring to a boil. Once boiling, add the ham. Cook until heated through, about 2-3 minutes. Stir in the milk and cheese until melted. Garnish with parsley before serving.
Notes
*To help even more with prep time, you can substitute 1/2 cup frozen carrots (thawed) for the fresh carrot. Instead of cooking it with the onion, add it when you add the ham.



More Ham Recipes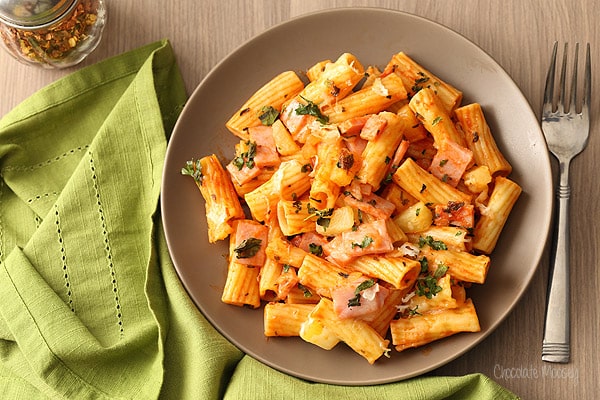 Hawaiian Pizza Pasta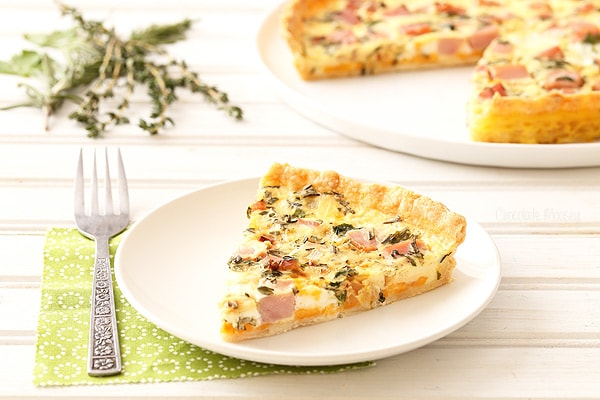 Ham and Herb Quiche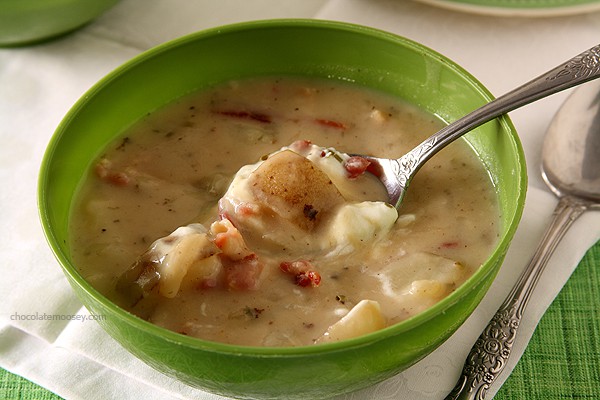 Baked Potato Soup (can use ham instead of bacon)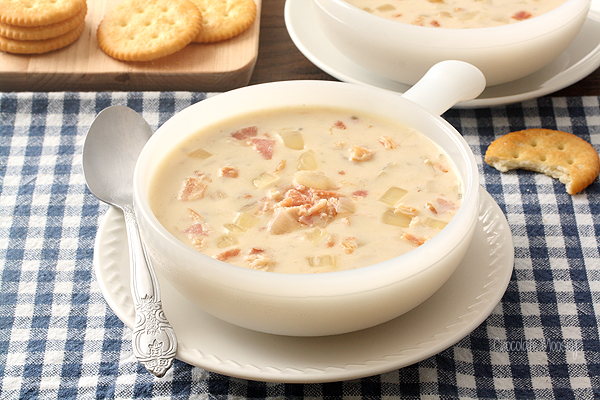 Creamy Onion Bacon Soup (can use ham instead of bacon)

Disclosure: This post is sponsored by Smithfield. Thank you for supporting me and the companies I work with as sponsored posts help pay for the costs of running Chocolate Moosey, including website hosting and groceries for recipe development.