Why yes, watermelon can be eaten for dinner with these Spicy Shrimp Tacos made with sriracha and honey then topped with a cool Watermelon Salsa.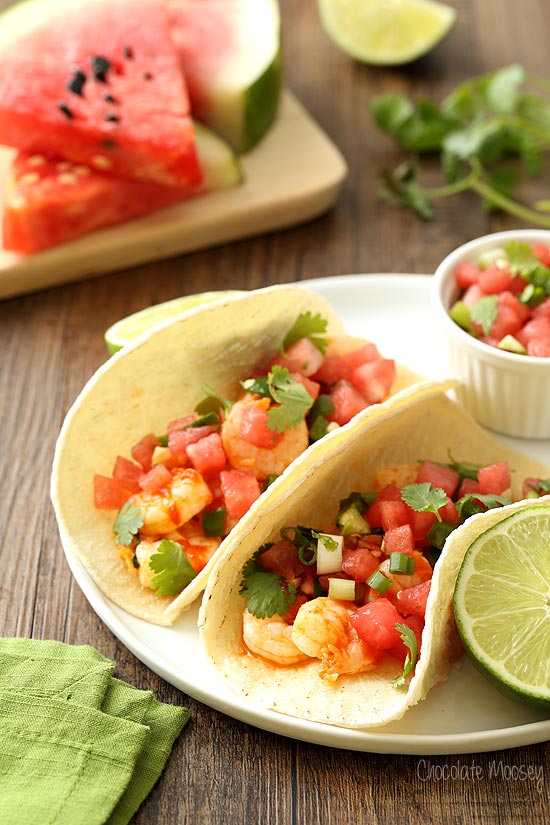 It's finally happened. I'm finally breaking out the skirts, shorts, and flip flops to wear on an almost daily basis. Sunday I went to
Mount Washington in Pittsburgh
to take some pictures of the city, and boy was I sweating. It didn't help that I got caught in an impromptu downpour, so here I am, both sweating and drenched from the rain. When I got back to my apartment, the last thing I wanted to do was turn on my oven for dinner. My air conditioning was working full time and I stuck my head in the freezer for a bit (you know, to figure out what to make for dinner…). If this is any indication on how summer will be, it's going to be a hot one! I don't mind doing some cooking on the stovetop, but I certainly want to avoid my oven whenever possible. That begs the question – what's for dinner when it's too hot to bake?
If you've been following along all week, then you know I'm still hosting Watermelon Week (if you're just arriving, check out my watermelon lemonade margarita popsicles for all of the details). When you think about serving watermelon, what immediately comes to mind? Drinks? Popsicles? Just a bowl of cut fruit for breakfast? Be honest – did you think about dinner at all (and I don't mean just a few slices of watermelon as a side)? Lucky for you, you can eat watermelon all times of the day, even dinner. One of my favorite easy dinners to make are tacos with fruit salsa on top. There's only a little bit of stovetop cooking involved, which is ideal for both summer cooking and getting dinner on the table quickly. Since shrimp only takes roughly 5 minutes to cook (and it's my favorite protein), I'm almost always making shrimp tacos, which I then almost always top with mango salsa. However, this time around, I decided to change up my routine and make Spicy Shrimp Tacos with Watermelon Salsa as the contrast between the heat from the shrimp and the coolness of the watermelon balances each other out. It's fresh. It's vibrant. It's everything that summer is about wrapped up in tacos.
Watermelon is a versatile and budget friendly ingredient, which is very helpful if you are stretching your grocery budget. Most watermelons can feed 3 dozen people, whether it's a two-cup serving of diced watermelon or wedges. You can also eat 100 percent of the fruit, including the rind with this
pickled watermelon rind recipe
. Even if you aren't budget conscious, it's great to know that nothing will go to waste with watermelon. If you don't think you can use the whole watermelon right away, you can freeze cubed watermelon to use as "ice cubes" in drinks or to turn into slushies or smoothies. A little warning – if you do prep a whole watermelon, make sure you have
enough counter space
. Hello, tiny Pittsburgh kitchen.
The shrimp tacos get their spiciness from sriracha. Sriracha is a hot chili sauce used a lot in Thai cuisine, similar to
sweet chili sauce
but much spicier. You may recognize the bottle with its iconic rooster logo on it. If you're new to sriracha, start out with a little bit in the shrimp to see how well you can handle the heat. If you're too hesitant to try it or you know you don't like it, don't worry – you can substitute sweet chili sauce for a more mild flavor.
Speaking of spiciness, the best way to cool down your palate is with the watermelon salsa on top, which can be made ahead of time. Or if you don't want to make tacos, you can still make the salsa and eat with nachos. I personally love doubling the recipe so I can have some to snack on later.
For more information about watermelon, visit Watermelon.org or say hello on Facebook, Twitter, Pinterest, and Instagram.
Spicy Shrimp Tacos with Watermelon Salsa
Yield: 4 servings

Prep Time: 30 minutes

Cook Time: 5 minutes

Total Time: 35 minutes

Why yes, watermelon can be eaten for dinner with these Spicy Shrimp Tacos made with sriracha and honey then topped with a cool Watermelon Salsa.
Ingredients
Watermelon Salsa
1 cup diced watermelon
1 green onion, chopped
1 medium jalapeno pepper, chopped
1 tablespoon fresh chopped cilantro
1 tablespoon lime juice
Shrimp Tacos
1 pound raw shrimp, peeled, deveined, and patted completely dry
2 cloves garlic, minced
2 tablespoons honey
1-2 tablespoons sriracha
1 tablespoon fresh chopped cilantro
1 tablespoon lime juice
2 tablespoons olive oil
4 corn tortillas, warmed up
Instructions
For the salsa: In a large bowl, mix together the watermelon, green onion, jalapeno, cilantro and lime juice. Refrigerate for at least 30 minutes before serving.
In another large bowl, mix together the shrimp, garlic, honey, sriracha (to taste), cilantro and lime juice.
In a large skillet over medium heat, heat the olive oil until hot. Add the shrimp and cook until pink, roughly 3-5 minutes. Remove from the heat, divide among the tortillas, then top with salsa. Serve immediately.
More Watermelon Recipes

Watermelon Lemonade Margarita Popsicles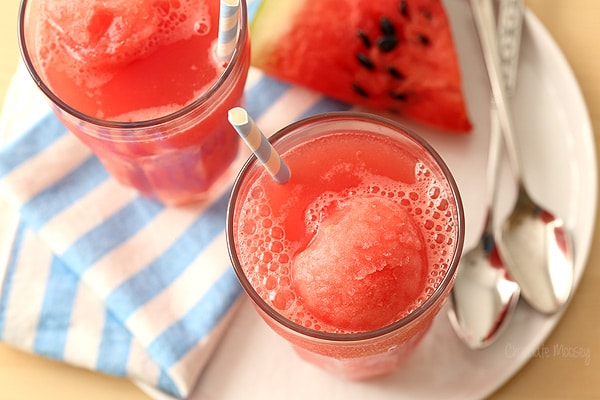 Watermelon Sorbet Floats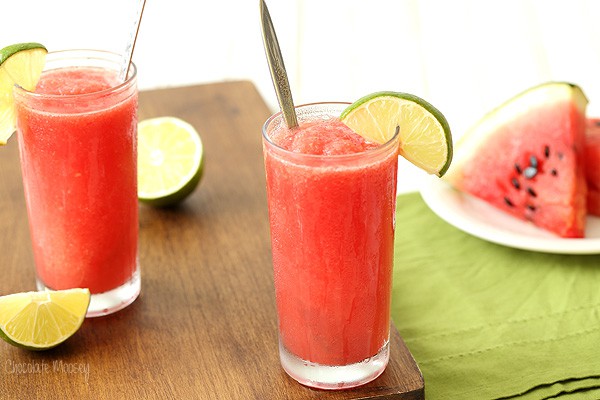 Watermelon Slushies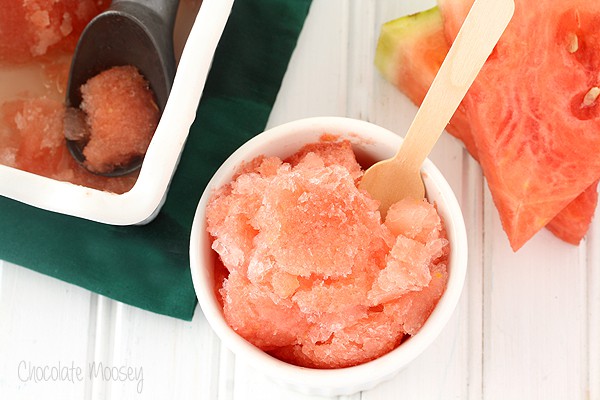 Watermelon Italian Ice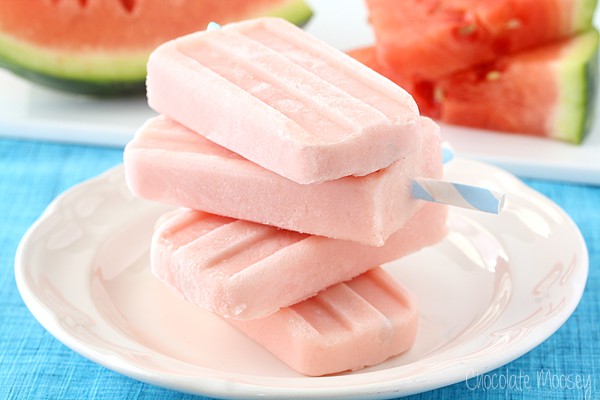 Watermelon Yogurt Pops
Disclosure: This post is sponsored by Watermelon.org. Thank you for supporting me and the companies I work with as sponsored posts help pay for the costs of running Chocolate Moosey, including website hosting and groceries for recipe development.