Love eating out but want to save time and money? Making chicken wings at home is easy, and these Indian-inspired Curry Baked Chicken Wings will bring a little global spice to dinner.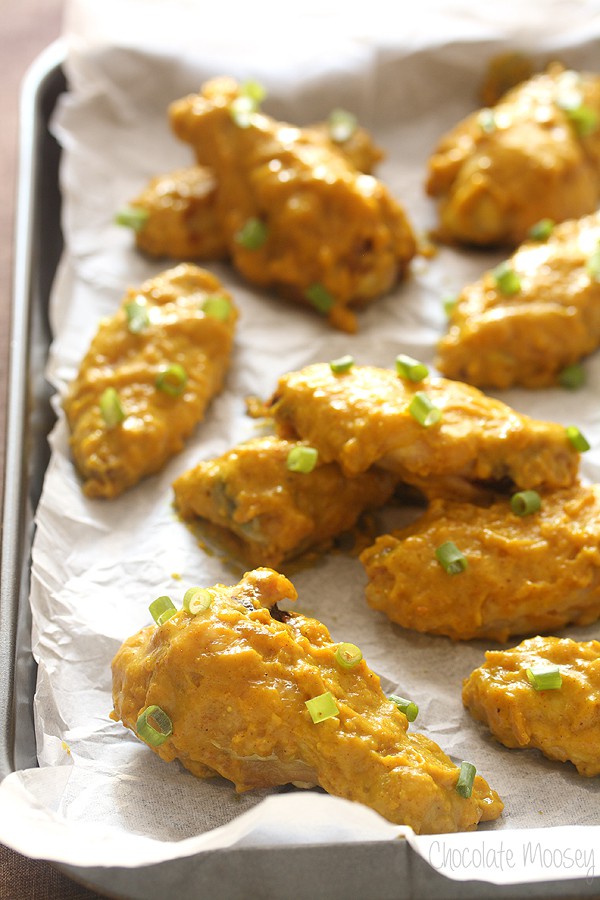 Earlier this month, I talked about my love for
Shrimp Curry
. Curry really is one of those magic words that reels me in when I read a recipe, especially if I'm eating out. Eating out is such a love/hate relationship. On one hand, someone else is cooking and you can eat meals that you don't typically cook at home. On the other hand, it can be quite expensive (and disappointing if the meal was a let down). Today's post for
Sunday Supper
(which is about eating together as a family at least once a week) is focusing on budget-friendly meals. As much as I love discovering new restaurants, I can't eat out all the time. When I do, I'm strategic about it; I pick foods that I don't typically make at home. Sometimes it's based on technique (which is why I order fried foods a lot). Other times it's about ingredients. Like I had mentioned, when I see curry on the menu, I'm in. That's where the inspiration for these Curry Baked Chicken Wings came from. As much as I'd love to order them again, they cost $7.50 for a dozen. That's 63 cents a wing (plus the cost of a drink and tip)! After buying a bag of frozen wings at the grocery store, they cost me 37 cents a wing. Add in the cost of the sauce (which isn't much more), let's say this recipe cost me 40 cents a wing. Big savings right there. Oh and it's healthier too. Not healthy as in super foods healthy, but healthy as in these wings were baked rather than fried at the bar. Baking chicken wings at home is totally budget-friendly.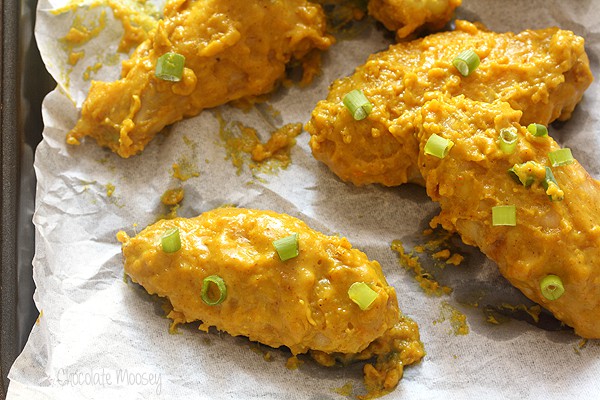 A few months ago (has it really been that long?), moving back to Pittsburgh was one of the longest days of my life. I ended up getting the moving truck the morning of moving day at a place further than where I requested. My family and I packed up the truck and cars, drove 3 hours on the Turnpike to my new apartment, then unpacked the truck and cars. It got dark, so we couldn't finish unpacking the furniture (which btw next time I'm hiring a moving company because getting the couch and loveseat into my apartment was ridiculous). After a long and tiring day, we opted to go out for dinner so we could sit and relax. Fortunately, my dad planned ahead and found a sports bar down the road that were voted best chicken wings in Pittsburgh (plus a long beer list). This bar doesn't mess around; they have at least 30 different flavors of wings. Now I didn't get the winning wings because their curry wings caught my eye (and my stomach) first. Wings tossed in curry sauce?! I was in love. They even had a clever name – Curry Sutra.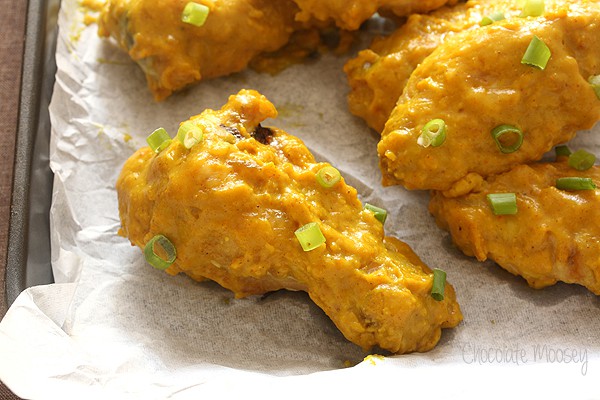 This recipe for curry wings isn't meant to be a copycat. Theirs was much spicier (plus copycat recipes have such high expectations). Instead, I used my own curry sauce (the same as my shrimp curry) and my trusty baking method, which means the wings are crispy even without the deep fryer. If you ask me, if I can recreate a favorite recipe at home, saving time, money, and calories, that's a winning meal in my book.
Curry Baked Chicken Wings
Total Time:
1 hour
25 minutes
Ingredients
12 chicken wing pieces, thawed and patted dry
2 tablespoons vegetable oil
2 tablespoons all-purpose flour
1 tablespoon curry powder
1/2 teaspoon ground ginger
1/2 teaspoon onion powder
1/2 teaspoon garlic powder
1/4 teaspoon salt
1 tablespoon sugar
1 tablespoon butter
1/2 cup chicken broth
1/2 cup milk
1 teaspoon lemon juice
1 chopped green onion, green part only
Instructions
Preheat oven to 400F. Line the bottom of a roasting pan or cookie sheet with foil. Place a roasting or cooling rack on top.
In a large bowl, toss together the wings and oil. Place wings onto rack in the pan and bake 50-55 minutes until the internal temperature is at least 165F.
Meanwhile, make the sauce. In a medium bowl, whisk together the flour, curry powder, ginger, onion powder, garlic powder, salt, and sugar.
In a large saucepan, melt the butter. Add the flour mixture and stir to form a roux (similar to a paste). Whisk in the chicken broth and milk, trying to smooth the sauce as much as possible. Bring to a boil, whisking often until it thickens, about 5 minutes. Keep warm.
Once the wings are cooked, toss with the curry sauce. If the sauce cooled down and thickened too much, reheat until hot again, adding a little more chicken broth to thin it out if necessary. Top with green onion. Serve immediately.
Want more chicken recipes?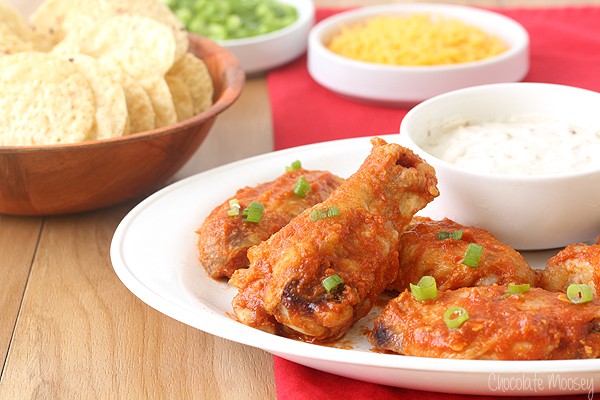 Saucy Taco Baked Chicken Wings