Guinness Shepherd's Pie is a comforting meat and potatoes dish made with stout beer. Although this version serves two people, it can easily be doubled. I know because I serve a big batch of it all the time.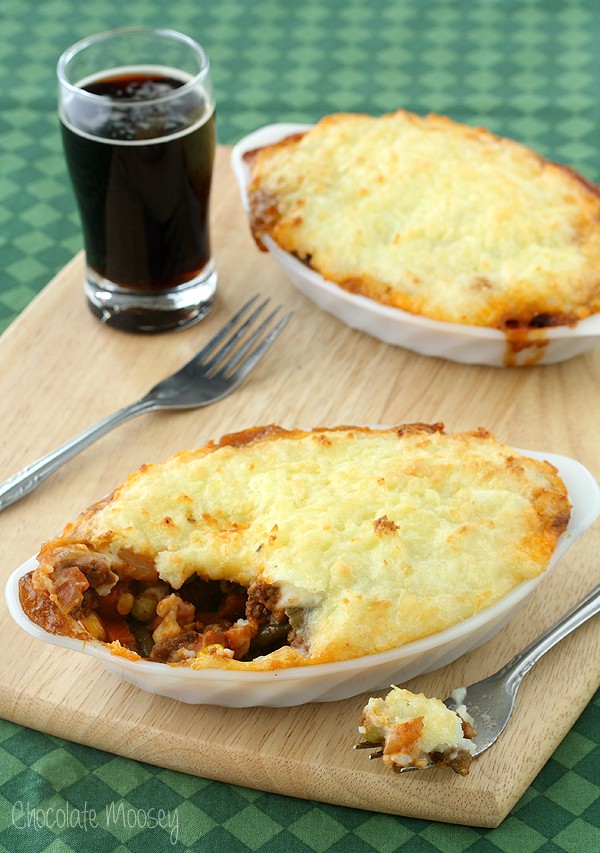 Do you have that one recipe where no matter how many times you make it, you know everybody will be happy? The one you rely on when you don't know what else to make? That, for me, is Guinness Shepherd's Pie. There's just something comforting about meat, potatoes, and beer. I remember one time when my parents and brother were visiting and I was planning the menu. First I asked Mom what she wanted. Shepherd's pie. Then I asked Dad. Shepherd's pie. Looks like I was making shepherd's pie (again). Even though I've been making this recipe for years, I've never actually shared it until now (mainly because I had no clue how to photograph it until this year).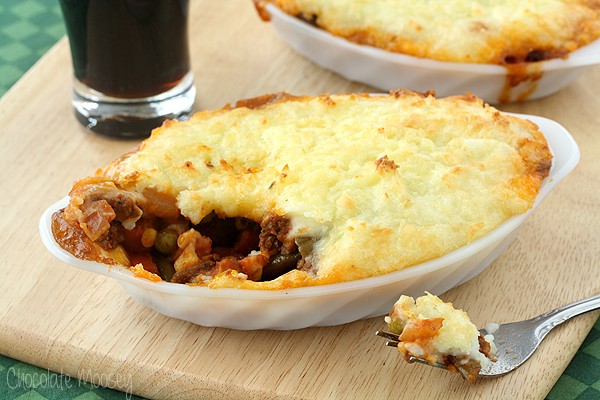 I remember when Dad and I traveled to Nashville in 2009. There was an Irish pub just up the hill from our hotel. Now I've been looking for an Irish beer called Bulmers ever since I returned from Ireland in 2007 and was hoping they'd serve it. For dinner Dad ordered shepherd's pie while I ordered fish and chips. Unfortunately no Bulmers. Now when I think of shepherd's pie, I don't think of anything special. I don't even think I ate it in Ireland. However, Dad fell in love with his dish and kept talking about it. Do you know how to make this? Can you make this? When are you going to make this? What do you need to make this? So, I went to my best friend The Google and searched for a recipe. The squeaky wheel gets the shepherd's pie.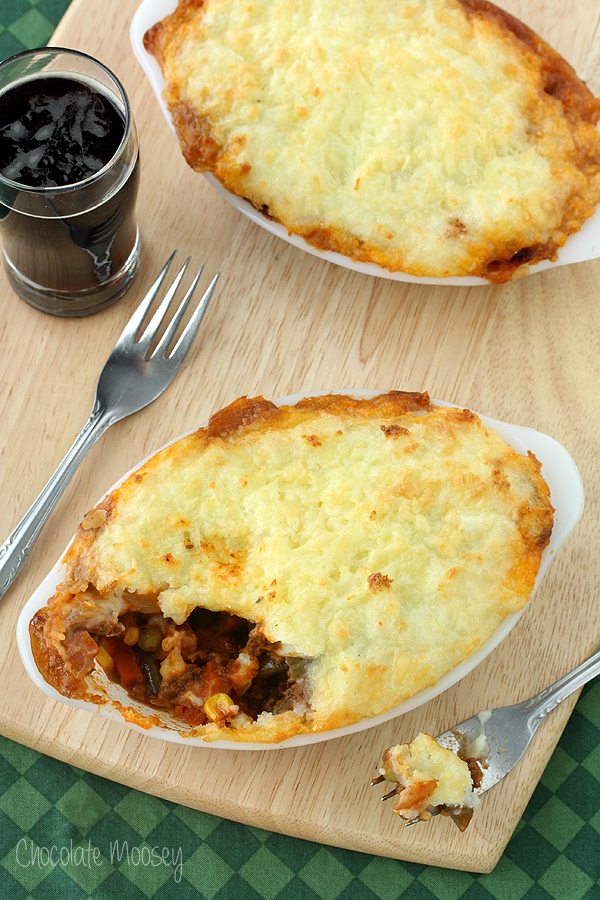 This isn't meant to be a copycat version or anything. In fact I couldn't tell you anything about the pie Dad ate that night. All I know is I found this version with Guinness and have adjusted it to make it my own over the past few years. If my family had a list of top five dishes to eat for dinner, this recipe is definitely up there.
As you can see, I scaled this version down for two people. Because I cook alone, I eat one for dinner and the other for lunch the next day. However, when my parents and brother are visiting, I double this and make one big dish. Now if you don't have dishes exactly like mine, don't worry! Use any two oven-proof dishes or ramekins. Or combine it all into one casserole dish or even an 8×8 pan. As long as you use an oven-proof dish, you can be flexible in the size and shape.
Guinness Shepherd's Pie For Two
Cook Time:
1 hour
20 minutes
Total Time:
1 hour
50 minutes
Although this recipe is made for two, it can easily be doubled for a family of four. The cooking time and directions may seem long, but you can make the mashed potatoes while the meat mixture is cooking.
Ingredients
1/2 pound ground beef
1 small onion, chopped (roughly 1/2 cup)
2 garlic cloves, minced
3/4 cup tomato sauce (one 6-ounce can)
2 cups frozen vegetable medley, thawed (carrots, peas, corn, and green beans)*
1/2 cup Guinness beer
1 tablespoon Worcestershire sauce
1 teaspoon dried thyme
1/2 cup beef broth
3 small potatoes, peeled and chopped (roughly 2 cups)
4 tablespoons (1/2 stick) butter
1/4 cup milk
3/4 cup shredded cheddar cheese
1/2 - 1 teaspoon salt
Instructions
Bring a large pot of water to a boil for the potatoes. Let this heat up while you cook the meat mixture.
In a large skillet, cook the beef, onion, and garlic until the beef is browned. Drain off the grease.
Add the tomato sauce and vegetables. Cook for 4-5 minutes, stirring often.
Add the Guinness, Worcestershire sauce, and thyme. Boil until the liquid has reduced by half and thickened, roughly 10 minutes.
Add the broth and bring back to a boil. Turn the heat down and simmer for 15-20 minutes or until the mixture is thick and glossy.
Meanwhile while the mixture is cooking in step 5, preheat the oven to 350F. Have two mini casserole dishes ready**
By now the water from step 1 should be boiling. Add the potatoes and cook for 15-20 minutes or until soft but not mushy. Drain and cool. Mash the potatoes either by hand or with a mixer. Add the butter, milk, 1/2 cup cheese, and 1/2 teaspoon salt. Add more salt if needed.
Once the mixture is done cooking and the potatoes are mashed, divide the meat mixture between the two dishes. Top with mashed potatoes then top with the remaining 1/4 cup cheese. Bake for 30-45 minutes or until golden brown. Serve hot.
Notes
I used a frozen vegetable medley to make prep easier. You can use canned or fresh vegetables. Adjust the amount of each vegetable to your liking.[br][br]*If you don't have dishes exactly like mine, don't worry! Use any two oven-proof dishes or ramekins. Or combine it all into one casserole dish or even an 8x8 pan. As long as you use an oven-proof dish, you can be flexible in the size and shape.
Source: Adapted from
The Goddess's Kitchen
—-
If you liked this Guinness Shepherd's Pie, you may also like these recipes:

Guinness Beef Stew