Creamy and luscious hot chocolate made with coconut milk then topped with marshmallow whipped cream and toasted coconut is my new favorite hot beverage this winter.
"Oh the weather outside is frightful
But the fire is so delightful
And since we've no place to go
Let it snow! Let it snow! Let it snow!"
Here it is, one last recipe before Christmas arrives, and I've saved the best for last. You know that moment where something tastes ten times better than you imagined, and it tastes so good that you made it again to share with everyone? That is how this Toasted Coconut Hot Chocolate recipe made me feel once I took a sip. I can't get over how thick and creamy this hot chocolate is, not to mention the harmony of chocolate and coconut milk together. I'm never drinking regular hot chocolate again (or so I tell myself). And being the last Sunday before Christmas, the Sunday Supper team is sharing favorite recipes inspired by Christmas music or movies. Mine is inspired by Let It Snow because what else do you do during a snowstorm but sit inside and drink hot chocolate?
South central PA finally got a bunch of snow dumped last weekend, roughly four inches. Fortunately, I have a neighbor who plows the driveway, but I still had to shovel all that snow off of the sidewalk and dig out my car. My parents and brother were visiting, but Dad has a sore arm and pretty much not allowed to do anything with it. He was still determined to help me, so I had to shovel the sidewalk before he started doing it himself. Let me tell you – four inches of snow is heavy after about five minutes, and I have one of those fancy ergonomical shovels too.
Usually when my family visits for the weekend, we play a board game that Saturday night. This weekend was Sequence, so while we were playing, I quickly whipped up a batch of this coconut hot chocolate to serve.
There is both whole milk and coconut milk in this recipe since coconut milk is very thick on its own. Next time I want to try it with almond milk. Can you imagine sipping on Almond Joy in your cup? And of course you could use regular marshmallows for the top, but I wanted to be fancy and make marshmallow whipped cream with toasted coconut sprinkled on top. Tis the season.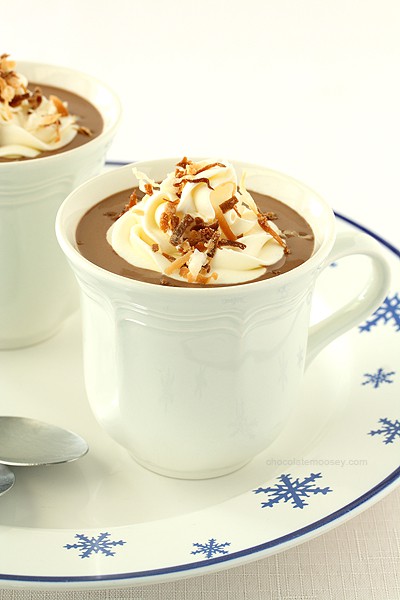 I hope everyone has a Merry Christmas on Wednesday and safe travels to all! I'll be driving to my parents tomorrow for the holiday.
Toasted Coconut Hot Chocolate
Creamy and luscious hot chocolate made with coconut milk then topped with marshmallow whipped cream and toasted coconut is my new favorite hot beverage this winter.
Ingredients
1/2 cup whole milk
3/4 cup coconut milk
1 tablespoon unsweetened cocoa powder
2 tablespoons brown sugar
1/4 cup semisweet chocolate chips
1/8 teaspoon vanilla extract
Pinch of salt
Marshmallow Whipped Cream
1/4 cup cold heavy whipping cream
1/4 cup marshmallow fluff
1/2 teaspoon vanilla
Instructions
In a large saucepan, whisk together the milk and coconut milk and bring to a simmer.
Whisk in the cocoa, brown sugar, chocolate chips, vanilla, and salt. Continue cooking until the chocolate chips and sugar melt and the mixture is thick and smooth, roughly 5 minutes. Remove from the heat and pour into two mugs.
For the whipped cream: In a medium bowl, beat the cream, fluff, and vanilla until stiff peaks form (when you pull the beaters straight up, peaks form without falling over). Pipe on top of hot chocolate. Sprinkle toasted coconut on top.
Notes
*To toast coconut, preheat oven to 350F. Place coconut on a baking sheet in a single layer. Bake until golden brown, checking on it every 5 minutes and stirring the flakes around to ensure even browning. Cool before using. Toasted coconut can be made ahead of time and stored in an airtight container for up to one week.
Source: Adapted from
Food Network
—-
If you liked this Toasted Coconut Hot Chocolate recipe, you may also like these recipes from me: