Strawberry Vanilla Sangria
Chill out this summer with this easy Strawberry Vanilla Sangria recipe made with white wine, fresh strawberries, and vanilla bean.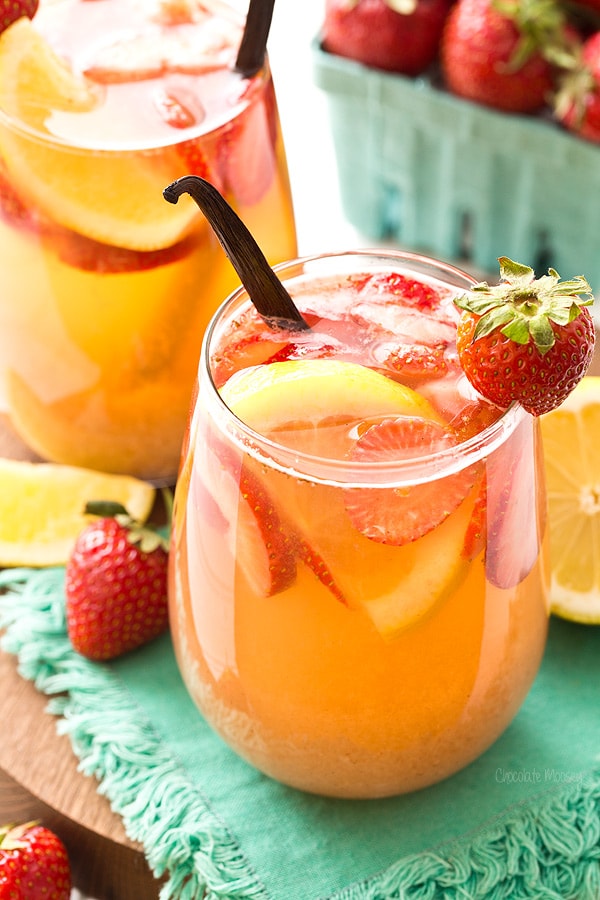 Here we are, the second week in May, and I'm already thinking about summer – Memorial Day, picnics, burnt hot dogs. In fact, I can almost smell those grills fired up, which also happens to be one of my favorite smells. While you're waiting for your hamburgers and hot dogs to cook, you want to relax with something cold and refreshing. Chances are you're also simultaneously socializing with family and friends. What better way to chill than with a summer cocktail? Sangria is one of the easiest summer drinks you can make; throw everything in a pitcher and chill for several hours. The first time I had sangria was during a blogging retreat. I was nervous meeting other bloggers in person for the first time. However, as soon as I walked up to the house, my nervousness vanished as the hostess greeted me with a big smile and a big pitcher of sangria. I didn't know what sangria was (I know, right?!), so I took a glass and sipped while meeting and greeting with the other guests.
I've made several sangria recipes last year with my watermelon blueberry sangria and red apple cider sangria. Next up is to capitalize on the fresh strawberry season with Strawberry Vanilla Sangria. There's a little bit of cooking involved as you start out by making a strawberry vanilla syrup, but it's only about 10 minutes of your time. The vanilla is a wonderful addition because it complements the strawberries well, adding another layer of flavor to the sangria.
Once you understand the basics of sangria, you can make almost any flavor you'd like. First is the type of wine you're going to use, whether it's white, red, or pink. You want to make sure it's relatively inexpensive and a little on the dry side as you'll be adding sweetness in the recipe. Not too cheap that you won't want to drink it, but not too expensive because we're adding other ingredients to it. White wine felt appropriate for my Strawberry Vanilla Sangria, so I used Pinot Grigio as the base.
Second is deciding what kind of fruit you want to use. You need two types – one citrus and one non-citrus. I knew I wanted to make strawberry sangria for summer and paired it with lemon slices because I prefer lemons over oranges.
Next is deciding how to sweeten the sangria. The main way is making a sugar syrup by boiling together equal parts water and sugar. I took this concept one step further and added
Nielsen-Massey Vanilla
to the sangria. Vanilla brings out the best of other flavors, so I knew it would be the perfect complement for the strawberries. I used a variety of
Nielsen-Massey products
including vanilla sugar, vanilla extract, and vanilla bean, but you can also use their vanilla bean paste.
Lastly is deciding which second liquid to add with the wine. Most recipes call for a type of liquor to add with the wine, such as brandy or orange liqueur, but personally I don't like my drinks super boozy, so I usually go for a non-alcoholic option. You can use orange juice, apple cider (like with my Red Apple Cider Sangria), another type of juice, lemon lime pop, or sparkling water. I used sparkling water because there's already enough sweetness from the sugar syrup yet I wanted something bubbly.
For more information on Nielsen-Massey, check out their website and say hello on Facebook, Twitter, Pinterest, and Instagram.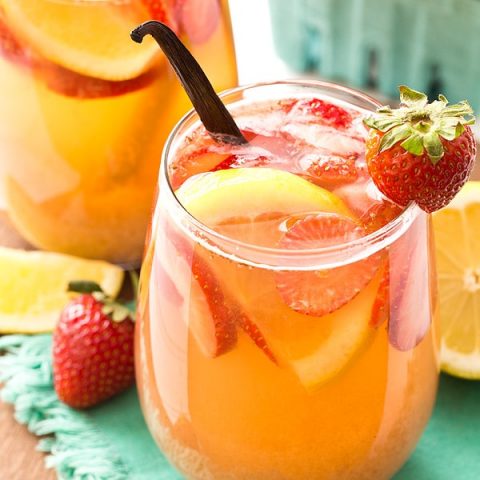 Strawberry Vanilla Sangria
Yield: 6-8 drinks
Prep Time: 4 hours
Cook Time: 10 minutes
Total Time: 4 hours 10 minutes
Ingredients
3 cups sliced strawberries
1/2 cup water
1/2 cup Nielsen-Massey vanilla sugar
1 Nielsen-Massey Madagascar Bourbon vanilla bean
1 teaspoon Nielsen-Massey vanilla extract
1 (750 ML) bottle Pinot Grigio
1 lemon, sliced
2 cups sparkling water
Instructions
In a large saucepan, whisk together 2 cups strawberries, water, and sugar. Make a slit to the vanilla bean lengthwise and scrape the seeds into the pan then add the whole vanilla bean. Bring to a boil over medium heat, whisking often. Boil for 5 minutes or until the strawberries cook down and start to thicken. Remove from the heat and whisk in vanilla extract.
Remove the vanilla bean pod and add to the bottom of a pitcher. Add the strawberry mixture to a blender and blend until smooth. Add to the pitcher. If desired, pour through a mesh strainer and discard any solids and seeds left behind.
Stir in the remaining 1 cup strawberries, wine, and lemon to the pitcher. Refrigerate for at least 4 hours, preferably overnight, before serving. Right before serving, add the sparkling water.
Disclosure: This post is sponsored by Nielsen-Massey Vanillas. Thank you for supporting me and the companies I work with as sponsored posts help pay for the costs of running Chocolate Moosey, including website hosting and groceries for recipe development.
This post may contain affiliate links. As an Amazon Associate and member of other affiliate programs, I earn from qualifying purchase.