Sweet Chili Sauce
Homemade Sweet Chili Sauce is a sweet and spicy sauce made from red chilis and garlic. Make it from scratch for your Asian cuisine.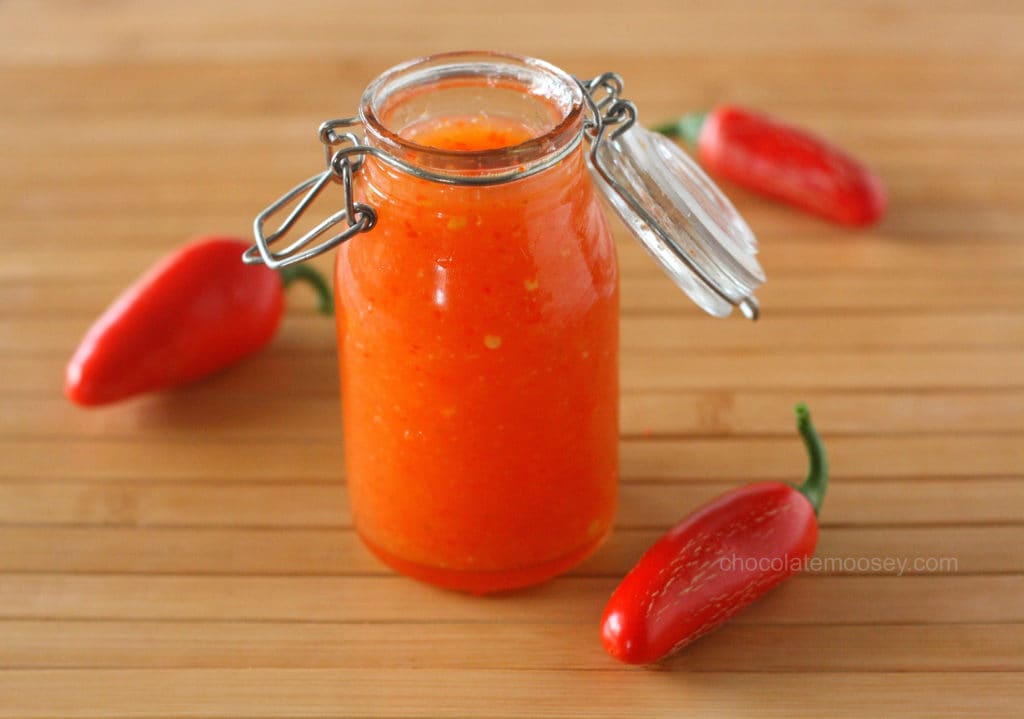 What's your favorite condiment? Is it ketchup? Mustard?
Honey BBQ Sauce
?
Pineapple Teriyaki Sauce
?
Normally, I'd say ranch dressing, but two years ago, I discovered Sweet Chili Sauce.
I thought it was made with some fancy Asian ingredients, so it never occurred to me to make my own.
Then one day during winter, I somehow stumbled upon a recipe. It uses jalapenos? Really? No fancy Thai chilies? No ingredients only found in Asian markets? It doesn't even use rice vinegar.
I filed the recipe in my never-ending things to try and forgot about it. Then my garden overflowed with red jalapenos. I've grown jalapenos these past two years and have never seen it this crazy before.
As I struggled to keep up with the overabundance, I remembered the Sweet Chili Sauce recipe.
At first I thought it would take time to cook on the stove to develop those flavors, much like you would with ketchup or tomato sauce.
Nope – throw everything in a blender then cook for a few minutes on the stove until thickened. Um what? I can make the sauce AND eat it in the same hour?
The first time I tried Sweet Chili Sauce was for a giveaway I hosted.
The company sent me a box of ingredients to go with their theme, and inside was a bottle of a brand name sauce.
I didn't know what to expect, so I was never intrigued on buying any at the store. Boy was I hooked!
I could practically drink this sauce (except for the throat burning part).
What's nice is you can add as little or as much heat as you want.
However, just know that the longer the sauce sits, the more mellow the sauce becomes.
This means it could be super spicy today, but next week the kick will have died down.
You'll have to make the judgement call, but I tend to go on the too spicy side since the sauce does last me a few weeks.
The spice is all in the peppers' seeds and membrane, so that's where you would adjust the heat. Don't completely get rid of the seeds because you do want somewhat of a kick.
I use homemade Sweet Chili Sauce mainly as a dipping sauce for fish sticks or chicken fingers, but I've also used it for my
Sweet Chili Wings
.
I used to eat everything with ranch, but it's slowly being replaced by Sweet Chili Sauce.
Sweet Chili Sauce
Adjust the heat with the amount of jalapeno seeds you add.
Ingredients
2 large red jalapeno peppers, chopped
3 cloves garlic, peeled
1/4 cup vinegar
1/2 cup sugar
3/4 cup water
2 tsp salt
1 Tbsp cornstarch
2 Tbsp water
Instructions
Puree together the jalapenos, garlic, vinegar, sugar, 3/4 cup water, and salt in a blender until smooth as possible. Transfer to a medium saucepan and bring to a boil. Lower the heat and simmer for about 3 minutes or until the mixture slightly thickens.
In a small bowl, combine the cornstarch and 2 Tbsp water until smooth. Add to the pepper mixture and simmer for another few minutes or until the mixture is thickened slightly. It's still going to be a little bit runny. The cornstarch is added to help suspend the pepper and garlic bits rather than have them sink to the bottom.
Let cool completely then store in the refrigerator for up to 1 month.
This post may contain affiliate links. As an Amazon Associate and member of other affiliate programs, I earn from qualifying purchase.