Chocolate Caramel Hi Hat Cupcakes
Indulge in these fancy yet simple Chocolate Caramel Hi Hat Cupcakes. Once you make these, you're going to want to dip everything in chocolate.
I'm particularly excited to share today's recipe because I crossed off an item on my culinary bucket list.
Have you heard of hi hat cupcakes? They are cupcakes with a tall amount of frosting dipped in chocolate, much like a chocolate-dipped ice cream cone you get at most ice cream shops.
Today I'm showing you how easy it really is to make these seemingly fancy Chocolate Caramel Hi Hat Cupcakes.
And if you have fears like I did about the frosting falling off or melting, you don't need to worry.
When it comes to grocery shopping, I'm all for saving money, but when it comes to chocolate, you need to buy high quality.
Ever buy baking chocolate from the discount grocery store where use a quarter to rent a shopping cart? I did once. Once.
After that mistake, I vowed to only use high quality chocolate.

First you need to gently melt the chocolate. The key is not overheating or rushing it. I made a double boiler by placing a bowl over a pan of simmering water.
Then I melted the chocolate bits until smooth and melted. You can use a thermometer to ensure the temperature is between 100-105F, but if you don't have one, it reaches the proper temperature right after it's all completely melted.
Once melted, remove the bowl from the heat and let cool until between 96-98F. If you don't have a thermometer, let it cool about 10 minutes before dipping.
Not only does the chocolate melt and dip beautifully, I was surprised at how quickly the chocolate set up.
Maybe it's because the frosting was cold and sped up the process, but they didn't even make it to the fridge to finish hardening.
You can tell they are ready when the chocolate goes from shiny to dull. I did experiment with the frosting, and yes they need to be refrigerated first.
If you dip them at room temperature, the frosting will melt.
Typically the frosting used for hi hat cupcakes is called 7 minute frosting, which to me almost resembles homemade marshmallow fluff.
And although I'm all for baking from scratch, I knew I wanted to make the process a bit easier and faster.
With 7 minute frosting, you literally beat the mixture for 7 minutes on the stove using a hand mixer. You can't even use a stand mixer and walk away.
And for someone like me who balances a lot of projects, I wanted to make the most of my time, so I used store bought marshmallow fluff then beat in my homemade caramel sauce.
Not only does using fluff allow you to make the frosting in a shorter amount of time, it allows you to focus more on dipping the cupcakes.
You know the frosting won't fail where as egg whites can be pretty finicky in 7 minute frosting.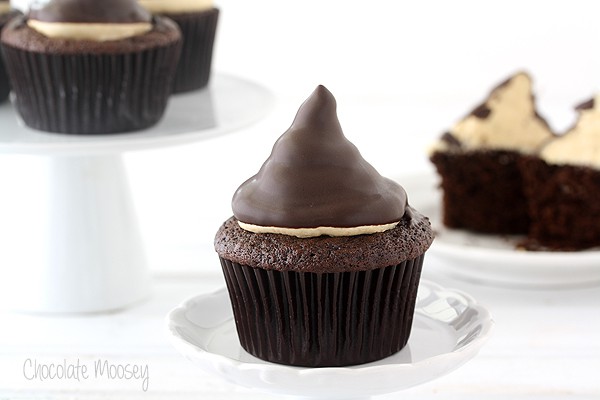 Chocolate Caramel Hi Hat Cupcakes
Ingredients
Cupcakes
1/2 cup (1 stick or 4 ounces) unsalted butter
2 ounces semisweet chocolate, chopped
1/2 cup unsweetened cocoa powder
3/4 cup all purpose flour
1/2 teaspoon baking soda
1/4 teaspoon salt
2 eggs
3/4 cup granulated sugar
1 teaspoon vanilla extract
1/2 cup buttermilk
Frosting
1 cup (2 sticks or 8 ounces) unsalted butter, softened
1 cup marshmallow fluff
1 cup powdered sugar
Pinch of salt
1 teaspoon vanilla extract
1/2 cup caramel sauce (homemade or store bought)
1 cup chocolate melting disks
Instructions
For the cupcakes
Preheat the oven to 350F. Line a cupcake pan with 12 paper liners.
In a medium saucepan, melt together the butter and chocolate. Let cool.
In a large bowl, whisk together the cocoa, flour, baking soda, and salt.
In another large bowl, beat together the eggs, sugar, and vanilla. Beat in the melted chocolate. Add about a third of the flour mixture then half of the buttermilk. Add in another third of the flour mixture then the rest of the buttermilk. Add the remaining flour mixture. The batter will be thick.
Fill each cup about 2/3 full with batter. Bake 18-20 minutes or until a toothpick inserted in the center comes out almost clean. Cool in the pan for 10 minutes then remove to a cooling rack to cool completely.
For the frosting
In a large mixing bowl, beat together the butter, marshmallow fluff, powdered sugar, and salt until smooth and creamy, about 2-3 minutes. Add the vanilla and caramel sauce then beat for another 2-3 minutes.
Spoon the frosting into a piping bag with a round tip and frost each cupcake (about 2 1/2 circles). Refrigerate for at least 30 minutes or until frosting is set and cold.
To dip the cupcakes
Add about an inch of water to a pan and bring to a simmer. Turn off the heat and place a heatproof bowl over top. Add the chocolate disks and gently melt until smooth (temperature should be between 100-105F). Remove from the heat and let cool 10 minutes (temperature should be between 96-98F).
If needed, transfer melted chocolate to a narrow cup or bowl deep enough to dip a cupcake. Working with one cupcake at a time, dip straight into the chocolate then let excess chocolate drip off. Repeat with each cupcake. Let sit until hardened (the chocolate will go from shiny to dull).
—-
If you are excited to make these Chocolate Caramel Hi Hat Cupcakes, you may also be excited to make these recipes: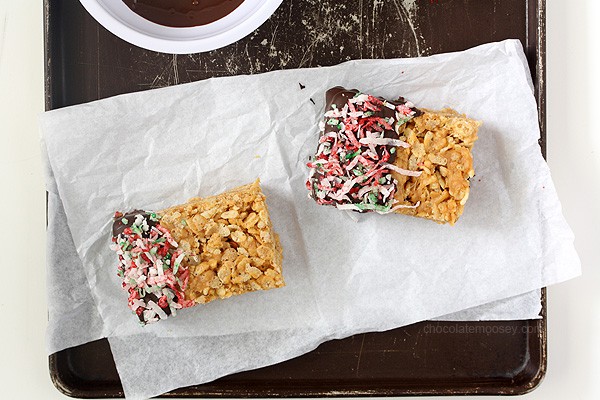 Chocolate Dipped Peanut Butter Rice Crispy Treats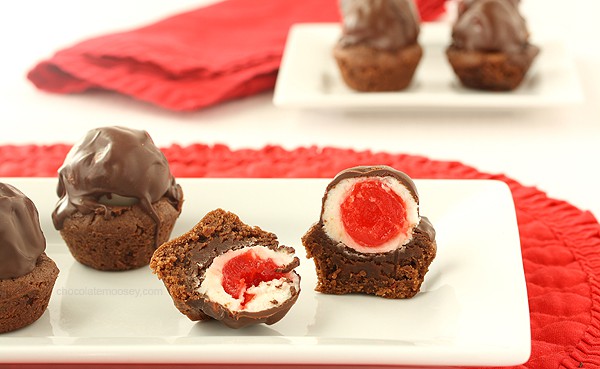 Chocolate Covered Cherry Brownie Cups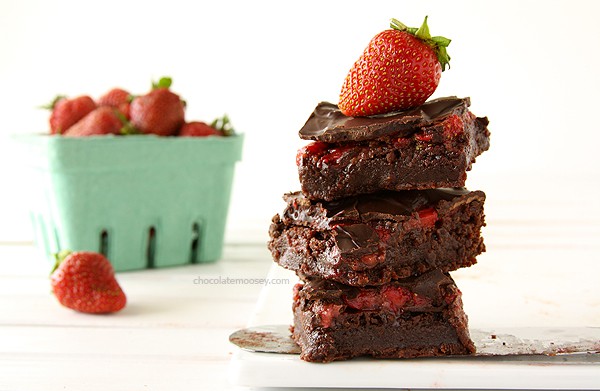 Chocolate Covered Strawberry Brownies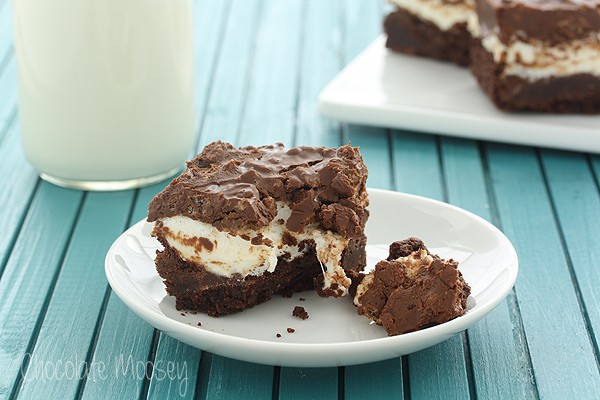 Crispy Peanut Butter Marshmallow Brownies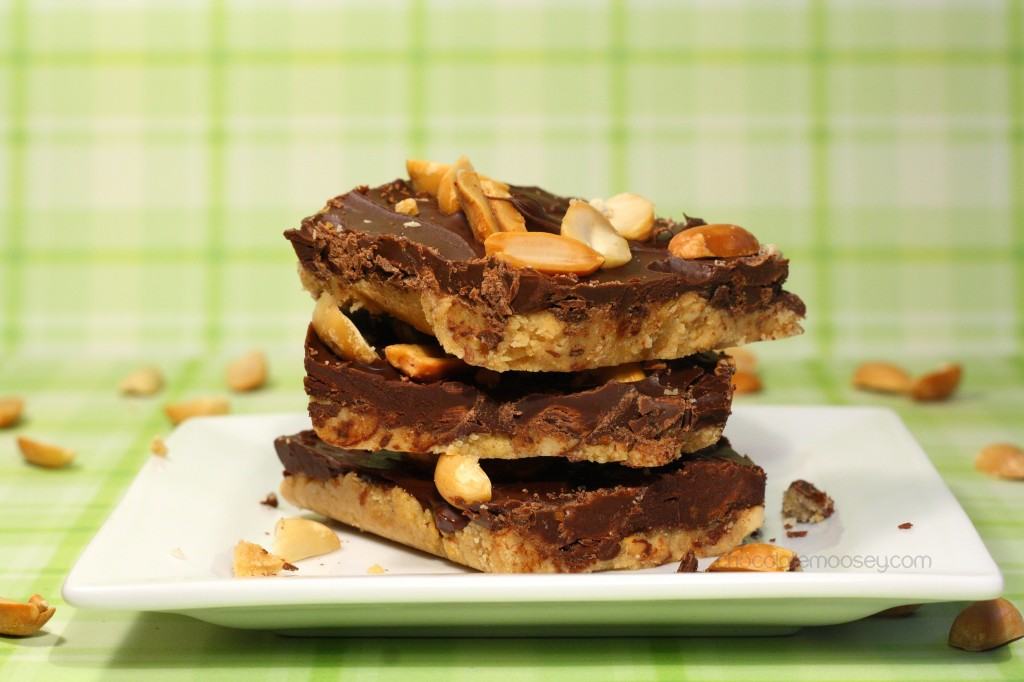 Chocolate Peanut Butter Bars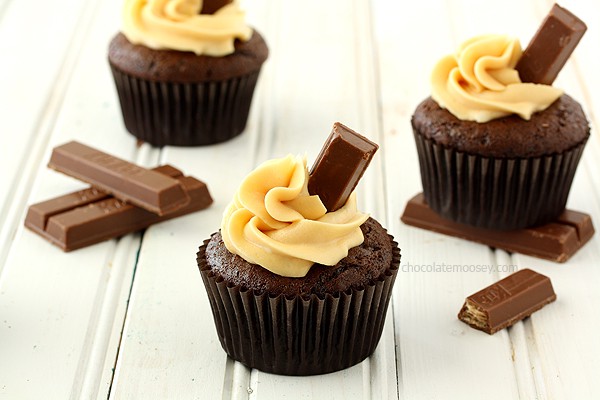 Kit Kat Cupcakes with Caramel Buttercream Frosting
This post may contain affiliate links. As an Amazon Associate and member of other affiliate programs, I earn from qualifying purchase.