Salsa Shrimp Lettuce Wraps
Looking for a healthy dinner that is ready in 15 minutes? These Salsa Shrimp Lettuce Wraps can be made so easily and quickly that you won't have to wonder what's for dinner.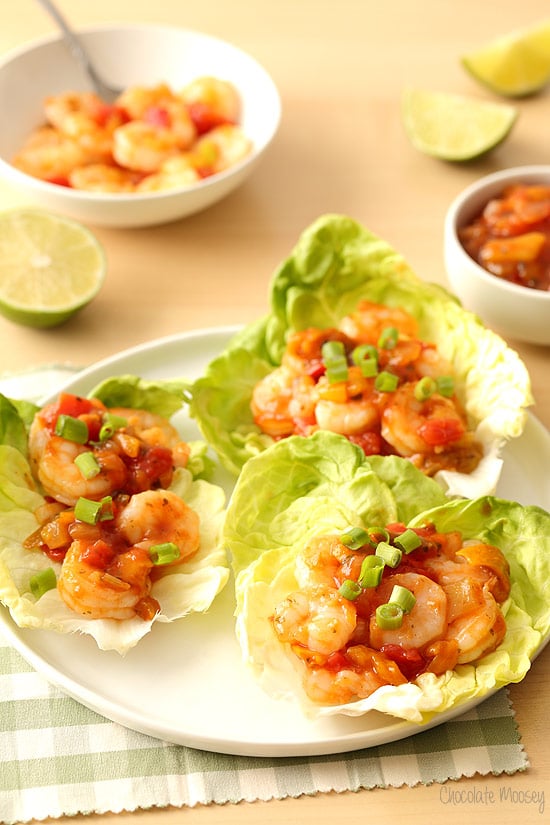 Last week my air conditioning wasn't working properly. Cold air was coming out, but my apartment was not cooling down, meaning it would stay on for hours and hours if I didn't manually turn it off.
Not wanting to run up my electric bill, I opted to open my windows. Except it was humid outside, so that didn't cool me down either.
As you can imagine, the last thing I wanted to do was turn on my oven for dinner.
I knew I had to cook something on the stove, but it had to be relatively quick so I wasn't heating my apartment up any more than I had to. Bonus points if the dish was served cold.
Now that it's summer and fresh produce is in abundance at farmer's markets everywhere, I've been trying hard to eat more vegetables, including salads.
Except once upon a time I hated lettuce. Or at least that's what I kept telling people.
The older I got, the more I realized it was just iceberg lettuce I hated because it was tasteless. I do enjoy other types of lettuce, including romaine, arugula, and even radicchio.
Although I'm still warming up to the idea of eating salads more often, I've been crushing on lettuce wraps lately.
Not only are they served cold, the filling takes almost no time to cook at all, especially if it's as simple as these Salsa Shrimp Lettuce Wraps.
In under 15 minutes, you can easily have dinner ready without worrying about being too hot in the kitchen.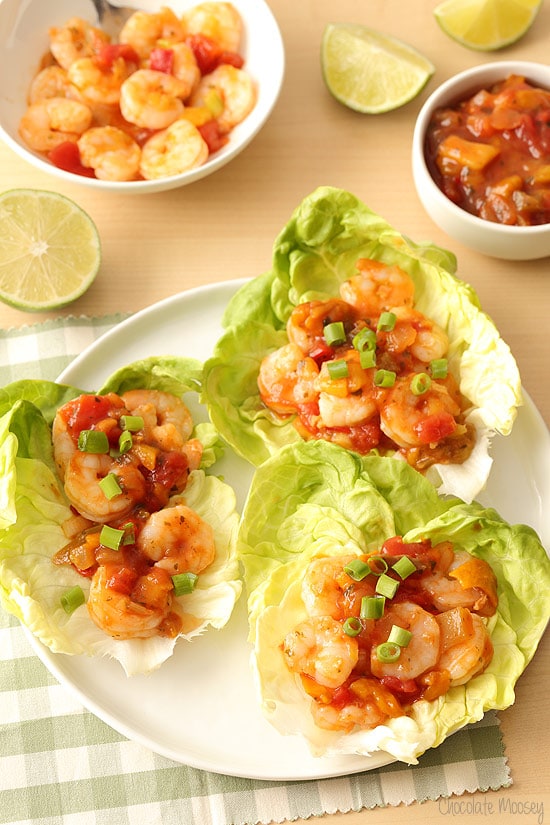 My first lettuce wrap was back in October when I attended a cooking demonstration. At first I was reluctant because I'm thinking, oh great I get to eat lettuce.
Starving, I ate it anyway, and that first bite showed me that not all lettuce is created equal; some are just way better than others.
Fast forward to March, and I had my second lettuce wrap at a workshop I attended.
When I got home, I decided to explore lettuce wrap making a little more. This is when I discovered Boston lettuce, which is ideal for lettuce wraps because it has naturally cupped leaves perfect for filling and rolling.
You can also look for Bibb and/or butterhead lettuce (all 3 lettuces are from the same family, so they may look similar or even have their names interchanged).
I did attempt my salsa shrimp wraps with romaine lettuce, but unfortunately rolling them up didn't work too well. That's when I just made a regular salad instead.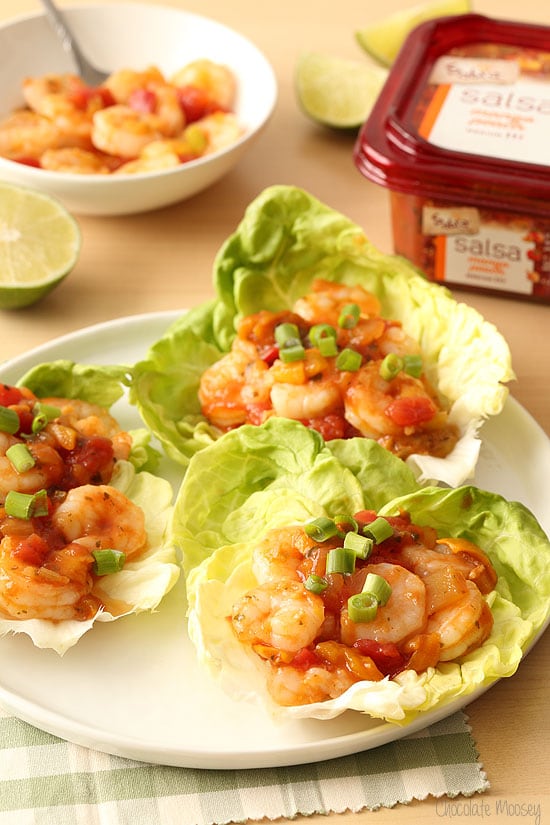 For the filling, I went with shrimp because it only takes 5 minutes to cook.
However, I've also made this several more times using both chicken and beef. Pretty much any protein will work; I just love shrimp the most.
When the shrimp was done cooking, I tossed it with some mango and peach salsa and that was it – time to eat! I love using salsa as sauces and do it all the time with pasta.
Mango peach is my favorite because it's both sweet and spicy and gives these lettuce wraps a little island flair, but pico de gallo or even roasted garlic will work just as well.
You can even use my fresh garden salsa recipe.
Salsa Shrimp Lettuce Wraps
Yield: 4 servings
Prep Time: 10 minutes
Cook Time: 5 minutes
Total Time: 15 minutes
Looking for a healthy dinner that is ready in 15 minutes? These Salsa Shrimp Lettuce Wraps can be made so easily and quickly that you won't have to wonder what's for dinner.
Ingredients
1 tablespoon olive oil
1 clove garlic, minced
12 ounces raw medium shrimp, peeled, deveined, and patted dry
3/4 cup salsa (I used mango peach)
2 teaspoons lime juice
1/4 teaspoon salt
1 head Boston lettuce
1 green onion, chopped
Instructions
In a large skillet over medium heat, heat the oil. Once hot, add the garlic and shrimp. Cook 3-5 minutes or until the shrimp is pink and no longer transparent, flipping once during cooking.
Remove from the heat and stir in the salsa, lime juice, and salt.
Separate the lettuce leaves and fill with some of the shrimp. Top with green onion.
More Shrimp Recipes

Sesame Shrimp Peanut Noodles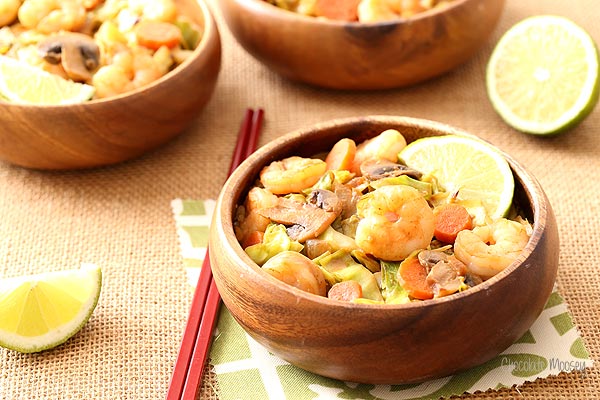 Thai Sweet Chili Shrimp with Cabbage "Noodles"

Spicy Shrimp Tacos with Watermelon Salsa

General Tso's Sweet Chili Shrimp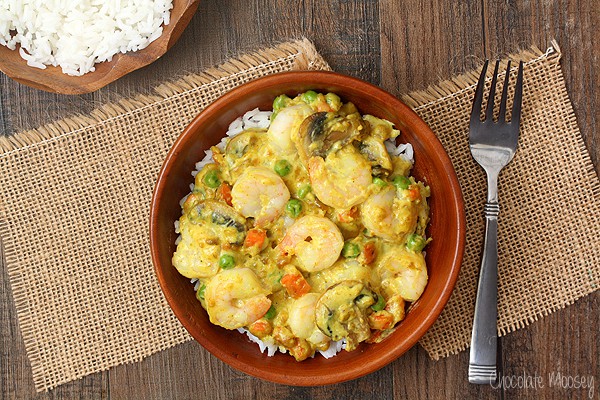 Shrimp Curry (In A Hurry)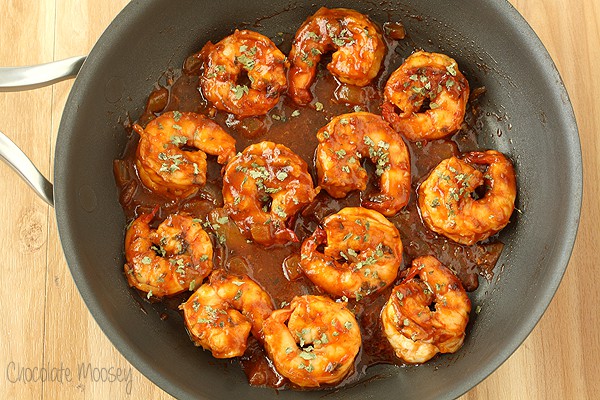 Spicy Beer Shrimp
This post may contain affiliate links. As an Amazon Associate and member of other affiliate programs, I earn from qualifying purchase.