Pumpkin Poke Cake
This easy homemade Pumpkin Poke Cake is made from scratch without cake mix and served straight from the cake pan. Topped with whipped cream frosting, the pumpkin lover in you won't be able to resist!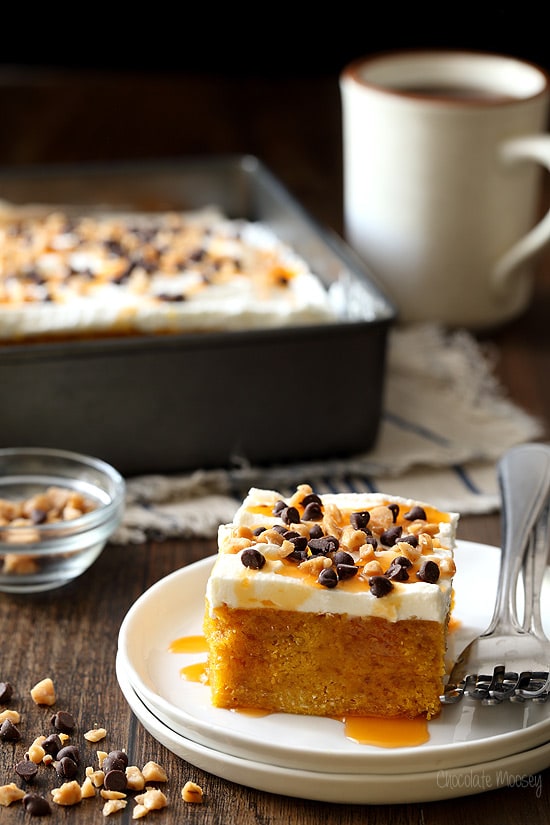 Pumpkin, pumpkin everything. Are you tired of pumpkin yet? I hope you said no because I pretty much have a million more pumpkin recipes in the works for you (sorry not sorry). I can't help it though. I'm one of *those* people that once Starbucks starts selling pumpkin spice lattes, all bets are off (actually I was late getting on the train this year because it was still in the 90s on Labor Day). I haven't baked too much with pumpkin at home yet. So far I had my
pumpkin spice cannoli dip
, but that's about it. Time to start baking! First up on this year's list – Pumpkin Spice Poke Cake. It's a made from scratch pumpkin cake filled with pumpkin spice syrup then topped with a whipped cream frosting and a combination of toffee bits and mini chocolate chips for a bit of crunch. It's a simple one layer cake made in a square cake pan that you can easily serve straight from the pan.
When I was researching different recipes for pumpkin poke cake, I realized they all had one thing in common – they started with cake mix. Why wasn't there a pumpkin cake made from scratch? Why did the recipe *have* to use cake mix? This put me on a mission to make a poke cake from scratch for others like me who would prefer to start with flour and sugar rather than a mix.
If you're not familiar with poke cakes, they get their name from poking holes into the cake (literally) then pouring some sort of filling into the holes. Normally poke cakes are filled with sweetened condensed milk, but I decided to amp up the pumpkin spice flavor with
Amoretti Pumpkin Spice Syrup
instead. You may be familiar with pumpkin spice syrup as most coffee houses use them to flavor their coffees. Amoretti syrups are different because the flavor is more concentrated, meaning you only need 1-2 pumps where as other brands you may need more. That means Amoretti will last even longer during pumpkin season. Now you can make your own pumpkin spice latte at home while you eat a slice of this pumpkin poke cake.
Because the syrup is a bit on the sweet side, I knew I wanted to balance the cake with a not-so-sweet whipped cream frosting. Besides, it's whipped cream on cake. Who can possibly say no to that?
Pumpkin Spice Poke Cake
Yield: 12-16 servings
Prep Time: 30 minutes
Cook Time: 30 minutes
Total Time: 1 hour
This simple Pumpkin Spice Poke Cake is made from scratch without cake mix and served straight from the cake pan. Topped with whipped cream frosting, the pumpkin lover in you won't be able to resist!
Ingredients
1 1/4 cups all-purpose flour
1/2 teaspoon baking powder
1/2 teaspoon baking soda
1 teaspoon ground cinnamon
1/2 teaspoon ground nutmeg
1/4 teaspoon ground ginger
1/4 teaspoon salt
1/4 cup vegetable oil
1/2 cup granulated sugar
1/4 cup packed brown sugar
1 egg
1 cup canned pumpkin puree
1 teaspoon vanilla extract
1/4 cup whole milk
1/4 cup Amoretti Pumpkin Spice Syrup, plus more for garnish
Whipped Cream Frosting
1/2 cup cold heavy whipped cream
1/4 cup powdered sugar
1/2 teaspoon vanilla extract
1/4 cup toffee bits
1/4 cup mini semisweet chocolate chips
Instructions
Preheat oven to 350F. Lightly grease an 8x8 square pan.
In a large bowl, mix together the flour, baking powder, baking soda, cinnamon, nutmeg, ginger, and salt.
In a large mixing bowl, beat together on medium speed the oil, sugar, and brown sugar until combined. Beat in the egg until smooth. Beat in the pumpkin and vanilla. Add the flour mixture alternately with the milk, adding the flour in 3 additions and the milk in 2 additions (begin and end with dry ingredients).
Spread the batter into the pan and bake 25-30 minutes or until a toothpick inserted in the center comes out clean. Cool for 15 minutes.
While the cake is still warm, poke roughly 16 holes into the cake (4 rows of 4 holes each) with the bottom of a long and round handle of a wooden spoon or similar object. Pour the syrup into each hole. Let the cake cool completely.
For the frosting: In a large mixing bowl (with whisk attachment if using a stand mixer), beat the heavy cream until thickened. Gradually beat in the sugar and vanilla then continue beating until stiff peaks form (when you pull the beater up, peaks will form and not fall over). Spread on top of the cooled cake then garnish with toffee bits, chocolate chips, and additional syrup.
Source: Adapted from my
caramel apple butter layer cake
recipe
Disclosure: This post is sponsored by Amoretti. Thank you for supporting me and the companies I work with as sponsored posts help pay for the costs of running Chocolate Moosey, including website hosting and groceries for recipe development.
This post may contain affiliate links. As an Amazon Associate and member of other affiliate programs, I earn from qualifying purchase.