Chicken Salad Breadstick Sandwiches
No more boring white bread sandwich! This traditional chicken salad is served between bread made from breadstick dough. In other words, creamy chicken salad served between one big breadstick cut in half.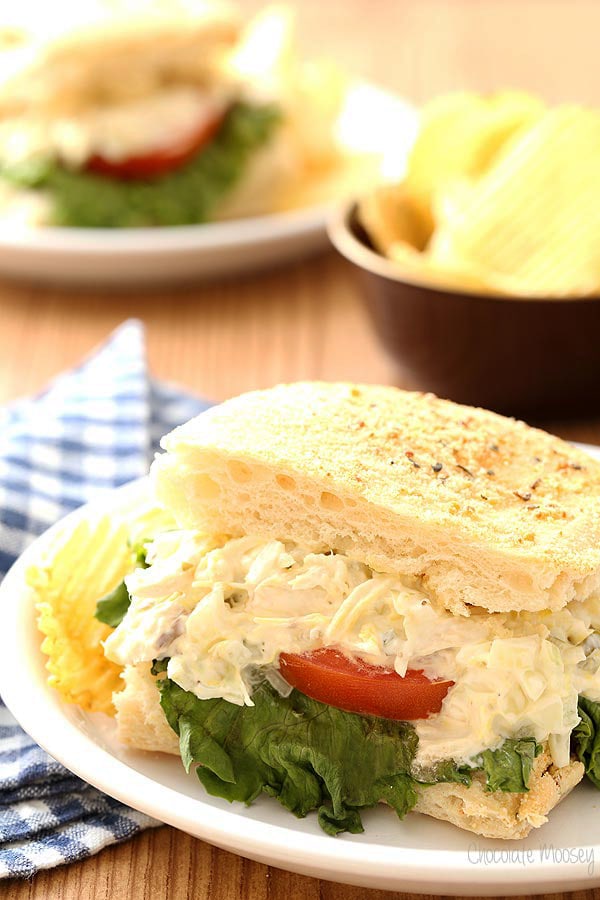 It's hard to believe it'll be 7 months since I moved back to Pittsburgh. Maybe I'm just destined to be a suburban girl, but four years in the country at what ended up being a dead end job was enough for me. As with starting any new adventure, there are a few things I do miss about living in the country since moving back. For starters, I miss some of the few close friends I made (as it was hard for me to get close to anybody because I was so different). I miss the roadside farm stands and the little Mennonite markets where I could get fresh Pennsylvania Dutch-based food. I was just telling a friend the other day about Amish potato salad. Then I wondered where I could buy some in Pittsburgh (any suggestions?). I also miss some of the local restaurants. One place had the best corn fritters ever (and no matter how hard I tried, I still can't recreate them at home). Then there's a local burger place with milkshakes that I often stopped at on my way home from Saturday shopping. And finally, a local pizza place that made these amazing Chicken Salad Breadstick Sandwiches. The first time I heard about them, I didn't know what breadstick sandwich meant. Turns out the bread was made of breadstick dough rather than your typical sandwich or hoagie bread. In other words, it's your choice of filling served between a fat breadstick cut in half. I'm the type who'd rather eat a dozen breadsticks from the pizza place than eat the pizza itself. Turning them into sandwich bread was one of the best culinary ideas I've ever heard of. And now, I found a way to make this a reality in my own kitchen so you and I can enjoy them together.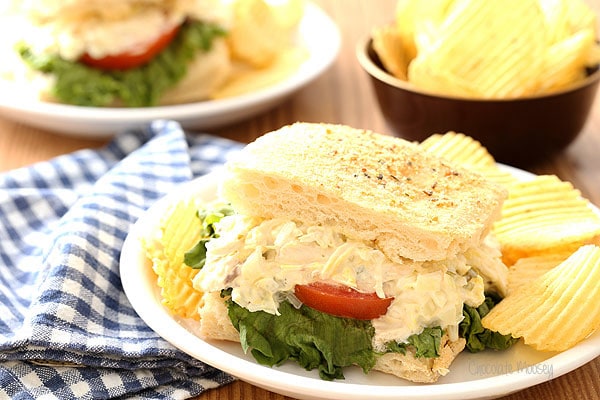 When I visit somewhere new, I like to scout out the local food and avoid chain restaurants whenever possible (because I can go to McDonald's any day of the week). Shortly after I moved, I started asking my coworkers some good places to eat. I heard several suggestions for breadstick sandwiches. Breadsticks? I like breadsticks! I didn't even know what breadstick sandwiches even meant, but I was eager to find out. At the restaurant, you could get your choice of filling. I did try it a few times with their breaded chicken strips, but soon I fell in love with their chicken salad. I'm really picky with chicken salad as it has to be creamy with that familiar taste of mayo (but not taste like you dipped a spoon in mayo). No nuts. No dried cranberries. And certainly no grapes. Their chicken salad was extra special as it had relish in it. It got to the point where my coworkers would ask, we are ordering lunch from the local pizza place – want anything? And when I said yes, they already knew I wanted my usual chicken salad breadstick sandwich.

Unbaked dough, scored into 6 pieces. Apparently I'm not good at making rectangles.
The day before I moved, I ate my final breadstick sandwich and said goodbye to my favorite sandwich ever. Of course being the foodie I am, I knew I would eventually recreate it. This recipe is not a copycat but rather my interpretation (as I wish I had taken better notes before I moved). I took
my favorite breadstick recipe
and cut them fat enough to become sandwiches (see above photo). Then I made creamy mayo-based chicken salad with relish and onion. I love a lot of onion in mine for crunch. If you are not a mayo lover, feel free to adjust the chicken salad to your liking as the concept is more important.
This recipe makes 6 sandwiches because if you're going to take the time to make breadsticks, I wanted to make it worthwhile. I soon learned that the trickiest part was storing the leftover bread. Breadsticks are best eaten the day they are made as they quickly become stale. However, the local pizza place toasted their breadstick sandwiches before serving, so I got the idea to toast the bread, which takes away that stale factor.
Chicken Salad Breadstick Sandwiches
Yield: 6 sandwiches
Prep Time: 2 hours
Cook Time: 35 minutes
Total Time: 2 hours 35 minutes
Ingredients
2 cups cooked chicken breast, shredded
1/2 cup sweet pickle relish
1/4 - 1/2 cup chopped onion (I love a lot of onion in mine)
1/4 teaspoon garlic powder
1/4 teaspoon onion powder
3/4 cup mayonnaise (not Miracle Whip)
2 tablespoons milk
1 teaspoon fresh lemon juice
Breadstick Dough
2 tablespoons granulated sugar
1 teaspoon salt, divided
One 1/4-ounce package active dry yeast (roughly 2 1/2 teaspoons)
1 1/2 cups warm milk (between 120F-130F degrees)
3 1/2 cups all-purpose flour
1 tablespoon melted butter
1 tablespoon grated Parmesan cheese
1 1/2 teaspoons dried oregano
1 1/2 teaspoons garlic powder
1 1/2 teaspoons onion powder
Instructions
In a large bowl, add the chicken, relish, onion, garlic powder, and onion powder. Mix in the mayonnaise until everything is covered then mix in the milk and lemon juice until creamy. If you want it creamier, you can add more milk. Refrigerate for at least an hour before eating.
For the breadstick dough: Preheat oven to 350F. Have one baking sheet ready.
In a large bowl, whisk together the sugar, 1/2 teaspoon salt, and yeast. Whisk in the warm milk and 1 cup flour until the dry ingredients are just moistened. Either finish whisking by hand or on low speed with a mixer, beat in the remaining 2 1/2 cups flour until a moderately stiff dough forms (depending on the weather, you may need to add up to an extra 1/4 cup flour if the dough is too sticky).
On a lightly floured surface, knead the dough until smooth, about 4-6 minutes. Let rest 10 minutes.
While the dough is resting, in a small bowl, whisk together the remaining 1/2 teaspoon salt, Parmesan cheese, oregano, garlic powder, and onion powder.
Brush about half of the melted butter onto the baking sheet. Place the dough on top of the sheet then roll into a 12x10 rectangle (it's ok if it has rounded edges). Score the dough once lengthwise then into 4-inch pieces (meaning make cuts but not cutting all the way through, leaving the dough in tact. You should have 2 rows of 3 pieces. See photo in blog post for reference).
Brush the dough with the remaining melted butter then sprinkle the Parmesan cheese mixture on top. Bake 20-25 minutes or until puffed up and golden brown. Remove and let cool. If serving right away, leave the oven on.
Once cool enough to touch, completely cut the pieces from the marks you scored earlier then cut each piece in half to fill like a sandwich. If serving right away, place each piece, cut side up, onto the baking sheet and bake another 10 minutes or until toasted to the touch. Cool 5 minutes then top with a piece of lettuce, tomato, and chicken salad. Serve immediately.
If not serving right away, let the bread cool completely then store in an airtight container for up to 2 days. Before serving, toast each bread either in a 350F oven for 10 minutes, under a broiler, or in a skillet with some melted butter.
Notes
Feel free to adjust the chicken salad recipe to your liking. You can even sub some Greek yogurt for part of the mayonnaise if you're not a fan.
Breadsticks are best eaten the day they are made as they quickly become stale. However, if you do have leftovers, toasting the bread takes away that stale factor.
Source: Bread adapted from my
Pizza Hut-Style breadsticks
Similar Recipes You May Like

Soft Garlic Parmesan Breadsticks (Pizza Hut Style)

Buffalo Chicken Salad Sandwiches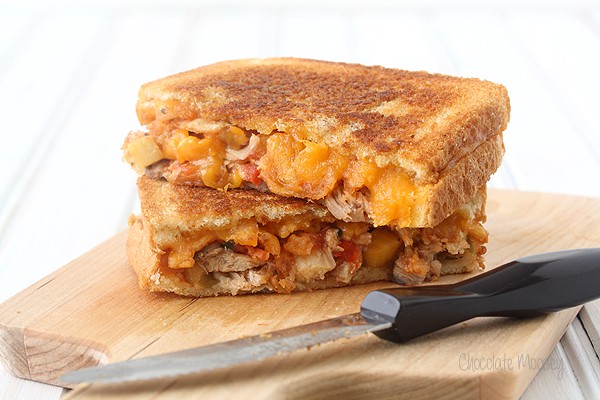 Salsa Chicken Grilled Cheese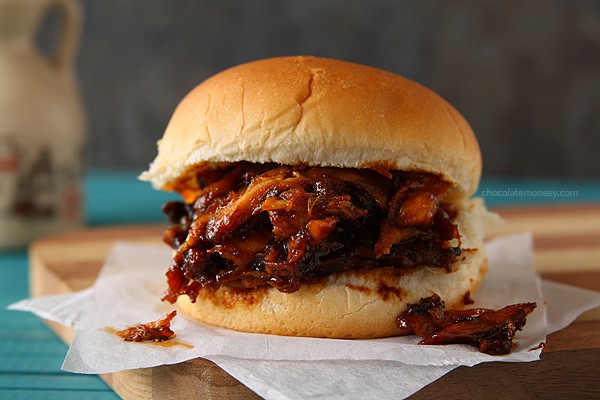 Maple BBQ Pulled Chicken Sandwiches
This post may contain affiliate links. As an Amazon Associate and member of other affiliate programs, I earn from qualifying purchase.