Red Apple Cider Sangria
Relax this Halloween with Red Apple Cider Sangria – the perfect Hallowine cocktail to serve an adult party crowd with minimal effort.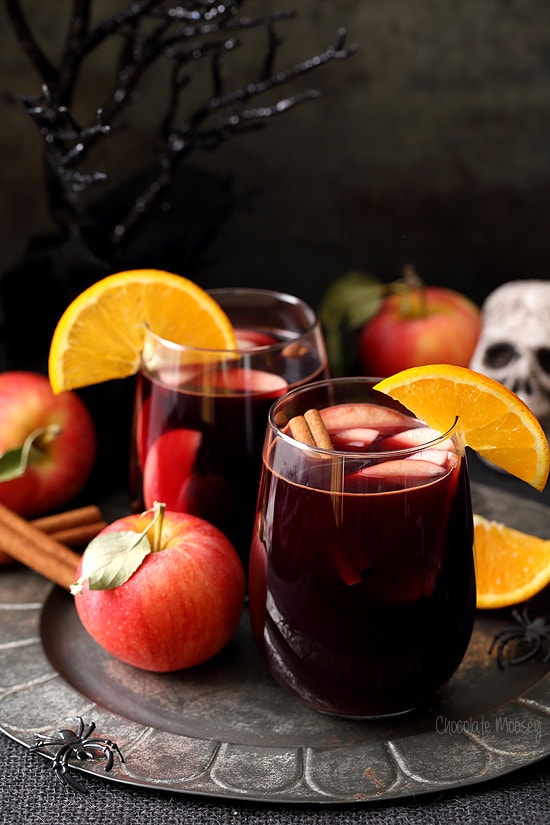 Happy Halloween! It's not too early to say that, right? I know we still have a few weeks until Halloween, but hey I waited until October at least; I don't decorate my apartment until October 1 as I feel September is too early for Halloween (even though the stores insist on selling decorations in August). It's also the time of year where I'm drowning in apples as this past weekend was the annual apple festival I go to every year and usually come home with 10 pounds of apples and a quart (or two) of apple cider. I thought about ways I could combine Halloween and apples into a fall favorite recipe. I didn't want to get too cutesy or too gory, so I focused on the color red for blood often associated with vampires and zombies (that's probably as gory as I get). When you think about Halloween, you usually think about food – candy, apples, pumpkins, festive sugar cookies. What about the drinks? I thought about red and apples some more, then came up with this Hallowine cocktail (get it?!) using red wine – Red Apple Cider Sangria, perfect for any Halloween parties you may be planning.
I must admit I'm not big into dressing up in costumes, but I do love attending Halloween parties in general. A few years ago when I moved to a little country town, my neighborhood threw a little Halloween party for the kids. All of the houses were too far apart to walk, so the one farmer offered to drive the kids around on a hay ride while they trick or treated for candy. Afterwards, the adults were invited to another neighbor's house for food and drinks while the kids played and ate their candy. My landlord and I were invited to ride along with the kids' parents on the hay ride then to the party afterwards as we were new to the neighborhood (I was completely new while she recently built a second property there). Although it wasn't a costume party, there were plenty of Halloween treats and adult drinks to go around.
Every adult Halloween party needs a Hallowine cocktail for the adults to relax. Sangria is the perfect cocktail to serve at a party because you make it 1-2 days ahead of time then serve it straight from the pitcher. Totally hands off once you spend 15-20 minutes or so prepping it (depends on how fast you can cut fruit).
The wine I used in my red sangria is
Casillero del Diablo Wines
, which translates into the Devil's Cellar. Legend says that the founder Don Melchor noticed his wines were disappearing, so he spread a rumor that the wine is protected by the devil. As a result, his wines were never stolen again. You can watch the video of
The Legend of Don Melchor de Concha y Toro
for more on the story. The name makes this wine ideal to serve for Halloween because people often dress up as the devil (I know I did a few times growing up). I chose Cabernet Sauvignon for the sangria base, but Merlot would work too.
Red Apple Cider Sangria
Yield: 8-10 servings
Prep Time: 15 minutes
Cook Time: 5 minutes
Total Time: 20 minutes
Relax this Halloween with Red Apple Cider Sangria – the perfect Hallowine cocktail to serve an adult party crowd with minimal effort.
Ingredients
1/2 cup water
1/2 cup granulated sugar
1/2 teaspoon ground cinnamon
1/4 teaspoon ground nutmeg
1 bottle (750 ML) Casillero del Diablo Cabernet Sauvignon
2 cups apple cider
2 large apples, cored and sliced
1 large orange, sliced
2 cinnamon sticks
Instructions
In a small saucepan, whisk together the water, sugar, cinnamon, and nutmeg. Bring to a boil and boil for 2-3 minutes or until the sugar has dissolved. Remove from the heat.
In a large pitcher, combine the red wine and apple cider. Stir in the sugar mixture, apples, oranges, and cinnamon sticks. Refrigerate for at least 4 hours, preferably overnight, before serving.
Disclosure: This post is sponsored by Casillero del Diablo. Thank you for supporting me and the companies I work with as sponsored posts help pay for the costs of running Chocolate Moosey, including website hosting and groceries for recipe development.
This post may contain affiliate links. As an Amazon Associate and member of other affiliate programs, I earn from qualifying purchase.