Peach Honey Sangria
Summer is for sipping sangria: Peach Honey Sangria made with white wine, fresh peaches, and honey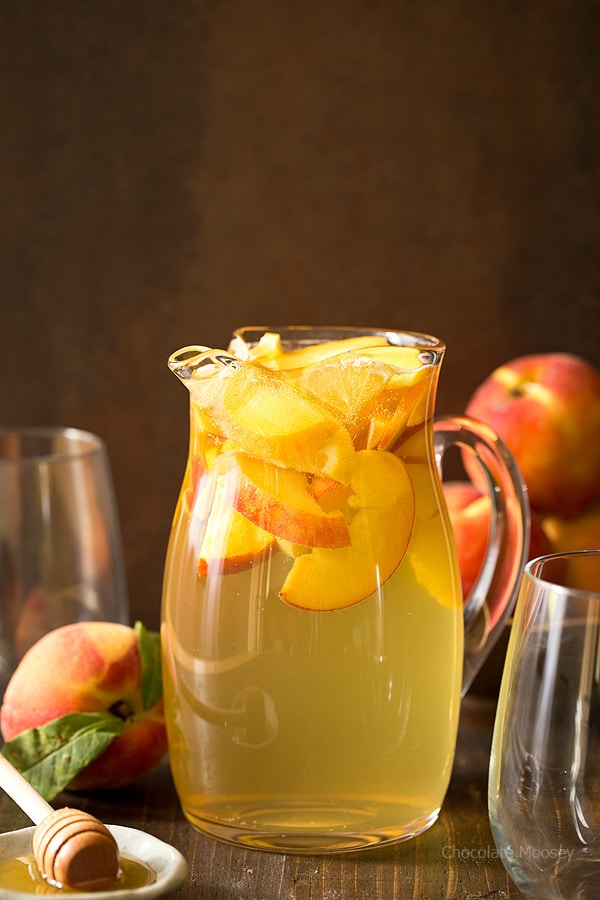 Here we are in the final month of summer. Sure, summer doesn't officially end until September, but let's face it – it's summer until Labor Day then all the pumpkin things start hitting stores. Let's pump the brakes on pumpkin and bring on the peaches. Peaches are the one fruit I like eating as a snack, so I tend to buy buckets full before they're all gone. Half to eat now and half to use in
peach recipes
.
Even though I have plenty of peach desserts, it's time for a drink. One of my favorite summer cocktails is sangria. Sangria is a wine-based cocktail mixed with fruit and another liquid, usually another liqueur or juice if you don't want to add extra alcohol. I've made several sangria recipes in the past with different fruit – strawberry vanilla sangria, watermelon blueberry sangria, even red apple cider sangria for fall – but this time I wanted to take advantage of juicy, summer peaches with Peach Honey Sangria. Because sangria needs time for the flavors to develop, you can make a pitcher and have it in your fridge all week to enjoy. Pour a glass and enjoy your summer evening on the porch (or pour a glass and enjoy your evening on the couch like me. Who needs porches anyway?)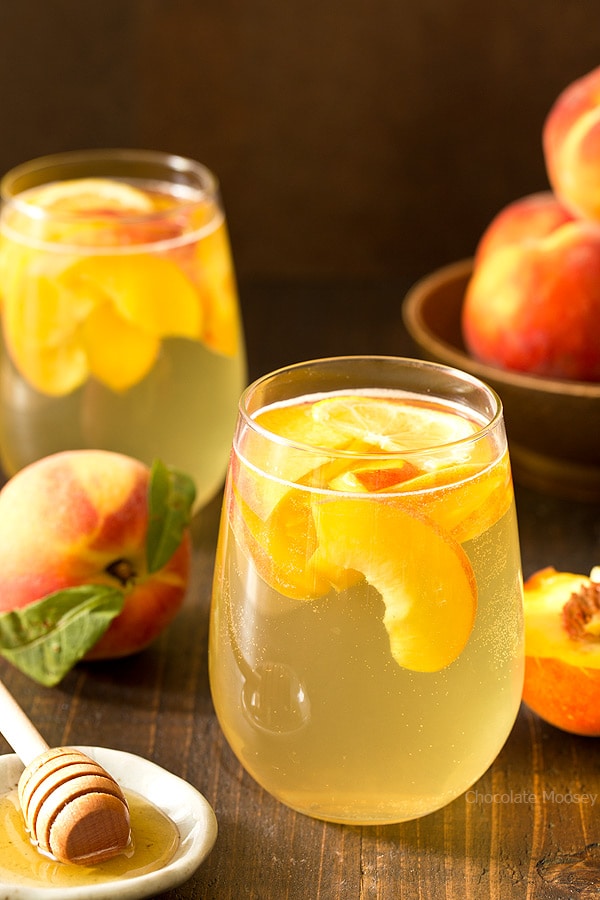 For sangria, my go-to white wine is Pinot Grigio. You can also use Sauvignon Blanc for the base. Whatever varietal you pick, make sure it's relatively inexpensive and a little on the dry side as you'll be adding sweetness in the recipe. Not too cheap that you won't want to drink it, but not too expensive because you're making a cocktail with other ingredients.
Typically sangria is sweetened with a simple syrup (sugar dissolved in water), but I chose honey instead. Honey and peaches go well together, so why not make combine the two into a cocktail? Since honey is already a liquid, you can add it directly to the wine and skip making the syrup on the stovetop.
In addition to white wine I used peach schnapps, which is a spirit made from distilled peaches. It adds additional peach flavor to the sangria along with the fresh peach slices. You can use peach juice or peach nectar instead if you want to cut back on the alcohol.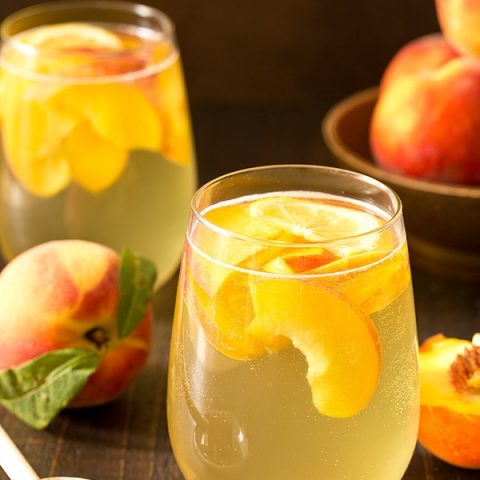 Peach Honey Sangria
Yield: 6-8 drinks
Prep Time: 4 hours 15 minutes
Total Time: 4 hours 15 minutes
Ingredients
1 bottle (750 ml) white wine, such as Pinot Grigio or Sauvignon Blanc
1 cup peach schnapps (or peach nectar/juice)
1/4 - 1/2 cup honey
2 peaches, pitted and sliced
1 lemon, sliced
1 cup seltzer
Instructions
In a large pitcher, mix together the wine, peach schnapps, 1/4 cup honey, peaches, and lemon slices. Taste and add remaining 1/4 cup honey, if desired. Refrigerate for at least 4 hours, preferably overnight, before serving. Right before serving, add the seltzer.
This post may contain affiliate links. As an Amazon Associate and member of other affiliate programs, I earn from qualifying purchase.