Rice Krispie Pumpkins
Happy Halloween! Make these fun Rice Krispie Pumpkins and stuff them with your favorite candy in the middle.
Happy Halloween! Ok not quite, but today I'm celebrating with tricks and treats.
I am not a spooks person. I don't like goriness. I don't like the fright of a masked man chasing me with a chain saw. I don't like vampires (especially sparkly ones) and even though I grew up in western PA, I don't like zombies either.
I know, I'm such a party pooper.
Believe it or not, I do still love Halloween. I love black and orange, pumpkins, and black cats. I love peanut butter pumpkins and Cadbury scream eggs. I have a giant ceramic Halloween cupcake and a cupcake shirt. Oh and I kinda like witches.
So for your Halloween treat today, I decided to lean towards the cute and creative factor with these candy stuffed Rice Krispie Pumpkins.
It's everyone's favorite rice krispie treat in the shape of a pumpkin stuffed with candy in the middle.
I first saw this recipe in the newspaper with all of the coupons. My dad likes to give them to me when he is done reading his Sunday paper.
I loved the idea of putting candy in the middle, It's not just a pumpkin. It's a candy surprise pumpkin!
I chose pumpkin spice kisses to go along with the pumpkin theme, but you can use anything "fun-sized" – peanut butter cups, 3 Musketeers, Snickers, Milky Way, anything small.
This treat is perfect for using up leftover Halloween candy.
Pumpkins don't stop with Halloween. They are very common in November as well. And if you are out of candy, the rice krispie pumpkins themselves are still good too.
There are no fancy flavors in these pumpkins.
Just your typical butter, marshmallows, and rice crispy cereal with some food coloring and buttercream.
I thought about adding pumpkin spice, but I had pumpkin spice kisses in the middle already.
The original recipe called for green gumdrops. One – I forgot to buy some. Two – I hate gumdrops, so I wouldn't really eat them anyway.
I just threw some mini marshmallows into green buttercream until they were mostly covered.
You can also dip them in chocolate for a brown stem or find another green candy (M&M perhaps?)
If you have no candy at all, you can probably pipe some kind of stem.
Speaking of piping, I have no clue how to pipe vines on a pumpkin. I had the bag full and moments away from piping when it hit me – how *do* you decorate a pumpkin?
I hope a few squiggles and some lines did the trick.
I think these Rice Krispie Pumpkins would make great party favors. Hand them out in festive treat bags and watch everyone go crazy (or at least crazy from the sugar rush).
Candy-Stuffed Rice Crispy Treat Pumpkins
Happy Halloween! Make these fun Candy-Stuffed Rice Crispy Treat Pumpkins and use your favorite candy as the surprise in the middle.
Ingredients
2 tablespoons unsalted butter
2 cups mini marshmallows + 8 mini marshmallows set aside
Orange food coloring
3 cups rice crispy cereal
8 pieces mini candy, unwrapped
Buttercream
3/4 cup powdered sugar
1/4 cup (4 tablespoons or 2 ounces) unsalted butter, softened
Pinch of salt
1/2 teaspoon vanilla extract
Green food coloring
Instructions
In a large pot, melt the butter. Add 2 cups marshmallows and stir until melted. Stir in a few drops of orange food coloring until bright orange. Remove from the heat and stir in the cereal until everything is well-combined.
Using a 1/2 cup measuring cup, scoop out the cereal mixture and shape it into a ball around one piece of candy to form a ball. Repeat with remaining cereal, being careful you don't burn your hands.
Fold the mini marshmallows into the buttercream (see below for recipe) to coat for pumpkin stems. Attach to the top of each pumpkin. Place the rest of the buttercream into a piping bag and pipe vines onto each pumpkin.
For the buttercream: In a medium bowl, beat together the powdered sugar and butter until creamy, 2-3 minutes. Beat on high another 2-3 minutes or until light and fluffy. Beat in the vanilla and food coloring.
Source: Adapted from
Kellogg's
More Halloween Recipes For You To Make

Halloween Candy Corn Chocolate Popcorn

Halloween Chocolate Truffles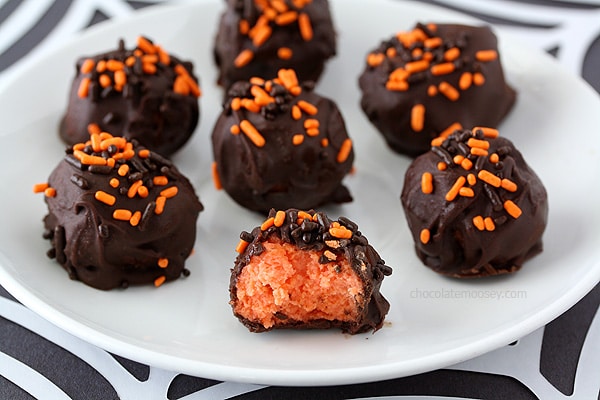 Halloween Cheesecake Truffles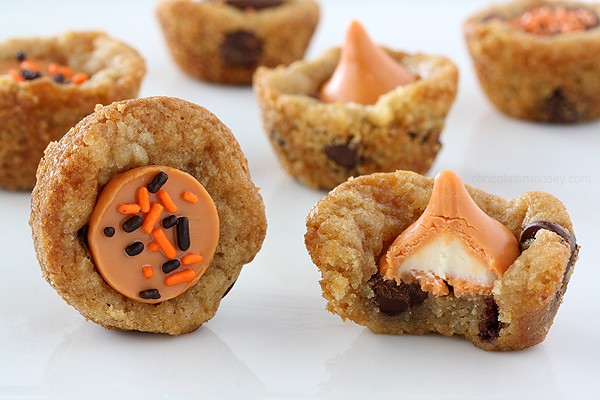 Pumpkin Spice Kiss Cookie Cups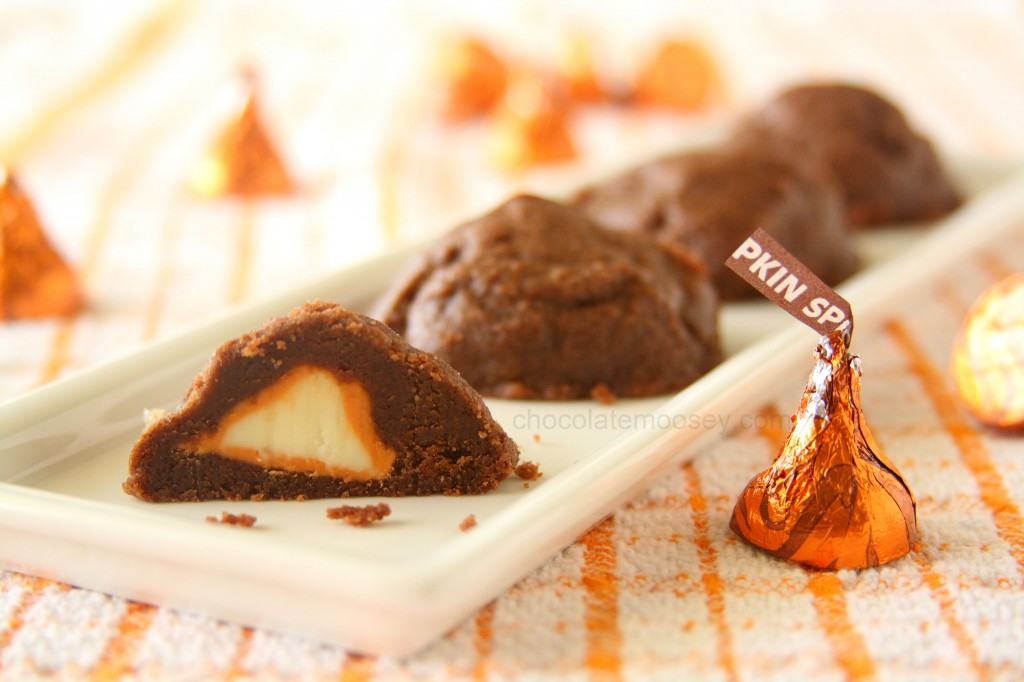 Stuffed Pumpkin Spice Kiss Cookies

Candy Corn Cupcakes
This post may contain affiliate links. As an Amazon Associate and member of other affiliate programs, I earn from qualifying purchase.