When you're in the mood for a simple cake without the fuss: one layer Chocolate Stout Cake with stout beer ganache. Make it to celebrate St. Patrick's Day or to satisfy your cake craving.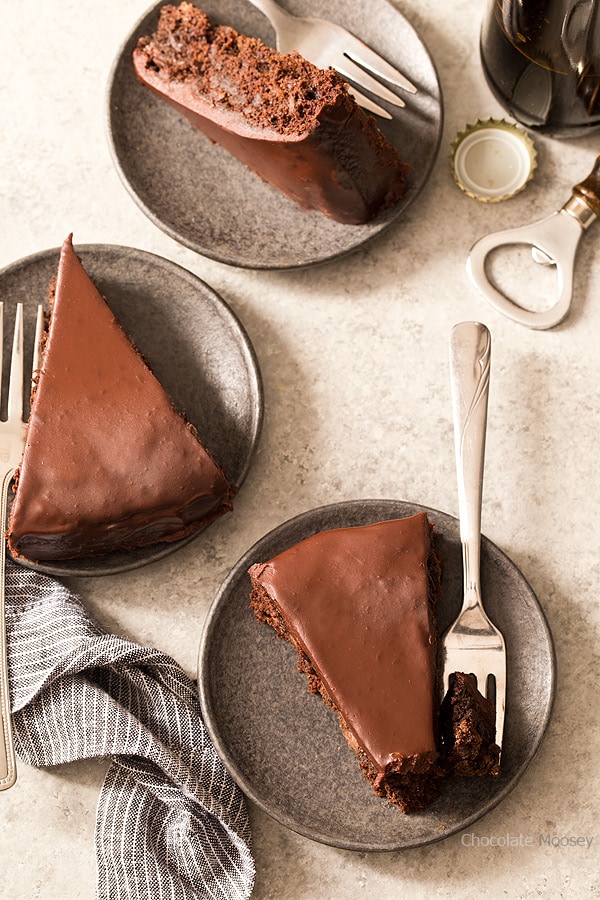 Even though I've been blogging for almost 10 years now (!!!), I still discover recipes I haven't shared with you yet.
Ones I've been making for years and years without missing a beat. Those tried and true recipes everyone asks for.
This one layer Chocolate Stout Cake with Stout Beer Ganache is one of them. I've been making this cake in honor of St. Patrick's Day for years, adapted from none other than Nigella Lawson, a famous English cookbook author who knows a thing or two about Guinness since its storehouse is in Ireland.
It's a moist, fudgy chocolate cake made with stout beer and chocolate chips.
The best part is how incredibly easy it is to serve.
Unmold the cake from its pan, melt together chocolate, cream, and beer, then pour it all over the cake. Wait about 15 minutes for it to harden then voila – time for cake.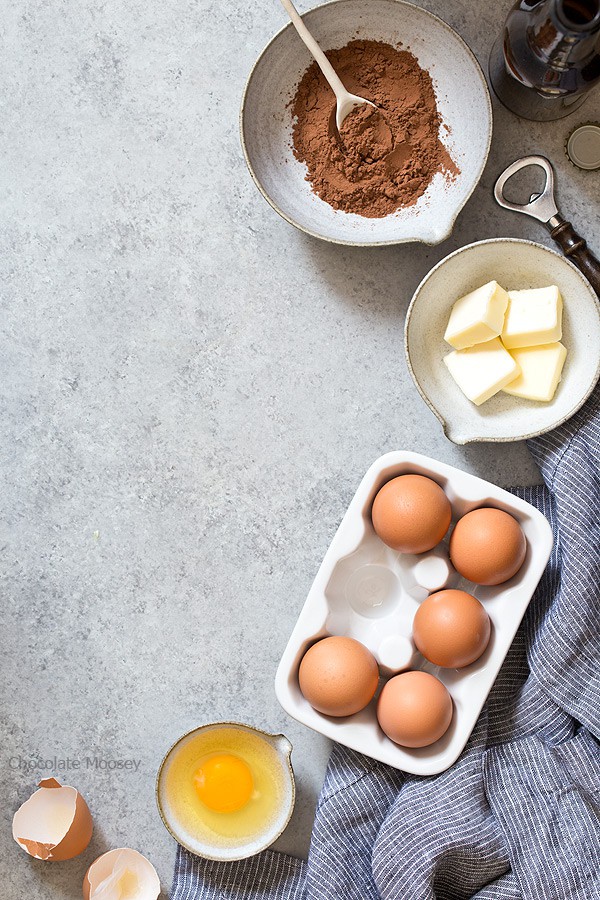 The beer enhances the chocolate flavor, much like how salt brings out natural flavors in cooking.
You can also taste the stout as a subtle background note, which in simplest terms just tastes awesome with chocolate.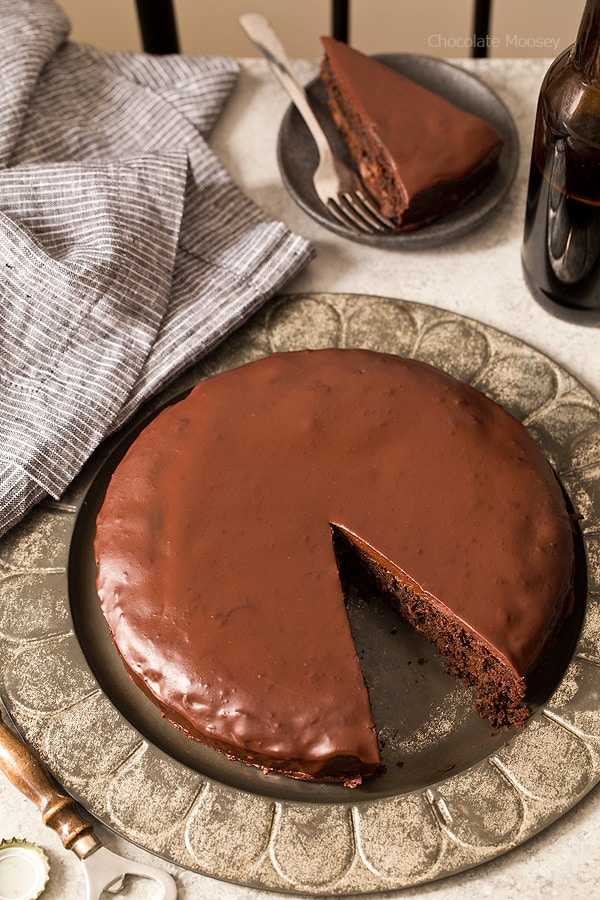 Even though I've done two layer cakes in the past, I wanted to do a one layer cake.
Sometimes you're in the mood for cake but don't want to fuss with all the extra work and layers; you want to eat it now, not tomorrow.
You also don't want to be stuck with double the cake. Making a single cake is the best of both worlds: cake you can eat now without the extra layer.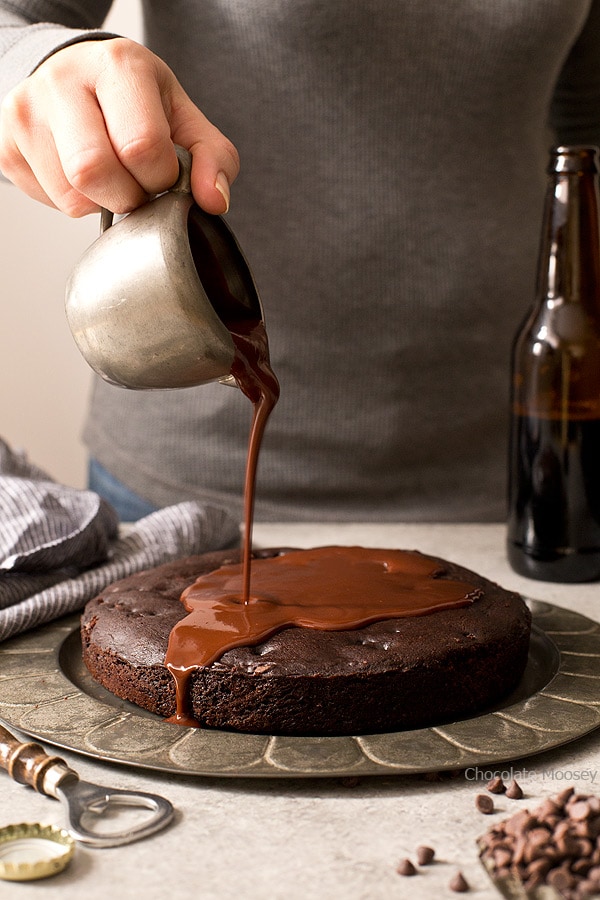 For the frosting, I made a beer ganache – a chocolate glaze made by melting chocolate and heavy cream together.
However, I wanted to keep with the stout theme, so I swapped out half of the cream for beer.
I did try it with all beer, but it didn't work. You need at least some cream to help it set correctly.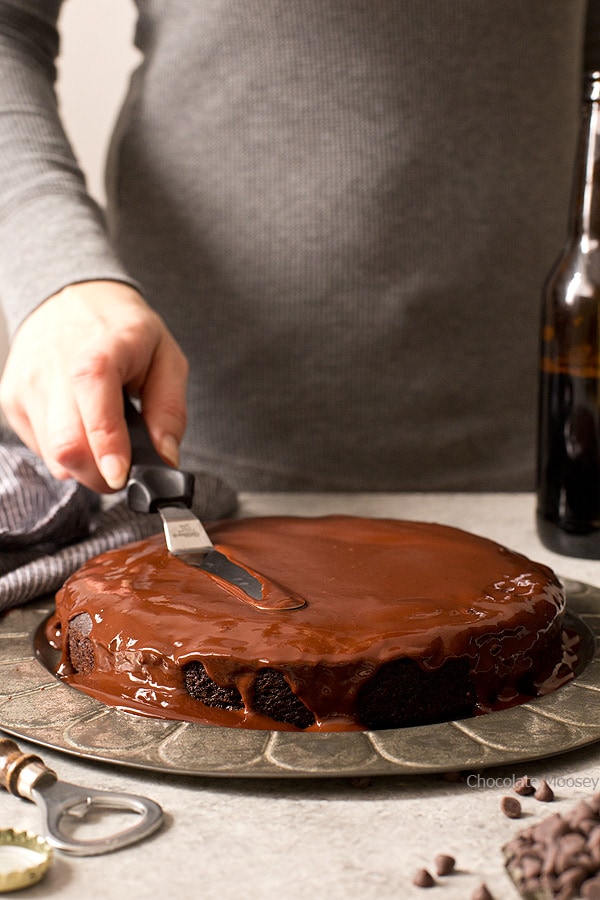 The ratio of chocolate to liquid determines how soft the ganache will be.
In this recipe, it's a 1:1 ratio, which means it will firm up into a thick glaze but still have a soft bite like a frosting.
Refrigerating is not required, but if it's a warm day where it's making a hot mess, you might need to chill it before cutting.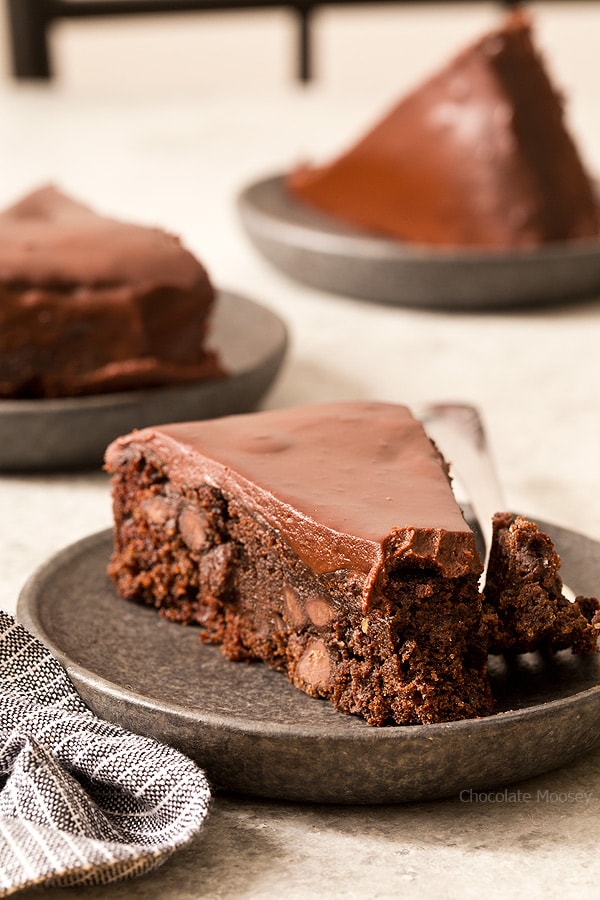 I highly recommend making the cake in an
8 inch round cake pan
(affiliate link) as directed because it may be too thin in a 9 inch pan.
However, if the 9 inch pan is your only option, test for doneness a few minutes sooner so you don't accidentally overbake it.
If you're looking for a smaller cake, check out my Mini Chocolate Guinness Cake. Same recipe but in 4 inch pans.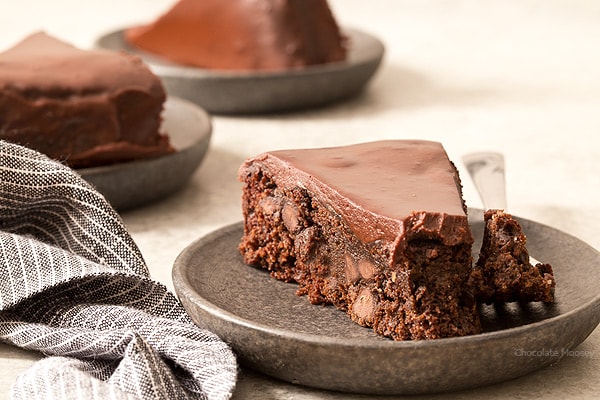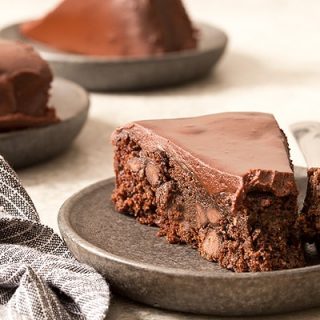 One Layer Chocolate Stout Cake
When you're in the mood for a simple cake without the fuss: one layer Chocolate Stout Cake with stout beer ganache. Make it to celebrate St. Patrick's Day or to satisfy your cake craving.
Ingredients
1/2 cup (125 mL) stout beer
1/4 cup (2 ounces, 58 grams, or 4 tablespoons) unsalted butter
1/3 cup (28 grams) unsweetened cocoa powder
1/3 cup (68 grams) granulated sugar
2 tablespoons full-fat sour cream, room temperature
1 egg, room temperature
1 teaspoon vanilla extract
1 cup (125 grams) all-purpose flour
1 teaspoon baking soda
1/2 teaspoon salt
1 cup (155 grams) semisweet chocolate chips
Stout Beer Ganache
2 ounces semisweet chocolate, chopped
2 tablespoons heavy cream
2 tablespoons stout beer
Instructions
Preheat the oven to 350F. Generously grease an 8-inch round cake pan and line the bottom with parchment paper.
In a medium saucepan, melt together the beer and butter. Remove from the heat and whisk in cocoa and sugar.
In a small bowl, beat together the sour cream, egg, and vanilla. Gradually beat in some of the hot batter to temper the egg then add everything back into the saucepan.
Stir in the flour, baking soda, and salt then stir in the chocolate chips.
Transfer the batter to the pan then bake for 18-20 minutes or until a toothpick comes out mostly clean (some crumbs are ok but it shouldn't be a wet batter). Cool for 15 minutes then invert onto a wire rack to cool completely before covering with ganache.
For the ganache: Add the chopped chocolate to a heatproof bowl. In a medium saucepan, heat the cream and beer until hot but not boiling. Pour it over the chocolate and wait 1 minute. Stir together until completely smooth.
Immediately pour the ganache over the cooled cake then evenly distribute with an offset spatula. Let the chocolate firm up before serving.
Source: Adapted from
Nigella Lawson