Breakfast For Dinner Cookbook Review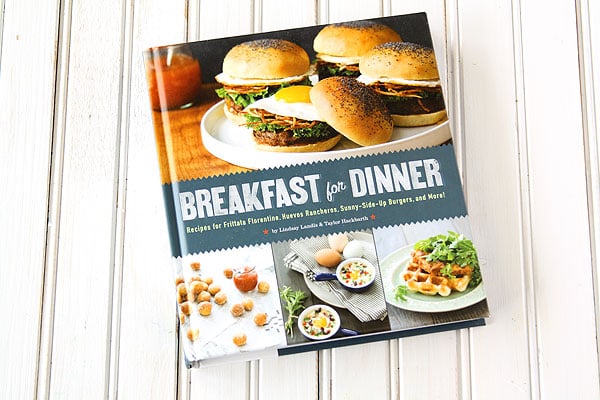 Today I have a cookbook review and giveaway, and I'm pretty excited for this one! It is Breakfast For Dinner by Lindsay Landis and her husband Taylor Hackbarth. You see, Lindsay is one of my blogging idols over at
Love and Olive Oil
with such inspiring recipes and photography. I even got to meet her at Big Summer Potluck. Can I be honest? Normally, I don't eat breakfast for dinner and would have passed on reviewing this book. But once I heard it was written by Lindsay and Taylor, I knew I couldn't say no. Their recipes have yet to let me down, and this book is no different. None of the recipes are boring either.
The concept of Breakfast For Dinner is to take your favorite breakfast ingredients and put a breakfast twist on dinner classics, such as Italian-Style Stuffed French Toast, Savory Lentil and Carrot Stuffed Crepes, and Bacon Fried Rice. Of course you can't forget sides, drinks, and dessert. Although they aren't truly dinner recipes (wait, I can't have Lemon Poppyseed Thumbprints for dinner?), they complement dinner.
The first recipe I tried was Shakshuka, which as Lindsay and Taylor explain, is a Hebrew dish of tomatoes and eggs. Sounds easy enough. This recipe makes an easy weekday meal. You throw everything in a pan, let cook for 20 minutes, then top with eggs and cook a little bit longer. I am always looking for flavorful yet easy dinners to make after a long day of work, and this Shakshuka definitely makes the list. In fact, I have already made it several times since receiving the book. The only problem I had with the recipe is I didn't serve all of the eggs right away, so by the time I went back for seconds, the eggs overcooked. Totally my fault.
The next recipe I tried was Sunny-Side-Up Burgers, which is featured on the cover. It has two of my favorite breakfast items – shredded hashbrowns and eggs with runny yolks. At the time I made them, I didn't have cheese or lettuce (which is pretty normal for my pantry). Lindsay and Taylor used apricot preserves for the condiment, but for me, the runny yolk was enough "sauce" for my liking. It's also pretty easy to throw together for a quick weeknight meal (I used frozen shredded potatoes to cut down on even more time). I think next time I cook dinner for my parents and brother, I will make these. The only bad thing about this recipe is you can't multitask because they are quite messy to eat.
A few other recipes I have on my list to try – Banana Bread Bundt Cake, Cornmeal Pancakes with Beer-Braised Short Ribs (I actually made the short ribs last night sans pancakes – delicious!), Grapefruit Risotto with Seared Scallops, Maple-Glazed Pork Meatballs, and Bacon Jam.
The book itself has photographs for every recipe, and I just love the overall style and feel of the book. I recommend this book to anyone looking for easy yet flavorful dinners. You don't need to have advanced cooking skills (although some may argue making perfect runny eggs is a skill). I don't recommend this book to anyone who hates eggs. Seriously, you can't have breakfast for dinner without eggs.
Giveaway is now closed! Congrats to Terri.
This post may contain affiliate links. As an Amazon Associate and member of other affiliate programs, I earn from qualifying purchase.