Jalapeño Popper Dip
Jalapeno Popper Dip is a spicy, cheesy dip with jalapenos and bacon that resembles jalapeno poppers without the hassle of stuffing.

Despite what you may believe, Cinco de Mayo is not Independence Day. September 16, is Independence Day.
Mexican food is a huge hit in the US. I swear every where I turn, people are having tacos, burritos, nachos, quesadillas, steak fajitas, shredded beef enchiladas, guacamole.
Me? Minus my quesadilla binge lately, I rarely make Mexican food. I like it, but I'd rather be eating Asian cuisine than Mexican (why don't I cook Asian more often? Hmm).
Oh I make Garden Salsa a lot, mainly because it's an easy way to use up my tomatoes and share with everyone at work.
Since it is una fiesta today, I made Jalapeno Popper Dip to celebrate! A spicy cream cheese dip with bacon, similar to my Jalapeno Popper Cheese Ball.
Ok there's more than just bacon in there, but I got your attention, didn't I?
This dip is based on the typical jalapeno poppers that you see on most appetizer menus.
The first (and last) time I made jalapeno poppers, I couldn't eat them. Apparently the peppers I picked to stuff were too spicy to eat on their own, even with the cream cheese filling.
Dad and I just could not finish them because we were dying.
With this dip, you can control the heat level with the amount of seeds and membrane you add.
The first time I made this, I put very little in, and the spice level just wasn't there.
This time around, I put all of the seeds in. It uh definitely opened up your sinuses.
Third time's a charm to getting the spice level, right? Your mileage will vary, so adjust the heat accordingly.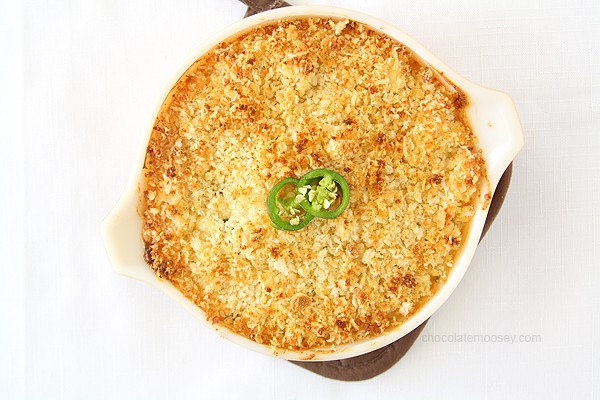 Making jalapeno popper dip is the perfect way to use up those overflowing jalapenos from your garden.
Instead of going through the hassle of stuffing peppers then frying or baking them, you just chop stuff up, mix it in cream cheese, and bake.
Plus you have plenty more to share with dip than you do with poppers, and you don't have to worry about fried food not being as good the next day.
I prefer to serve this warm, but I've had it straight from the fridge too.
I know this dip isn't healthy by any means, but you can substitute sour cream for the mayonnaise. It's the thought that counts.
The topping uses panko, which is Japanese breadcrumbs that are much more coarse than your typical breadcrumbs. You can find them in the Japanese section of your grocery store.
If you decide to use regular breadcrumbs, cut down the amount. Since they are a finer texture, more breadcrumbs fit into a cup.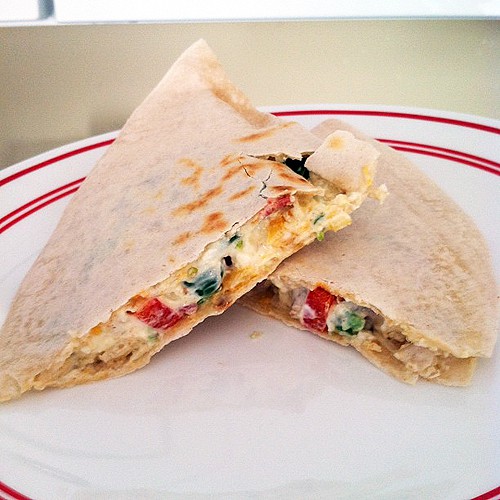 If you happen to have leftover dip (too much food at your fiesta, perhaps?), a great way to repurpose it is in quesadillas, thanks to
Lane's
brilliant idea.
I said on Twitter I was doing something crazy (not related to this dip, btw). She thought I was making quesadillas, which I wasn't LOL
But I was too exhausted to make dinner that day, so I spread a few spoonfuls of the dip onto a tortilla, topped it with bell pepper strips (you can do chicken, mushrooms, beef, whatever), then made dinner.
Be sure to have sour cream or a glass of milk to balance the heat level. Then again, remember I couldn't handle jalapeno poppers, so I'm probably just a wimp ;)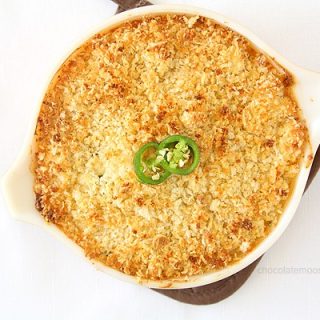 Jalapeno Popper Dip
Yield: 4-6 servings
Prep Time: 30 minutes
Cook Time: 25 minutes
Total Time: 55 minutes
Jalapeno Popper Dip is a spicy, cheesy dip with jalapenos and bacon that resembles jalapeno poppers without the hassle of stuffing.
Ingredients
8 ounces cream cheese, softened
1/2 cup mayonnaise or sour cream
1/4 cup cooked bacon, chopped (roughly 2 long pieces)
3/4 cup green jalapenos, chopped (roughly 3 peppers)
2 cloves garlic, minced
1/2 cup onion, chopped (roughly 1 small onion)
1/4 teaspoon ground cumin
3/4 cup shredded cheddar cheese
Topping
1/2 cup panko breadcrumbs
1/2 cup grated Parmesan cheese
2 tablespoons melted butter
Instructions
Preheat the oven to 375F.
In a large bowl, beat together cream cheese, mayonnaise/sour cream, bacon, jalapeno, garlic, onion, cumin, and cheddar cheese until all mixed together. Spread mixture into 9x9 pan or similar-sized casserole dish.
For the topping, in a small bowl, mix together panko, Parmesan cheese, and butter until evenly moistened. Spread evenly on top of cream cheese mixture.
Bake for 20-25 minutes or until the top is golden brown and dip is bubbling. Let it rest for a few minutes before serving.
Source: Adapted from
Brown Eyed Baker
—-
If you liked this Jalapeno Popper Dip, you may also like these recipes:
This post may contain affiliate links. As an Amazon Associate and member of other affiliate programs, I earn from qualifying purchase.