Buffalo Chicken Dip
This recipe for Buffalo Chicken Wing Dip is always the most popular at parties. It's quick and easy party food that will leave your guests begging for more.
I ensure you that any party is not complete without some Buffalo Chicken Dip. If you love hot sauce, you will love this dip. I first heard of this dip when my roommate's mom made it for her. Then at one of my meetings at school, the guy in charge brought leftover dip from his Superbowl party. I knew I had to make this myself, so I searched for a good recipe. This one comes from Recipe Zaar. I also completed #87 from my bucket list – dip.
Updated on 4/4/13
: It's been a few years since I first posted this recipe, and Buffalo Chicken Dip recipe is STILL the most popular dip at parties. I've actually been to parties where there would be 2 or 3 pie plates full, and by the end of the night, all of the dip is gone. All of it! Since this is such a great recipe, I updated the photos in hopes that you'll make this dip too. Let me know if you try it!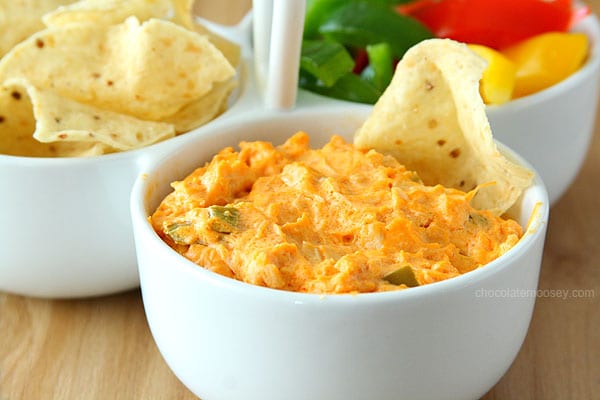 Buffalo Chicken Dip
Yield: 8-10
Prep Time: 15 minutes
Cook Time: 35 minutes
Total Time: 50 minutes
Ingredients
1 tablespoon vegetable or olive oil
1 small boneless skinless chicken breast cut into 1/2 inch pieces, patted dry, and lightly salted
2 tablespoons butter
1/4 cup chopped onion
1/4 cup chopped green bell pepper
1 garlic clove, minced
8 ounces cream cheese, softened and cut into 16 pieces
1 cup shredded cheddar cheese
1/2 cup hot sauce
1/2 cup ranch dressing
Salt, to taste
Instructions
Preheat oven to 350F. Have a 9-inch pie plate or similar casserole dish ready.
In a large skillet, heat the oil. Once hot, add the chicken in a single layer. Cook for 4 minutes or until brown then flip and cook until no longer pink in the middle, another 3-5 minutes. Transfer the chicken to a bowl and keep warm.
Add the butter to any meat drippings left in the pan. Once melted, add the onion, green pepper., and a big pinch of salt. Cook for 5 minutes or until softened. Add garlic and cook 1 minute.
Add in the cream cheese, a few pieces at a time, and stir until melted and smooth.
Stir in 3/4 cup cheese, hot sauce, ranch and salt to taste until melted and smooth.
Transfer the dip to the pie plate and top with remaining 1/4 cup cheese. Bake for 30-35 or until bubbly and cheese has melted. Serve warm.
Source: Adapted from
Food.com
More Buffalo Chicken Recipes
This post may contain affiliate links. As an Amazon Associate and member of other affiliate programs, I earn from qualifying purchase.