Jalapeño Popper Corn Chowder
Love jalapeno poppers but don't have time to make them for dinner? Marrying jalapenos, bacon, and cheese with sweet corn in this creamy Jalapeno Popper Corn Chowder solves that problem and allows you to have dinner on the table in under 45 minutes.
I think Mother Nature is teasing us.
After multiple feet of snow and ice, it finally warmed up last week. I finally have a sidewalk again! (for the longest time the snow bank completely covered that up).
Short sleeves, walks at lunch time, no winter coat. I sure did miss those days. But after several days of being spoiled with temperatures in the 60s, the weather dropped back down into the 20s.
We just can't win, can we?
I can tell you what I am winning with – this Jalapeno Popper Corn Chowder. Reminiscent of those spicy appetizers you often see at restaurants, this creamy soup is full of spice and flavor.
The best part is it can be ready in 45 minutes, making it the perfect dinner for Weekday Supper.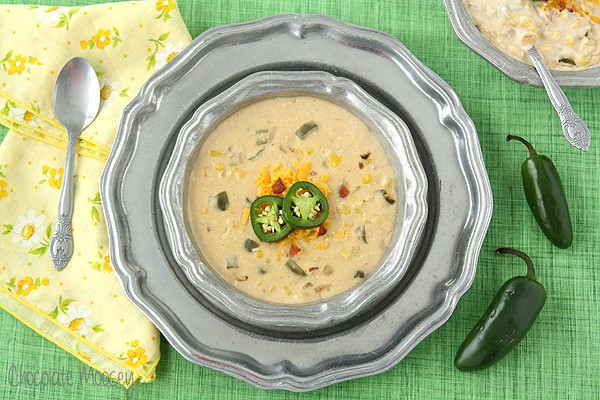 Putting jalapenos in soup form is nothing new to me; after all, one of the best soups in the world is my
Roasted Jalapeno Soup
.
To be honest, I'm not sure where I made the connection between jalapeno poppers and corn chowder.
Was it in a dream? Was it because I was tired of winter and needed new soup ideas? Or was it because I was hungry?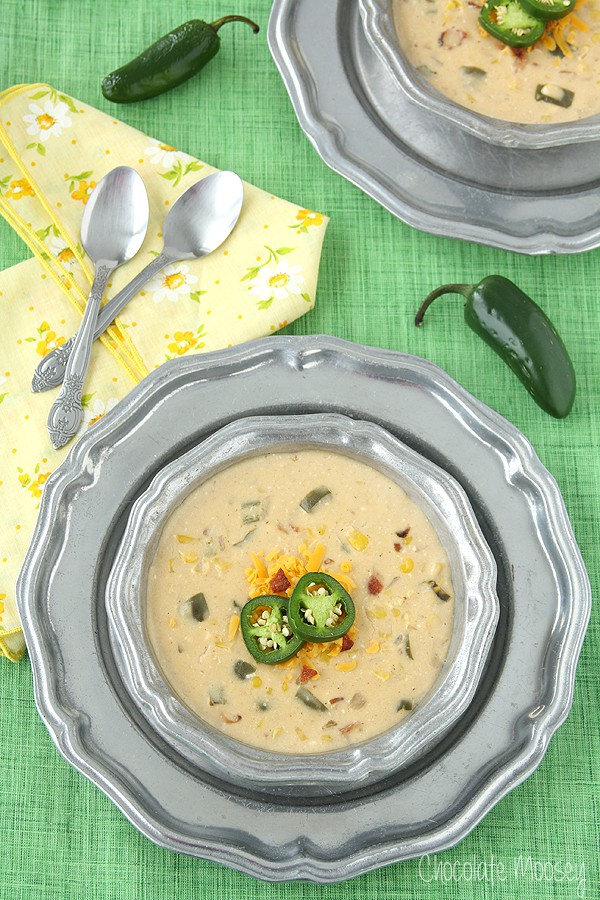 Sweet corn reminds me of summer. There are plenty of farms out here that sell fresh corn (PSA – never, ever buy "fresh" corn from the grocery store. Ever. Once you've had corn from a farmer, you'll never go back to store bought).
However, since it's not even spring yet, I used frozen sweet corn. Whether you use fresh, frozen, or even canned, this soup has a nice kick without breaking your budget.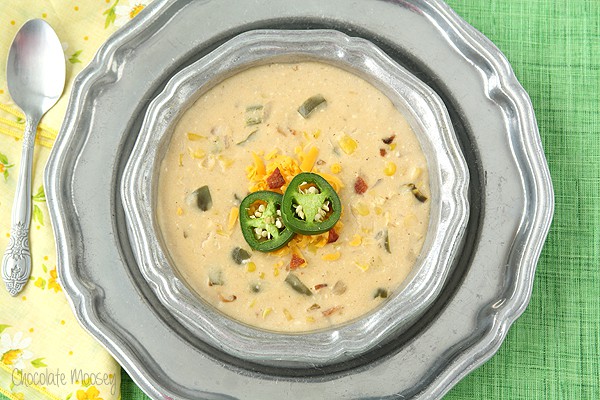 Enjoyed this recipe? Check out my Jalapeno Popper Cheese Ball!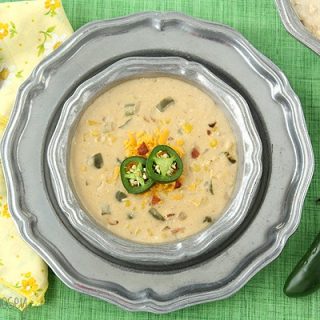 Jalapeño Popper Corn Chowder
Yield: 4 servings
Prep Time: 15 minutes
Cook Time: 30 minutes
Total Time: 45 minutes
This creamy corn chowder can be on your dinner table in just 45 minutes. To make this chowder vegetarian-friendly, omit the bacon and use vegetable broth.
Ingredients
3 strips uncooked bacon
2 tablespoons unsalted butter
4 jalapenos, chopped (about 1 cup)
1/2 cup chopped onion
2 cloves garlic, minced
1/4 cup all purpose flour
3 cups chicken broth or stock
8 ounces softened cream cheese, cut into 8 pieces
1 cup shredded cheddar cheese
2 cups fresh or frozen sweet corn kernels
Instructions
Add bacon to a large pot or Dutch oven and turn the heat on to medium. Once the bacon starts cooking, cook on one side for a few minutes until crispy then flip and finish cooking the other side. Remove the bacon and place on a plate lined with a paper towel; pat off as much grease as you can. When cool enough to handle, crumble bacon. Leave the bacon drippings in the pot.
Melt the butter in with the drippings. Add the jalapeno, onion, and a big pinch of salt. Cook until they start to soften and brown, about 3-5 minutes. Add garlic and cook for another minute.
Stir in the flour. Slowly stir in the broth and bring to a boil.
Turn the heat down to simmer and cook until the soup has slightly thickened, about 5-7 minutes. Taste and adjust for salt.
Add the cream cheese and cheese. Stir until everything is melted and smooth. Add the corn and cook for another 5 minutes or until corn is heated through. Stir in the crumbled bacon. Taste and adjust for salt.
Notes
*The heat mainly comes from the seeds and membrane of the jalapenos. If you don't want it super spicy, discard them. I personally added seeds from two of the peppers.
Recommended Products
As an Amazon Associate and member of other affiliate programs, I earn from qualifying purchases.
—-
If you enjoyed this Jalapeno Popper Corn Chowder, you may also like these delicious soup recipes: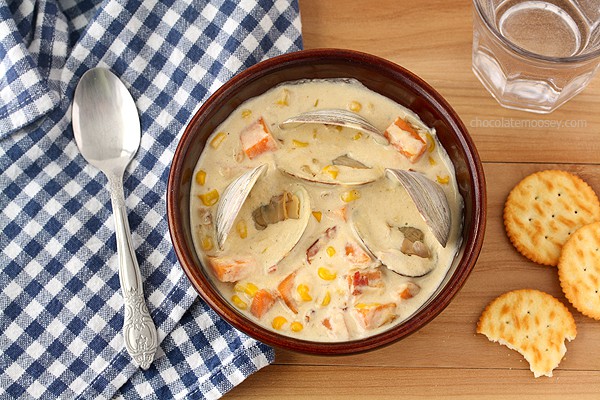 Sweet Potato and Corn Clam Chowder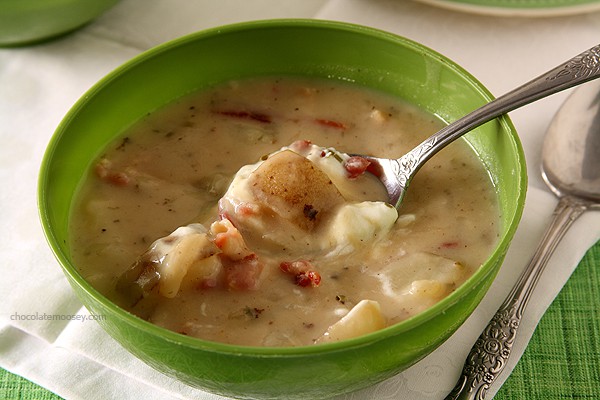 Baked Potato Soup (ready in 45 minutes)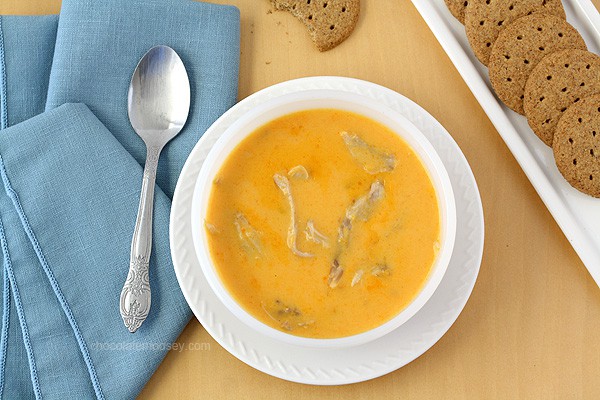 Cheesy Buffalo Chicken Soup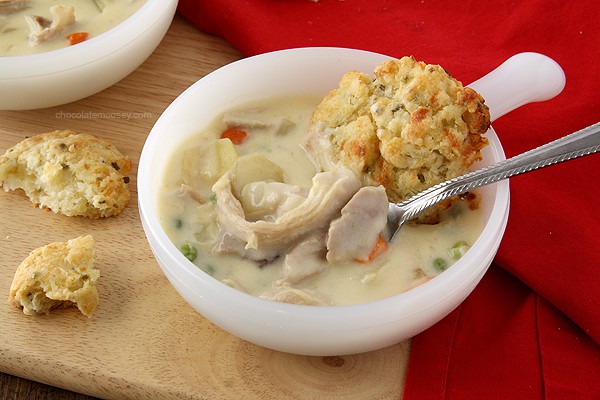 Chicken Pot Pie Soup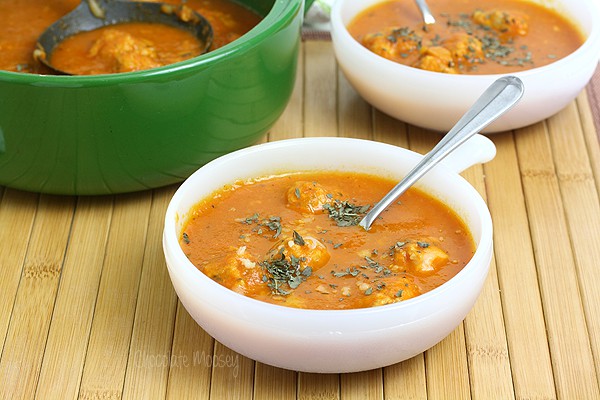 Chicken Parmesan Meatball Soup
This post may contain affiliate links. As an Amazon Associate and member of other affiliate programs, I earn from qualifying purchase.