Caramel Apple Butter Popcorn
Whether you're watching your favorite TV show or need snacks for a big party coming up, sweeten up your popcorn bowl with Caramel Apple Butter Popcorn.
I love my couch.
It's where I go to relax after a long day of being on my feet from work.
It's where I go to brainstorm ideas, read books, cuddle with a blanket, and watch TV.
It doesn't mean I'm lazy as I exercise twice a week during the winter and almost daily during the summer when it's warm (and light!) enough to walk outside.
It means I use my couch to recharge both my body and my mind.
Right now I'm rewatching past seasons of Top Chef as well as the new season.
Soon the focus will shift to football as the Big Game is coming up in a few weeks. And of course where there's TV, there's snacks.
Today I'm bringing you this Caramel Apple Butter Popcorn recipe to celebrate National Popcorn Day as well as your big football party in a few weeks.
It's homemade caramel popcorn with apple butter in the coating. Have you tried making caramel popcorn before? It's easier than you think!
You make the apple butter coating on the stovetop, toss it with the popcorn, then bake until dry.
Now you have something to munch on for movie night, Game Day parties, and TV show marathons.
The first time I made popcorn on the stovetop was when I studied abroad in Ireland during college. Our townhouse-like living arrangement was equipped with an oven and a fridge but no microwave.
Since all of us were exchange students and on college budgets, we didn't feel it was necessary to buy a microwave only to get rid of it a few months later.
Fortunately one of my housemates who was there for an extra semester bought a coffee maker so at least that was covered.
Up until this point I only knew how to microwave bagged popcorn. Another housemate showed me how to make popcorn on a stove with kernels and a little bit of oil.
All you do is add everything to a saucepan and wait. So simple.
Make sure your pot is wide enough so the kernels are in a single layer. I used a Dutch oven with a lid. Otherwise you may be left with a lot of unpopped kernels because there wasn't enough room to properly heat up in the oil.
I recommend popping your own kernels on the stovetop to control the flavor. Most microwavable bags are flavored and/or salted.
However, if you can find plain unsalted, you can certainly make a bag or two in the microwave.
This caramel popcorn is a made a little sweeter thanks to apple butter, which is a highly concentrated form of apple sauce where the apples are cooked until the sugar caramelizes, usually a few hours.
Most people spread it on toast for breakfast, but its versatility means it makes a flavorful coating for popcorn.
I got the idea from making gingerbread popcorn and peanut butter popcorn. The apple butter adds a nice touch of sweetness without being too overbearing.
You can either buy a jar or make small batch apple butter.
For more apple butter recipes, check out my guide on what to do with apple butter.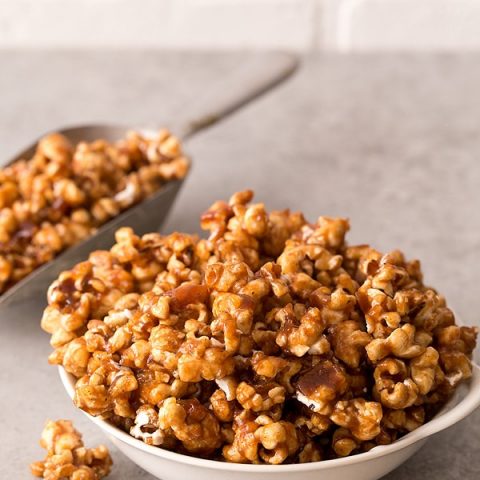 Caramel Apple Butter Popcorn
Yield: 4 servings
Prep Time: 15 minutes
Cook Time: 1 hour
Total Time: 1 hour 15 minutes
Ingredients
3 1/2 cups unsalted popped popcorn
1/3 cup packed brown sugar
1/4 cup (2 ounces or 4 tablespoons) unsalted butter, cut into 4 pieces
1/4 cup Musselman's Apple Butter
2 tablespoons corn syrup
1/2 teaspoon ground cinnamon
1/4 teaspoon ground nutmeg
1/4 teaspoon salt
1/4 teaspoon baking soda
1/4 teaspoon vanilla extract
Instructions
Preheat oven to 250F. Lightly grease a 13x9 pan and add the popcorn.
In a medium heavy saucepan, add the brown sugar, butter, apple butter, corn syrup, cinnamon, nutmeg, and salt. Bring to a boil over medium heat, stirring often. Once boiling, cook without stirring for 5 minutes.
Remove from the heat and stir in the baking soda (it may foam a bit) then stir in the vanilla. Quickly pour over the popcorn and stir until evenly distributed.
Bake 60-75 minutes, stirring every 15 minutes, or until the coating is mainly dry (it's ok if it's a little sticky when stirring the final time). Remove from the pan and cool completely. Best eaten the day it's made. Store in an airtight container for up to 2 days.
This post may contain affiliate links. As an Amazon Associate and member of other affiliate programs, I earn from qualifying purchase.