Cheesy Chorizo Potatoes
Homemade Cheesy Chorizo Potatoes made from scratch without canned soup doubles as both dinner and brunch. Elegant enough for the holidays yet casual enough for family dinner. Top them with French fried onions for a flavorful crunch.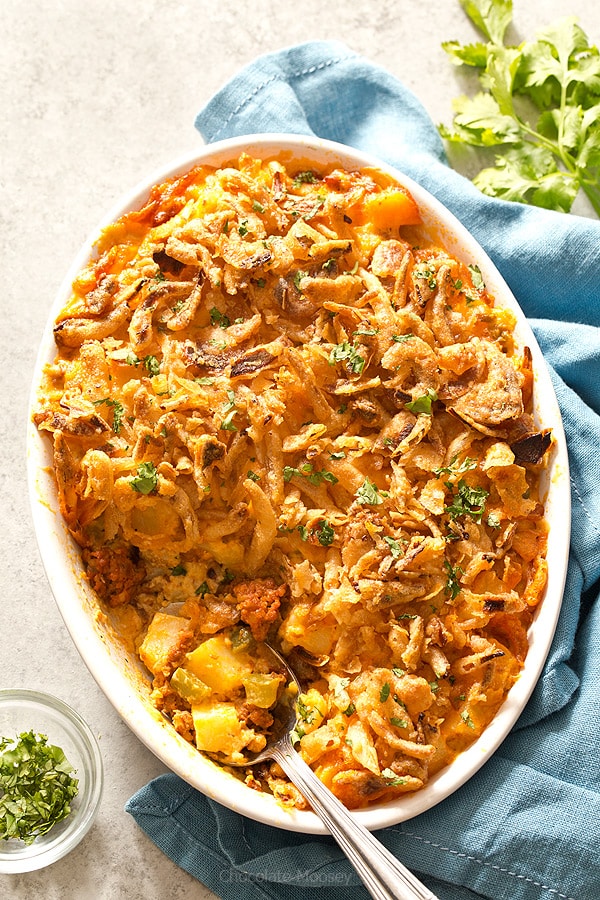 I love being self-employed, but one thing I miss about having coworkers is the office parties.
At my previous job, there was a group of us who would bring in food to share with each other, our own mini parties in one of the offices.
Usually it was somewhat themed, such as Christmas or Game Day. One coworker usually made her cheesy potatoes for us.
Often we'd ask "are you making your potatoes again?" It's been two years since I last ate her potatoes, so I wanted to recreate them from scratch.
When I think of Christmas side dishes, I think of potatoes. We always have one type, whether it's stove top scalloped potatoes, au gratin potatoes for two, or mashed potatoes for two.
Why not change it up this year with Cheesy Chorizo Potatoes?
They are diced potatoes from scratch with Mexican pork sausage, meaning there are no frozen potatoes or canned soup involved.
I used sour cream and chicken broth to give the potatoes creaminess without the canned soup.
For the crunch on top, I used French fried onions because it reminds me of the holidays more than cornflakes (green bean casserole, anyone?).
What I love about Cheesy Chorizo Potatoes is you can make it for either dinner or brunch.
Or you can make it for dinner today and eat it for breakfast tomorrow.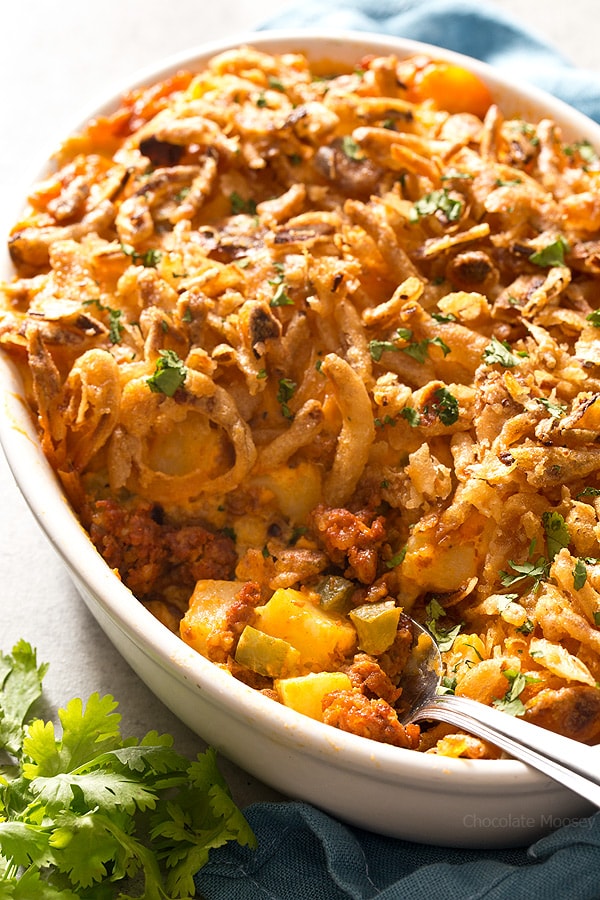 Sometimes these potatoes are known as funeral potatoes. Such a depressing name for a recipe, but it's based on what you serve for after-funeral dinners.
Well you certainly don't need to wait for a funeral to make these! Can we rename these to be celebration potatoes? Or happy potatoes?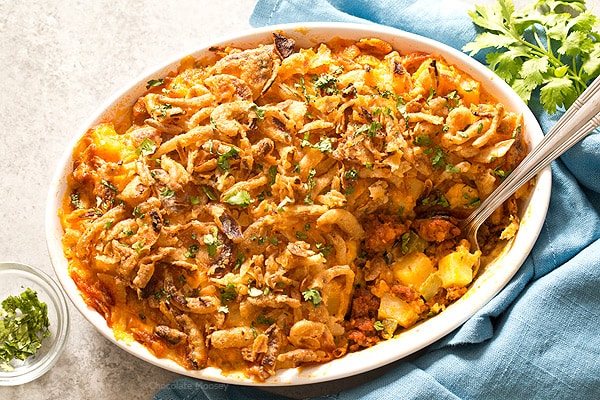 Do you know what chorizo is?
Usually when I tell people about it, they stare at me blankly and pretend to know what I'm talking about.
Really chorizo is nothing more than a Mexican or Spanish pork sausage seasoned with paprika and chili powder.
As I explained it to my parents who've never heard of it, it's similar to Italian sausage but with a Mexican flair.
After cooking the meat, you are left with sausage grease, which is ideal for frying onions or for making a roux (flour paste) for a sauce. That way you don't have to add extra oil to the pan.
The brand I used is
Hatfield Quality Meats
, a PA-based company producing quality pork for family tables. Their
Recipe Essentials
ground sausage line makes it easier to add pork to your meals since it's ready-to-use ground meat. Not a fan of Mexican spice? Try this dish with sweet Italian or country ground.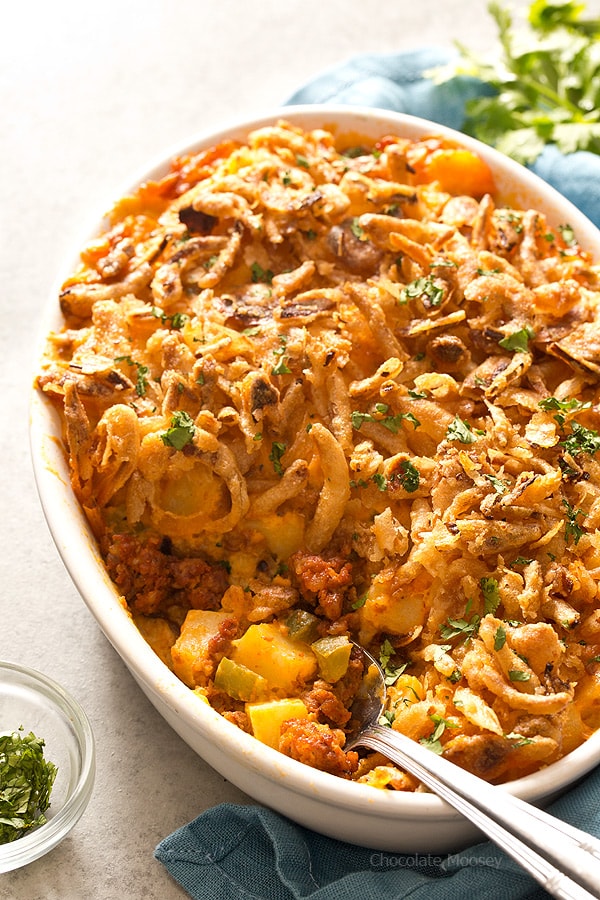 With the busy holiday season upon us, you can make Cheesy Chorizo Potatoes ahead of time. Pour the filling into your casserole dish, leave off the French fried onions, then wrap and refrigerate. When you're ready to bake, add the onions on top and off you go!
Cheesy Chorizo Potatoes
Yield: 4-6 servings
Prep Time: 30 minutes
Cook Time: 30 minutes
Total Time: 1 hour
Ingredients
1 pound Russet potatoes, peeled and diced
1/2 pound (8 ounces) ground chorizo
1/2 cup chopped white or yellow onion
1/2 cup chopped green pepper
1 garlic clove, minced
2 tablespoons all-purpose flour
1/2 cup chicken broth
1/2 cup whole milk
1 cup sour cream
1 cup shredded cheddar cheese
1 tablespoon chopped fresh cilantro, plus more for garnish
1/2 teaspoon salt
1 1/2 cups French fried onion
Instructions
Preheat oven to 350F. Lightly grease a 1-quart casserole dish.
Bring a large pot of water to a rolling boil. Once boiling, add the potatoes. Cook 8-10 minutes or until softened but not overdone. Drain.
Meanwhile, in a large hot skillet over medium heat, cook the chorizo, onion, and green pepper until browned and no longer pink, about 10-12 minutes. Add the garlic and cook 1 minute. Remove the chorizo mixture with a slotted spoon to a bowl, leaving the grease behind.
Whisk the flour into the hot grease (if there's not enough grease, add up to 1 tablespoon oil) then slowly whisk in the broth and milk. Cook until thickened, about 5-8 minutes. Whisk in the sour cream, cheese, cilantro, and salt.
Stir in the potatoes and cooked chorizo. Spread into the casserole dish then top with French fried onions. Bake 30 minutes or until bubbly and lightly golden. Let cool for 15-20 minutes before serving.
Disclosure: This post is sponsored by Hatfield. Thank you for supporting me and the companies I work with as sponsored posts help pay for the costs of running this blog, including website hosting and groceries for recipe development.
This post may contain affiliate links. As an Amazon Associate and member of other affiliate programs, I earn from qualifying purchase.