Sweet Chili Fish Tostadas
Sweet Chili Fish Tostadas topped with guacamole, sweet chili slaw, and flaky white fish make an easy summertime meal.
I've probably mentioned this a few times on the blog already, but I'm not a morning person
If it were up to me (aka not forcing myself out of bed for work), by the time I roll out of bed and make my coffee, it'd be brunch time.
I have a love/hate relationship with breakfast food. Yes, I love bacon, sausage, eggs, and hash browns, but I'm much more likely to eat them for brinner than breakfast.
Instead, I'd rather skip straight to brunch.
What is considered brunch anyway? I've eaten dim sum for brunch (which I might add was the best brunch ever).
The most obvious answer is anything with an egg, but you don't always need an egg to call it brunch.
Really anything you would serve for lunch would work, such as salads or tacos. There's one local restaurant that even sells poutine for brunch.
These Sweet Chili Fish Tostadas are another example of a non-egg brunch recipe.
A tostada is a crunchy tortilla topped with a creamy spread, vegetables, and protein. Using corn tortillas means they are small, perfect for a light brunch or an afternoon snack.
Typically tostadas are topped with refried beans, but I used guacamole as it has a similar mashed texture.
The fresh sweet chili slaw uses my favorite Asian condiment in the dressing, which also doubles up for drizzling on top (I love not having to make an extra dressing).
The protein is fish, mainly because I was craving fish tacos.
Tostadas are almost like a taco anyway, just flatter and eaten pizza-style.
If you've been reading my blog for awhile, you know I'm probably not the healthiest person out there.
However, as I'm getting older, I'm starting to make better choices based on ingredients and healthier cooking methods.
For example, I used Greek yogurt instead of mayonnaise for the sweet chili dressing, used fresh red cabbage and carrots, and baked the tortillas rather than frying them.
You can also grill or bake the fish, but since the oven was in use, I opted to pan fry the fish with a little bit of olive oil, just enough to cook the fish without overdoing it.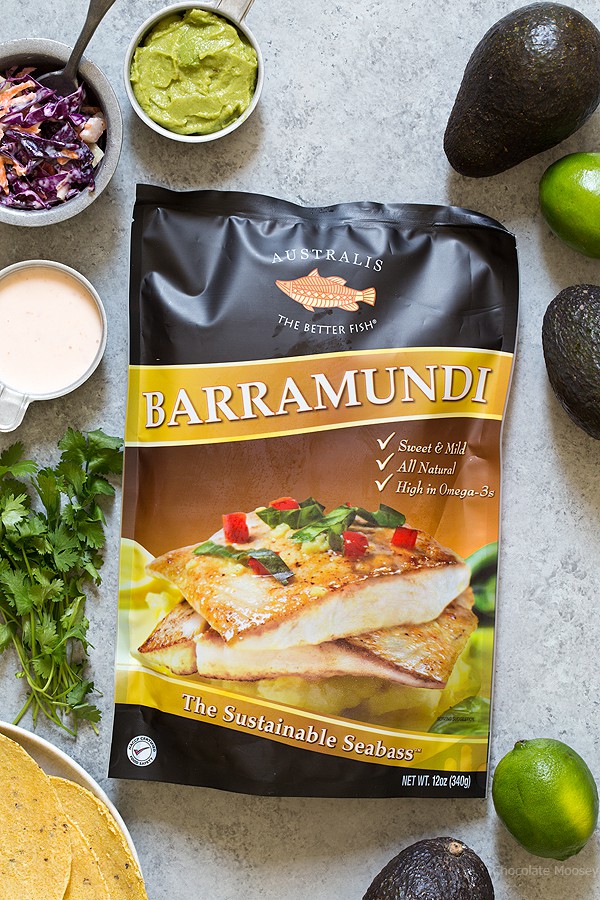 The fish I used is called
The Better Fish® Barramundi
, which is a sustainable farm-raised sea bass that is harvested, hand-cut, and flash frozen the same day.
The portions are individually vacuum-packed, meaning you only need to thaw what you need. That is perfect for someone like me who only cooks for one person and doesn't want to have leftover fish for days.
Barramundi is also affordable since seafood prices can tend to be on the high side.
Because there is so much flavor packed in the tostadas between the sweet chili slaw and guacamole, I stayed simple with seasoning the fish and brushed it with some olive oil and salt. This allowed the flavor of the fish to shine.
Enjoyed this fish recipe? Check out my Asian Salmon recipe and Baked Fish and Chips.
Sweet Chili Fish Tostadas
Yield: 4 tostadas + extra coleslaw
Prep Time: 1 hour 20 minutes
Cook Time: 8 minutes
Total Time: 1 hour 28 minutes
Sweet Chili Fish Tostadas topped with guacamole, sweet chili slaw, and flaky white fish make an easy summertime meal.
Ingredients
4 corn tortillas
2 The Better Fish® Barramundi fillets, thawed according to package directions
Olive oil, for brushing
Salt, to taste
1/2 cup guacamole
Cilantro, for garnish
Sweet Chili Coleslaw
1 1/2 cups Greek yogurt
1/2 cup sweet chili sauce
2 tablespoons lime juice
1/2 teaspoon salt
1 pound red cabbage, shredded (roughly 4-5 cups)
2 large carrots, peeled and shredded
1/2 cup chopped onion
Instructions
First make the coleslaw: Whisk together the Greek yogurt, sweet chili sauce, lime juice, and salt. Reserve 1/2 cup for drizzling on top. Add the cabbage, carrots, and onion to a large bowl. Pour remaining dressing over vegetables and mix until combined. Refrigerate at least 1 hour.
Preheat oven to 400F. Brush each tortilla with some olive oil and place on a baking sheet. Bake for 4 minutes then flip and bake for an additional 4 minutes or until crisp.
Meanwhile, brush each fish with olive oil and sprinkle with a few pinches of salt. Heat a large skillet over medium heat. Once hot, add the fish and cook for 4 minutes. Flip and cook for another 4 minutes or until the fish is fully cooked and flaky. Remove from the heat and let sit 5 minutes. Cut into strips.
Spread 2 tablespoons guacamole on top of 1 tortilla. Top with coleslaw, fish, reserved dressing, and cilantro. Repeat with remaining tortillas. Serve immediately.
This post may contain affiliate links. As an Amazon Associate and member of other affiliate programs, I earn from qualifying purchase.