Chocolate Caramel Cheesecake Cake
A sinful and decadent Chocolate Caramel Cheesecake Cake covered in chocolate caramel ganache will make your chocolate-loving sweet tooth sing.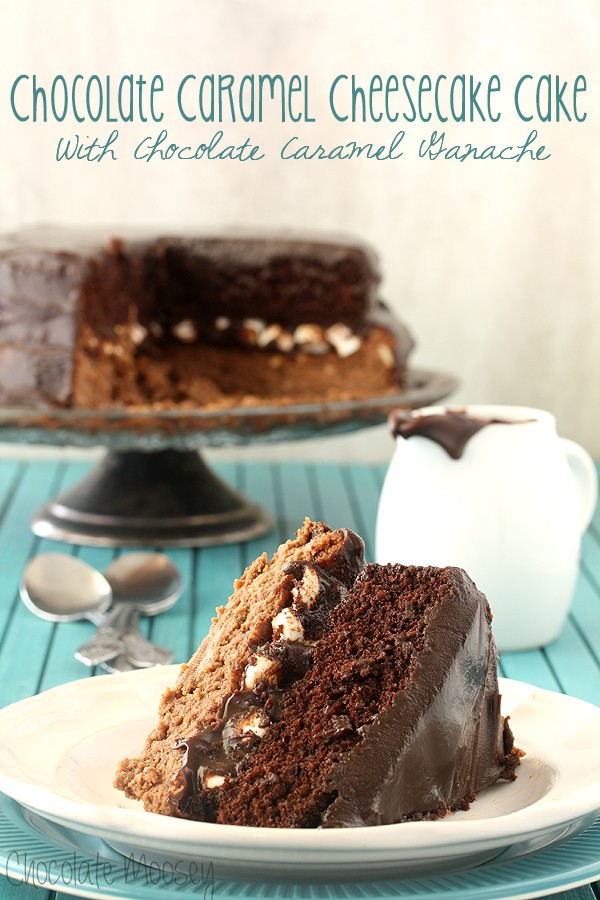 I think there's an unwritten rule somewhere that if you are a baker, you bake your own birthday cake.
Not that nobody else does; Mom usually makes me one and my coworkers as well, but I always manage to be a tad bit ambitious with mine.
It's my special day and deserves an over-the-top cake that I probably won't make until another special occasion pops ups.
Yes, today is my birthday (go Team May Babies!) and knew I was going to really bring it with a few of my favorite things – cake, cheesecake, chocolate, and caramel (and a last minute addition of mini marshmallows).
That's why I baked up a Chocolate Caramel Cheesecake Cake – two layers of decadence covered in indulgence.
Or if you really want me to spell it out – a chocolate caramel cheesecake topped with one layer chocolate cake stuffed full of mini marshmallows then covered in chocolate caramel ganache.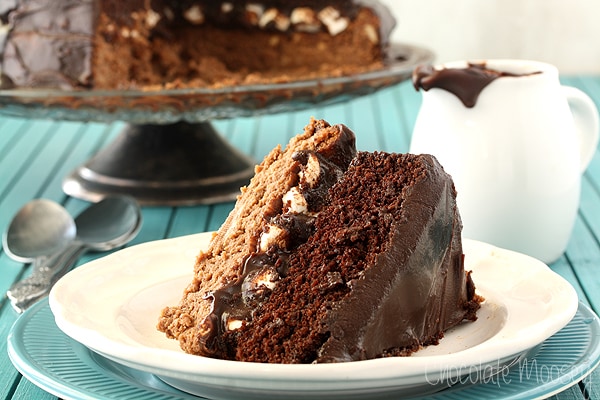 So there's a funny story behind this cake. Before wanting to make it, I had one 9-inch cheesecake pan and two 8-inch round cake pans.
Knowing they needed to be the same size, I purposely bought a 9-inch round cake pan. Or so I thought.
Turns out the "9 inch" pan measured 8 inches on the bottom, thus making an 8-inch round cake (despite what the label said).
An 8-inch cake on top of a 9-inch cheesecake? Um yea let's just say I'm glad this tasted better than it looked.
The now-8 inch pan was pretty full, so the recipe will still be fine in a true 9-inch pan (please measure all pans). Just a bit thinner as you can imagine.
The idea for a chocolate caramel cheesecake cake came from the book Desserts to Die for (Amazon affiliate link).
Except the original recipe was really complicated with all of these layers and took about three days to make and assemble.
I cut out some of the extra components and used my favorite cheesecake, cake, and homemade caramel sauce recipes instead.
You do need to make the cheesecake layer overnight, so you will need about two days (or one really long day) to make from start to finish.
It's not a complicated recipe; just need more time than usual to complete it.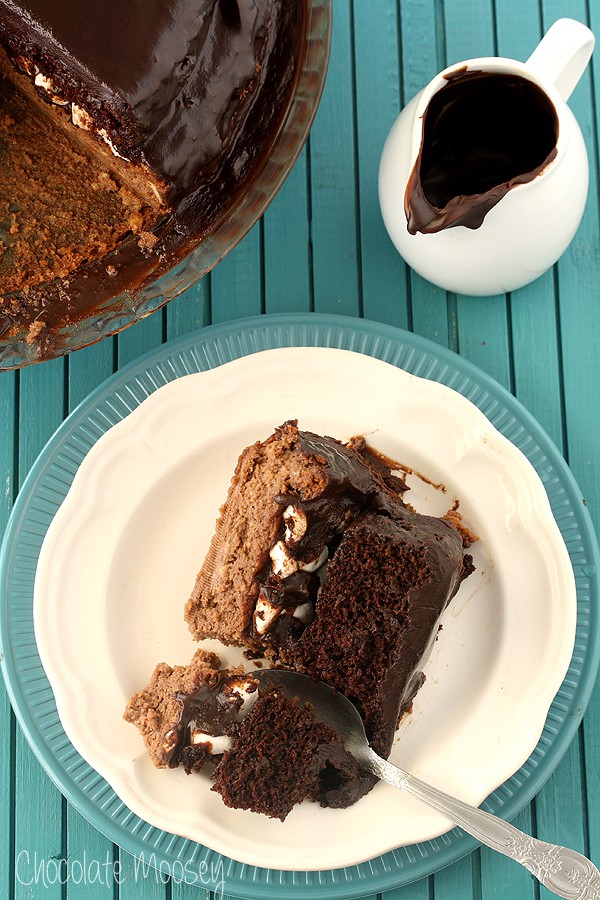 The chocolate caramel ganache was probably my favorite part. I've made
peanut butter ganache
and
Irish cream ganache
but never caramel.
Quick food lesson – homemade ganache is chocolate and heavy cream melted together that hardens as it cools.
It still has a soft bite to it, not crunchy like "magic shell" and is often used as a lazy way to frost desserts. Ahem.
Chocolate Caramel Cheesecake Cake
A sinful and decadent Chocolate Caramel Cheesecake Cake covered in chocolate caramel ganache will make your chocolate-loving sweet tooth sing.
Ingredients
Chocolate Caramel Cheesecake:
24 ounces cream cheese, softened
1 cup granulated sugar
3 eggs
1 teaspoon vanilla extract.
1/2 cup caramel sauce (homemade or store bought)
4 ounces melted semisweet or bittersweet chocolate
Chocolate Cake
1 cup granulated sugar
1 cup all purpose flour
1/3 cup unsweetened cocoa powder
1/2 teaspoon baking powder
1/2 teaspoon baking soda
1/2 teaspoon salt
1 egg
1/2 cup milk
1/4 cup vegetable oil
1 teaspoon vanilla extract
1/2 cup hot coffee*
Chocolate Caramel Ganache
12 ounces (2 1/2 cups) chopped semisweet or bittersweet chocolate
1/2 cup caramel sauce
1 cup heavy whipping cream
Instructions
For the cheesecake: Preheat oven to 350F. Lightly grease a 9-inch springform pan.
In a large mixing bowl, beat together the cream cheese and sugar until light and fluffy, 2-3 minutes. Beat in the eggs, one at a time, until fully incorporated. Beat in the vanilla, caramel sauce, and melted chocolate.
Pour batter into the pan. Bake 25-30 minutes or until set on the edges and top but still slightly wiggles in the middle. Cool in the pan for 1 hour then cover and chill in the refrigerator for at least 4 hours or overnight. It's ok if the middle sinks a little lower than the edges - this will actually help hold the filling when assembling.
For the cake: Preheat oven to 350F. Lightly grease a 9-inch round cake pan and line the bottom only with parchment paper (cut to fit).
In a large mixing bowl, whisk together the sugar, flour, cocoa, baking powder, baking soda, and salt. Add the eggs, milk, oil, and vanilla. Beat for 2 minutes or until everything is incorporated and smooth. Gradually beat in the hot coffee (the batter will be thin).
Pour the batter into the cake pan. Bake 35-40 minutes or until a toothpick inserted in the center comes out clean (it's ok if the middle looks a little wrinkly). Cool 15 minutes in the pan then invert onto a cooling rack. Cool completely. If the top domed during baking, trim it so the top is completely flat.
For the ganache: In a large bowl, add the chopped chocolate and caramel sauce.
In a large saucepan, heat the cream until hot (but not boiling). Pour it over the chocolate. Wait 5 minutes then whisk everything together until completely smooth.
On a cooling rack placed over a baking sheet lined with parchment paper, add the cheesecake layer (or directly on a plate or cake stand but it's going to get messy). Spread 1 cup ganache on top for the filling then top with the mini marshmallows. Top with the cake and press down to "glue" together. Pour the remaining ganache all over, covering the whole cake**. Let the chocolate harden before moving and serving. Store covered in the refrigerator.
Notes
Coffee is used because it enhances the chocolate flavor; you cannot taste coffee in the cake. However, you can substitute hot water if needed.
*If you don't work fast enough and the ganache thickens too much, just reheat until warm again. Alternatively you can keep the bowl on a heating pad while assembling.
Source: Inspired by
Desserts to Die for
(Amazon affiliate link)
—-
Want more? Here are other birthday cakes to celebrate your special day: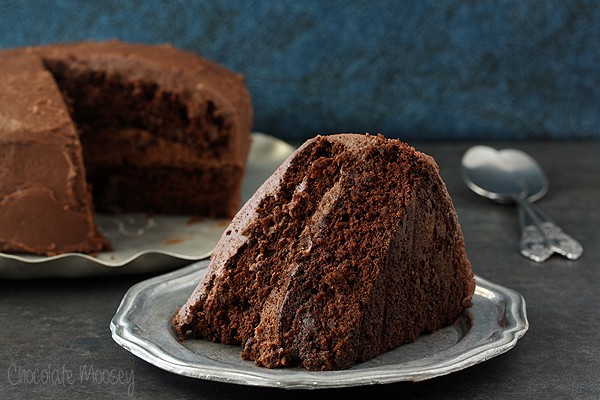 Devil's Food Layer Cake with Whipped Chocolate Buttercream Frosting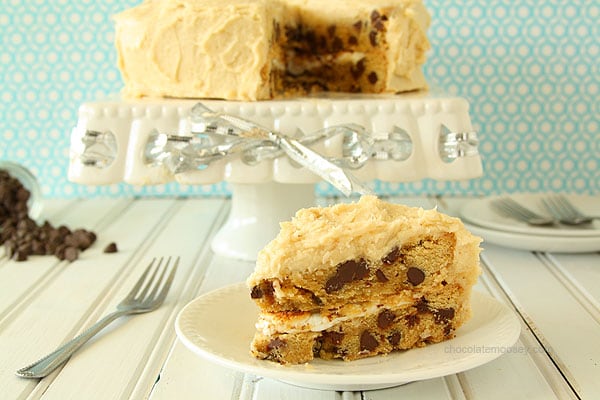 Chocolate Chip Cookie Cake with Cookie Dough Frosting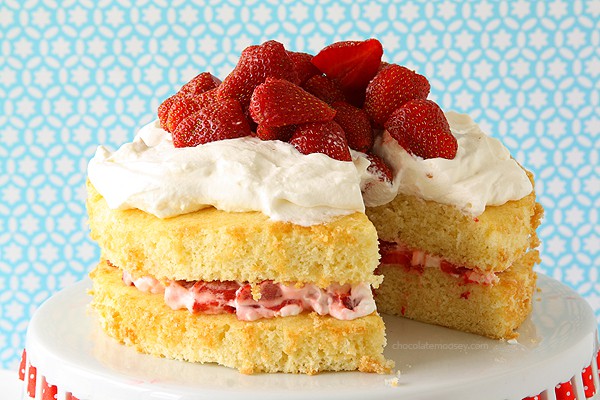 Strawberry Shortcake Layer Cake

Mini Layered Guinness Cake with Irish Cream Ganache Frosting

Copycat Dairy Queen Ice Cream Cake (mini size)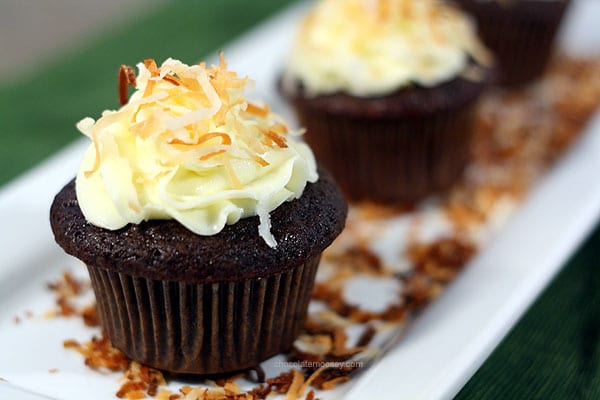 Award-Winning Chocolate Coconut Cupcakes
This post may contain affiliate links. As an Amazon Associate and member of other affiliate programs, I earn from qualifying purchase.