Crispy Peanut Butter Marshmallow Brownies
Crispy Peanut Butter Marshmallow Brownies are the best brownies ever – sinful, rich, gooey, and just plain good. Pour yourself a glass of milk and grab a brownie (or five).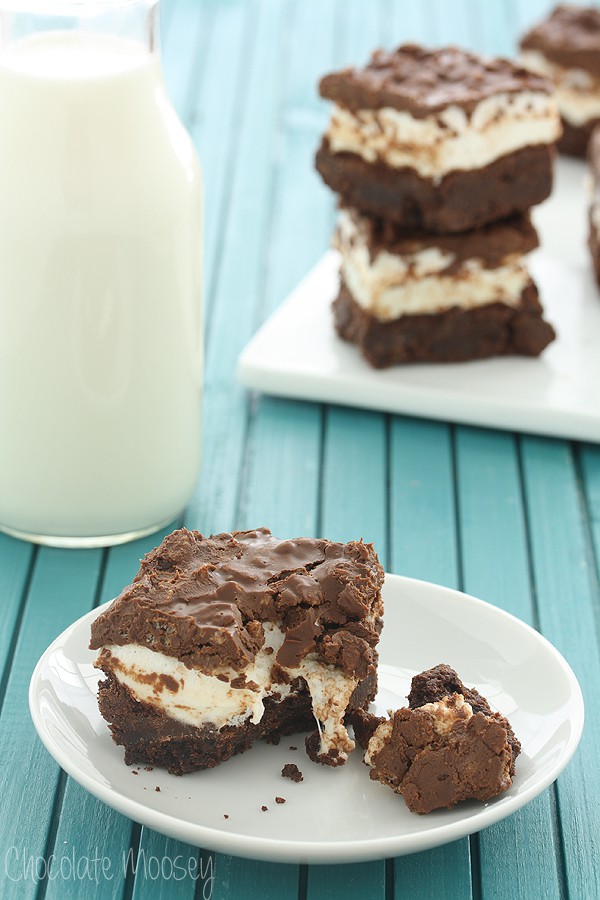 Guys, I am beyond excited to share this recipe. This is probably my favorite recipe ever.
If you ever need to bribe me, to impress me, or to cheer me up, this is it. This is the ultimate favorite recipe.
We are talking chocolate chip brownies topped with a thick layer of gooey marshmallows then covered with a hot mess of rice crispy chocolate peanut butter mixture.
Usually I only have one or two pieces then give the rest away.
However, I kept going back for another. And another. And yes, another.
My sweet tooth was out of control, but can you blame me? If you want decadence, keep reading. You won't be disappointed.

The inspiration
Over the summer, my family and I visited
Harper's Ferry
.
As we were exploring the town, I accidentally found a mini bakery in the back of a gift shop. There in the case sat this glorious tray of brownies with the thickest marshmallow layer I had ever seen.
$2 later, I walked out of there pretty smitten.
Now we are talking July weather, so it was HOT outside. My brownie was half melted, my fingers were a gooey mess, and my poor camera had chocolate smudges all over the buttons, but I didn't care.
I savored every bite (mainly because it was too hot outside to eat something so rich all at once, so it lasted all day).
With each bite I took mental notes so I could recreate the brownie at home.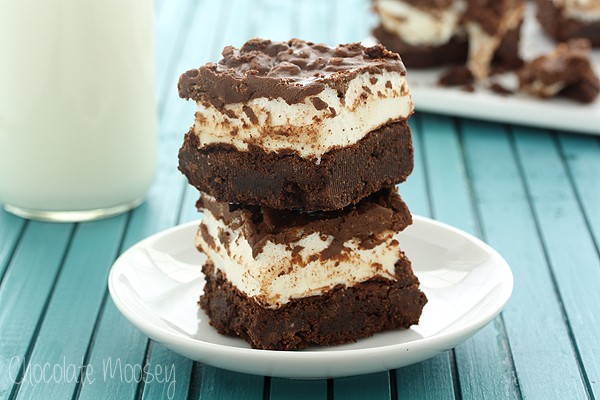 The one thing that puzzled me was the marshmallow layer. How did they get it so thick?
I used large marshmallows but as you can see, they aren't quite as thick as the original.
Maybe they used marshmallow fluff. It didn't taste artificial though, so maybe it was a homemade marshmallow fluff. I'll need to experiment more.
Of course if you're looking in your pantry right now and only have mini marshmallows, you can absolutely use them. Just note that the layer won't be as thick.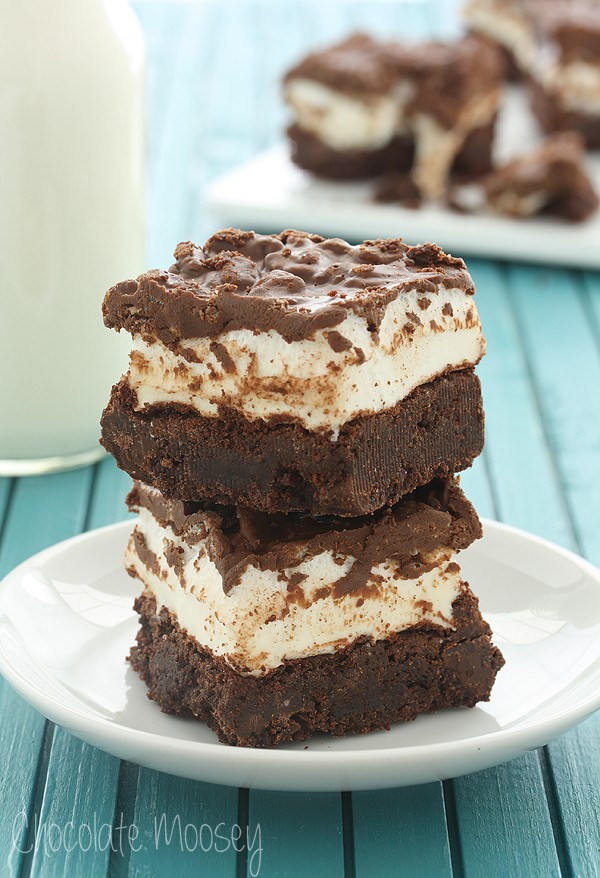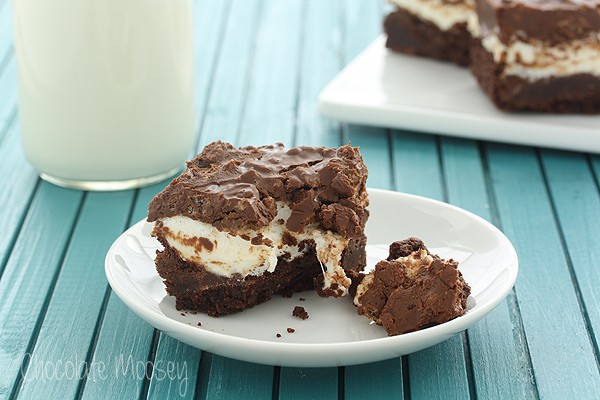 More Brownie Recipes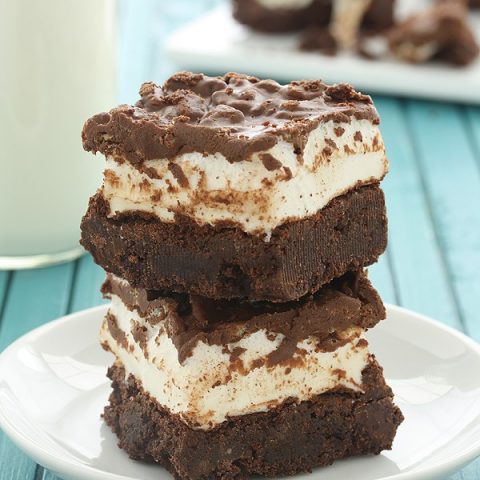 Crispy Peanut Butter Marshmallow Brownies
Yield: 16 brownies
Prep Time: 20 minutes
Cook Time: 40 minutes
Total Time: 1 hour
Crispy Peanut Butter Marshmallow Brownies are the best brownies ever – sinful, rich, gooey, and just plain good. Pour yourself a glass of milk and grab a brownie (or five).
Ingredients
1/2 cup (1 stick) unsalted butter
2 ounces unsweetened chocolate, chopped
1/2 cup cocoa powder
1 1/4 cup granulated sugar
1/4 teaspoon sea salt
1 teaspoon vanilla extract
1 egg
3/4 cup all purpose flour
1 1/2 cup chocolate chips, divided (1/2 cup + 1 cup)
25 large marshmallows
1/2 cup creamy peanut butter
3/4 cup rice crispy cereal
Instructions
Preheat oven to 350F. Line an 8x8 pan with parchment paper.
In a large saucepan, melt together the butter and chocolate. Remove from the heat. Whisk in the cocoa powder, sugar, salt, vanilla, egg, and flour. Batter will be thick. Stir in 1/2 cup chocolate chips.
Spread the batter into the pan and bake 25-30 minutes or until the edges pull away from the sides and a toothpick inserted in the center comes out almost clean.
Once brownies are done, top with the marshmallows in a 5x5 grid. Bake for another 8 minutes or until puffed. Gently press them down to help spread the marshmallows. Cool completely.
In a large bowl over a pan of simmering water, melt the remaining 1 cup chocolate chips and peanut butter. Stir in the cereal then spread on top of cooled brownies. Let the chocolate layer harden before serving.
Source: Adapted from
Taste Of Home
This post may contain affiliate links. As an Amazon Associate and member of other affiliate programs, I earn from qualifying purchase.