Chocolate Caramel Twix Rice Crispy Treats
Cocoa rice crispy cereal and caramel sauce mix together with Twix candy bars to form easy rice crispy treats.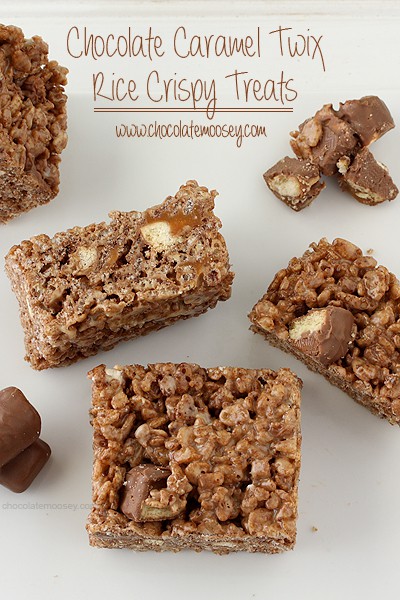 Sometimes you're just too tired to make cookies, so I often opt for rice crispy treats because they are so easy to make when you're half asleep and need a treat at the last minute.
Melt butter, melt marshmallows, add cereal, pat into a pan, cool, eat.
With such a versatile recipe, you can make it fit whatever mood you're in.
I was in a chocolate and caramel kind of mood one rainy night, so I made Chocolate Caramel Twix Rice Crispy Treats.
Which is funny because I was never a fan of Twix growing up (it was a texture thing with the cookie part).
However, I needed something to stir in that would reflect the chocolate and caramel, and Twix was all that I could think of.
With leftover homemade caramel sauce and a box of cereal, I grabbed a pot and started melting and stirring.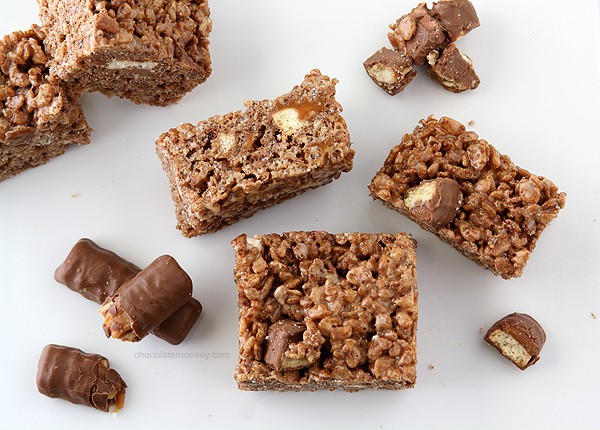 My original thought was to mix caramel sauce in with the marshmallows and stir in regular rice cereal.
After all, I've done it before with peanut butter rice krispie treats.
Then I spied the box of Cocoa Rice Krispies on top of my fridge, thinking it only had a handful left in it. Apparently I never opened the box!
Now I'm wondering if I bought the box for another recipe I had in mind. Well if I did, I didn't write it down. Or maybe I predicted making these chocolate caramel treats down the road.
These treats were gobbled up in no time. As much as I love chocolate and caramel paired together, I also recommend my caramel rice krispie treats.
Oh and just the other day, I spotted caramel swirl marshmallows at the store. First I thought of caramel s'mores then I thought about these treats. I can only imagine the possibilities.
Looking for a smaller portion? Check out my Small Batch Rice Krispie Treats made in a loaf pan.
Chocolate Caramel Twix Rice Crispy Treats
Yield: 16 squares
Prep Time: 15 minutes
Cook Time: 5 minutes
Rest Time: 1 hour
Total Time: 1 hour 20 minutes
Cocoa rice crispy cereal and caramel sauce mix together with Twix candy bars to form easy rice crispy treats.
Ingredients
3 tablespoons unsalted butter
10 ounces (roughly 4 cups) mini marshmallows
1/2 cup caramel sauce (homemade or store bought)
6 cups cocoa rice crispy cereal
12 fun-sized Twix bars, chopped into pieces (roughly 1 1/4 cup)
Instructions
Line a 9x9 pan with parchment paper.
In a large pot, melt the butter. Add the marshmallows and stir with a wooden spoon until completely melted.
Stir in the caramel sauce until smooth then add the cereal and Twix bars. Mix everything together until everything is coated.
Very carefully, pat the mixture into the pan (I like to use plastic wrap to help press down and not burn my hands). Cool completely before cutting into squares, roughly 30-60 minutes. Store in an airtight container for up to one week.
—-
If you liked these Chocolate Caramel Twix Rice Crispy Treats, you may also like these recipes:
From me:
From other bloggers:
This post may contain affiliate links. As an Amazon Associate and member of other affiliate programs, I earn from qualifying purchase.