Cheesecake Stuffed Peaches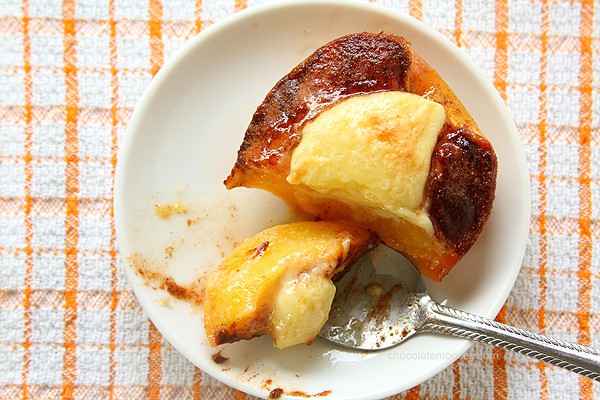 I am a cheesecake queen over here.
I have an entire category dedicated to cheesecake recipes.
Plus I am (hopefully) helping people conquer their cheesecake-making fears with Strawberry Swirl Cheesecake.
Instead of birthday cakes, I make birthday cheesecakes.
I make big cheesecakes, small cheesecakes, stuffed cheesecakes, bar cheesecakes, cheesecake parfaits.
Since cheesecake is a common theme, I wanted to stand out, doing something spectacular.
Something you don't think of when you hear cheesecake, like these Cheesecake-Stuffed Peaches – juicy, ripe peaches dipped in cinnamon and clove sugar and filled with a spoonful or two (or three) of creamy cheesecake filling.
They're similar to my cheesecake stuffed apples but alllll about summer.
I'm no nutritionist, but I like to believe these Cheesecake-Stuffed Peaches are healthy. And by healthy, I mean healthier than your average slice of cheesecake.
Think about it – you have half a juicy, vitamin-packed peach filled with a little amount of cheesecake.
It's the perfect way to satisfy your sweet tooth and cheesecake craving without killing your calorie count (too much).
Yes, there's sugar. Yes, there's fat, but you can control how much sugar and cheesecake filling to use.
The best part is these can be made and eaten in the same day. Most cheesecakes have to set overnight before eating.
Not with these babies! You make the filling, bake for 30 minutes, and eat warm.
It's the perfect dessert if you want cheesecake NOW and not later.
Have dinner guests coming over and want to impress with dessert? Make the filling, store in the refrigerator, then fill and bake your peaches when ready. You'll be the coolest dinner host ever.
Last year, I made these peaches but never blogged about them. I knew I wanted to share them with you this year with peaches being plentiful here in PA.
It was hard cutting the recipe in half since the original called for 1 egg yolk. If you do happen to have leftovers, refrigerate them then warm before serving (I know you're thinking "leftovers?!" But I'm one girl with 6 stuffed peach halves. That's a lot for my waist to handle).
The original recipe had you dip the peaches in butter then sprinkle on cinnamon sugar. I just dipped them in butter then in sugar (less messy).
I also added clove to the cinnamon sugar mixture because it's becoming an obsession of mine. Cinnamon and clove go together like peanut butter and banana.
Don't believe me? Make some chocolate chip pancakes for two. You're welcome.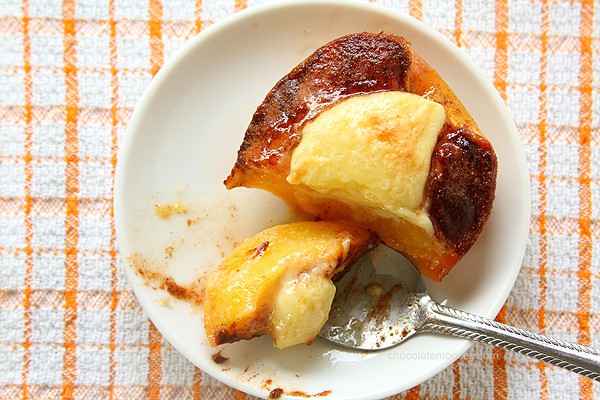 Cheesecake-Stuffed Peaches
Baked peaches stuffed with cheesecake filling
Ingredients
3 peaches, halved and pitted
2 tablespoons butter, melted
3 tablespoons sugar
1/2 teaspoon ground cinnamon
1/4 teaspoon ground clove
2 ounce cream cheese, softened
1 egg yolk
1 teaspoon vanilla
Instructions
Preheat oven to 350F. Line a cookie sheet with foil or parchment paper. Set aside.
In one small bowl, place the melted butter. In another small bowl, mix together 1 tablespoon sugar, cinnamon, and clove. Take one peach half and dip it cut-side down into the butter then dip it into the sugar mixture. Place it face-up on the cookie sheet. Repeat with the remaining peach halves.
In a medium mixing bowl, beat the cream cheese until smooth. Beat in the remaining 2 tablespoons sugar, egg yolk, and vanilla.
Fill each peach center with the cream cheese mixture. If you have leftover batter, you can bake it in a ramekin. Bake 25-30 minutes or until browned and softened. Serve warm or at room temperature.
Source: Adapted from
Better Homes and Gardens
—-
If you liked these Cheesecake Stuffed Peaches, you may also like these recipes:
This post may contain affiliate links. As an Amazon Associate and member of other affiliate programs, I earn from qualifying purchase.