Espresso Soufflé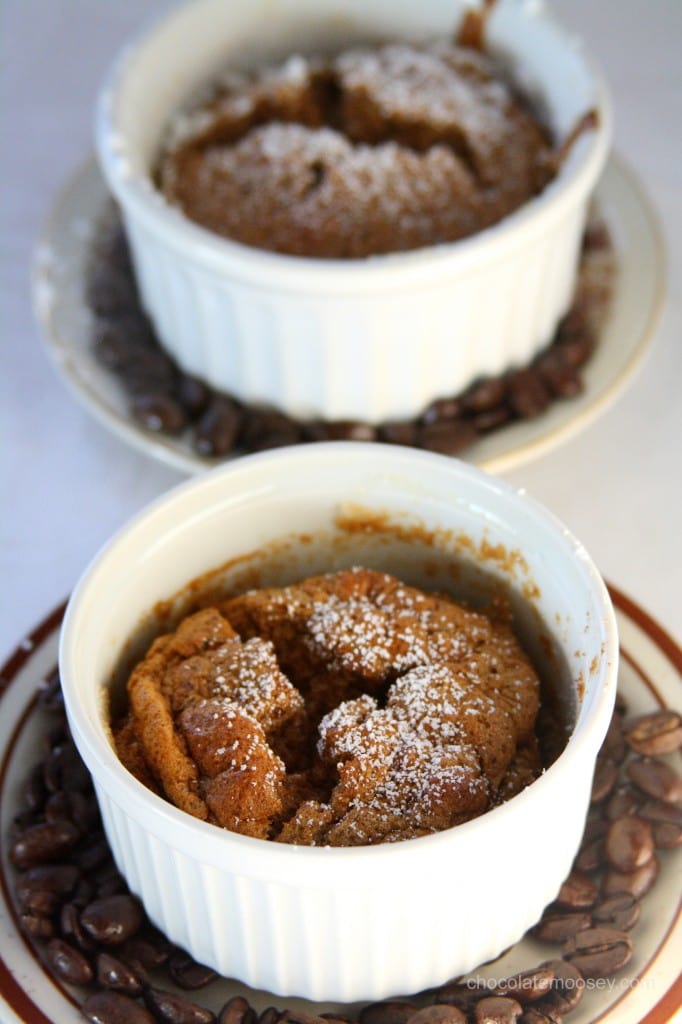 "Learn how to cook, try new recipes, learn from your mistakes, BE FEARLESS and above all, have fun!" ~ Julia Child
What is on your culinary bucket list? Mine contains soufflé. You always hear chefs on TV complaining about how hard soufflés are and that people are sent home for it. If professional chefs can't make soufflés, how can home cooks possibly make one? That brings us to today's #SundaySupper meal #CookForJulia, where we are celebrating what would have been Julia Child's 100th birthday this month. Julia Child was definitely a pioneer in the cooking world, inspiring chefs, both home and professional, not to be afraid of the kitchen. For her, I conquered my fear of failure and baked Espresso Soufflé.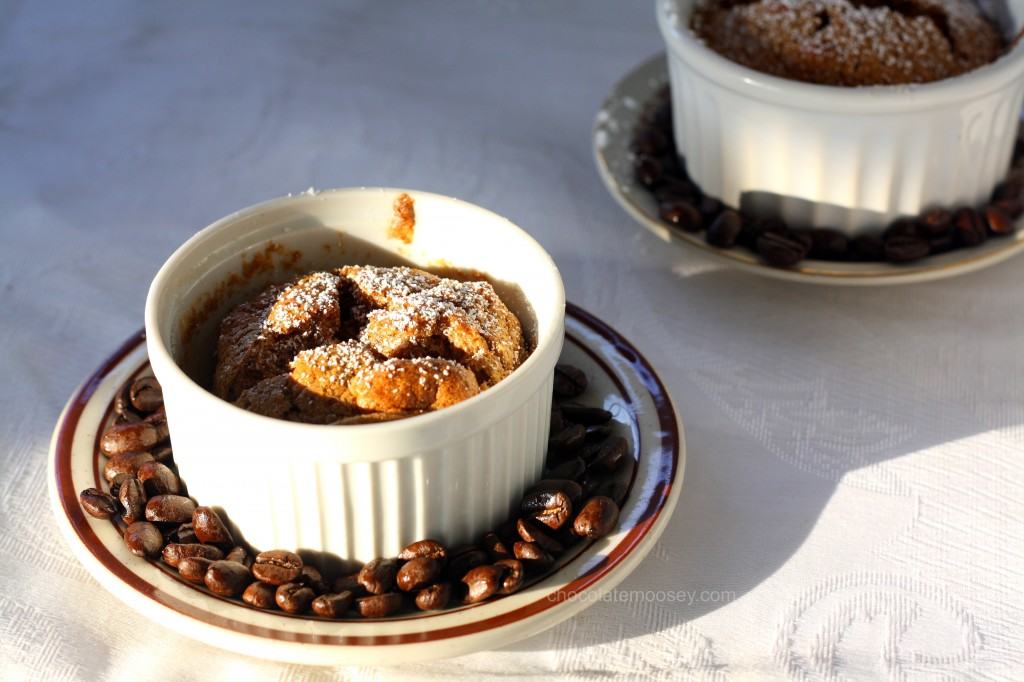 What is a soufflé? According to Julia's famous book
Mastering the Art of French Cooking
, it is "a sauce containing a flavoring or puree into which stiffly beaten egg whites are incorporated" (page 157). You then put this sauce into a mold, typically a ramekin, and bake until it puffs up.
Jenni of Pastry Chef Online
told me awhile ago on Twitter that soufflés are designed to rise. You never have to worry about them not rising. Of course, the amount of rise depends on how well you beat and fold the egg whites, but they will always rise.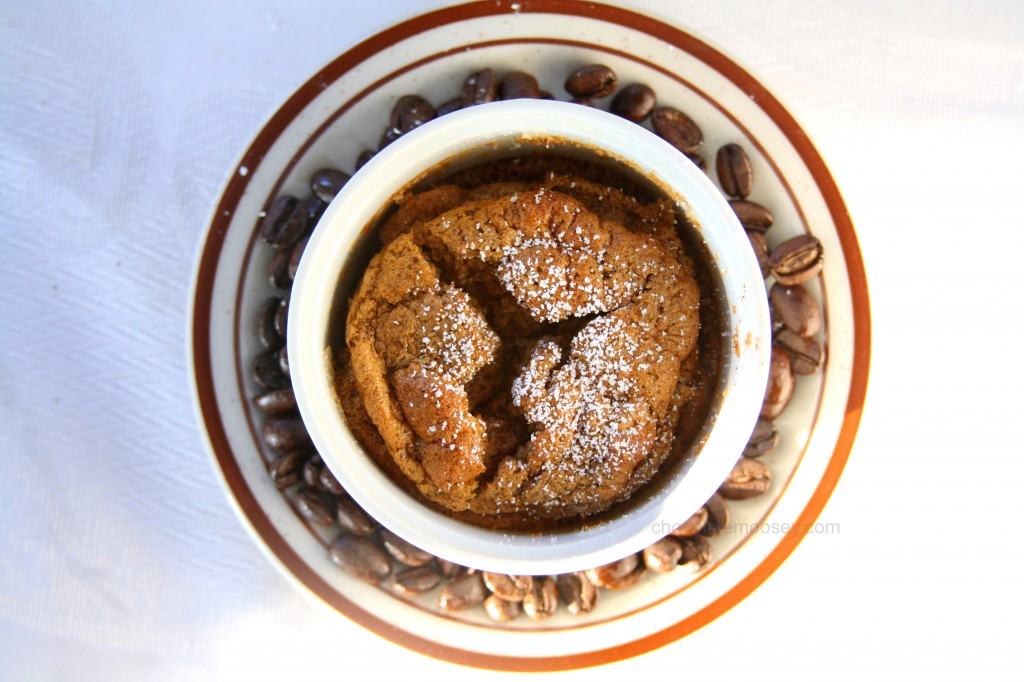 As I was making my Espresso Soufflé, I realized it is a metaphor for life – fear of failure, expectations, window of opportunity. I should know a thing or two about this. Two years ago, I accepted a job in a small country town and moved by myself, a few hours from family and friends. People ask me ALL the time why I did it and then proceed to tell me how they would never have the guts. Guts? It was out of desperation – I spent 13 months after graduating college looking for an entry-level job. Instead, I ended up working sales floor at Target. Talk about being miserable. When I was offered my job, I knew this was the window of opportunity I needed to get my life back on track. It's been a rough two years living alone, which is why I started becoming active in my blog again.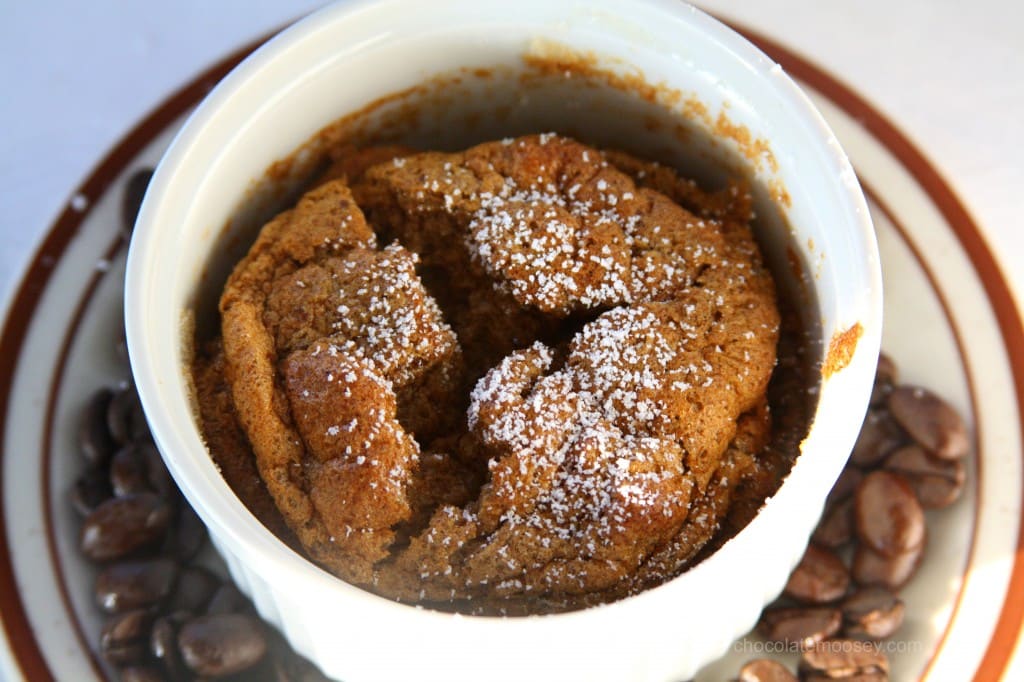 How does a soufflé teach one about window of opportunity? Simple – you only have a few minutes to get that golden shot of the soufflé at its peak. Then it sinks. Mine didn't even rise above the rim because I was too timid filling the ramekins. Last week, I overfilled mini cupcakes. Twice. Julia said if you fill them too much, the soufflé would spill over. I got scared.
So my pictures aren't soufflé perfect. The taste makes up for that. It reminds me of a spongy egg custard. I've never had a soufflé before, so I'm going to assume mine tasted perfect. The Espresso Soufflé is well-balanced between bitter from the espresso powder, sweet from the powdered sugar on top, and spice from the cinnamon and clove. Espresso powder is found in the coffee aisle, but if your regular store doesn't carry it, you may have to find an Italian grocery store. You can substitute instant coffee (which is what the original recipe called for).
Julia Child is a huge inspiration to me. She wasn't afraid to play with the big boys and demonstrated no fear in the kitchen. I can't tell you how many times I've seen her kitchen at the Smithsonian in DC and visit it every time I'm in that museum, and I don't plan on stopping.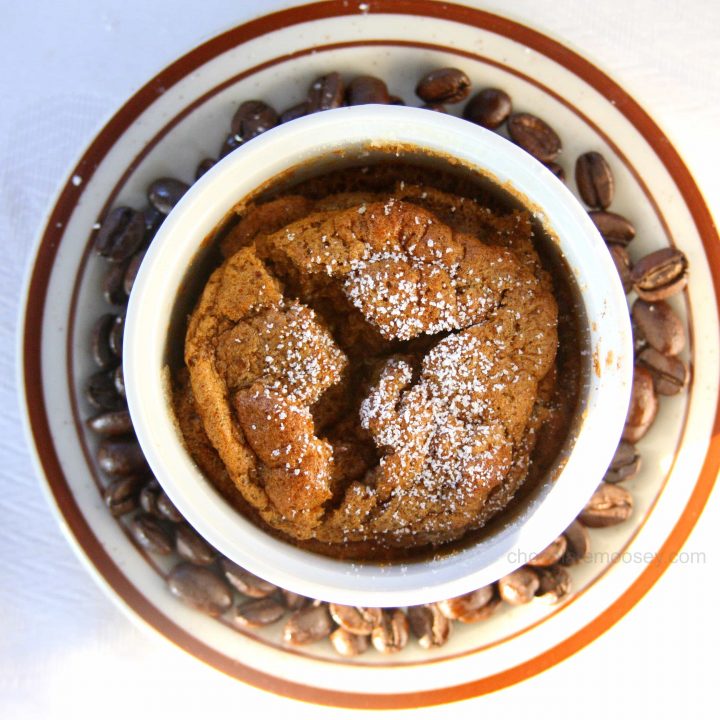 Espresso Soufflé
Ingredients
1/4 Tbsp butter, softened
Granulated sugar, for coating inside of ramekin
1 1/2 Tbsp flour
3 ounces milk
2 1/2 Tbsp sugar
1 Tbsp espresso powder
1/2 tsp ground cinnamon
1/2 tsp ground clove
2 egg yolks
1 Tbsp softened butter
3 egg whites
Pinch of salt
1 Tbsp sugar
1 tsp vanilla extract
Powdered sugar, for garnish
Instructions
Preheat the oven to 400F. Rub the inside of a 3-cup soufflé mold (either one big one or several mini ones) with 1/4 Tbsp butter. Coat the bottom and sides with sugar. Knock out excess sugar. If using mini molds, place them onto a cookie sheet for easy carrying.
In a medium saucepan, whisk together the flour, milk, and sugar. Heat it for a few minutes. Right before it boils, whisk in the espresso powder, cinnamon, and clove. Bring it to a boil until mixture thickens. Remove from the heat and beat for 2 minutes to cool slightly. Beat in the egg yolks, one at a time, until smooth. Beat in the butter and set aside.
In a large mixing bowl, beat the egg whites and salt until soft peaks form. Sprinkle on the sugar then continue beating until stiff peaks form.
Beat the vanilla into the espresso base. Stir in fourth of the egg whites. Delicately fold in the rest.
Fill the soufflé mold(s), leaving a little bit of space before the rim. If the mold is too full, it will spill over as it rises. Put the mold(s) into the oven and immediately turn the temperature down to 375F. Bake around 15 minutes for mini molds and around 30 minutes for large mold. They are done when a toothpick or knife inserted in the middle comes out clean. Pull out of the oven then sprinkle with powdered sugar. Serve immediately.
Source: Adapted from Julia Child's Mastering the Art of French Cooking
This post may contain affiliate links. As an Amazon Associate and member of other affiliate programs, I earn from qualifying purchase.