Candy Corn Cupcakes
What is one of the best things about Halloween? CANDY CORN! I'm sure by now you have seen plenty of candy corn-related recipes. I am
following Peabody on Twitter
, and she posted a link to her candy corn whipped cream frosting. I just knew I wanted to make it, so I did.
I've learned you either love candy corn or you don't. What's nice about these cupcakes is it doesn't taste much like candy corn. Really it's just vanilla cake with food coloring. As for the frosting, I'm highly disappointed I didn't get a strong candy corn flavor. Honestly, if I didn't know any better, I would've thought it was regular whipped cream.
Then again, I didn't follow directions very well. I halved the recipe but failed to realize I was supposed to only use half of the cream to infuse with the candy corn. Whoops. Of course I didn't discover this until after I whipped it, so I just beat it a little longer with the powdered sugar. I wonder how much of a difference the plain cream and cornstarch would have made? Below I posted how I made it. You can view
Peabody's recipe
if you want the original version.
Looking for more cute Halloween recipes? Check out my rice krispie pumpkins and Halloween popcorn.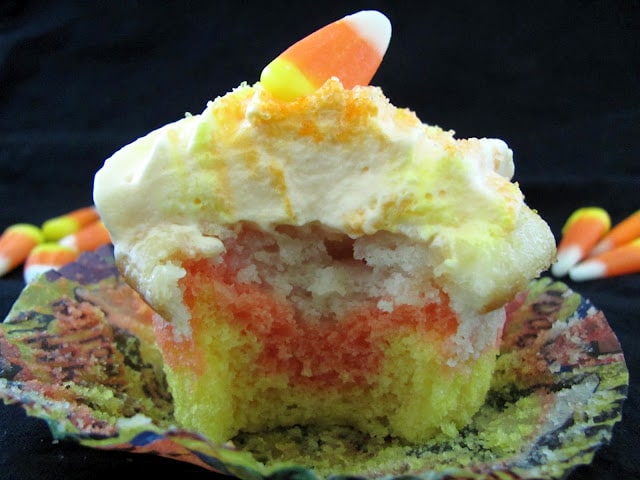 Candy Corn Cupcakes
Candy Corn Cupcakes for Halloween
Ingredients
1 cup flour
1/2 tsp baking powder
1/4 tsp baking soda
Pinch salt
3/4 cup sugar
1/4 cup unsalted butter, at room temperature
2 egg whites
1 tsp almond extract
2/3 cup buttermilk
Red and yellow food coloring
Frosting Will need to sit overnight!
1 1/2 cups heavy whipping cream, divided
1/2 cup candy corn plus 12 for garnish
1/2 cup powdered sugar
Instructions
Preheat oven to 350F and line cupcake pan with fun Halloween liners.
In a small bowl, whisk together flour, baking powder, baking soda, and salt.
In a large bowl, beat butter and sugar together until well combined. Add egg whites, one at a time, beating well after each addition. Mix in almond extract. Alternately beat in flour mixture and buttermilk, making three additions of flour and two of buttermilk, beating until smooth.
Divide the batter into 3 parts. Leave one untouched. For the second bowl, add a few drops of yellow until it looks like mustard. For the third bowl, add a few drops of red and yellow until it is orange. Layer the batter into each cup, starting with the yellow, then orange, then white.
Bake for 20-25 minutes or until a toothpick inserted in the middle comes out clean. Let cool in the pan for 10 minutes then remove from the pan to cool completely.
For the frosting, put the 1/2 cup of candy corn in a bowl with the cream. Cover and refrigerate overnight. When ready, strain into a mixing bowl. Beat the cream until soft peaks form. Slowly add in powdered sugar until stiff peaks form. Pipe onto cooled cupcake. Top with sprinkles and a candy corn.
Source: Cupcake adapted from
125 Best Cupcake Recipes by Julie Hasson
; Frosting adapted from
Culinary Concoctions by Peabody
This post may contain affiliate links. As an Amazon Associate and member of other affiliate programs, I earn from qualifying purchase.