Enjoy summer in a glass with Blueberry Cream Soda Floats made with homemade blueberry soda and vanilla ice cream.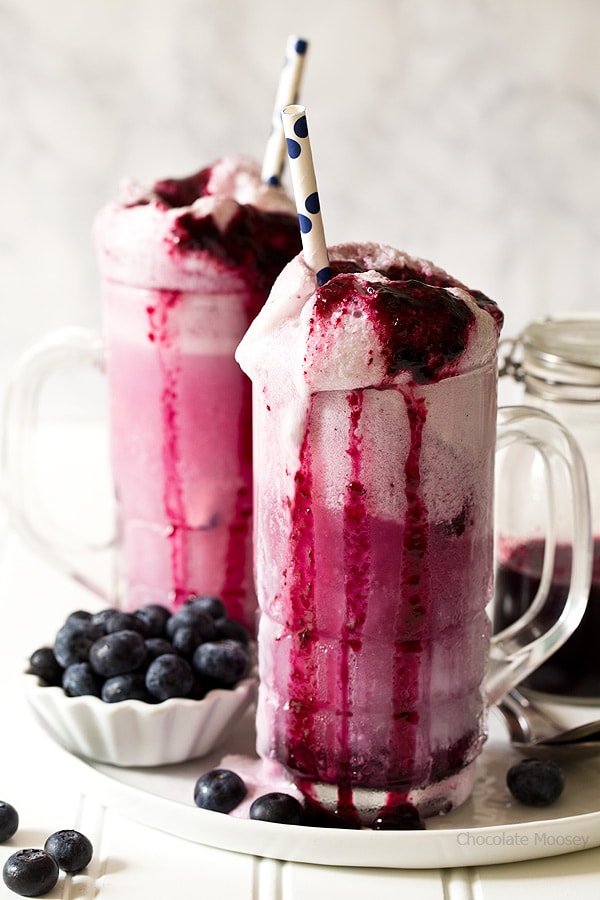 Happy (belated) National Ice Cream Day! Technically it was yesterday, but since July is ice cream month, I'm game to continuing the celebration. There are many ways to celebrate – homemade ice cream, store bought ice cream, milkshakes, ice cream sandwiches, ice cream cake, the list goes on. The easiest way to celebrate (besides digging into a pint with a spoon) is with an ice cream float. Two scoops of ice cream, some soda, and you have yourself an easy dessert in minutes. Of course there's the traditional root beer float, but you can change up the flavors with
Vanilla Bean Cream Soda Floats
or
Lemon Drop Cream Soda
. Today I'm bringing you another flavor, one that screams summer – Blueberry Cream Soda Floats. We're talking two scoops of
vanilla bean ice cream
and homemade blueberry soda made with blueberry syrup and seltzer. I've never been blueberry picking before, but this would be the first thing you'd want to make after a hot day in the sun. Summer in a glass, extra cold.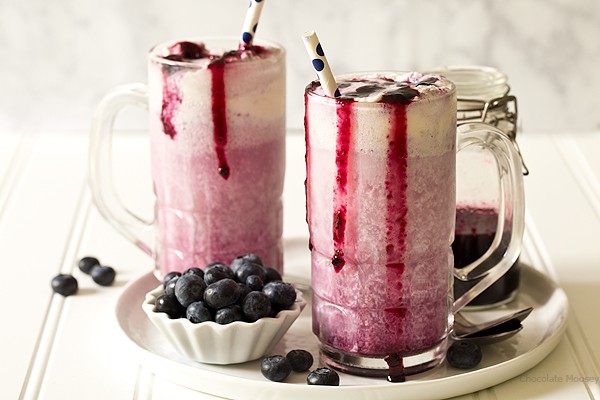 Making the blueberry syrup is super easy on the stove. Pretty much you boil together water, sugar, blueberries, and lemon juice for about 5-10 minutes. Once it cools, you're ready to go. The syrup can be made ahead of time and stored in the fridge until ready to use. Fun fact – did you know the difference between blueberry syrup and blueberry jam is water? I accidentally forgot the water in my first batch. After it cooled and gelled up a bit, I realized my mistake. Luckily I was able to dump it back into the pan, add water, and reheat until smooth.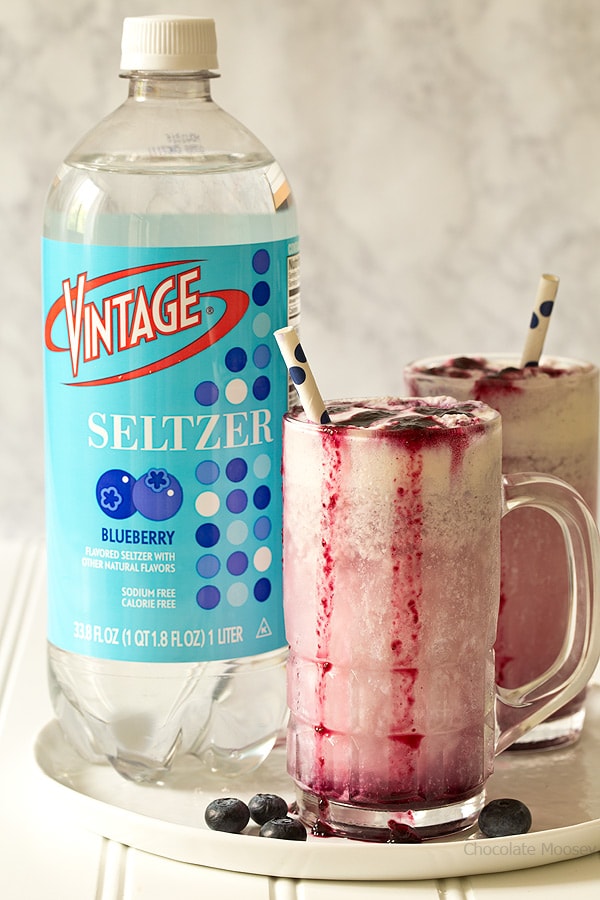 The key to making homemade blueberry soda is seltzer, which is known as carbonated water and gives blueberry soda its fizz. The brand I used is
Vintage Seltzer
, who makes a wide variety of flavors. They recently released three limited edition summer flavors – Blueberry, Pineapple and Peach Mango – which are available until July 31 at certain grocery stores in the NY and NJ area. I used blueberry to give my ice cream floats more blueberry flavor, but if you can't find that flavor, I recommend using Original or Lemon. You can
find Vintage
using their store locator.
For more information on Vintage, check out Vintage Twitter and Vintage Facebook.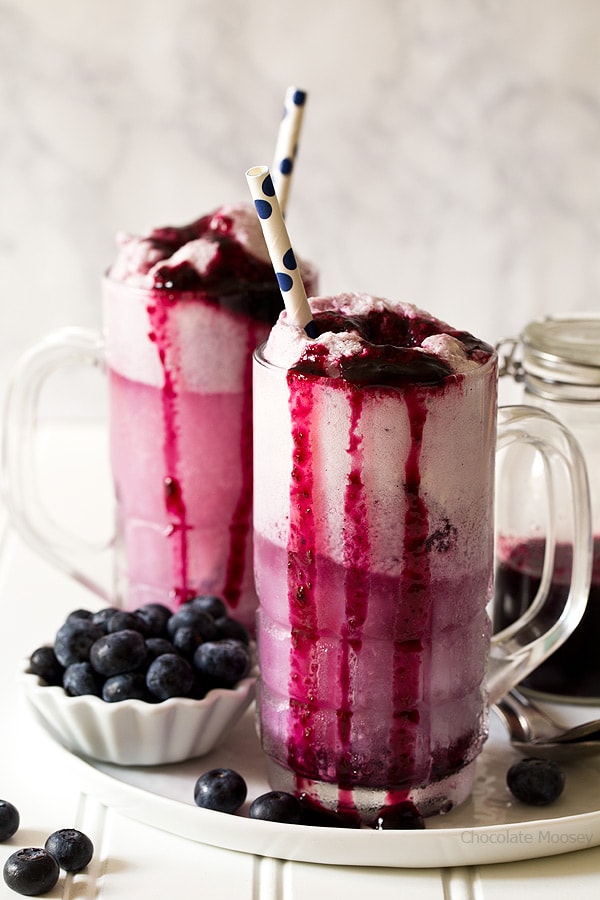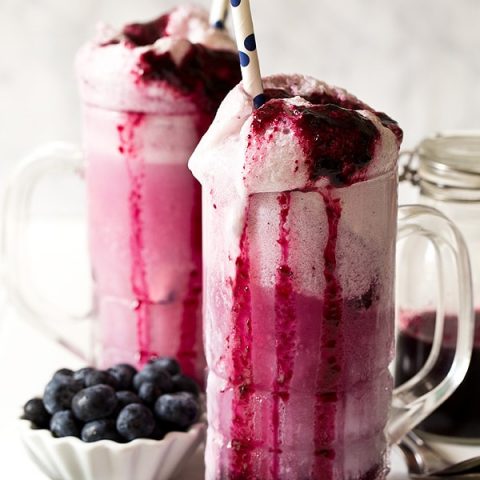 Blueberry Cream Soda Floats
Enjoy summer in a glass with Blueberry Cream Soda Floats made with homemade blueberry soda and vanilla ice cream.
Ingredients
2 cups fresh blueberries
1/4 cup granulated sugar
1/4 cup water
2 tablespoons lemon juice
2 teaspoons vanilla bean paste or vanilla extract
1 cup blueberry or original seltzer
4 scoops vanilla ice cream
Instructions
In a large saucepan, bring blueberries, sugar, water, and lemon juice to a boil. Boil for 5 minutes or until the blueberries are cooked down and the mixture thickens. Remove from the heat and pour through a fine mesh strainer into a bowl, squeezing out as much liquid as possible and discarding the solids left behind. Stir in the vanilla paste or extract. Cool until room temperature.
Right before serving, stir the seltzer into the blueberry syrup. Divide ice cream into 2 serving glasses then pour soda over top of each one. Serve immediately.
Notes
Save time: The blueberry syrup can be made ahead of time and stored in the refrigerator until ready to use.
This is a sponsored post written by me on behalf of Vintage Seltzer. All opinions are 100% mine.