Chocolate Hazelnut Buckeyes
Break away from tradition and serve these Chocolate Hazelnut Buckeyes at your next party! The filling is made with chocolate hazelnut spread, giving this sweet treat a double dose of chocolate.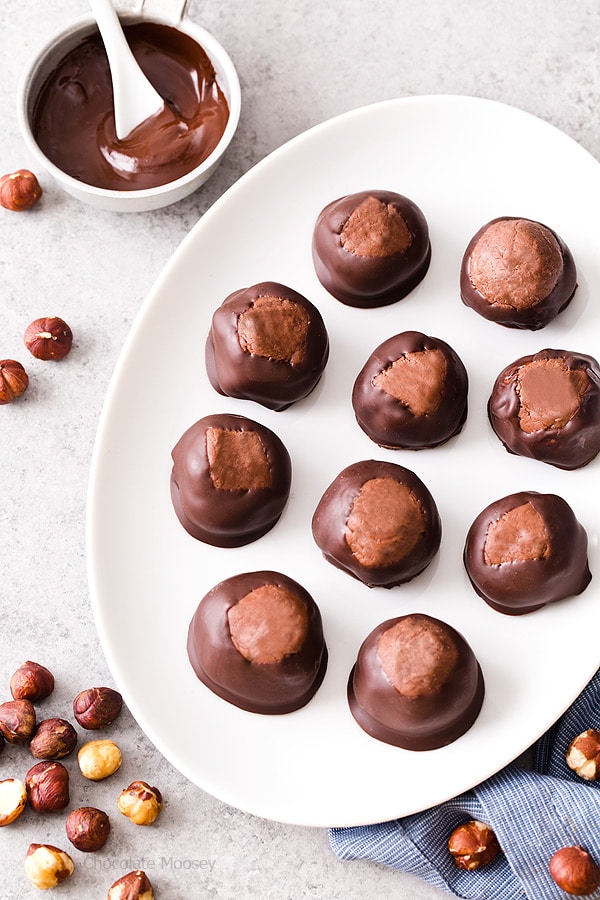 It's no secret I'm a sweets girl, so as much as I love dips, wings, and snacks for the Big Game coming up, I always wonder why people often forget dessert.
I'm guessing because we stuff ourselves full before we get there, but come on. At least have one tray of sweets. For me? Please?
Setting out to change this idea, I immediately thought about making buckeyes because if there's one thing that never lasts, it's buckeyes.
Then I got the idea to do a flavor twist and came up with these Chocolate Hazelnut Buckeyes.
As I was telling my friend about making these for Game Day, she questioned my decision. "Aren't they a Christmas recipe though? Does anybody make them during the year?"
I've never heard of this doubt before. Yes they are most popular during Christmas, but I haven't heard of never making them the rest of the year.
Maybe because at my previous job, every big office party had at least one tray of buckeyes. Maybe because Pittsburgh has a cookie table tradition for every wedding (we even have our own Wikipedia page for it.
Need more proof? Look at this monstrous cookie table, complete with buckeyes!).
Maybe because I'm neighbors with Ohio. Or maybe because I love buckeyes so much, I refuse to believe they are a one-time treat.
Is this true? Have I been out of touch with reality this whole time?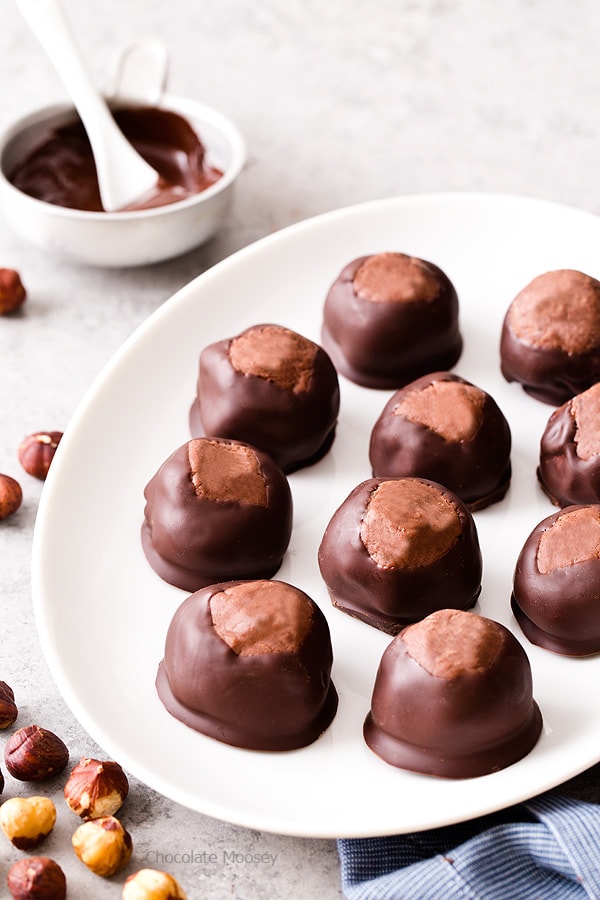 What are buckeyes?
Buckeyes are a confectionery treat dipped in chocolate to look like buckeyes the tree nut.
The filling is traditionally made with peanut butter, giving it some color contrast. I got the idea to substitute chocolate hazelnut spread because it has the same texture and consistency as peanut butter.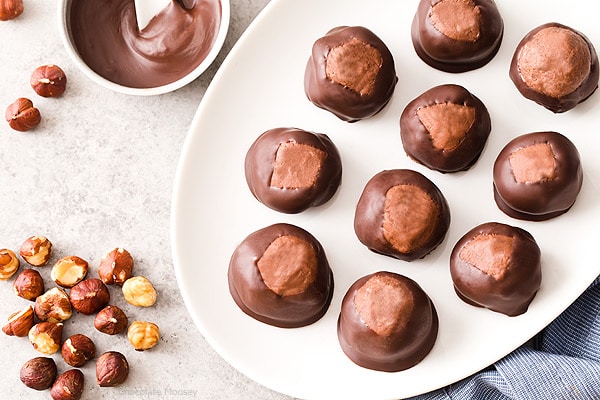 My first encounter with
chocolate hazelnut spread
was when I studied abroad in Ireland back in 2007 (10 years ago!).
I didn't even know such a thing existed until one of my housemates gave me a spoonful to sample. My life hasn't been the same since.
I mean, just look at this Nutella ice cream for proof.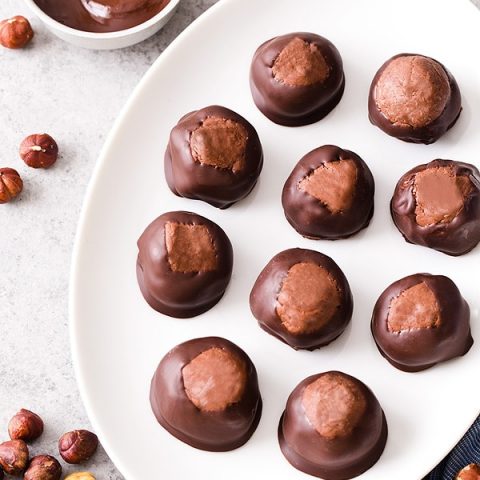 Chocolate Hazelnut Buckeyes
Yield: 15 buckeyes
Prep Time: 2 hours
Total Time: 2 hours
Ingredients
1 1/4 cup powdered sugar
1/2 cup chocolate hazelnut spread
1/4 cup (2 ounces or 4 tablespoons) unsalted butter, melted
1/2 teaspoon vanilla extract
1/4 teaspoon salt
4 ounces semisweet chocolate, chopped
1/2 teaspoon unsalted butter, softened
Instructions
In a large mixing bowl, beat together the sugar, chocolate hazelnut spread, melted butter, vanilla, and salt until a dough forms, about 2-3 minutes. Dough may look dry but should keep its form when pressed together.
Roll the dough into tablespoon-sized balls and place on a baking sheet lined with parchment or wax paper. Refrigerate until firm, about 30 minutes.
In a heatproof bowl over a saucepan of simmering water (do not let the bowl touch the water), melt together the chocolate and 1 teaspoon butter until smooth. Transfer to a narrow yet deep bowl or cup for dipping.
Stick a toothpick into the top center of one dough ball. Dip into the chocolate, leaving a circle of dough visible on top. Let the excess drip off then return to the baking sheet. Smooth out the hole left by the toothpick. Repeat with the remaining balls. If they start falling off the toothpick, refrigerate until firm again.
Chill until chocolate is firm, about 30 minutes. Store in an airtight container for up to 1 week (refrigerate if the chocolate gets too soft).
This post may contain affiliate links. As an Amazon Associate and member of other affiliate programs, I earn from qualifying purchase.