Banana Layer Cake
You're going to go bananas for this two layer Banana Layer Cake covered in a sweet and tangy Peanut Butter Cream Cheese Frosting.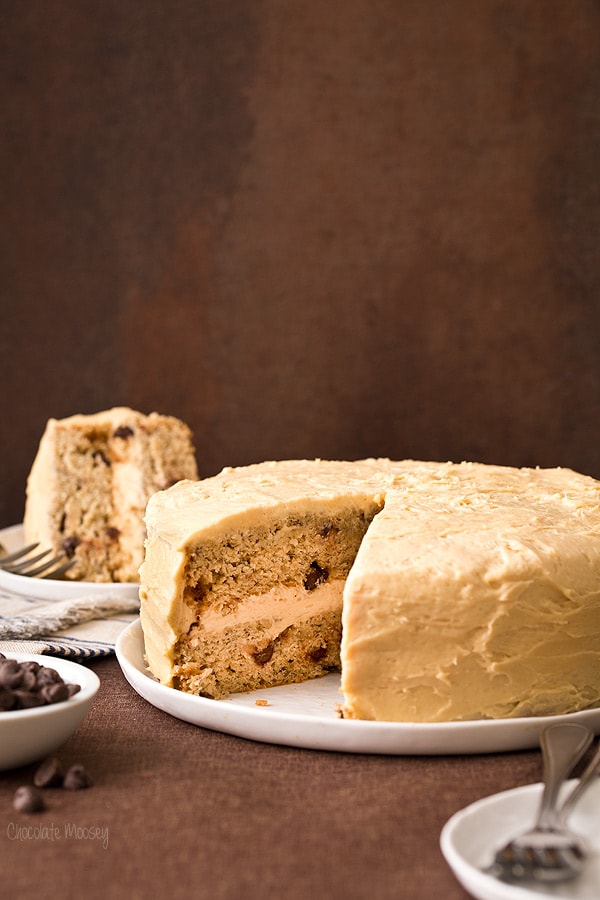 This cake is bananas. B-A-N-A-N-A-S.
Thank you, Gwen Stefani for teaching us how to spell bananas with a catchy pop song. And now that you have that song stuck in your head, let's talk bananas.
Why is it that we buy bananas, only to let them sit on our counter for days until they are so overripe, we either need to use them or lose them?
I am very particular in how ripe a banana should be when I eat it as a snack. It must be fully yellow, even the slightly hint of green, for me to enjoy.
If it has even the tiniest spot of brown, it's too overripe.
People tell me I'm crazy, but it's true. Once it's past that point, those bananas are now destined for dessert.
Sure, there's good ol' banana bread, mini banana bread, and small batch banana muffins, but some days nothing will do but a big slice of homemade cake.
Since you love my strawberry layer cake so much, I've been on a mission to make every flavor of layer cake possible.
I've had this Banana Layer Cake idea for the past year or so. I even asked you on Facebook last year what frosting I should pair it with, but then time slipped away and never got to it.
As you can probably guess from the title, you voted for Peanut Butter Cream Cheese Frosting.
Peanut butter and banana go hand in hand like Elvis and his swinging hips. In fact, my dad made an Elvis joke when I served him a slice.
Go ahead – grab those bananas sitting on your counter, make this cake, and listen to your guests say, "Thank you. Thank you very much."
My goal was to make sure this banana cake tasted like cake and not banana bread.
One time I bought a banana cupcake from a bakery that tasted like a banana muffin. No thanks! I want my cake to taste like cake.
Thanks to the mashed bananas and brown sugar, this cake stays moist even after a few days.
If there's one thing that's worse than cake tasting like a muffin, it's biting into dry cake.
For the frosting, I opted for a cream cheese frosting rather than a buttercream frosting for a balance of sweet and tangy.

Looking for a one layer cake? Check out my Small Banana Cake.

Banana Layer Cake
Yield: 8-10 servings
Prep Time: 1 hour
Cook Time: 30 minutes
Total Time: 1 hour 30 minutes
You're going to go bananas for this two layer Banana Layer Cake covered in a sweet and tangy Peanut Butter Cream Cheese Frosting.
Ingredients
2 1/2 cups all-purpose flour
1 1/2 teaspoons baking powder
1 teaspoon baking soda
1 teaspoon ground cinnamon
1/2 teaspoon ground nutmeg
1/2 teaspoon salt
1/2 cup (4 ounces or 8 tablespoons) unsalted butter, softened
1 cup granulated sugar
1/2 cup brown sugar
2 eggs, room temperature
1 1/2 cups mashed banana (roughly 3-4 medium bananas)
1 teaspoon vanilla extract
1/2 cup whole milk, room temperature
1 cup semisweet chocolate chips
Double batch of Peanut Butter Cream Cheese Frosting
Instructions
Preheat oven to 350F. Line the bottom of two 8-inch round cake pans (1 1/2 inches deep) with parchment paper then lightly grease with cooking spray.
In a large bowl, sift together the flour, baking powder and baking soda (do not skip this step). Stir in the cinnamon, nutmeg, and salt.
In a large mixing bowl, beat together on medium speed the butter, sugar, and brown sugar until combined. Beat in the eggs, one at a time, until smooth. Beat in the banana and vanilla. Add the flour mixture alternately with the milk, adding the flour in 3 additions and the milk in 2 additions (begin and end with dry ingredients). Stir in the chocolate chips.
Divide the batter between the two cake pans and bake 30-35 minutes or until a toothpick inserted in the center comes out clean. Cool for 15 minutes then invert the cake pans. Cool completely on a wire rack.
To assemble: If the cake layers are not flat, trim some of the cake off of the top until flat. Place one cake layer on a cake stand or plate. Slide pieces of parchment or wax paper underneath the cake for easy clean up later.
Spread some of the frosting on top of the cake for the filling. Top with the remaining cake layer. Spread a thin layer of frosting all over the cake, sealing in the crumbs (don't use more than half of the frosting). Refrigerate 15 minutes.
Finish covering the cake with the remaining frosting. Carefully remove the paper pieces. Refrigerate until the frosting is firm. Store the cake covered in the refrigerator. For best results, let the cake sit at room temperature 15-30 minutes before serving.
Source: Adapted from my
caramel apple butter layer cake
More Banana Dessert Recipes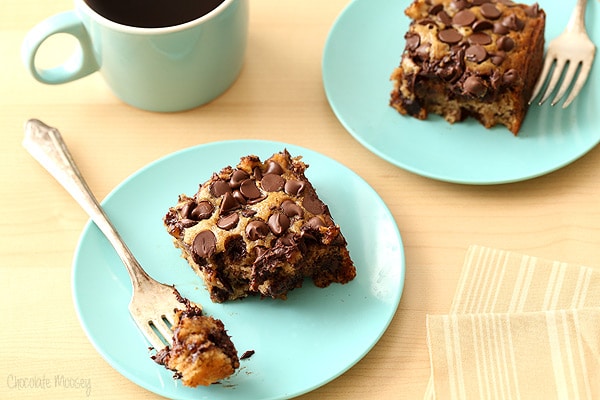 Banana Chocolate Chip Snack Cake
Banana Cupcakes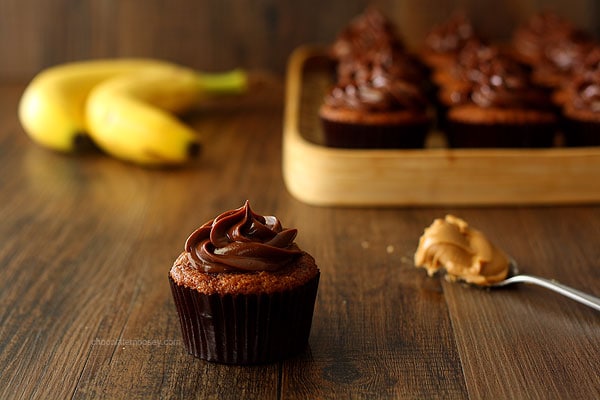 Roasted Banana Cupcakes

Banana Nut Blondies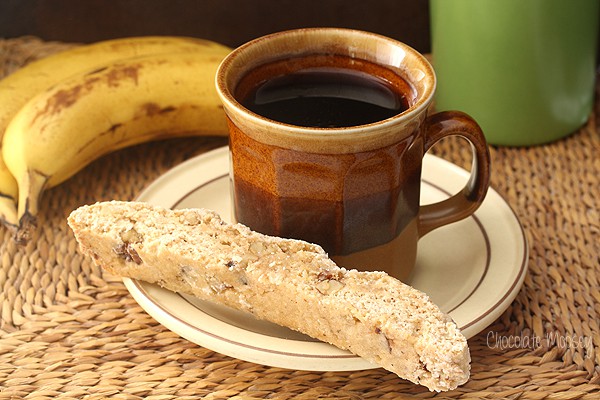 Banana Walnut Biscotti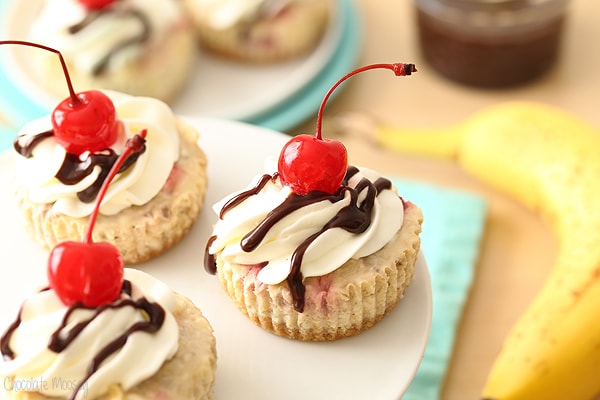 Mini Banana Split Cheesecakes
This post may contain affiliate links. As an Amazon Associate and member of other affiliate programs, I earn from qualifying purchase.