Chocolate Stout Cheesecake
Drink your beer and eat it too! Pour yourself a pint of Guinness and grab a slice of this sweet and salty Chocolate Stout Cheesecake with a crushed pretzel crust.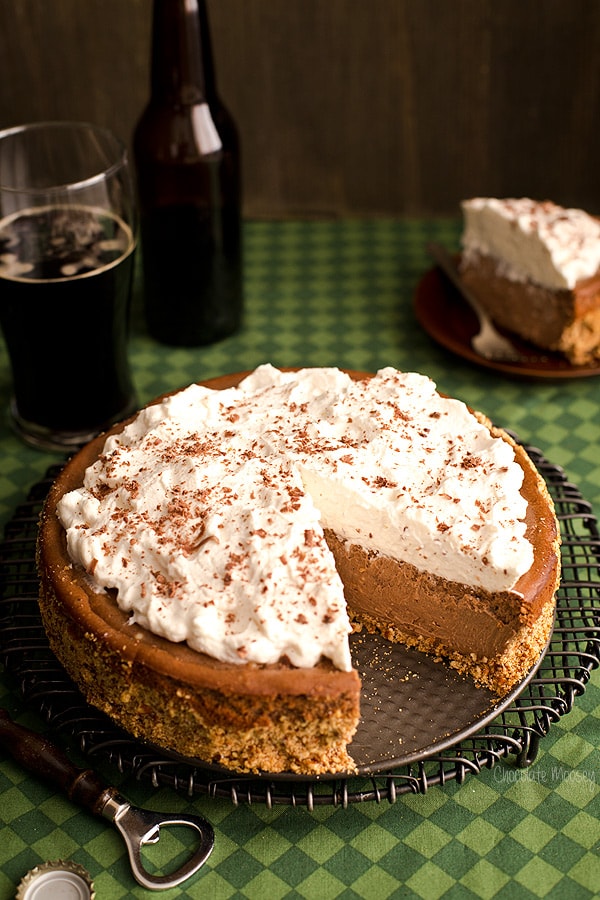 With
St. Patrick's Day
around the corner, it's time to break out the Guinness.
Guinness is often associated with Ireland and St. Patrick's Day because it's made in Dublin, although you certainly don't need to wait for March every year to enjoy a pint.
In addition to drinking it, I love baking with beer, especially chocolate and stout beer< together because the stout enhances the chocolate taste, giving it an extra boost of flavor. Case in point - last year I made Chocolate Guinness Brownies, which I still can't stop thinking about because the flavors really harmonized in one blissful bite without one flavor overpowering the other.
That's the problem I often have when baking with beer – the beer flavor often gets lost after it bakes off.
Fortunately that's not the case with this Chocolate Stout Cheesecake. You still have that fudgy, creamy texture of chocolate cheesecake with the added flavor of stout beer.
Its crushed pretzel crust balances out the sweet with salty.
The Guinness cheesecake is then topped with a generous helping of not-too-sweet homemade whipped cream.
Pour yourself a pint of beer (or a cup of coffee), grab a slice, and dig in.
I got the brilliant idea to make the pretzel crust at the last minute rather than a chocolate cookie crust like I had originally planned. Sweet and salty plus beer? Genius!
Since it wasn't in my original grocery plans, that meant quickly running down to the lackluster grocery store down the street, hope they had pretzels (because most of the time they don't have what I need), and quickly heading back for some crust action.
Except while I was quickly grabbing mini pretzels, I somehow missed the tiny label that said "artificial butter flavor." Since when did they make regular mini pretzels in butter flavor?!
Fortunately butter flavored still worked for the crust. Thank goodness I wasn't making chocolate covered pretzels with them. That would have been quite interesting.
Because of the additional liquid, this cheesecake may have some extra jiggle when you pull it out of the oven (make sure you're using a
springform pan
!).
Don't panic! As long as the top is firm to the touch, it'll continue to cook more as it cools. If you leave it in the oven too long, it'll crack on top (although whipped cream will cover that right up).
More Guinness Recipes

Got extra beer? Check out these recipes using stout beer:
Chocolate Stout Cheesecake
Yield: 8-10 servings
Prep Time: 30 minutes
Cook Time: 45 minutes
Total Time: 1 hour 15 minutes
Drink your beer and eat it too! Pour yourself a pint of Guinness and grab a slice of this sweet and salty Chocolate Stout Cheesecake with a crushed pretzel crust.
Ingredients
2 1/2 cups crushed pretzels
1/2 cup unsalted butter, melted, 4 ounces or 8 tablespoons
24 ounces cream cheese, room temperature
1 cup granulated sugar
3 eggs, room temperature
4 ounces semisweet chocolate, melted
3/4 cup stout beer
1 teaspoon pure vanilla extract
1/4 cup all-purpose flour
Whipped Cream
1 cup cold heavy whipping cream
1/2 cup powdered sugar
1 teaspoon pure vanilla extract
Chocolate shavings, for garnish
Instructions
Preheat oven to 350°F. Have an 8.5 inch or 9 inch springform pan ready.
In a large bowl, mix together the crushed pretzels and melted butter. Pat into the bottom and roughly 2 inches up the side of the pan.
In a large mixing bowl, beat together the cream cheese and sugar until light and fluffy, about 3-4 minutes. Beat in the eggs, one at a time, for 1 minute each. Add the melted chocolate then add the beer and vanilla. Gradually beat in the flour.
Pour the batter into the crust then bake 45 minutes or until the center is firm to the touch (the middle will still move when the pan is shaken). Remove from the oven and cool 1 hour in the pan.
Carefully run a knife along the edge to loosen the cheesecake. Cover and refrigerate for at least 4 hours or overnight. Top with whipped cream (recipe below). Store leftovers in an airtight container in the refrigerator for up to 1 week.
For the Whipped Cream: In a large mixing bowl (with whisk attachment if using a stand mixer), beat the heavy cream until thickened. Gradually beat in the sugar and vanilla then continue beating until stiff peaks form (when you pull the beater up, peaks will form and not fall over). Spread on top of cheesecake then garnish with chocolate shavings.
Disclosure: This post contains Amazon affiliate links.
This post may contain affiliate links. As an Amazon Associate and member of other affiliate programs, I earn from qualifying purchase.