Greek Baked Eggs
Take a trip to the Mediterranean with Greek Baked Eggs made with lamb, mushrooms, kalamata olives, tomatoes, and feta. Serve it for breakfast, brunch, or brinner.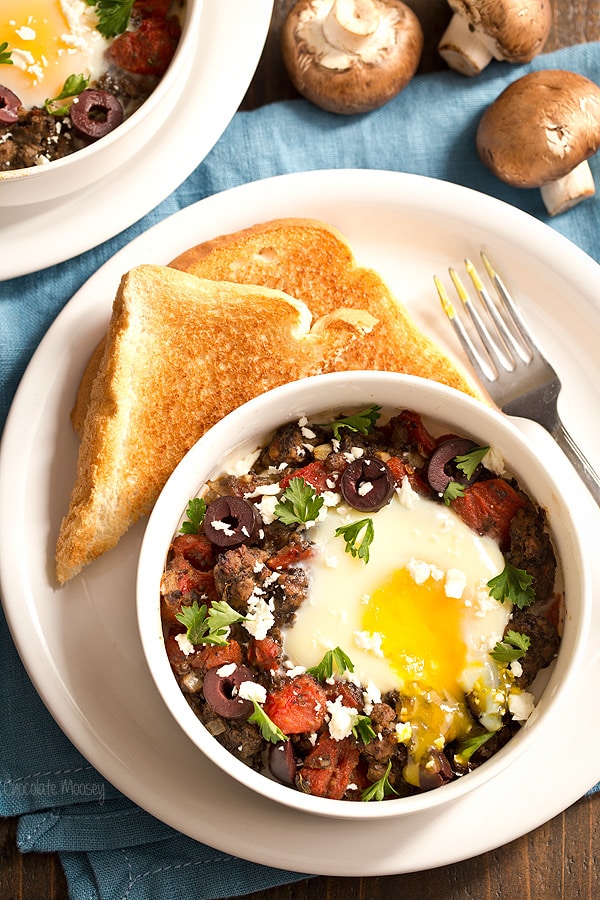 I'm a picky breakfast person.
It's not that I don't like breakfast food. It's I can't handle breakfast food so early in the morning.
If I could drink my morning cup of coffee and skip breakfast altogether I would, but I would never last until lunchtime.
It's why I prefer eating either brunch or breakfast for dinner (known as brinner) because I'm more awake to enjoy it.
Take eggs for example. I love my eggs runny, whether it's over easy, sunny side up, poached, or baked eggs with ham and cheese.
If the yolk is too solid, I don't want it.
Baked eggs are the easiest because you don't have to babysit it on the stove. The problem is baked eggs alone doesn't fill me up. I need it to be bulked up and substantial to get me through the day.
Last year I made baked eggs in hash brown bowls.
This year I went even more savory with these Greek Baked Eggs have ground lamb, cremini mushrooms, kalamata olives, tomatoes, oregano, parsley, and feta, all flavors reminiscent of the Mediterranean region.
The runny egg yolk acts like a sauce for the lamb mixture.
You can use toast to soak it all up once the bowl is empty. I personally like to grab a spoon afterwards and scrape the bowl clean.
Ground lamb can be expensive, which is why I incorporated mushrooms into the meat using The Blend technique. The Blend, invented by
The Mushroom Council
, is blending together finely chopped mushrooms with ground meat for a more nutritious, flavorful meal.
Not only does using mushrooms adds more nutrients, it bulks up the volume of the meat, meaning you don't need as much meat for the same amount of servings.
It makes a pricier cut of meat like lamb last longer. I only used 1/4 pound of ground lamb and added 1/4 pound ground mushrooms, still totaling enough filling for four servings.
The key is chopping your mushrooms finely enough to match the consistency of ground lamb. I used a mini food processor for easier chopping, but good knife skills works too.
I chose cremini mushrooms to pair with the lamb. Cremini mushrooms are white button mushrooms that are a little more aged and are browner, firmer, and more flavorful.
You may recognize them in the store as baby bella or baby portobello mushrooms. In fact, if you let cremini mushrooms age even longer, they grow up to be big portobello mushroom caps.
That's probably why I love cremini much more than regular white mushrooms because portobello mushrooms are my favorite.
Although you can't taste the texture of the cremini mushrooms, you can taste their umami with the meat. Umami is difficult to describe, but think of it like tasting the mushroom flavor without the texture.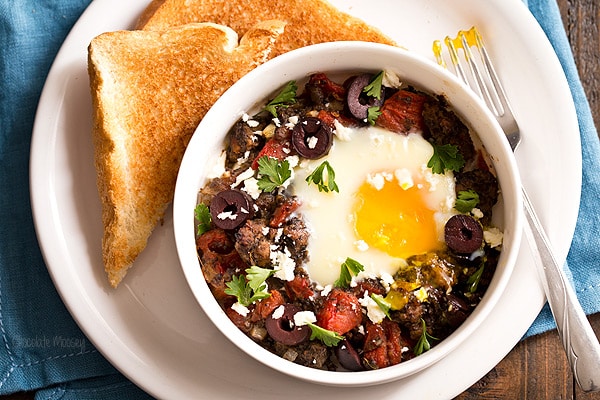 I used oven safe bowls for the baked eggs, but any large ramekins will work.
If you don't have any that are big enough, you can use an 8×8 pan or even an oven safe skillet.
If you're looking to save time in the mornings, you can cook the lamb filling ahead of time then all you have to do on the day of serving is add the egg and bake.
Greek Baked Eggs
Yield: 4 servings
Prep Time: 20 minutes
Cook Time: 25 minutes
Total Time: 45 minutes
Take a trip to the Mediterranean with Greek Baked Eggs made with lamb, mushrooms, kalamata olives, tomatoes, and feta. Serve it for breakfast, brunch, or brinner.
Ingredients
4 ounces (1/4 pound) cremini or baby bella mushrooms
4 ounces (1/4 pound) ground lamb
1/2 cup chopped onion
1 clove garlic, minced
One 15 ounce canned tomatoes, drained
1 teaspoon dried oregano
1/2 teaspoon salt
4 eggs
1/4 cup sliced kalamata olives
1/4 cup crumbled feta cheese
2 tablespoons chopped fresh parsley
Instructions
Preheat oven to 400F. Have four 12-ounce ramekins or oven safe bowls ready. Alternatively you can use an 8x8 pan or oven safe skillet.
Using a food processor or a knife, finely chop the mushrooms to match the consistency of ground meat. Mix together chopped mushrooms and lamb in a large bowl.
Heat a large skillet over medium-high heat. Once hot, add the lamb mixture and onion. Cook until lamb is no longer pink, about 5-8 minutes. Add garlic and cook 30 seconds. Stir in tomatoes, oregano, and salt.
Divide lamb mixture among the ramekins and create a well for the egg. Crack each egg and add to each well. Bake 10-15 minutes or until whites are completely set and yolks begin to thicken but not hard. Top each with olives, cheese, and parsley.
Disclosure: This post is sponsored by The Mushroom Council. Thank you for supporting me and the companies I work with as sponsored posts help pay for the costs of running Chocolate Moosey, including website hosting and groceries for recipe development.
This post may contain affiliate links. As an Amazon Associate and member of other affiliate programs, I earn from qualifying purchase.